The global online gaming market size was estimated at USD 204.63 billion in 2022 and is expected to attain around USD 440.89 billion by 2032, growing at a CAGR of 7.97% from 2023 to 2032. The U.S. dominated the North America region in 2022.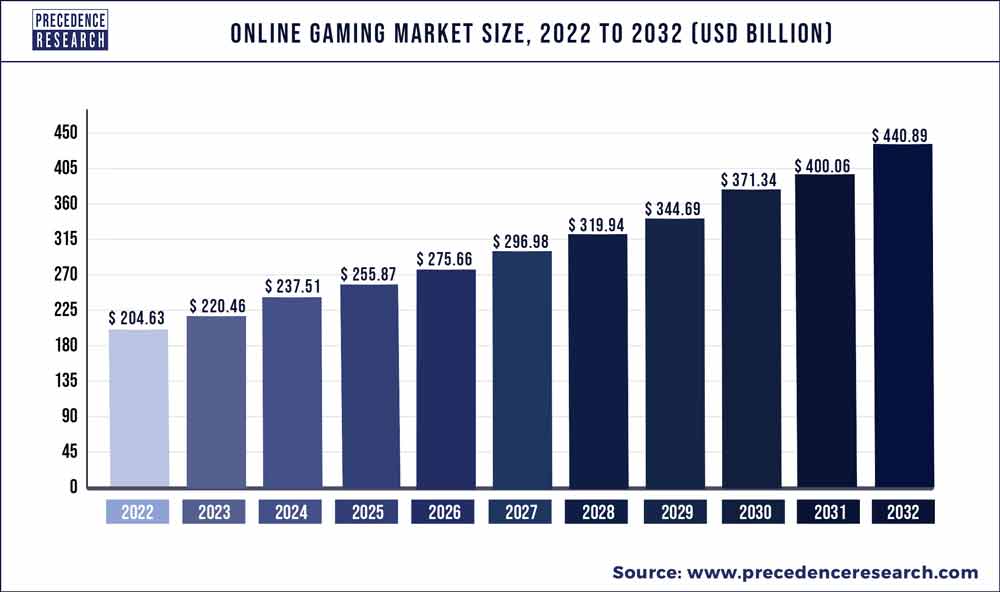 Access our Premium Real Time Data Intelligence Tool, Visit: Precedence Statistics
Key Takeaways:
North America held the largest revenue share in 2022.
Asia-Pacific is expected to expand at the fastest CAGR from 2023 to 2032.
By Game Type, the action & adventure games segment held the maximum revenue share in 2022.
By Platform, the mobile segment is expected to expand at a significant CAGR from 2023 to 2032.
Market Overview:
Playing a video game online simply means doing it while connected to the internet, typically with companions. Online games can be played on a wide range of gadgets, including PCs, laptops, mobile phones, and specialized gaming consoles like Xboxes, PlayStations, and Nintendo Switches. Current cloud gaming scenarios have undergone a considerable transformation thanks to recent advances in cloud technology.
A server maintains the games and does tasks including video encoding and streaming, game logic processing, and game rendering when playing games in the cloud. Users, especially those with little smartphone storage devices, gain from this. Market growth is anticipated to be fueled by regulatory changes and the development of smart gadgets.
The internet gaming sector, however, may be threatened by a few government rules that forbid online gambling. However, it is anticipated that new organizations that regulate player protection, fair gaming, and responsible operator behavior, like e-Commerce Online Gambling Regulation and Assurance (eCOGRA), will open up new opportunities for market growth in the years to come.
Growth Factors:
The year saw a rapid increase in e-sports participants and wide adoption of e-sports, which is likely to support the growth of the online gaming market during the forecast period. E-sports have enormous market demand and are propelling industry expansion in India and around the world. Video game competitions are known as esports. E-sport competitions use popular multiplayer online games like Counter-Strike, Halo, and Call of Duty, and the winners receive cash or hardware.
The graphics and plot of many companies' games are being developed to appeal to players and be compatible with a variety of devices. The widespread adoption of smartphones has increased online gaming sales to their highest level. Consoles are being created by businesses so that players can have a better experience. Gamers may now find games from many publishers, including Arcade and Stadia, due to the cloud gaming service that online gaming businesses have launched.
One of the main reasons for the enormous increase in online gaming is the availability of cheap, unlimited 4G data plans from telecommunications. Future growth in the sector will be fueled by increasing investments in online services and the impending 5G infrastructure. With preexisting headsets and smartphones becoming increasingly capable of meeting the quality of consoles and PCs, augmented reality virtual reality gaming is anticipated to gain a big boost. Additionally, developers will eventually be able to swiftly and economically produce game materials, spanning from story to animation, with the help of artificial intelligence (AI). By providing them with a variety of options, will empower users.
Report Scope of the Online Gaming Market:
| | |
| --- | --- |
| Report Coverage | Details |
| Market Size in 2023 | USD 220.46 Billion |
| Market Size by 2032 | USD 440.89 Billion |
| Growth Rate from 2023 to 2032 | CAGR of 7.97% |
| Largest Market | North America |
| Fastest Growing Market | Asia-Pacific |
| Base Year | 2022 |
| Forecast Period | 2023 to 2032 |
| Segments Covered | By Gaming Type, By Platform, and By Business Model |
| Regions Covered | North America, Europe, Asia-Pacific, Latin America and Middle East & Africa |

Market Dynamics:
Driver:
Increasing adoption of mobile devices
The increase in adoption of mobile devices is expected to fuel the growth of the online gaming market during the forecast period and this trend is likely to continue in the future. According to the Mobile Economy 2022 report by GSMA Intelligence, by 2025, there will be close to 7.5 billion smartphone connections, or more than four out of five mobile connections.
Over the next six years, mobile data usage is likely to triple in the majority of regions due to rising smartphone penetration and video consumption. As of July 2022, there were 3 billion new gamers, an increase of +5.3% over the previous year. The Asia-Pacific area is home to more than 50% of these new gamers. The rise can be ascribed to a number of variables, including an increase in the proportion of amateur and professional players, a boost in viewership as a result of the popularity of esports, and a rise in the number of viewers tuning in to live streams of various genres.
Further, almost US $41.2 billion was spent on mobile gaming in the first half of 2022. The two games with the biggest revenue during that time were Honour of Kings from Tencent and PUBG Mobile, which each brought in over US $1 billion from customer spending. Google Play also achieved US $15.6 billion during that time. This is due to the development of 5G technology, which gives players access to faster and more dependable mobile internet rates. In the future, more competitions and events including mobile online gaming are anticipated to offer opportunities for market growth.
Restraints:
The threat of malicious activity
Malicious actions is becoming more and more of a danger, especially in online gaming wherein forged transactions can result in losses of millions of dollars. According to threat statistics compiled by Kaspersky Security Network, 303,827 users encountered gaming-related malware and unwanted programs between July 1, 2020, and June 30, 2021, with 69,244 of those files being distributed under a false identity of the twenty-four most popular PC games. Grand Theft Auto V, Fortnite, PUBG, the Sims 4, and Minecraft are the top five PC games used as bait in assaults that target the most users.
The stakes have never been higher because of an increase in players, wagers, and financial activities. This is likely to limit the growth of the market in the years to come. Thus, game makers must always incorporate more complex fraud detection rules and algorithms into their games to keep ahead of online fraudsters.
Opportunities:
Introduction of crypto and NFT in gaming
For modern investors, cryptocurrency is starting to become a worldwide phenomenon. It is one of the most profitable investment opportunities with high risks that have provided quick cash for many young investors. Online gaming is one such industry that is adopting cutting-edge technologies into its core products as crypto currency's global popularity rises.
It has turned into huge ground for game producers looking to take advantage of digital currencies and enter the NFT gaming market. The emphasis of game producers is on two methods of game monetization: exchanging NFTs and earning in-game currency or prizes. They invest in NFT characters rather than making a purchase that does not ensure any financial gain for the players.
The popularity of crypto gaming has risen as players can collect and trade virtual assets that are transferrable and tradable globally. It has become a secure and straightforward way for the gaming industry to generate income. A report by Worldwide Asset Exchange revealed that more than 75% of online gamers wish to exchange their virtual assets for a currency that can be utilized on various platforms. Non-fungible tokens (NFTs) have also transformed the concept of purchasing and possessing digital assets by transforming them into unique units of data stored on the Blockchain.
Impact of COVID-19:
The COVID-19 pandemic had a positive impact on the online gaming market. The growing popularity of social and casual gaming can be attributed to the millions of people who turned to gaming as a means of escaping boredom and isolation during COVID-19 lockdowns, thus fueling the expansion of the online gaming market. Many gamers felt that playing video games during lockdowns improved their mental health.
A recent survey conducted among European gamers has revealed that 16% of them hold this view, and those who enjoy playing multiplayer games have expressed their opinions particularly positively. During the epidemic, a huge number of gamers, both experienced and novice, splurged on games, consoles, and other equipment. Some games received an advantage from precisely timed launches. For instance, Animal Crossing: New Horizons by Nintendo, which was released in March 2020, sold 13.4 million copies in the first six weeks. It eventually rose to become one of the all-time best-selling Nintendo Switch titles. Consequently, this resulted in a positive impact on the market during the pandemic.
Segments Insight:
Game type insights:
On the basis of game type, the action & adventure games segment held a considerable revenue share in 2022. This is owing to the presence of strong and dedicated fan base that has been built over several years. Additionally, action and adventure games typically offer high engagement and replay value due to their immersive gameplay and storyline, which can keep players engaged for hours. Further, the development of more advanced gaming technology, such as virtual reality (VR) and augmented reality (AR), has allowed for more realistic and engaging action and adventure games which is also likely to augment the segmental growth of online gaming market during the forecast period.
Platform Insights:
Based on the platform, the mobile segment is expected to grow at a significant CAGR during the forecast period. This is attributable to the increasing adoption of smartphones globally. Mobile gaming apps are easily accessible through app stores, and there is a wide range of games available, catering to different audiences and preferences. Mobile games often incorporate social connectivity features such as multiplayer options, leaderboards, and social media integration, which have further increased their popularity.
Regional Insights:
North America held a considerable revenue share in 2022. The US dominated the North America region in 2022. This is owing to the advancements in technology, such as virtual reality and cloud gaming, which have created new opportunities for game developers to create immersive and innovative gaming experiences. in the region. The increasing popularity of mobile gaming with millions of people using their smartphones and tablets to play games on-the-go is also likely to support the growth of the market in the region. Additionally, the region has strong gaming culture, with a large and dedicated community of gamers who are passionate about their hobby which is also likely to create immense growth opportunities for the market in the region.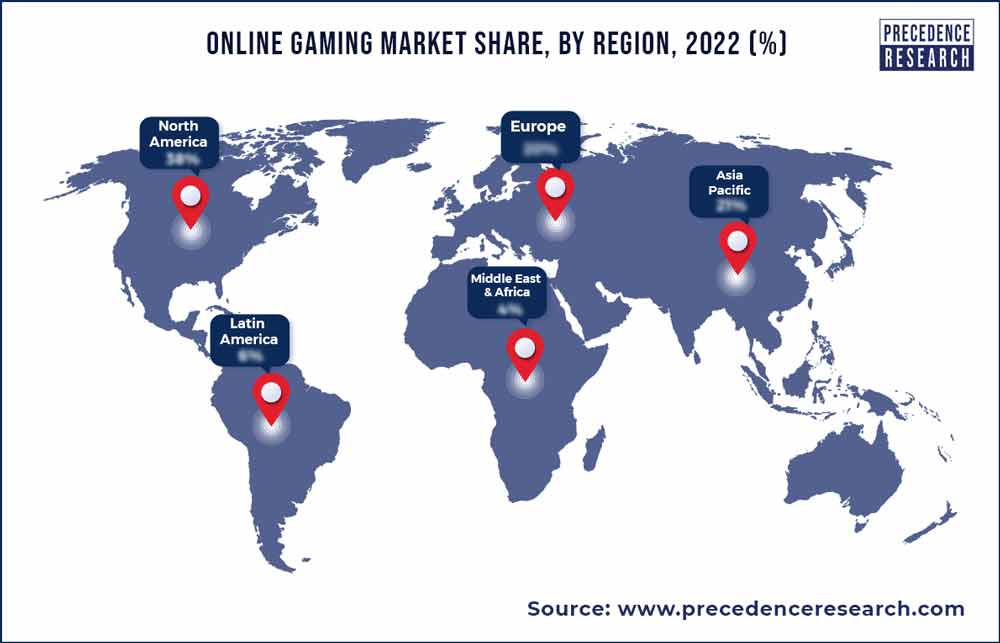 Asia-Pacific is expected to grow at the fastest CAGR during the forecast period. This is attributable to the increasing population and a rapidly growing middle class with increasing access to high-speed internet and smartphones in the region. Additionally, esports has become increasingly popular in the region, with large-scale tournaments and professional leagues attracting millions of viewers and generating significant revenue. This has created new opportunities for game developers, publishers, and esports organizations and is expected to support the regional growth of the market in the years to come.
Recent Developments:
In April 2023, an agreement has been made by Sony Interactive Entertainment LLC ("SIE") to secure Firewalk Studios. The acquisition is part of SIE's efforts to introduce a new era of live gaming service experiences for PlayStation gamers, in collaboration with other top-tier development teams such as Haven Interactive Studios and Bungie.
In March 2023, in order to bring Xbox PC titles to Boosteroid's cloud gaming platform, Microsoft Corp. and Boosteroid signed a 10-year deal. Boosteroid, a cloud gaming provider with its software development team located in Ukraine, has become the largest independent provider of cloud gaming, with over 4 million users worldwide. Following Microsoft's acquisition of Activision Blizzard, customers of Boosteroid will now have the ability to stream PC games from Activision Blizzard as well.
In February 2023, an agreement was announced by NCSOFT and Amazon Games to launch the much-awaited THRONE AND LIBERTY, a massively multiplayer online role-playing game, in South America, North America, Europe, and Japan. The game will be published by Amazon Games and will be available on PlayStation 5, PC, and Xbox Series X|S. It will also have provision for cross-platform play.
Key Market Players:
Tencent Holding Limited
Activision Blizzard, Inc.
Nintendo of America Inc.
Microsoft Corporation
Valve Corporation
Electronic Arts Inc.
Sony Corporation
Take-Two Interactive Software, Inc.
Square Enix Holdings Co., Ltd.
Amazon.com, Inc.
Gameloft SE
King Digital Entertainment Ltd.
Segments Covered in the Report:
(Note*: We offer report based on sub segments as well. Kindly, let us know if you are interested)
By Gaming Type
Action & Adventure Games
Racing Games
Simulation Games
Strategy Games
Sports Games
Others
By Platform
By Business Model
Free-to-play
Pay-to-play
Subscription-based
Play-to-earn
By Geography
North America
Europe
Asia-Pacific
Latin America
Middle East and Africa