The global paperboard packaging market size was estimated USD 147.28 billion in 2020, and is expected to reach over USD 206.5 billion by 2030, expanding growth at a CAGR of 3.5% due to the expansion of the sustainable packaging sector and higher packaged food consumption.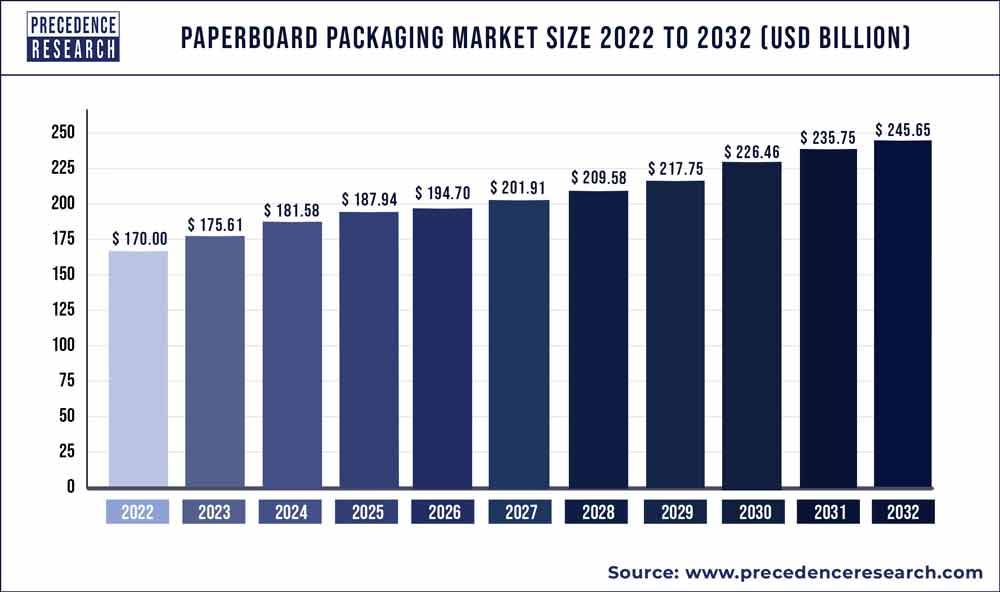 Growth Factors
The rise of the e-commerce industry has also played a significant influence in the growth of the paper & paperboard packaging market. Corrugated packaging is commonly used by e-commerce firms for secondary and tertiary packing due to its lightweight and inexpensive cost. Furthermore, growing plastic material sustainability problems are driving e-commerce firms to replace flexible plastic packaging with paper packaging, which is projected to boost development in the paper & paperboard industries.
COVID-19 Impact
As the coronavirus pandemic spreads and its humanitarian effect grows, sectors that assist meet basic requirements, such as transporting food and supplies to customers securely, are being increasingly impacted. With food packaging being the main sector of activity in the packaging business, the $900 billion per year global industry is on the front lines. The coronavirus epidemic has already resulted in some of the steepest drops in demand for certain types of packaging in recent times, while driving growth for others, such as packaging for e-commerce shipments, which are emerging as lifelines in this new world.
Such developments are posing new problems for many packaging firms. However, growing demand for paperboard packaging in healthcare has helped the market situation. Because e-commerce fosters social distance, there has been an exponential rise in online purchases of essential consumer items such as groceries and hygiene products, which drives the expansion of the paperboard packaging sector. E-pharma and e-consultations witnessed a 55-70 percent increase in growth. However, a lack of labor, a scarcity of raw resources, and transportation constraints impede product delivery.
Scope of the Paperboard Packaging Market Report
| | |
| --- | --- |
| Report Highlights | Details |
| Market Size In 2030 | USD 206.5 Billion |
| Growth Rate From 2021 to 2030 | CAGR of 3.5% |
| Largest Market | Asia Pacific |
| Fastest Growing Market | North America |
| Base Year | 2021 |
| Forecast Period | 2021 to 2030 |
| Segments Covered | Raw Material, Product, Geography |
| Companies Mentioned | Nippon Paper Industries Co., Ltd., Stora Enso, South African Pulp & Paper Industries, Mondi plc, ITC Limited, Smurfit Kappa Group, Oji Holding Corporation, International Paper Group |
Raw Material Insights
Based on raw materials, the recycling sector accounted for almost half of the market in 2020, owing to the fact that it can be recycled as fiber and utilized to produce new paperboard goods. Paper recycling provides about half of the world's fibers for paper production. Concerns over deforestation and declining forest cover across the world have prompted paperboard makers to use recycled materials. Paper recycling's strong upward growth trajectory is likely to boost the paperboard packaging market sector throughout the forecast period.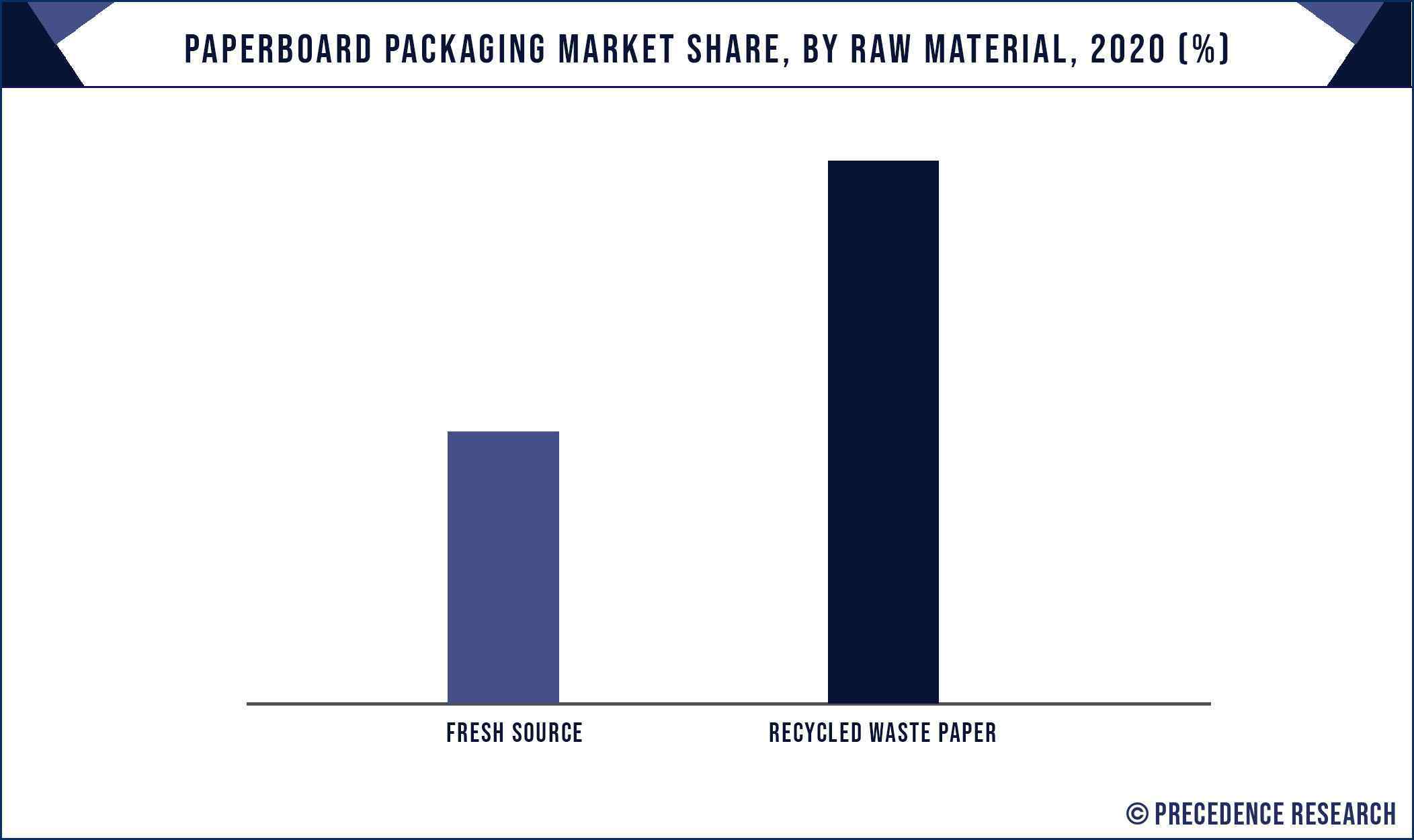 Paper packaging is the most common recycled material, dominating over 66% of all recycled packaging. Paper and paperboard have the greatest recycling rates in the world (with the exception of glass in some countries). Because of the industrial economies of China and other rising nations, paper packaging demands will continue to rise. Indeed, the global market for recycled paper packaging will increase at a 5% CAGR from USD 139 billion in 2018.
Product Insights
Solid unbleached board (SUB) is the most dominating segment in the paperboard packaging market. SUB (Solid Unbleached Board) is a type of boxboard manufactured from unbleached chemical pulp. It is often offered with two or three layers of color coatings. In addition, recycled fibers can be utilized in place of unbleached chemical pulp. Beverage carriers, detergents, toys, and other items are commonly packaged on solid unbleached boards.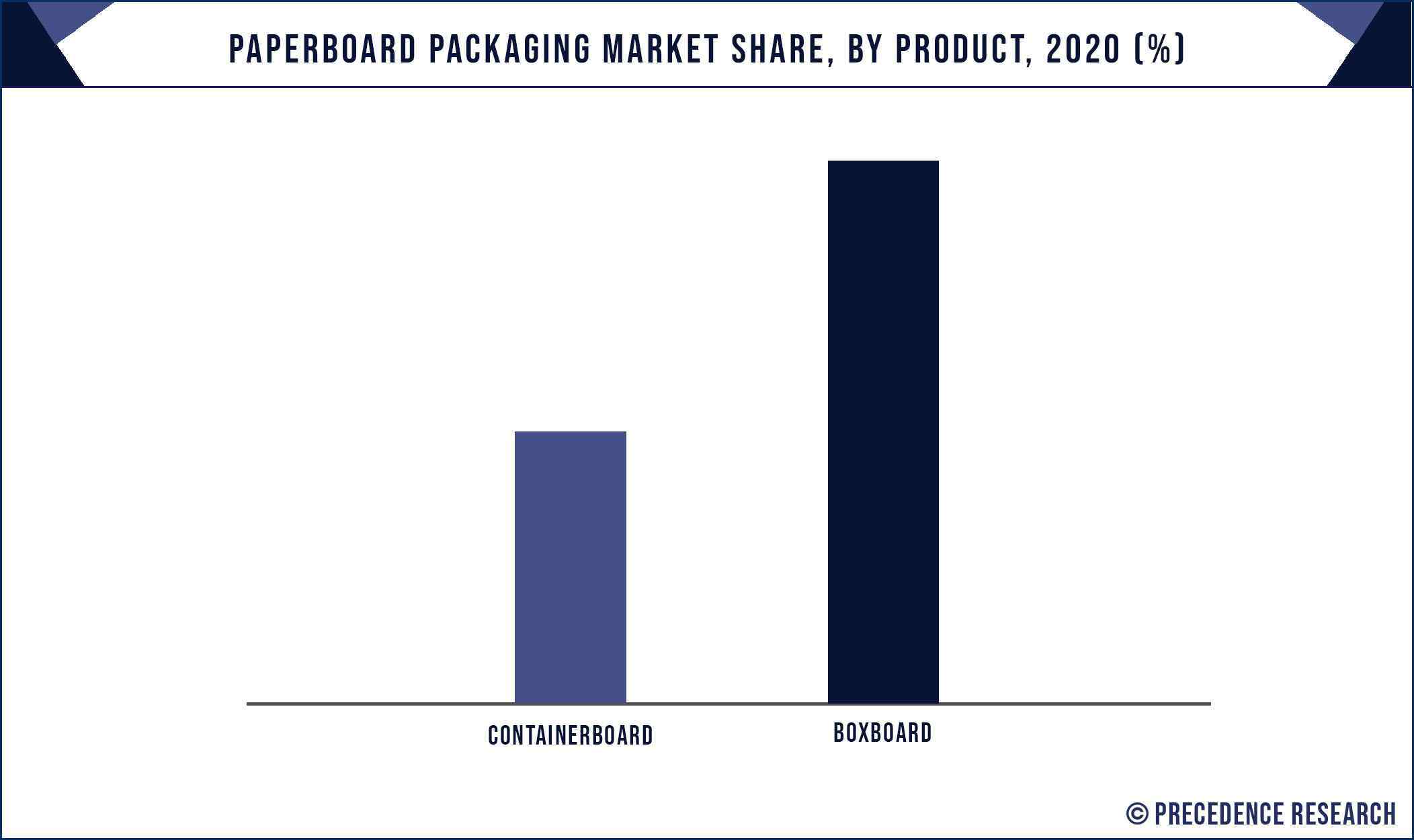 Folding boxboard will have a CAGR of more than 3.6% in the boxboard packaging product sector by 2030, and it is projected to expand at a higher rate. A grade of boxboard that can be bent without breaking is known as folding boxboard. It is made up of several layers of mechanical and chemical pulps. Folding boxboards are low density, high stiffness boards. These can be used to package cosmetics, frozen meals, and medicines, among other things.
SBB (Solid Bleached Board) is an unbleached grade of boxboard. It is made from bleached chemical pulp and is generally coated with synthetic or mineral fibers. SBB is a medium density boxboard that may be used for graphical or printed packaging. It's mostly utilized in taste or aroma-sensitive items like cosmetics and cigarettes. Layers of discarded papers and recovered fibers are used to make white lined chipboard. It is often offered with two to three layers of coating on both sides. Because white lined chipboard contains recycled materials, direct contact with food causes health problems.
Application Insights
Food and beverages have emerged as the leading application sector in the paperboard packaging industry, accounting for almost half of the market share in 2020. Packaging of frozen meals, alcoholic and non-alcoholic drinks, sweets, dairy goods, fast foods, and fresh fruits and vegetables are among the applications. This segment's rapid growth can be attributed to the outstanding operating features of paperboard packaging. This packaging is suitable for food contact, can work at a broad range of temperatures, and aids in the preservation of organoleptic characteristics over time.
The most recent healthcare industry developments are driving innovative approaches to medical product packaging. Healthcare is a major priority for everyone all around the world. It is also a thriving packaging business, with global demand for healthcare packaging materials topping USD 33.4 billion. The look of packaging at pharmacy stores has become increasingly important. It is no longer seen as only a functioning entity, but rather as an asset to be exploited when selling over-the-counter. Supplements and vitamins have been around for a long time, and today, thanks to eye-catching packaging, their sales are constantly increasing as the typical consumer grows more interested in them. Thus, the medical application is expected to grow at a high CAGR during the forecast period.
Regional Insights
Asia Pacific paperboard packaging market generated the highest revenue in the global paperboard packaging market and it is estimated to continue in the forecast period. Over the last several years, globalization has resulted in a surge in commercial activity in nations such as China, India, South Korea, and Malaysia. Rapid urbanization, robust economic growth, and increased consumption of packaged food items are some of the key drivers driving growth in the region's packaging industry. The intense competition is likely to create possibilities for future market growth. Furthermore, positive trends in the cosmetics and medical industries would increase the paperboard packaging market sales in this area.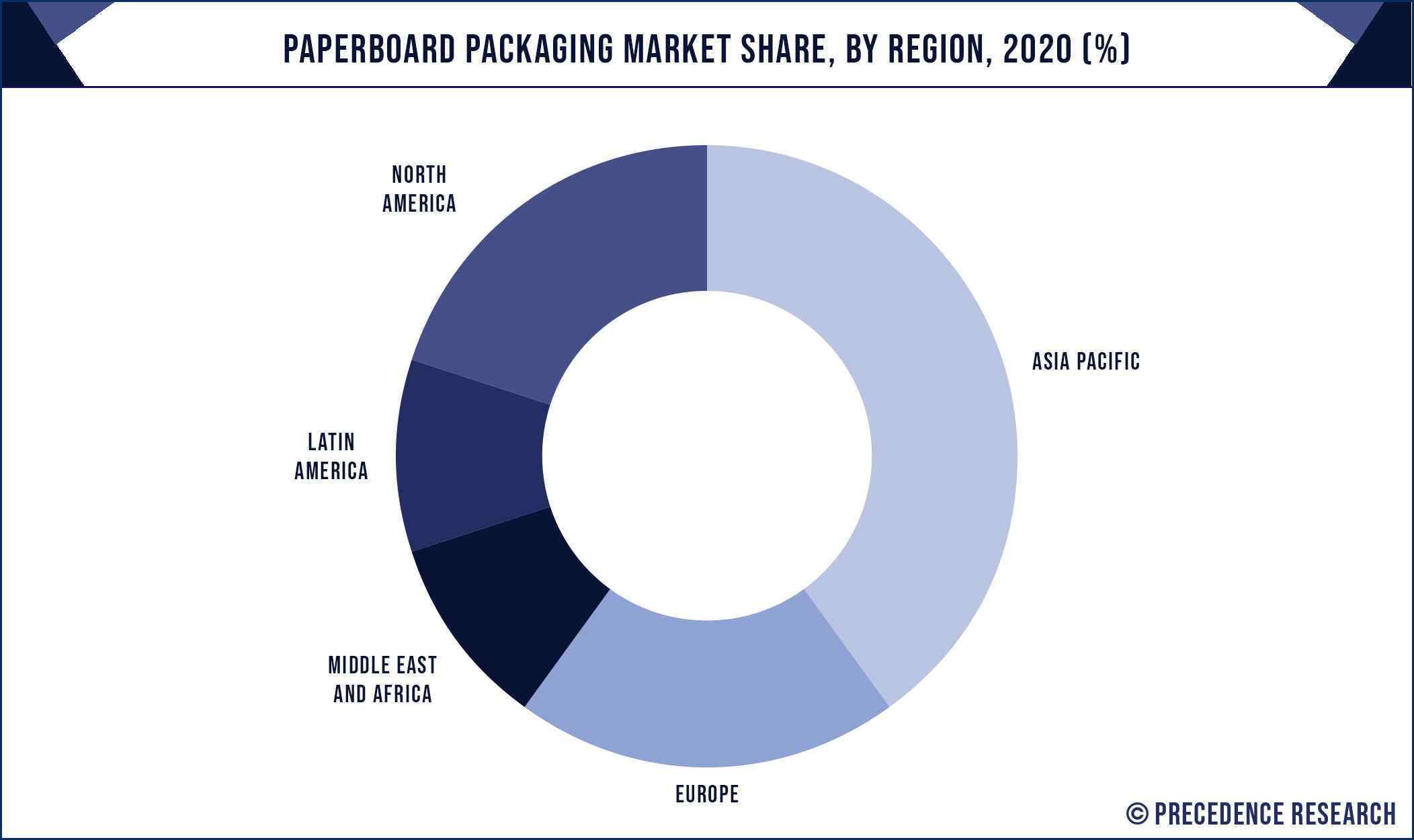 With a presence of large companies, North America remains one of the primary marketplaces for paperboard packaging materials. In 2018, North America consumed 74.21 million metric tons of paper and paperboard. According to FAO and UNECE data, this is the case. In the North American area, the US dominates the folding carton packaging industry, with food projected to be the leading end-user of folding cartons. According to the Association for Packaging and Processing Technologies, for example, the food sector in US is anticipated to expanding at a CAGR of 2.9% by 2022. Such trends in North America are expected to continue which will create a positive impact on the paperboard packaging market.
Key Companies & Market Share Insights
In order to maintain their market dominance, the companies continue to innovate and form strategic alliances. Because of the huge number of competitors, the paperboard packaging industry is characterised by strong rivalry. Due to the presence of the small and medium-sized producers and converters, the market for this industry is extremely disorganised. The key players major strategies for ensuring market growth include new product launches, mergers and acquisitions, collaborations, and expansions.
Some of the major players in the paperboard packaging market include:
Nippon Paper Industries Co., Ltd.
Stora Enso
South African Pulp & Paper Industries
Mondi plc
ITC Limited
Smurfit Kappa Group
Oji Holding Corporation
International Paper Group
Svenska Cellulosa Aktiebolaget
Segments Covered in the Report
By Raw Material
Fresh Source

Recycled Waste Paper
By Product
Boxboard

Folding boxboard (FBB)

Solid unbleached board (SUB)

Solid bleached board (SBB)

White lined chipboard (WLC)

Containerboard
By Application
Food & beverages

Non-durable goods

Durable goods

Medical

Others
By Geography
North America
Europe
Asia Pacific

China
India
Japan
South Korea

Rest of the World