The global perovskite solar cell market size was estimated at USD 0.60 billion in 2021 and is expected to hit around USD 7.2 billion by 2030 with a registered CAGR of 31.8% from 2022 to 2030.
By product, the flexible perovskite solar cell segment has held 56% revenue share in 2021.
By end user, the energy segment has generated 54% market share in 2021.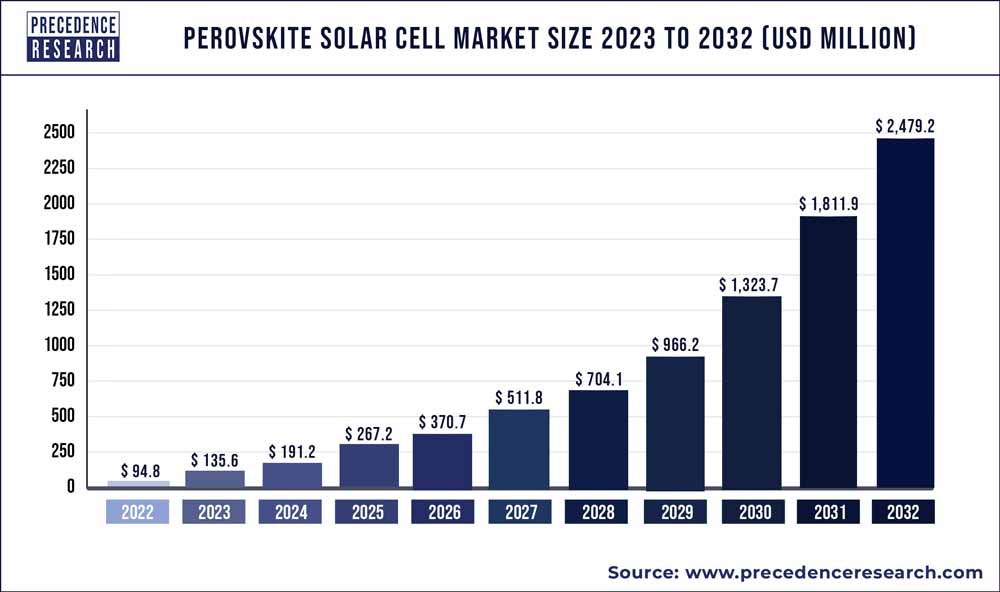 Perovskite-structured material serves as the active layer in perovskite solar cells (PSCs). Superior charge-carrier magnetic moments and absorption coefficient are provided by these materials. The term "perovskite solar cell" refers to a type of solar cell where the warm white active material is primarily made of a mixture of organic-inorganic lead. Perovskite solar panel installations and demand have both decreased since the start of lockdown events since they are depending on the solar power industry. Obstacles in the solar sector include a lack of skilled labor, adherence to socially unacceptable norms, a shortage of raw resources, a lack of construction tools, and operational constraints that cause projects to be delayed. As the administration and its ministries continue to implement strategies to maintain the pace of economic activity, the market recovery is anticipated to follow.
The Ministry of New and Renewable Energy in India has expanded exemptions for companies working in the sector of solar energy to carry out installations projects, movement of construction materials as well as other supplies required for the overall functioning of both domestic non-commercial as well as commercial developments.
According to information provided by the International Renewable Power Association, the African Union Council (AUC) and IRENA inked an agreement in April 2020 for the development of solar panels farms or other renewable technology incorporating decentralized systems. Moreover, to improve the continent of Africa's access to electricity. To ameliorate the state of the water supply, healthcare, and educational sectors and pull the country away from the pandemic's chaos, the cooperation aims to establish alternative energy sources. Such initiatives will boost solar energy requirements, which then in turn bodes well for cutting-edge technology like polycrystalline cells.
Report Scope of the Perovskite Solar Cell Market
| | |
| --- | --- |
| Report Coverage | Details |
| Market Size in 2022 | USD 0.79 Billion |
| Market Size by 2030 | USD 7.2 Billion |
| Growth Rate from 2022 to 2030 | CAGR of 31.8% |
| Base Year | 2021 |
| Forecast Period | 2022 to 2030 |
| Segments Covered | Structure, Product, Method, Application, End Use, Type, and Geography |
| Companies Mentioned | Alfa Aesar (US), Dyenamo AB (Sweden), Energy Materials Corp, Fraunhofer ISE (Germany), Frontier Energy Solution, FrontMaterials Co. Ltd. (Taiwan), FUJIFILM Wako Pure Chemical Corporation (US), G24 Power Ltd. (UK), Greatcell Energy (Australia), IDTechEx Ltd (UK), Microquanta Semiconductor Co. Ltd. (China), Oxford PV (UK),Panasonic Corporation (Japan), Saule Technologies (Poland), Sekisui, Solaronix SA (Switzerland), Solliance solar research (Netherlands), Swift Solar, Tandem PV, Inc. (US), Toshiba Corporation (Japan), WonderSolar |
Growth Factors
One of the newest types of photovoltaic cells that are flexible and lightweight is the perovskite solar cell. The light-harvesting active material of a solar cell with perovskite is made up of a perovskite-structured chemical, tin inorganic substance, and composite organic-inorganic leads. Due to ongoing advancements in renewable radiation, perovskite solar cells have a high performance in systems utilizing them and have seen major improvements in recent years. Additionally, these perovskite cells are employed as light absorbers due to their capacity for a wide range of light wavelengths, which enables them to transform solar power into energy and facilitates construction. The combining of solar cells using perovskite with silica is called a tandem cell.
Perovskite cells are projected to be used in a variety of applications because of their versatility and low weight. Gold is presently the accepted electrode element for photovoltaic devices. Due to the usage of gold as the electrocatalyst, perovskite solar cells are more expensive than conventional solar cells. The main obstacle for the perovskite solar panel business is the existence of the hazardous element lead (Pb). The market for solar cells with perovskite is being constrained by the hazardous substance employed in them, which also impacts the environment.
Perovskite solar cells are more advantageous than commercialized silica and other organic or inorganic solar energy because of their high effectiveness and low cost of production procedures and ingredients. In addition, these cells make it possible to increase the energy conversion efficiency beyond that which is possible with silicon solar cells. In 2020, the energy conversion effectiveness of solar cells utilizing metal bromide polycrystalline had achieved 25%. Therefore, it is anticipated that the market will rise due to polycrystalline solar cells' growing performance.
Key Market Drivers:
The market for solar cells is growing - The key reason propelling the crystalline solar cell industry is the upsurge in the demand for solar energy owing to its adaptability and lightweight. Additionally, the market is benefited from the upsurge in applications from various sectors.
Growing energy services today - The market is growing faster due to increased economic activity and energy stability. Additionally, the necessity to use current energy supplies to combat poverty and enhance the superiority of lifecycle has increased, which has helped the industry grow.
Increase in the installation of solar systems - The market is also impacted by the rise in solar system installations. The market is expanding as a result of an increase in demand for perovskite solar cells due to the mounting essential to lower the cost of solar cell panels. Furthermore, the market for perovskite solar cells is positively impacted by rising urbanization, changes in lifestyle, an improvement in reserves, and higher consumer expenditure. Compared to traditional energy panels, perovskite-based solar cells are more readily available, cost-effective, and convenient to manufacture. These cells also provide remarkable power conversion, which results in high performance. Due to their increased acceptance, these characteristics are anticipated to significantly boost the perovskite solar energy industry.
Key Market Challenges:
Variations in raw materials - It is anticipated that high production costs will limit market expansion. Additionally, throughout the projected timeframe of 2022–2030, changes in raw material prices are anticipated to pose a challenge to the perovskite solar energy market. This document on the perovskite solar panel industry information latest developments, import restrictions, import and export examination, business model, value chain enhancement, customer base, the effect of household and local market participants, analyzing possibilities in relations of evolving income compartments, changes in the restrictions, decisive market expansion analysis, market shares, categorization market overgrowth, implementation niche markets, and supremacy, leading to successful, new products, and more.
Key Market Opportunities
They are flexible and lightweight - Due to their strong temperature dependence and magnetic characteristics, perovskite solar cells have a very large growth potential in the upcoming years. These devices also provide several additional benefits over traditional storage photovoltaics, such as the capacity to respond to various light wavelengths that are absorbed by the panels. They are also light and flexible, which will likely result in a rise in demand for them in the years to come.
Growth in research and development - Additionally, the expansion of R&D activities creates lucrative prospects for market participants during the projected timeframe of 2021 to 2030. The market will grow even more as alternative sources of energy become more common.
Segments insight
Structure Insights
The sector with the major revenue shares in 2021 was planer perovskite solar cells, and over the projected timeframe, it is anticipated to experience much higher revenue growth rates. Due to its application in thin-film photoelectric structures and remarkable electrical and optical properties, the sector of layered structure has experienced rapid expansion. It may be produced without a high-temperature method and is employed in mesoporous structures when the breadth of the layer is zero.
By 2030, the market value for mesoporous perovskite solar cells is anticipated to exceed $1.6 billion due to its widespread application in product manufacture and higher than 20% efficiency in power conversion. The category of flat solar cells using perovskite is predicted to drive market expansion due to rising demand.
Product Insights
Due to its increasing demand across a range of applications, the inflexible modules segment is anticipated to hold a disproportionately large share of the market. Due to several technical developments, the flexible module market is also anticipated to expand rapidly.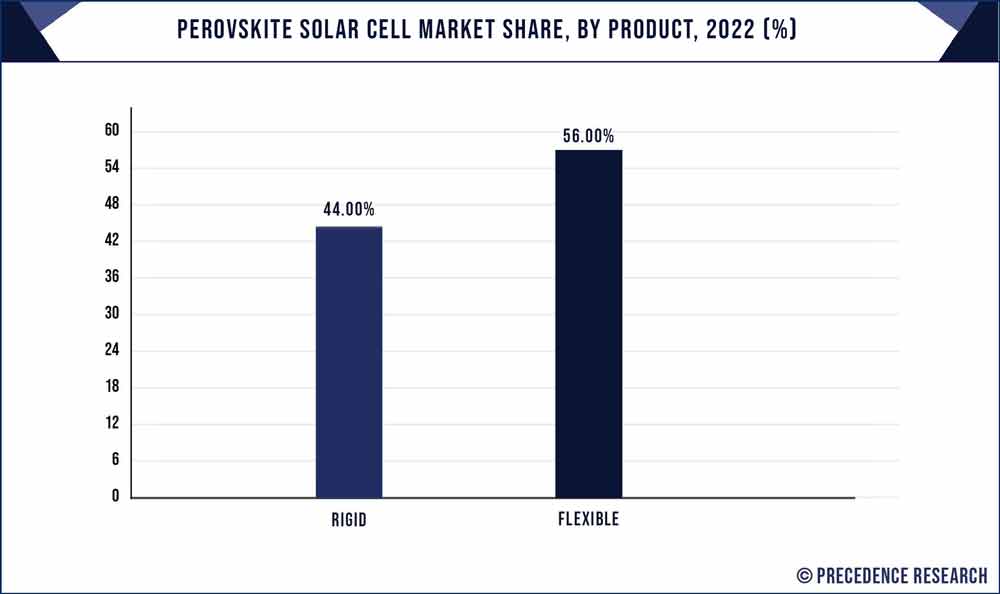 In 2021, the stiff perovskite-based- based solar cell market is expected to grow at the fastest CAGR, while the flexible perovskite-based solar cell sector had the largest proportion.
Application Insights
Due to the increasing demand for solar cells using perovskite in constructing buildings and parts of construction materials, such as roofs, windows, or facades, among others, the Building Integrating PVs group is estimated to grasp the major market segment. By 2030, the consumer devices (portable media players) category is anticipated to outgrow the whole market.
End-User Insights
Due to the increase in the need for wearable technology, the consumer technology sector is expected to exhibit the greatest CAGR throughout the forecast period. However, the energy sector dominated the share in terms of revenue, accounting for over two-fifths of the worldwide perovskite solar panel industry. This is because there is a growing need for sustainable, renewable energy sources.
Type Insights
Given that mixed PSCs are among the most widely used, they are predicted to hold the biggest market share of about 51%. Due to their rising demand in the field of wearable power sources and assimilation with architectures as well as several other benefits like portability, flexibility, lightweight, and compatibility with non-standard electronic goods, flexible PSCs are predicted to expand at the highest CAGR from around 29.9%.
Perovskite Solar Cell Market Share, By Region, 2021 (%)
| | |
| --- | --- |
| Regions | Revenue Share in 2021 (%) |
| North America | 28% |
| Asia Pacific | 43% |
| Europe | 20% |
| Latin America | 5% |
| MEA | 4% |
Regional Insights
The Asia Pacific industry's revenue growth is anticipated to accelerate considerably during the projection timeframe. Due to the region's fast urbanization, the requirement for alternative energy to minimize reliance on fossil fuels, & government initiatives backing, the Asia Pacific region dominates the global industry in terms of share of the revenue.
Furthermore, the region's market is growing due to the region's well-developed consumer electronics sector. Due to the region's strong automotive industry, rising end-use sector demand, and the presence of major market players competing in North American nations, North America held the second-largest marketplace share in the global crystalline solar cell market in 2021.
Recent Developments:
August 2019, Meyer Burger, a Swiss engineering firm, sold the first piece of solar cell production equipment to Oxford PV, a UK-based perovskite specialized business. Oxford PV hopes to build a 250 MW perovskite special assembly plant through this acquisition by the end of 2020.
Saule Technologies formally unveiled an industrial assembly line of inkjet-printed solar cells using perovskite in February 2019 on a test basis. By the end of 2020, the company hopes to have constructed 180,000 sq m of solar cells.
Segments Covered in the Report:
(Note*: We offer report based on sub segments as well. Kindly, let us know if you are interested)
By Structure
Planar Perovskite Solar Cells
Mesoporous Perovskite Solar Cells
By Product
Rigid Perovskite Solar Cells
Flexible Perovskite Solar Cells
By Method
Solution Method
Vapor-Assisted Solution Method
Vapor-Deposition Method
By Application
Smart Glass
Perovskite in Tandem Solar Cells
Solar Panel
Portable Devices
Utilities
BIPV (Building-Integrated Photovoltaics)
By End-Use
Manufacturing
Energy
Aerospace
Industrial Automation
Consumer Electronics
Others
By Type
Flexible PSCs
Hybrid PSCs
Multi-Junction PSCs
By Geography
North America
Europe
Asia-Pacific
Latin America
Middle East & Africa (MEA)