The global polyclonal antibodies market size was estimated at USD 1.44 billion in 2022 and is expected to hit around USD 2.52 billion by 2032, poised to grow at a CAGR of 5.74% between 2023 to 2032.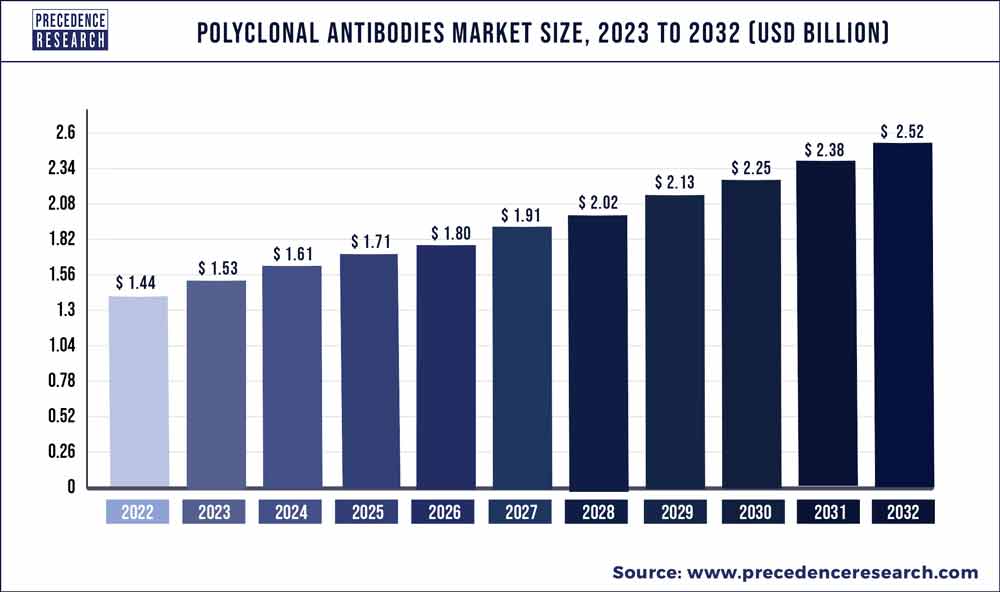 Access our Premium Real Time Data Intelligence Tool, Visit: Precedence Statistics
Key Takeaways:
North America has generated more than 43% of revenue share in 2022.
By Product, the secondary segment has recorded more than 65% of revenue share in 2022.
According to Source, the rabbit is the most used animal to capture a maximum market share.
By Application, the research segment is expected to generate the highest market revenue share.
By End-user, the pharmaceutical and biotechnology segment is expected to contribute to the most considerable market growth.
Market Overview:
Polyclonal antibodies (pAbs) are termed complicated mixtures of numerous antibodies that are generally formed by various B-cell clones of an animal. These antibodies can create homogeneous lattices with monomeric protein antigens because each antibody can interconnect with a distinct epitope on the antigen. It serves as an advantage because of its multi-epitope binding properties.
In July 2022, GigaGen Inc. published a peer-reviewed study in the International Pathogens publication. The article described the company's recombinant polyclonal product, GIGA-2050, which targets SARS-CoV-2 and highlighted the GMP (good manufacturing practice) production and IND (Investigational New Drug)-enabling research of its new class of medications, recombinant polyclonal antibodies.
Growth Factors:
The global polyclonal antibody market is expected to drive due to the increased incidence of cancer, infectious disorders, and antibody research, as well as expanding demand from emerging markets such as the U.S., China, and many others. Production is quicker, and chances of a more favorable reaction to the antigen are raised; also, can experiment with different animal sources as the generated antibody recognizes various epitopes on the same antigen. Less expensive, choice of selection in animals to produce antibodies, and purification with affinity chromatography techniques is comparatively simple.
For instance, according to the American Cancer Society, the United States will experience around 1,958,310 new cancer cases and 609,820 cancer deaths in 2023. This figure suggests that there is a significant market need for the creation of polyclonal antibody therapy for the treatment of cancer.
Report Scope of the Polyclonal Antibodies Market:
| | |
| --- | --- |
| Report Coverage | Details |
| Market Size in 2023 | USD 1.53 Billion |
| Market Size by 2032 | USD 2.52 Billion |
| Growth Rate from 2023 to 2032 | CAGR of 5.74% |
| Largest Market | North America |
| Fastest Growing Market | Asia-Pacific |
| Base Year | 2022 |
| Forecast Period | 2023 to 2032 |
| Segments Covered | By Product, By Source, By Application, and By End-User |
| Regions Covered | North America, Europe, Asia-Pacific, Latin America and Middle East & Africa |

Driver:
Rising incidence of cancer
The rising cancer rate is driving the growth of the polyclonal antibodies market. These are antibodies produced by different B cells in response to an antigen, such as cancer cells. They can recognize and bind to multiple epitopes on the surface of cancer cells, making them practical tools for cancer prediction, diagnosis, and cure. As cancer incidence continues to rise globally, there is an increasing demand for more accurate and effective cancer diagnostics and therapeutics. These have even shown promise in these areas, as they can be used for various applications, including flow cytometry, immunohistochemistry, and western blotting.
Moreover, developing new technologies for polyclonal antibody production and purification has made producing large quantities of high-quality antibodies easier and more cost-effective, which has led to increased availability of polyclonal antibodies for research and clinical applications, further fueling the market's growth.
For instance, Merck dispensed robust data from 2022 about Phase II studies for xevinapant and evobrutinib. The business also disclosed partnership arrangements for conjugating antibodies and drugs with Mersana Therapeutics, Inc. and in-licensing agreements for its cancer brand with Nerviano Medical Sciences S.r.l.
Restraints:
Limitation in specificity
Polyclonal antibodies can bind to multiple epitopes on an antigen, leading to non-specific binding and lower assay specificity. Limited specificity hampers the polyclonal antibodies market. Polyclonal antibodies are produced by immunizing an animal with a particular antigen, creating a mixture of antibodies that target different epitopes on the antigen. The antibodies produced can recognize and bind to multiple antigens, making them useful in various applications such as research, diagnostics, and therapeutics.
However, the lack of specificity of polyclonal antibodies can also lead to cross-reactivity, where the antibodies bind to unintended targets. This can result in false-positive results in assays and affect experimental data's accuracy and reliability. Furthermore, using polyclonal antibodies in therapeutics can lead to off-target effects, potentially causing adverse patient reactions.
Opportunities:
Rising demand for targeted therapeutics
The increasing demand for targeted therapeutics has driven the market for polyclonal antibodies. Polyclonal antibodies have the advantage of recognizing multiple epitopes on a target antigen, allowing them to be used in various applications, from diagnosis to treatment. Expanding demand for targeted therapeutics presents a significant opportunity for the polyclonal antibodies market. Polyclonal antibodies are a type of immunoglobulin that can bind to multiple epitopes on a target molecule, making them highly effective at targeting complex proteins and cellular pathways. For instance, targeted therapeutics, such as monoclonal antibodies, have become popular because they selectively target specific cells or proteins. However, polyclonal antibodies are a viable alternative for many applications, particularly in situations where multiple targets need to be recognized or where rapid clearance of the target is necessary.
Furthermore, the polyclonal antibodies market has been experiencing significant growth due to the increasing demand for personalized medicine, which requires the development of customized therapies for individual patients. Polyclonal antibodies can be generated from a patient's immune system, providing a personalized and highly effective treatment option. Polyclonal antibody treatment is used for many disorders, including cancers such as leukemia, solid tumors, lymphoma, etc., which have created tremendous opportunities for the polyclonal antibodies market.
Segments Insight:
Product Insights:
Secondary antibody is the emerging segment of polyclonal antibodies market
Secondary antibody increases sensitivity and signal amplification because more reporter molecules are added to the antibody-antigen complex due to several secondary antibodies joining a single primary antibody that has bound an antigen. Typically, primary antibodies can be found unconjugated or conjugated to several reporter molecules.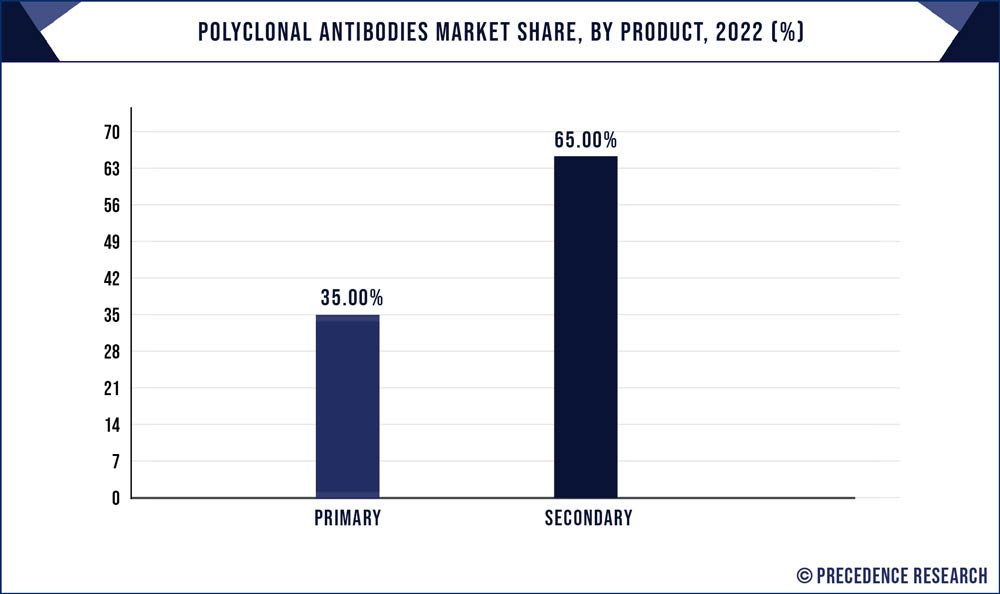 Additionally, secondary antibodies are a far more versatile reagent than individually labeled primary antibodies, despite secondary antibodies providing access to more probes. This is due to increased assay design flexibility, which includes multiple labeling techniques. Any primary antibody of the same kind and host species may be used with the secondary antibody.
Source Insights:
Rabbit is the most used source for the polyclonal antibodies market
Polyclonal antibodies can be generated in rabbits by immunizing the rabbits with the antigen of interest. The rabbit's immune system will produce a polyclonal antibody response to the antigen. The antigen is routinely injected into the animal several times over several weeks to produce polyclonal antibodies in rabbits. The rabbit's immune system will recognize the antigen as foreign, which will then manufacture antibodies to ward it off. The polyclonal antibody serum can then be extracted from the rabbit's blood.
For instance, in February 2023, Roche introduced the ATRX rabbit polyclonal antibody and the IDH1 R132H (MRQ-67) rabbit monoclonal primary antibody to detect mutation status in patients with brain cancer.
Application Insights:
During the forecast period, the research segment is mostly the growing segment of the polyclonal antibodies market
Polyclonal antibodies are typically easier to produce and are less expensive than monoclonal antibodies. They can also recognize multiple epitopes on the same antigen, which can be useful in detecting different isoforms or post-translational modifications of the antigen. Additionally, polyclonal antibodies can be generated against antigens that are difficult to produce or purify, such as membrane proteins.
Diagnostics is the fastest growing segment in the projection period
As there is a dominance seen in the research segment it is accelerating towards a well-developed diagnostics solution to treat various disorders. Polyclonal antibodies production is inexpensive and also hosts many species in it which is driving the diagnostic segment in the polyclonal antibodies market.
End-User Insights:
Pharmaceutical and biotechnology companies are the dominating segment of the polyclonal antibodies market
Pharmaceutical and biotechnology companies use polyclonal antibodies for various applications, including diagnostic assays, therapeutics, and research tools. For example, polyclonal antibodies are often used in diagnostic assays to detect the presence of specific proteins or pathogens in patient samples. They are also therapeutics for various diseases, including cancer and autoimmune disorders.
Academic & Research Center shows lucrative growth in the polyclonal antibodies market
With the increasing benefits of polyclonal antibodies because of their efficacy and specificity, the applications and awareness are contributing for the growth of polyclonal antibodies across the globe.
Regional Insights:
North America has the highest revenue share throughout the projection period. The North American region has advanced research and development infrastructure, including academic and research institutions, pharmaceutical companies, and government organizations investing heavily in technology and innovation, including developing polyclonal antibodies. Governments and private organizations in North America have increased funding for research and development in the biotechnology and pharmaceutical industries, which has resulted in the development of new and innovative therapies, including polyclonal antibodies. North America's well-established healthcare infrastructure includes hospitals, clinics, and laboratories equipped to effectively use and administer polyclonal antibodies due to prominent players, advanced healthcare infrastructure, and high healthcare expenditure.
For instance, SAB Biotherapeutics announced a collaboration with Emergent BioSolutions Inc in October 2022, which indicates that Emergent BioSolutions is anticipated to provide comprehensive Contract Development and Manufacturing (CDMO) services to create products based on polyclonal antibodies. Additionally, thanks to this collaboration, SAB Biotherapeutics will be able to concentrate solely on the study and advancement of the polyclonal antibody medication pipeline. As of October 2022, the company is executing several clinical-stage programs for treating Type 1 diabetes, acute and recurrent C. diff., influenza, and oncology and prospective immunology candidates.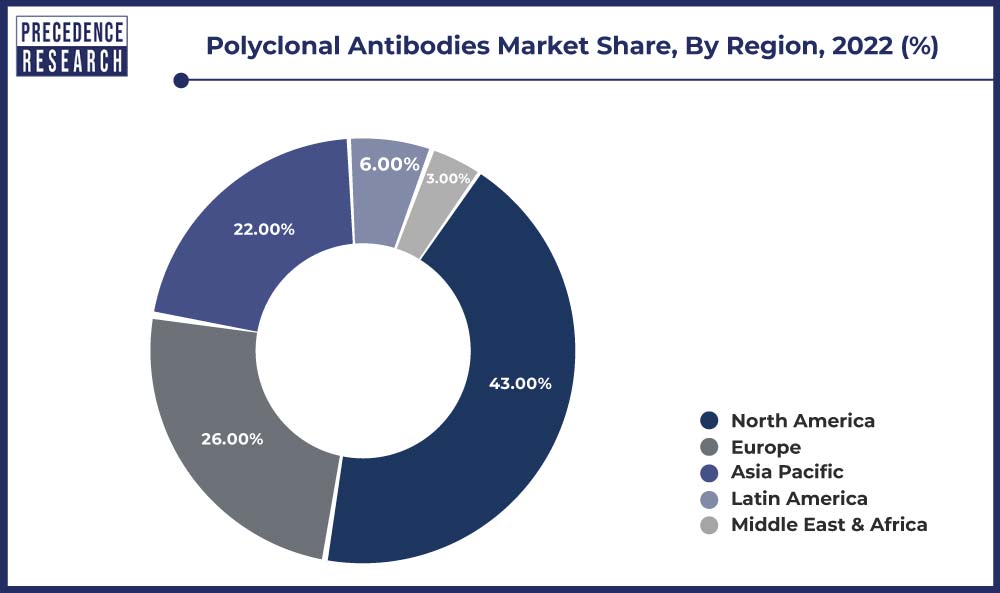 Asia Pacific is expected to register the fastest CAGR over the forecast period
The Asia Pacific region is the fastest-growing global polyclonal antibodies market. Several reasons are available such as the increasing prevalence of chronic diseases like autoimmune disorders and the rising demand for customized medicine and targeted therapies. The Asia Pacific region has a large and rapidly expanding population, particularly in countries such as China and India, experiencing significant economic growth.
This has led to increased healthcare spending and investment in research and development, creating opportunities for companies in the polyclonal antibody market to expand their regional operations. Moreover, the presence of major pharmaceutical and biotech companies in the region and supportive government policies and initiatives have further stimulated the growth of the polyclonal antibodies market in the Asia Pacific.
Recent Developments:
In January 2023, XENOTHERA announced recent evidence supporting the necessity of using its glyco-humanized polyclonal antibody (GH-pAb) XAV-19 to treat patients during the disease's initial viral phase.
In December 2022, Merck and Kelun-Biotech announced that seven exploratory preclinical antibody-drug conjugates (ADC) for cancer treatment had been created thanks to an exclusive license and partnership arrangement between the firms.
In October 2022, Thermo Fisher Scientific Inc. announced that it had entered a binding contract to buy The Binding Site Group from a group of shareholders led by the European private equity company Nordic Capital in an all-cash deal worth $2.6 billion at the time of publication.
In October 2022, Absolute Biotech launched as a global alliance of the most prominent antibody-centric brands. It specializes in antibody reagents and services, adding value to already-existing reagents, kits, and antibodies through engineering, recombinant manufacture, annotation, validation, and sequencing. To enhance the development and accessibility of life science reagents, the merged firm will take advantage of each brand's distinct antibody expertise.
In April 2022, Aviva Systems Biology announced the debut of its brand-new service, which provides high-throughput services for antibody characterization. This service offers small to mid-size biotechs' drug development researchers an economical and convenient option for quick therapeutic antibody screening, kinetic analysis, and epitope mapping and binning. Aviva can offer high throughput SPR analysis for discovering biotherapeutic antibodies at a scale unmatched by other screening providers by utilizing the cutting-edge Carterra® LSATM platform.
Key Market Players:
Thermo Fisher Scientific Inc.
Merck KGaA
Abcam plc
Bio-Rad Laboratories Inc.
F. Hoffmann-La Roche Ltd.
Cell Signaling Technology Inc.
Becton, Dickinson and Company
PerkinElmer Inc.
GenScript
BioLegend, Inc.
Creative Diagnostics.
Segments Covered in the Report:
(Note*: We offer report based on sub segments as well. Kindly, let us know if you are interested)
By Product
By Source
Rabbits
Goats
Sheep
Others
By Application
Research
Diagnostics
Therapy
By End-User
Academic & Research Center
Pharmaceutical & Biotechnology Companies
Diagnostic Centers
Hospitals
By Geography
North America
Europe
Asia-Pacific
Latin America
Middle East and Africa