The global research antibodies market size accounted for USD 4 billion in 2022 and is projected to hit around USD 6.54 billion by 2032, poised to grow at a CAGR of 5.04% over the forecast period from 2023 to 2032.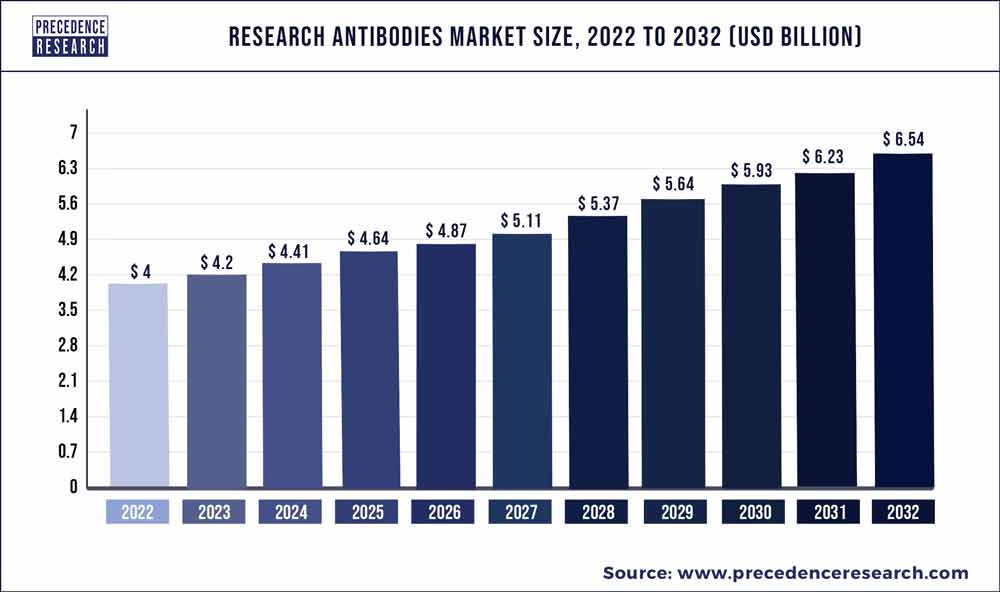 Access our Premium Real Time Data Intelligence Tool, Visit: Precedence Statistics
Key Takeaway:
North America generated more than 40% of revenue share in 2022.
By Product, the primary antibodies segment captured 75% of the revenue share in 2022.
By Technology, the western segment recorded more than 51% of revenue share in 2022.
By Application, the oncology segment generated more than 33% of the revenue share in 2022.
By End-user, the academics & research institutes captured more than 62% of revenue share in 2022.
Market Overview:
Research antibodies are the detecting tool for different techniques, such as western blotting, used by researchers to conduct various research. It helps mainly in conducting genomics and proteomic analysis. The market revolves around development, innovation and supply of antibodies across the world. Regulatory approvals for innovative antibody products will positively impact on the company's revenue. Further, the growing usage of advanced genetic technologies will provide product discovery and development. Moreover, several organizations' extensive research and development activities will launch new products. The high occurrence of chronic diseases, including cancer and infections, will create the need for product design and innovation.
Jackson ImmunoResearch Inc. is a leading company specializing in producing secondary antibodies for many life science applications. This company has generated overall annual revenue of $7M per year.
Santa Cruz Biotechnology's annual revenue is $21.0M. After extensive research and analysis, Zippia's data science team found the following critical financial metrics. This company has 100 workers; the revenue per-worker ratio is $210,100. It generated a peak revenue was $21.0M in 2022.
Abcam Plc. generated annual revenue of $361.7M at the end of 2022.
Growth Factors:
The research antibodies market is expanding due to the increase in research academies and industry collaborations, increasing investment in research and development, and a rise in proteomics research, as research antibodies are a crucial component of biotechnology and pharmaceutical research for detecting biological processes and knowing the root cause of the disorder. Moreover, growing research in neurodegenerative disease and oncology drives the market's growth.
Report Scope of the Research Antibodies Market:
| | |
| --- | --- |
| Report Coverage | Details |
| Market Size in 2023 | USD 4.2 Billion |
| Market Size by 2032 | USD 6.54 Billion |
| Growth Rate from 2023 to 2032 | CAGR of 5.04% |
| Largest Market | North America |
| Fastest Growing Market | Asia Pacific |
| Base Year | 2022 |
| Forecast Period | 2023 to 2032 |
| Segments Covered | By Type, By Source, By Product, By Technology, By Application, and By End-User |
| Regions Covered | North America, Europe, Asia-Pacific, Latin America, and Middle East & Africa |

Key Market Driver:
Increasing R&D activity in the life sciences industry
Drug companies' money for R&D is determined by the revenue earned from a new drug, the expected cost of developing a cure, and policies that impact the supply-demand of drugs. The predicted global revenues of a novel drug depend on the prices industries wish to charge for the drug, which is different worldwide, anticipated sales at those prices, and the drug-development effort will succeed.
For instance, The Janssen Pharmaceutical Companies announced that the Committee for Medicinal Products for Human Use of the European Medicines Agency had suggested marketing authorization on the condition for TECVAYLI, which is a monotherapy for grown-up patients with relapsed and refractory multiple myeloma with at least three prior treatments, including an immunomodulatory agent, and an anti-CD38 antibody and have exhibited disease progression on the last treatment. Teclistamab is a T-cell redirecting bispecific antibody that targets B-cell maturation antigen, found on multiple myeloma cells, and CD3, on T-cells.
Key Market Restraint:
Cost of production is high and time consuming
The cost of production of research antibodies is high. It requires more time to detect a valid process of manufacturing antibodies to get a final product as it passes through quality and regulatory concern bodies. Developing research antibodies is complex and requires significant investment in time and resources. Moreover, ensuring quality control and regulatory compliance will increase production costs. These high costs can limit the accessibility of research antibodies to smaller research institutions and individual researchers, thus restricting market growth. As a result, efforts are being made to develop more cost-effective and efficient methods for producing research antibodies, such as recombinant antibody technology and artificial intelligence, to direct the development process.
Key Market Opportunities:
Development of novel vaccination and therapy techniques
With the emergence of infectious diseases, government support to conduct research and development, increase in infections due to air, water, and soil pollution has fueled the growth of novel vaccination and therapeutics techniques to treat diseases. This has led to an increased focus on research and development of new drugs and therapies to prevent and treat infectious diseases. Governments worldwide have recognized the importance of investing in research and development to combat infectious diseases, and they provide funding and support for research and development initiatives to develop new vaccines, therapies, and drugs to fight infectious diseases. They even have shown the potential for new technologies, such as mRNA vaccines, to revolutionize vaccine development.
Segments Insight:
Type Insights:
Monoclonal antibodies is dominating the research antibodies market throughout the forecast period.
The exact quantity of antibodies is maintained amongst the different production batches. Here, in monoclonal antibodies, antigen or immunogenic is not required to be pure, and selection helps identify the suitable clones against the specific antigen. Monoclonal antibodies can be produced because they are time-consuming when made for the first time. It helps in the testing for pregnancy by detecting HCG hormones in urine and is also used in testing for the diseases like chlamydia and herpes, and HIV, which results in AIDS.
Polyclonal antibodies shows significant growth in the research antibodies market during the analyzed period.
The research aspects need to focus on the purification of antigens and examine histopathological tissue. Polyclonal antibodies provide strong affinity, stability, practical storage methods, and excellent compatibility with ELISA and western blotting technologies.
Source Insights:
Rabbit shows the highest revenue share in the research antibodies market during the projection period.
The rabbit has an exclusive advantage as the rabbit spleen contains 50x more lymphocytes than the mouse spleen. Hundreds of hybridomas can be developed from the immunized spleen by providing more independent monoclonal antibodies recognizing different epitopes. This growing use of rabbits as a source animal fuels the market expansion.
Mouse is expected to show a noticeable growth during the predicted period.
Mouse is the commonly used animal host for monoclonal antibody production, even for the generation of polyclonal antibodies. It is used in research and early discovery research, in-vivo pre-clinical therapy investigations, and in vitro diagnostics.
Product Insights:
The primary antibodies segment is expected to dominate the research antibodies market during the projection period.
Primary antibodies bind to the specific antigen and are required in immunoassays. The increasing availability of primary antibodies using mice, rabbits, and other species as hosts and the broader range of utility offered by antibodies, particularly in research and development and performing staining and imaging, is driving the market by expanding the research antibodies market.
Secondary antibodies is expected to grow in the research antibodies market during the analyzed period.
Secondary antibodies bind to primary antibodies at their Fc domain and depend on the experimental method (for direct or indirect labeling). Increase due to the availability of operable conjugated antibodies, which can improve product development activities by detecting, grouping, and finally purifying targeted antigens.
Technology Insights:
Western blotting dominates the research antibodies market during the projection period.
It helps detect target proteins in a specified sample and helps in comparing the relative expression levels to the raised western blotting technique accuracy. It is mainly chosen over substitute technologies for applications detecting essential protein entities. With the growing focus on proteomic research, mostly in developing countries, to grace highly populated areas such as India, China, and others to detect, prevent and treat diseases and even understand the biology of different drugs.
Immunohistochemistry shows attractive growth during the forecast timeframe.
It helps detect the presence of the target protein and its location within the cell and in the tissue and involves specific antigen-antibody reactions; it has the unique advantage of using special enzyme staining techniques that detect only a few quantities of proteins, tissue structures, and enzymes. Furthermore, immunohistochemistry has become vital in medical laboratories and clinical diagnostics centers.
Application Insights:
Oncology has the highest market revenue share throughout the forecast period.
With the rising prevalence of cancer patients worldwide, the demand for antibodies has risen to treat cancer. Most monoclonal antibodies are required to treat cancer and are supposed to be cancer-targeted therapy, which states that they are programmed to interact with specific targets. Meanwhile, a few monoclonal antibodies are said to be immunotherapy as they help the immune system to act against cancer. Oncoproteomics can be used to identify anticancer drugs and personalize cancer management.
Stem cells are expected to grow in the research antibodies market during the analyzed period.
The increasing occurrence of chronic disorders and the adoption of stem cells for treating diabetes, cancer, Alzheimer's, Parkinson's, kidney, and lung diseases has driven the demand for stem cells. Stem cell therapy is a highly effective technique for curing primary health conditions, cancer & blood diseases. Moreover, stem cell research areas, such as drug screening, disease modeling, developmental biology, cell therapy, and reprogramming techniques development, can positively affect market growth fuel using stem cells.
End-User Insights:
Academic & research institutes dominate during the predicted period.
The increase in scientific initiatives by such academics and research institutes for developing novel therapies and tests for chronic diseases such as diabetes and cancer supports the segment's growth and, ultimately, the research antibodies market.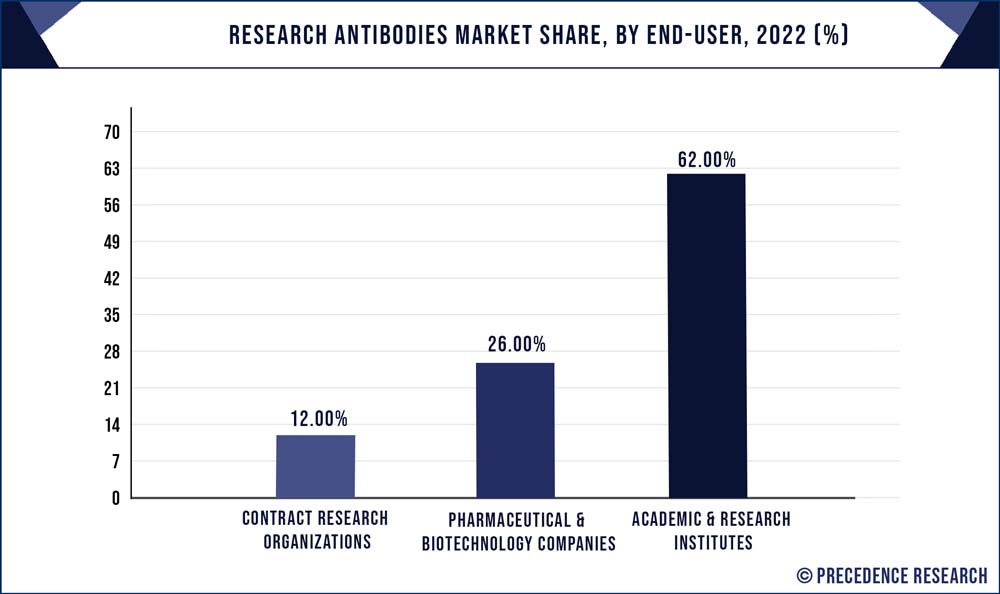 Pharmaceutical & biotechnology companies show lucrative growth during the forecast period.
The maximum use of research antibodies in drug identification and development drives the segment. The increase in technological advancement to produce an antibody to fight most chronic disorders and government support to excel research in pharmaceutical labs are increasing the pharmaceutical and biotechnology companies in the market.
Regional Insights:
North America is dominating the research antibodies market throughout the forecast period.
The growth of advancing genetic technologies for discovering new therapeutic drugs for different chronic diseases such as cancer, diabetes, and innovative antibody products will propel the development of the research antibodies market. Increasing support from the government to conduct research and implement advanced technology in producing new products is stimulating the North American market.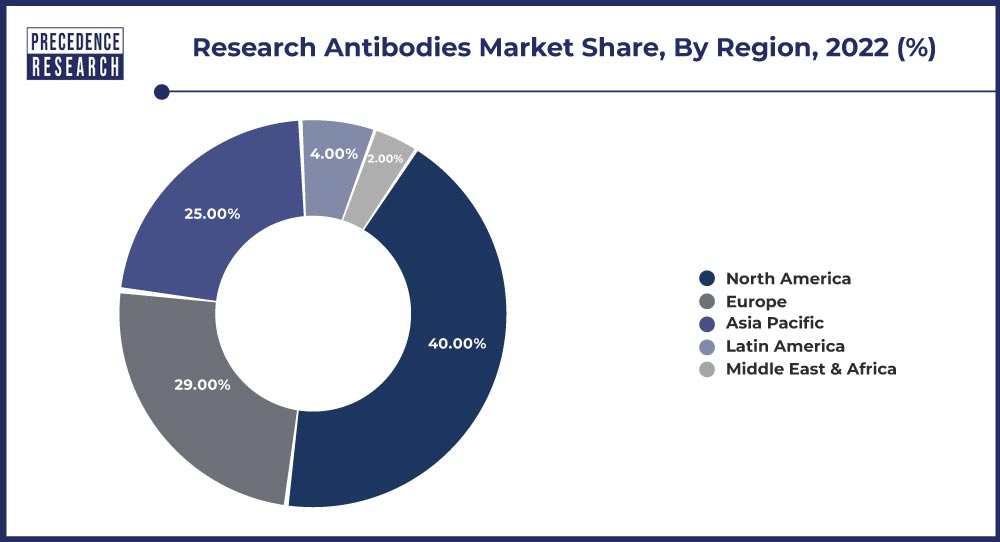 Asia-Pacific is the fastest-growing research antibodies market in the projection timeframe. The growth of the market is attributed to the rising focus on the infrastructural developments in the healthcare sector of developing countries, the presence of potential key players and the rising prevalence of multiple diseases in the region.
Antibodies are used in research to develop new diagnoses and treatments for new diseases; technological advancements in the development of monoclonal antibodies are creating an impact on the Indian market as institutes such as The National Institute of Immunology have developed monoclonal antibodies to diagnose hepatitis b virus and typhoid fever, even developing and improving the quality of antibodies for virulent rotavirus strains E. coli. This is stimulating overall market growth.
Recent Developments:
In February 2023, Charles River Laboratories International, Inc. announced the launch of its first Enzyme-Linked Immunosorbent Assay Kit to detect residual host cell proteins in CHO-based biotherapeutics. It achieves industry-leading sensitivity and specificity rates, reaching 0.1 ng/mL and 90 percent antibody coverage, respectively. This increase in sensitivity and specificity can be attributed to the unique chicken immunoglobulin Y antibodies utilized.
In October 2022, Roche launched the SARS-CoV-2 Rapid Antibody Test 2.0 in markets accepting the CE Mark. The test is the next generation of Roche's existing SARS-CoV-2 Rapid Antibody Test. The SARS-CoV-2 Rapid Antibody Test 2.0 offers broader use than its original configuration, which focused on recovered patients, to now include vaccinated individuals. The test has also been updated to improve the detection of antibodies against virus variants and continues to be investigated against new variants of concern.
In October 2022, Absolute Biotech is considered a unified firm that jointly leads antibody-centric brands worldwide. It deals in antibody reagents and services, providing values to existing antibodies, reagents, and kits through validation, engineering, annotation, sequencing, and makers of recombinants.
In October 2022, AbbVie declared the acquisition of DJS Antibodies Ltd, like G protein-coupled receptors. DJS's lead program is DJS-002, used in investigational preclinical studies to treat Idiopathic Pulmonary Fibrosis and other fibrotic disorders.
In April 2022, Twist High Throughput Antibody Production's launch was declared by Twist Bioscience Corporation, which helps clients to change candidate DNA sequences into purified antibodies for screening applications therapeutic discovery.
Key Market Players:
Merck KGaA
Thermo Fisher Scientific, Inc.
Becton, Dickinson and Company
Cell Signalling Technology, Inc.
Abcam Plc.
PerkinElmer, Inc.
Bio-Techne Corporation
Proteintech Group, Inc.
Santa Cruz Biotechnology Inc.
Jackson ImmunoResearch Inc.
Segment Covered in the Report:
(Note*: We offer report based on sub segments as well. Kindly, let us know if you are interested)
By Type
Monoclonal Antibodies
Polyclonal Antibodies
By Source
By Product
Primary Antibodies
Secondary Antibodies
By Technology
Immunohistochemistry
Immunoprecipitation
Immunofluorescence
Flow Cytometry
Western Blotting
ELISA
By Application
Infectious Diseases
Oncology
Immunology
Stem Cells
Neurobiology
By End-User
Academic & Research Institutes
Contract Research Organizations
Pharmaceutical & Biotechnology Companies
By Geography
North America
Europe
Asia-Pacific
Latin America
Middle East and Africa