The global power grid system market size was valued at USD 9.2 billion by 2022 and it is expected to hit around USD 18.18 billion by 2032 and is poised to grow at a compound annual growth rate (CAGR) of 7.1% from 2023 to 2032.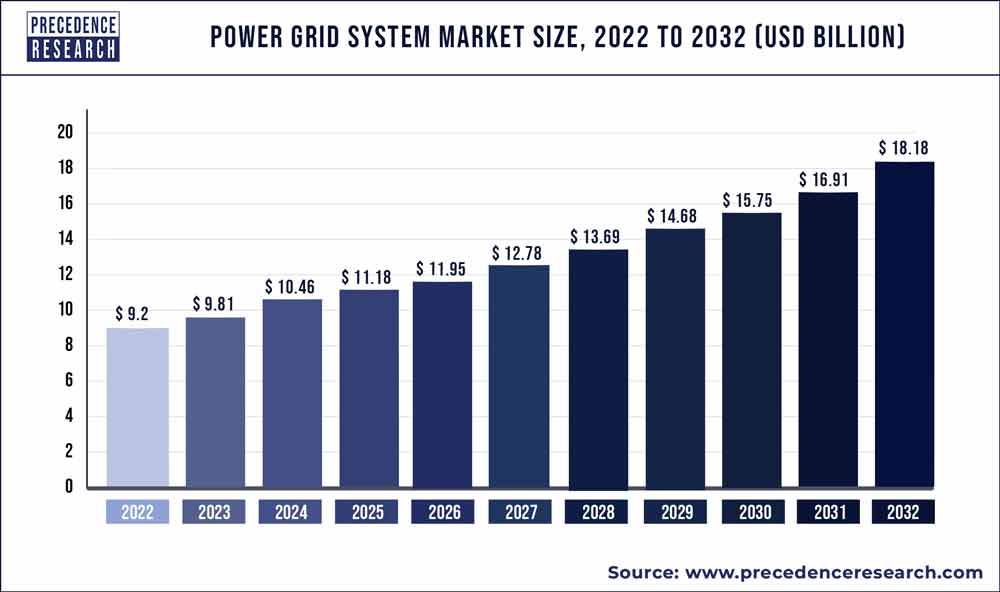 Connected power systems that transport energy from power stations to customers are referred to as the "electricity network." Electricity is generated by offshore power systems using renewable resources, mainly offshore wind. The offshore and subsea sectors serve as the subsea electric grid systems market's parents. The parental industry has a significant impact on both its desire and growth.
The subsea industry's capital spending has grown quickly, reflecting the sector's development planning. Additionally, for subsea operations to be successful, subsea electric grid networks must offer a power source for subsea machinery including blowers, boosters, compressors, and others. Power is one of the most fundamental types of infrastructure, necessary for national welfare and the growth of the economy. The expansion of the Indian economy with support depends on the existence and improvement of suitable infrastructure.
The energy system of India is one of the most diverse in the world. lignite, Coal, nuclear power, natural gas, oil, hydropower, and feasible non-conventional sources including wind, solar, and residential and agricultural waste are used in the process of producing electricity. Electricity demand has risen quickly and is likely to continue to do so. More efficient growth in this sector is needed to meet the rising electricity for electricity.
Growth factors:
The market for subsea electric grid solutions is being driven by the offshore wind generation capacity, which is anticipated to rise at a CAGR of much more than 8percentage points over the projection timeframe of 2023–2032. As the onshore liquid phase of the gas is depleted, the petroleum industry is turning to offshore development, which will significantly increase consumer needs throughout the forecast period. The market is anticipated to expand in the coming years due to developments in offshore renewable energy. The requirement for such an offshore electricity network, on the other hand, is projected to be constrained in the forecast time frame due to diminishing expenditures in the oil and gas sector in 2020 and the COVID-19 epidemic.
As offshore wind farms are increasingly installed around the world, wind energy is anticipated to experience tremendous expansion.

The market for subsea power grid systems is expected to see significant growth as offshore oil and gas drilling operations, particularly deepwater projects, develop.

Because of oil and gas exploration activity and ambitions to produce offshore wind energy, the Middle East and Africa are likely to experience significant growth.
Report Scope of the Power Grid System Market
| | |
| --- | --- |
| Report Coverage | Details |
| Market Size in 2023 | USD 9.81 Billion |
| Market Size by 2032 | USD 18.18 Billion |
| Growth Rate from 2023 to 2032 | CAGR of 7.1% |
| Base Year | 2022 |
| Forecast Period | 2023 to 2032 |
| Segments Covered | Components, Application, Depth, and Geography |
| Companies Mentioned | ABB, Aker Solutions ASA, Apar Industries, Baker Hughes, Deep C, DEME, Furukawa Electric Co., Ltd., General Electric, Hitachi Energy, Intertek Group, J+S Subsea, LS Cable & System, Nexans, NKT, Oceaneering International, Prysmian Group, Schlumberger, Schneider Electric, Siemens Energy, SSG Cable, Sumitomo Electric Industries, Ltd., TE Connectivity, TechnipFMC, Teledyne Marine, ZTT |

Market Drivers:
Growing Deepwater gas and oil development because onshore fossil energy supplies are running out
Deepwater exploration and development operators are being encouraged to do so by extraordinary technological developments, the depletion of fossil fuel sources on land, and the economic feasibility of offshore operations. In Feb 2022, the Oil and Energy Journal reported that operators had reported deep water discoveries within the Gulf of Mexico over the previous 12 months. Furthermore, the discovery of offshore petroleum deposit accounts like those found in the Kutch Valley in India, the Liza ground in Guyana, and also the Tupi offshore oil pipeline in Brazil indicate the possibility of further offshore petroleum products, necessitating the construction of a power grid to transfer energy and deliver electricity to subsurface and offshore manufacturing facilities.
Government initiatives that aid with production
Some of the most important factors influencing the expansion and advancement of the global electric grid equipment market are also the favorable government guidelines that encourage the generation of offshore solar and wind power, most notably wind electricity, along with the increasing need to pressingly reduce carbon dioxide emissions. The growing need to increase the efficiency and reliability of electric grid systems around the world is another significant factor driving the growth of the worldwide market for electric grid systems.
The increasing accessibility and low cost of wind farm innovations
In the upcoming years, producers and other industry participants in the worldwide electric grid equipment market are expected to benefit from attractive development and expansion prospects due to the increased accessibility and simplicity of access to wind turbine technology. The increase in deep-water exploration for oil and gas operations is another factor fueling the international market for electric grid systems. The degradation of fossil energy deposits that are located on land also supports this tendency.
Market Challenges
Low-cost onshore power production:

The cost of generating electricity from offshore wind energy plants, geothermal and hydroelectric facilities, and biomass energy facilities is comparable to or less expensive than generating energy from gas, coal, and petrol engine facilities, even without monetary assistance and with falling oil prices. Additionally, the cost of power generated by wind and solar energy has decreased, making it more affordable to generate power using wind and solar resources than some other renewable power worldwide. Furthermore, the cost of generating electricity in marine production of oil and gas facilities is significantly higher than that of generating energy from conventional energy sources like gas, coal, and petroleum. All these elements are probably going to hurt a negative effect on the offshore industry and, consequently, the subsea electric grid market globally.
Market Opportunities
Technology for wind turbines is readily available offshore
Contrary to typical offshore turbines, which have lengthy towers dug into the seafloor and fastened into position in shallow seas 60-160 feet thick, floating windmills can access wide areas of remote seawater, up to a half-mile intense, in which the largest and most powerful and also most reliable winds are blowing. In Europe, for example, where the concentration of offshore and relatively close windmills in locations like the United Kingdom, Germany, and Norway has sparked strong opposition to additional installations, drifting generators can be put over the skyline, out of view of coastal residents.

Furthermore, 80% of total of the world's marine waterways are found in the ocean region outside the range of traditional offshore generators, making room for floating arrays. Over the previous five years, such advancement has occurred. to show governments and big investors that the fields are viable and feasible, it is anticipated that they would grow in size.
Segmental insights:
Components Insights
By element, the speed control drives market is anticipated to be the furthermore subsea industry throughout the projected timeframe. Subsea VSDs can handle a wide range of voltage and energy demands, including high-power needs for devices like boosters and injector motors, dry and wet gases compressors, along with lesser power devices like a submarine and scrubbing impellers. The deployment of subsea VSD devices also aids in lowering the cost of the cable from the offshore installation to the facilities housing the technology. During the projection period, these elements are anticipated to increase the need for subsea drives with variable speeds.
Application Insights
In 2022, the captive generating sector retained the highest share. Power is supplied and distributed to different elements by the subsea electricity network. Lengthy subsea tie-back improvements for energy-intensive oil and gas processing operations upon that seabed are made possible by subsea electric grid networks. Due to the growing number of subsea activities, expanding use of satellite wells for subsea fields advances, and rising amount of Deepwater drilling operations, the need for a subsea electric grid system is continually developing in the captive generating applications.
Depth Insights
Because to the fact that the majority of oil and gas drilling and production departments are carried out in shallow waters, the shallow water sector is anticipated to control the subsea business. Since the majority of offshore production of oil and gas in these regions is restricted to shallow water, Asia Pacific is predicted to lead the industry for subsea for the relatively shallow sector during the review process, followed by the Middle East.
Power Grid System Market Share, By Region, 2022 (%)
| | |
| --- | --- |
| Regions | Revenue Share in 2022 (%) |
| North America | 27% |
| Asia Pacific | 22% |
| Europe | 42% |
| Latin America | 5% |
| MEA | 4% |

Regional Insights
Between 2023 to 2032, Europe is anticipated to lead the world in subsea trade, trailed by Apac and USA. Due to the significant desire for sources of renewable energy and the favorable government regulations in these regions, the European and the Asia-Pacific region make up the majority of the contributors to the worldwide subsea market. The majority of European nations are primarily emphasizing the expansion of renewable energy resources. Leading the expansion of renewable energy capacity are nations like the UK, Norway, the Netherlands, Germany, and the United Kingdom. The European Winds Initiatives (EWI), a renewable power R&D organization created to advance the wind sector in Europe, is supporting the expansion of the subsea sector.
Recent developments:
Petrobras announced a subsea EPCI project to TechnipFMC in January 2022 for its Bzios 6 field (modular 7), greenfield expansion in the pre-salt region. The supply of flexible and stiff pipelines, umbilicals, pipe end connectors, stiff jumper, umbilical terminal components, and an anchoring device were all included in the deal.

In January 2022, South Fork Winds, a partnership among rested and Eversource, awarded Nexans a concession underneath the framework contract to produce roughly 110 kilometers of high-voltage offshore cables. To send 132 megawatts of electricity to Long Island, New York, a three-phase 138 kV high-voltage alternating circuit (HVAC) subsea exporting cable would be combined with two fiber optic cables.

An innovative submarine coax cable factory will launch in Feb 2022 at the Brayton Point site in Massachusetts, US, according to Prysmian Corporation. The company will be able to assist consumers in the US thanks to the new factory.

To OneSubsea's subaerial multi-stage compressing technology for Shell's Ormen Lange project, ABB and OneSubsea signed a contract in Feb 2022. This arrangement calls for ABB to provide subsea converters and changeable drives to operate the underwater compressors.

Siemens Power and Aker Technologies received a contract for just an offshore power grid operation in the United States in October 2021. Sunrise Winds is a utility-scale wind energy project, and the firm will provide a relatively high energy power line to transport renewable power from Sunrise Winds toward the mainland.

General Electric (GE) affiliate Generation Of renewable Power and PKN ORLEN inked a contract in August 2021 to collaborate on the development of offshore wind energy systems in Poland.

A submarine agreement for the procurement, engineering, implementation, and installation of subsea equipment and related activities by Vr Energi as part of the Balder X development upon that Norwegian Continental Shelves was awarded to Baker Hughes and Oceanic Installers AS in Sept 2019. (NCS). To a Jotun floating storage retention and offload unit, the businesses were required to supply and construct 16 new submarine production practices, umbilicals, shafts, and pipelines.
Key market players:
ABB (Switzerland)

Aker Solutions ASA (Norway)

Apar Industries (India

Baker Hughes (US)

Deep C (Norway

DEME (Denmark)

Furukawa Electric Co., Ltd. (Japan)

General Electric (US)

Hitachi Energy (Switzerland

Intertek Group (UK)

J+S Subsea (UK)

LS Cable & System (South Korea)

Nexans (France)

NKT (Denmark)

Oceaneering International (US)

Prysmian Group (Italy)

Schlumberger (US

Schneider Electric (France)

Siemens Energy (Germany)

SSG Cable (China)

Sumitomo Electric Industries, Ltd. (Japan)

TE Connectivity (Switzerland)

TechnipFMC (UK)

Teledyne Marine (US)

ZTT (China)
Segments covered in the report:
(Note*: We offer report based on sub segments as well. Kindly, let us know if you are interested)
By Components
Cables
Variable Speed Drives
Transformers
Switchgears
Others (connectors, actuators, sensors, and penetrators)
By Application
Captive Generation
Wind Power
Others (tidal power, solar power, and diesel & gas based floating power plants)
By Depth
By Geography
North America
Europe
Asia-Pacific
Latin America
Middle East & Africa (MEA)