The global automotive sensor market size surpassed USD 34.59 billion in 2022 and it is expected to rake around USD 76.43 billion by 2032, poised to grow at a CAGR of 8.30% during the forecast period 2023 to 2032.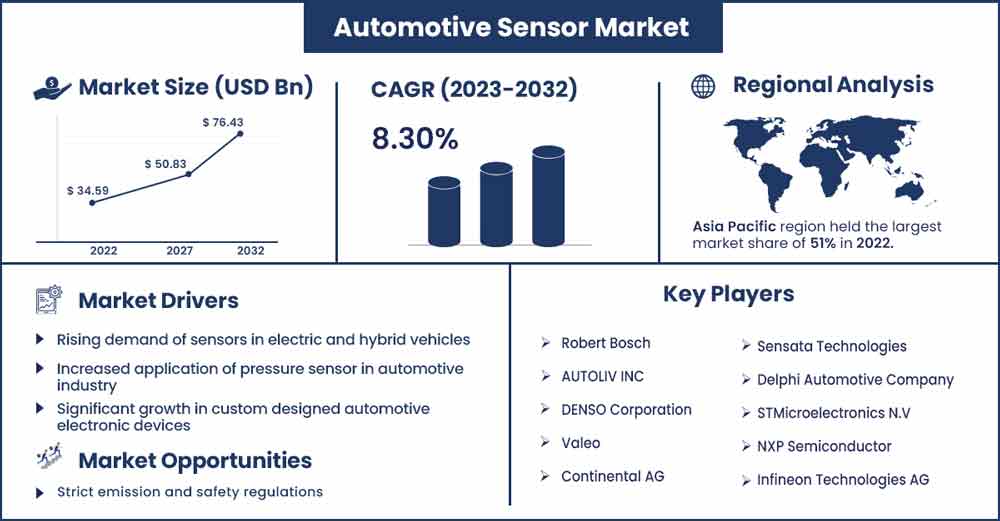 Market Overview:
Automotive sensors gather, record, and send data to evaluate a vehicle's performance. Sensors are tools that recognize environmental events or changes and produce a matching output. They respond by providing an outcome on a screen or transmitting the information digitally for additional processing when they detect physical input like light, heat, motion, pressure, wetness, or anything else. It makes use of silicon wafer-based integrated circuit (IC) manufacturing techniques. It keeps track of and regulates changes in an automobile's chemistry, mechanics, and processes.
Vehicles employ sensors to cut down on onboard weight and maximize fuel efficiency. Automotive sensors may regulate and process a vehicle's coolant level, temperature, and oil pressure. Numerous sensor types, including coolant, pressure, speed, temperature, voltage, magnetic, and oxygen, are employed in the automobile industry. One of the OEM sector's (original equipment manufacturer) fastest-growing technology is automotive sensors, particularly in North America.
Regional Snapshot:
Asia Pacific dominated the market for automotive sensors in 2022, the region is observed to sustain dominance throughout the forecast period. The primary driver of market expansion is the safety features that regulatory agencies require of the government to lower the likelihood of traffic accidents. The market value will be supported by increasing digitalization in the sector and technical advancements in automobile sensor and camera technologies. However, the market is constrained by the delayed development of novel automotive technologies and the high implementation costs of multi-camera equipment and sensors. Additionally, manufacturers are concentrating on incorporating autonomous features into cars to increase safety and luxury, which opens up new prospects for the market to expand throughout the projection period.
In the anticipated time frame, North America's economy will expand dramatically. Through the projected period, the US is expected to dominate the North American automotive sensors market. Three of the top automakers in the world, including Fiat-Chrysler Automotive, General Motors, and Ford Motor Company, are based in the United States. The presence of such players along with the demand for sensors for vehicle safety in the region acts as a driver for the market's growth.
Automotive Sensor Market Report Scope:
| | |
| --- | --- |
| Report Coverage | Details |
| Market Revenue in 2023 | USD 37.29 Billion |
| Projected Forecast Revenue in 2032 | USD 76.43 Billion |
| Growth Rate from 2023 to 2032 | CAGR of 8.30% |
| Largest Market | Asia Pacific |
| Base Year | 2022 |
| Forecast Period | 2023 To 2032 |
| Regions Covered | North America, Europe, Asia-Pacific, Latin America, and Middle East & Africa |

Report Highlights:
By type, with a sizable revenue share, speed sensors led the worldwide automotive sensor market. With an increasing focus on vehicle safety, governments and consumers are demanding more advanced safety features in automobiles. Speed sensors play a key role in enabling safety technologies like adaptive cruise control, collision avoidance systems, and lane departure warning systems. The rising adoption of these features has contributed to the growth of speed sensor demand.
By application, in 2022, the largest revenue share in the worldwide automotive sensor market belonged to the powertrain segment. With increasing environmental concerns and stringent regulations on emissions, there is a significant emphasis on improving fuel efficiency and reducing harmful pollutants. Automotive sensors in the powertrain help achieve these goals by optimizing combustion processes, enabling precise fuel injection, and controlling emissions. As such, their demand has risen substantially.
By vehicle, due to rising customer demand for more secure and environmentally friendly vehicles, the passenger car category now holds the largest share of the market for automotive sensors. Passenger cars often incorporate a wide range of sensors for features like automatic climate control, automatic headlights, rain-sensing wipers, and parking assist systems, enhancing the overall driving experience.
By engine type, the gasoline segment is expected to be the dominant during the forecast period, the extensive utilization of engine-mounted sensors in order to provide accurate amount fuel for operating conditions, acts as a growth factor for the segment.
By sales channel, the OEM i.e., Original Equipment Manufacturers segment is expected to hold a significant share of the market. The segment's expansion is attributed to the enormous demand for sensors and other automotive parts from the OEMs to maintain the quality and standards f the vehicle.
Market Dynamics:
Driver:
Technological advancements
Technological advancements have allowed the integration of various sensors like radar, LiDAR, cameras, ultrasonic sensors, and infrared sensors into vehicles. These sensors enable the implementation of advanced driver assistance systems (ADAS) such as adaptive cruise control, lane departure warning, automatic emergency braking, and blind-spot detection. As a result, the demand for sensors has increased to support these safety features. Technological advancements have allowed the creation of energy-efficient sensors that can operate with minimal power consumption, reducing the overall energy demand of the vehicle. This efficiency is particularly critical in electric and hybrid vehicles, contributing to the adoption of sensors in these eco-friendly automobiles.
Restraint:
Limitations with signal bandwidth ranges
High-resolution cameras are becoming more prevalent in advanced driver assistance systems (ADAS) and autonomous vehicles. These cameras generate vast amounts of image data that need to be processed quickly for real-time analysis. Bandwidth constraints can impede the transfer of high-resolution image data, affecting the accuracy and responsiveness of ADAS and autonomous systems. Limited bandwidth can restrict the amount of data that can be exchanged simultaneously, leading to suboptimal sensor fusion and reduced overall system performance. Thus, creates a restraint for the market.
Opportunity:
Strict emission and safety regulations
As environmental concerns grow and emission regulations become stricter, there is an increased demand for environmental sensors that can monitor air quality and emissions. These sensors are crucial for ensuring compliance with emission standards and for improving overall air quality. The automotive sensor market can benefit by supplying these specialized sensors to car manufacturers. Stringent regulations often drive innovation and technological advancements in the automotive industry.
Automakers are constantly looking for ways to improve fuel efficiency, reduce emissions, and enhance vehicle safety. This leads to the development of new sensor technologies that are more accurate, reliable, and cost-effective. Automotive sensor manufacturers can seize the opportunity to provide cutting-edge sensor solutions to meet these evolving demands. Thus, the emergence of strict emission and safety regulations brings an opportunity for the market to grow.
Challenge:
High cost of production
Automotive sensors are frequently costly for widespread use, preventing many prospective customers from purchasing them and limiting market expansion chances. Due to the utilization of rare earth metals, LIDAR sensors in AVs are more expensive than radar ones. The extensive research methodologies put in during the production cycle along with the requirements for skilled workforce to manage the production raises the overall cost of the sensors. The high cost of sensors for vehicles limits their adoption, especially in economically weaker areas. Thus, it creates a challenge for the market to expand.
Recent Developments:
In July 2023, A 2.5 MPixel RGB-IR BSI global shutter sensor called the OX02C1S from OMNIVISION was created for occupant monitoring and in-cabin driver systems. It has pixels that are 2.2 m in size and a 36% NIR QE rating. It is made to function well in low light. It has integrated cybersecurity and industry-standard ASIL-B, enabling simultaneous detection of images in all pixels to correctly replicate rapid motion without distortion. It is also offered as a rebuilt wafer alternative for designers who wish to create their own packaging.
In July 2023, The U9C and C9C, two newly created digital, ready-to-use force sensors from HBK, are excellent for monitoring quick operations and offer a uniform interface to any of the PLC through IO-Link. Typical uses for them include joining or pressing operations during assembly, as well as the creation of automotive components and subsystems.
In July 2023, The Sensor Fusion Development Kit (also known as "the Kit") was developed by TIER IV, a pioneer in autonomous driving (AD) open-source technology, to simplify and hasten the creation of autonomous driving (AD) systems and associated applications using cutting-edge perception technology. Modern vehicle sensors, including 3D LiDARs and HDR cameras, and industrial-grade processors are all included in the Kit. Giving users a full suite of processing tools for sensor fusion facilitates and hastens the development of innovative perception technologies.
Major Key Players:
Robert Bosch
AUTOLIV INC
DENSO Corporation
Valeo
Continental AG
Sensata Technologies
Delphi Automotive Company
STMicroelectronics N.V
NXP Semiconductor
Infineon Technologies AG
Market Segmentation:
By Type
Position Sensors

Clutch Position Sensors
Gear Position Sensors
Throttle Position Sensors
Crankshaft Position Sensors
Steering Angle Position Sensors
Camshaft Position Sensors

Safety Sensors

Seat Belt Sensors
Brake Switch Sensors
Door Switch Sensors
ADAS Sensors

Blind Spot Detection
Night Vision Sensors
Light Sensors
Parking Sensors
Cruise Control

Impact Sensors
Anti-theft Sensors
Knock Detection Sensors

Level Sensors

Fuel Level Sensors
Coolant Level Sensors
Oil Level Sensors

Oxygen Sensors
Pressure Sensors

Tire Pressure Sensors
EGR Pressure Sensors
Airflow Rate Sensors

Temperature Sensors

Engine Coolant Temperature Sensors
Rain/humidity Sensors
Oil/Fuel Temperature Sensors
Battery Temperature Sensors
Air Temperature Sensors

Speed Sensors

Wheel Speed Sensors
Speedometer
By Application
Powertrain
Safety & Security
Body Electronics

Steering system
Chassis system
Others

ADAS & safety system
Health, wellness, wellbeing (HWW)
Telematics
By Vehicle
Passenger Cars

Compact
Midsize
Luxury
SUVs

Light Commercial Vehicles
Heavy Commercial Vehicles
By Engine Type
Gasoline
Diesel
Hybrid
Battery electric vehicles
Fuel cell
By Sales Channel
Original Equipment Manufacturers
Original Equipment Supplier Spare Parts
Independent Aftermarket
Buy this Research Report@ https://www.precedenceresearch.com/checkout/1030
You can place an order or ask any questions, please feel free to contact at sales@precedenceresearch.com | +1 9197 992 333