The global automotive tire market size was exhibited at USD 130.5 billion in 2022 and is predicted to touch around USD 211.6 billion by 2032, poised to grow at a CAGR of 5% from 2023 to 2032.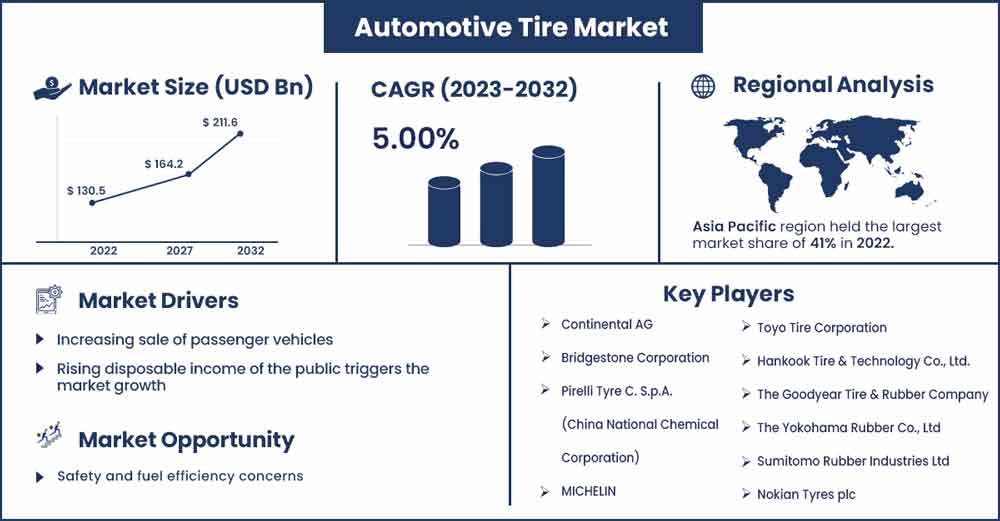 Market Overview:
The global automotive tire market fulfills the requirements of the global automotive market by offering the raw material or products associated with tire components for vehicles. The automotive tire market refers to the global industry that manufactures, distributes, and sells tires for various types of vehicles, including cars, trucks, buses, motorcycles, and other specialized vehicles. Tires are an essential component of any vehicle, as they are the only point of contact between the vehicle and the road, providing traction, stability, and support for the vehicle's weight.
The automotive tire market is a significant sector within the larger automotive industry, and its size and demand are influenced by factors such as the number of vehicles on the road, economic conditions, consumer preferences, and technological advancements.
The market includes various tire types, such as summer tires, winter tires, all-season tires, performance tires, and off-road tires, each designed for specific driving conditions and vehicle types. Tires come in different sizes and are designed for various applications, from passenger cars to commercial trucks, off-road vehicles, and specialty vehicles. Tires are sold as original equipment on new vehicles (OEM) and as replacements when the original tires wear out or for specific performance needs.
Regional Snapshot:
Asia Pacific is anticipated to hold a disproportionately significant part of the automotive tire market due to rising domestic demand, the accessibility of cheap labor and raw materials, the region's sizeable population, and changing norms. In this region, tire production is anticipated to expand quickly. Sharp growth in disposable income and better living standards are pushing the expansion of the auto sector in this area. In addition, it is projected that low labor costs and the simple availability of raw materials would lower the cost of tire manufacture in the Asia-Pacific region.
As a result, tire producers are increasing their market share in this area. The market for cars with contemporary characteristics is boosted by growth in manufacturing capacity and increased demand for light and heavy vehicles in countries like China, India, Japan, and South Korea. It is predicted that this will increase tire demand during the projected period. China controlled the region's tire sector because of significant investments.
North America is expected to witness significant growth during the forecast period. North America has been a mature market for automotive tires, characterized by steady growth. This region's market size is substantial due to the large number of vehicles on the road and a high replacement rate for tires. The market in the region is highly competitive, with both domestic and international tire manufacturers operating in the region.
Automotive Tire Market Report Scope:
| | |
| --- | --- |
| Report Coverage | Details |
| Market Revenue in 2023 | USD 136.4 Billion |
| Projected Forecast Revenue in 2032 | USD 211.6 Billion |
| Growth Rate from 2023 to 2032 | CAGR of 5% |
| Largest Market | Asia Pacific |
| Base Year | 2022 |
| Forecast Period | 2023 to 2032 |
| Regions Covered | North America, Europe, Asia-Pacific, Latin America, and Middle East & Africa |

Report Highlights:
By season tire type, the all-season segment is observed to grow at the fastest rate during the forecast period. Easy driving and convenience for all seasons offered by all season tires promote the growth of the segment.
By rim size, the between 15-20 inches segment will acquire the largest share of the market during the forecast period. The rising demand for aesthetically pleasant automotive parts promotes the segment's growth.
By vehicle type, during the anticipated years, the passenger car segment is expected to have the most significant worldwide market share. The demand for passenger vehicles in Asian countries like China and India will likely rise, boosting the automotive tire market.
By distribution channel, the OEM segment is expected to hold a significant share of the market owing to the rising demand for automotive components from the original manufacturer that promises quality and longer life for the product.
Market Dynamics:
Driver:
Rise in Automotive Sales and Production
The car industry has lately undergone rapid expansion because of expanding industrialization, which has sparked an increase in sales of commercial automobiles, including tractors, trucks, and trailers. Sales of luxury passenger vehicles and premium motorbikes are also rising as people's disposable income and standards of living rise. Additionally, it is projected that sales of electric cars would increase during the forecast period.
The market for these vehicles is also fueled by the decreasing cost of electric vehicle parts, including batteries, gearboxes, and alternators. As a result, when customer demand for automobiles rises across all categories, so does tire and vehicle manufacturing. The growth of the automotive industry also affects the market for automobile tires because of the global consolidation of the auto sector, which leads to mergers and acquisitions among local and international automakers. As a result, it is projected that the expansion of the automotive industry would increase demand for tires globally.
Restraint:
Design limitations
Design limitations may hinder the growth of the market by limiting the ability of tire manufacturers to develop tires with superior performance characteristics and safety features. Limitations in tire materials, construction and treat patterns could prevent the creation of tires that offer better traction, handling and braking capabilities, especially in extreme weather conditions. Tires with limited design advancements may have shorter lifespans. All these factors create a restraint for the market.
Opportunity:
Safety and fuel efficiency concerns
Governments across the globe are establishing strict tire performance rules to address safety issues, including fuel economy and braking distance reduction due to wet traction. As a result, tire producers will have several development opportunities to release tires that adhere to legal requirements.
Manufacturers are thus creating tires that enhance the general fuel economy of autos as technological advancements grow. Ecsta PA31" pneumatic tires were introduced by Kumho Tyre Co., Inc. for high-performance cars like coupes and sports sedans. ATV and UTV use on public highways were previously forbidden for safety concerns. However, new regulations and legislation are currently being adopted globally to allow the use of these cars on public roadways. As the concerns for safety grow, the element is expected to offer the opportunity for the market.
Challenge:
Sustainability concerns and raw material cost
There is a growing emphasis on sustainability and environmental responsibility. Tire manufacturers face pressure to develop eco-friendly and recyclable tire options to reduce environmental impacts, which can be challenging due to the complexity of tire design and materials. The tire industry heavily relies on raw materials such as rubber, steel and chemicals. Fluctuations in the prices of these materials can significantly impact production. Thus, poses a challenge for the market.
Recent Developments:
In February 2023, the company's first EV passenger vehicle tires, the ZC Rubber EV Pro series, was introduced in China. The new tires feature better grip performance, decreased rolling noise, and greater fuel efficiency by utilizing the most recent technology from ZC Rubber. The EV Pro tires use Super Silent technology, which uses three-dimensional silent bolts, all-season noise-absorbing materials, and a dedicated soundproof chamber to lessen tire noise.
Major Key Players:
Continental AG
Bridgestone Corporation
Pirelli Tyre C. S.p.A. (China National Chemical Corporation)
MICHELIN
Toyo Tire Corporation
Hankook Tire & Technology Co., Ltd.
The Goodyear Tire & Rubber Company
The Yokohama Rubber Co., Ltd
Sumitomo Rubber Industries Ltd
Nokian Tyres plc
Market Segmentation:
By Season Tire Type
By Rim Size
Less than 15
Between 15 to 20
Greater than 20
By Vehicle Type
Commercial Vehicle

Light Commercial
Heavy Commercial

Passenger Car
Electric Vehicle
By Distribution Channel
Buy this Research Report@ https://www.precedenceresearch.com/checkout/1031
You can place an order or ask any questions, please feel free to contact at sales@precedenceresearch.com | +1 9197 992 333