The global basic chemicals market size surpassed USD 681.12 billion in 2022 and it is expected to rake around USD 978 billion by 2030, poised to grow at a CAGR of 4.63% during the forecast period 2022 to 2030.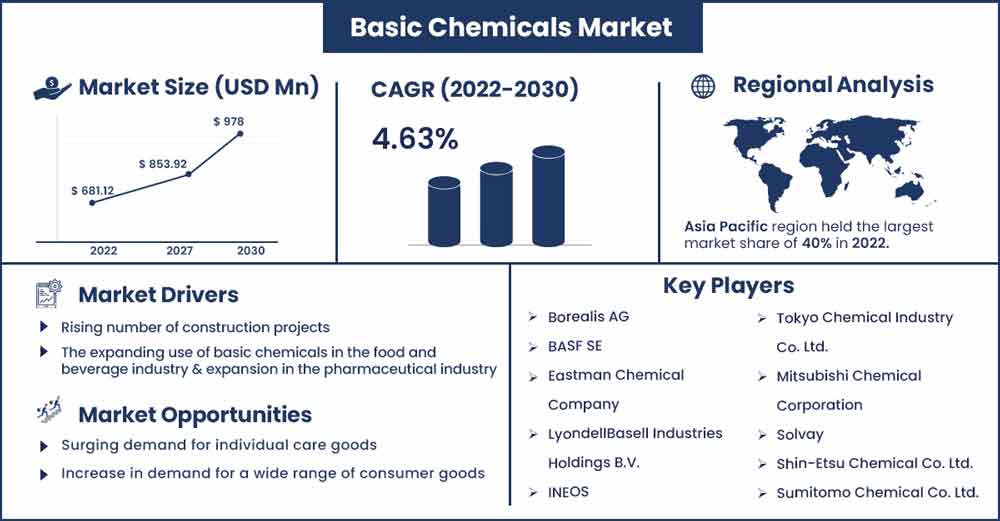 Basic chemicals generated by chemical manufacturing businesses are largely marketed to other industries and the chemical industry before becoming goods for general consumers. These items are used to process raw materials in several industries. Additionally, there are items categorised as basic chemicals that are used in a range of mixes as additives and solvents.
Chemicals are more in demand when emerging sectors start to take off as a result of development. The term "basic chemical products" refers to a broad range of chemicals used in anything from engineering to textiles, paints, and inks to crop protection. To suit consumer demands and new environmental restrictions, new goods are continually being produced. Chemicals are employed in many different industries, such as the automotive, textile, and food and beverage industries. 96 percent of produced goods contain chemical components.
As a consequence, initial and long-term COVID-19 modifications are likely to impact any sector with such wide economic coverage. Numerous factors contribute to the growth of the basic chemicals market in the global economy. Large demands from several other and consumer sectors, such as transportation packaging agricultural textile electrical and electronic medicines paints and coatings, are among these causes. Additionally, there is a rising demand for packaged foods and beverages since they are more convenient and have longer shelf lives. This also takes into account the rising conception in nations like China and India, which fuels the increase in chemical use.
Given that the industry is mostly consumer-driven, innovation and R&D are some of the significant growth potential. Innovative speciality chemicals have been developed as a result of manufacturers' emphasis on delivering novel and tailored product offers for target applications and meeting the demands of particular clients. This has increased the variety of products available on the market. Chemicals are employed in many different industries, such as the automotive, textile, and food and beverage industries. 96 percent of produced goods contain chemical components. As a result, early and long-term COVID-19 modifications are likely to have an effect on a sector with such broad economic exposure. Depending on the course of the pandemic and its impact on the economy, chemical enterprises may confront dangers to their delicate business models as well as a significant opportunity for development and change.
Report Highlights:
The organic segment gained the largest market share in 2022 as a result of consumers' growing preference for organic products, these chemicals' relatively low reactivity, and the growing use of these chemicals in end-user industries like paints and adhesives, pharmaceuticals, vinegar production, and descalers.
The segment of the chemical industry with the largest market share in terms of revenue represented nearly two-fifths of the global market for basic chemicals.
The global market for fundamental chemicals was controlled by the Asia-Pacific region. This industry's dominance in basic chemicals is brought on by the large number of petroleum chemical manufacturers in China and India.
The rising usage of basic chemicals in the food and beverage sector as well as the expansion of the pharmaceutical industry are the main factors driving the growth of the worldwide market for basic chemicals.
Basic Chemicals Market Report Scope:
| | |
| --- | --- |
| Report Coverage | Details |
| Market Revenue in 2023 | USD 712.62 Billion |
| Projected Forecast Revenue in 2030 | USD 978 Billion |
| Growth Rate from 2022 to 2030 | CAGR of 4.62% |
| Largest Market | Asia Pacific |
| Base Year | 2022 |
| Forecast Period | 2022 To 2030 |
| Regions Covered | North America, Europe, Asia-Pacific, Latin America, and Middle East & Africa |

Regional Snapshots:
In 2022, Asia Pacific had a 40% revenue share of the market for fundamental chemicals. Due to China's status as one of the topmost industrial hubs for the majority of businesses, including nutraceuticals or pharmaceuticals, automotive, personal care and cosmetics, electrical and electronics, the Asia Pacific region has emerged as one of the speciality chemicals markets with the fastest growth rates. The rising industrialization and economic diversification of countries like Malaysia, Singapore, India, and Thailand are also expected to have positive effects on the market for essential chemicals.
Market Dynamics:
Drivers:
The key drivers of the growth of the global basic chemicals market are the expanding use of basic chemicals in the food and beverage industry and the expansion in the pharmaceutical industry. Chemicals may be extremely important in the production and preservation of food. Food additives, for instance, may increase the shelf life of some meals while others, like colours, may make them look more appetising. Food is given a flavour boost through the use of flavourings. One of the key drivers boosting the market is also the increased use of fundamental chemicals in the consumer products sector. Many products that we use on a daily basis, like paints, plastics, dish soap, and cosmetics, are made mostly of chemicals. Chemicals that serve as raw materials in other processes include speciality chemicals and commodity chemicals as examples of intermediate products. Contrarily, consumer products are the end result of a certain process. For instance, in Europe, downstream industries fabricate their final products using around 70% of the chemicals produced.
Restraints:
Toxic chemical-related health problems are impeding market expansion. More than 2 million people have perished as a result of exposure to certain chemicals, according to the WHO. Additionally, 1,06,683 individuals lost their lives to accidental poisoning in 2016. As a result, the manufacturing and use of chemicals are subject to very strict laws on a global scale.
Opportunities:
The market for basic chemicals is expanding quickly as a result of the many advantages that benefit society. In the production of goods like soaps, detergents, solvents, fertilisers, plastic rubber, etc., these fundamental chemicals are safe. These goods are not only necessary but also beneficial. The growth of both established and emerging areas is aided by the assistance provided by the basic chemicals industry to other sectors including transportation packaging agricultural textile electrical and electronics farming cuticles paints and coating. More and more individuals are choosing packaged foods and beverages, which fuels the economy's success and expansion.
Challenges:
The market for basic chemicals is being held back by falling car output. Chemicals are crucial to a vehicle's flawless operation as well as to its improved feel and comfort, making them significant in the automotive industry. For instance, motor oil keeps an engine's combustor cool and enables the smooth operation of its mechanical parts. Rubber blacks are added to brake pads and wheels to improve performance. However, a significant obstacle to this sector is the competition from the availability of less-priced traditional analogues of basic chemicals. In addition to the aforementioned effects, the CoVID-19 epidemic has led to supply and demand changes in the car sector that are unprecedented. According to demand data provided by OICA, major automobile production peaked at about 18 billion units in the first quarter of 2022 and decreased by around 23%, 32%, and 23% in the second and third quarters to reach 31 billion units in the second quarter and 52 billion units in the third. During the projection period, it is projected that rigorous government restrictions, changes in the cost of raw materials, and decreased car manufacturing would limit market growth for basic chemicals.
Recent Developments:
In October 2021, the chemical manufacturer Evonik announced that it will close its Lülsdorf, Germany, facility that produces basic chemicals. According to the corporate statement, efforts are still being made to find a new owner for the entire property. However, the company is also examining options to sell a portion of the company.
Major Key Players:
Borealis AG
BASF SE
Eastman Chemical Company
LyondellBasell Industries Holdings B.V.
INEOS
Tokyo Chemical Industry Co. Ltd.
Mitsubishi Chemical Corporation
Solvay
Shin-Etsu Chemical Co. Ltd.
Sumitomo Chemical Co. Ltd.
Market Segmentation:
By Device
By Type
Organic Ammonia
Chlorine
Sodium Hydroxide
Inorganic Benzene
Ethylene
Propylene
By End User
Chemical Industry
Pharmaceuticals
Food & Beverages
Polymer
Pulp & Paper
Textiles
Others
Buy this Research Report@ https://www.precedenceresearch.com/checkout/2330
You can place an order or ask any questions, please feel free to contact at sales@precedenceresearch.com | +1 9197 992 333