The global biochemical market size was exhibited at USD 80.81 billion in 2022 and is predicted to touch around USD 148.6 billion by 2030, poised to grow at a CAGR of 7.91% from 2022 to 2030.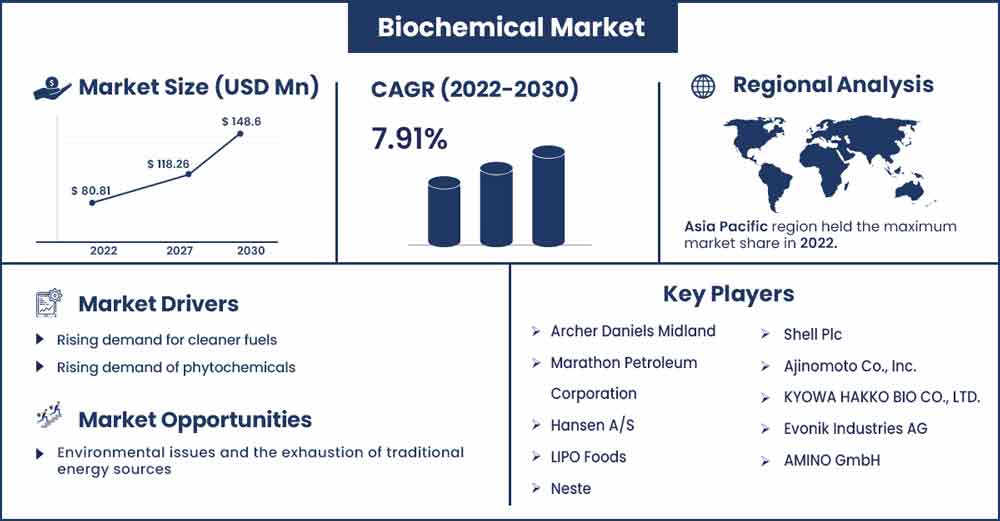 Any chemical substance, whether naturally occurring or synthesized through the application of industrial biotechnology, is referred to as biochemical. Chemicals based on fossil feedstock are not as sustainable as biochemicals. These chemicals, which are created from biomass, may have the same structural makeup as already existing chemicals or may have brand-new structures that present novel possibilities.
Among the raw materials utilized to make the bio-chemicals include corn, sugarcane, sugar beet, wheat, and cassava. Because of the cheap manufacturing costs of these raw resources, bio-based chemicals are more affordable to produce overall than traditional, non-renewable chemicals. Additionally, there are no obstacles to producing these basic materials on a massive scale.
Report Highlights:
On the basis of type, the biodiesel segment will have a larger market share in the coming years period, and the amount of revenue generated through the use of this product will grow well in the coming year. Within the projected time frame, it is anticipated that the biodiesel market will expand in response to the rising demand from the automobile industry. The rising demand for gasoline to substitute crude oil in commercial vehicles is anticipated to be advantageous for the sector. Due to its reduced VOC content than regular diesel, the fuel is better for the environment because it reduces the impact of greenhouse gases. Hence, the biodiesel segment is expected to dominate the biochemical market.
On the basis of application, the automotive segment has the biggest market share in the biochemical market during the forecast period. The automotive segment is growing due to a rise in disposable income and high living standards. Consumers are more inclined towards living a luxurious life and hence, the automotive segment is expected to be dominating in the biochemicals market owning to biodiesel demand.
Regional Snapshots:
The biggest market share was held by the Asia-Pacific in the biochemical market during the forecast period. The demand for biofuels has increased significantly in the Asia Pacific area, making it the largest region in terms of the global market for biochemicals. The Asia Pacific biochemical market is benefiting from an increase in biochemical usage in the pharmaceutical and food processing sectors. The growing consumer inclination toward green solutions is expected to create attractive growth prospects for the biochemical market in India soon. The Indian government's initiative to promote greener fuels is anticipated to result in an increase in biodiesel consumption. In India, the transportation industry, railways, and other entities are among the end users of biodiesel.
Biochemical Market Report Scope:
| | |
| --- | --- |
| Report Coverage | Details |
| Market Revenue in 2023 | USD 87.21 Billion |
| Projected Forecast Revenue in 2030 | USD 148.6 Billion |
| Growth Rate from 2022 to 2030 | CAGR of 7.91% |
| Largest Market | Asia Pacific |
| Base Year | 2022 |
| Forecast Period | 2022 To 2030 |
| Regions Covered | North America, Europe, Asia-Pacific, Latin America, and Middle East & Africa |

Market Dynamics:
Drivers:
Bio-chemicals are becoming more popular among sustainable businesses, which is why their demand is rising. Leading packaging manufacturers are implementing sustainable techniques to provide environmentally friendly products in an effort to prevent plastic pollution. For instance, Berry Global Group Inc. joined the Ellen MacArthur Foundation's new Plastic Economy Commitment in June 2019 to stop plastic pollution in its tracks. In order to improve recyclability and provide more sustainable packaging in the near future, the company is currently creating cutting-edge packaging products. Additionally, Henkel and Alpha Packaging produced chemically recycled plastic bottles in October 2019. This item was created as a crucial step toward a circular economy for plastic that will lessen plastic pollution. During the forecast period, these actions by major manufacturers with operations in the Middle East and around the world are anticipated to positively affect the market for bio-chemicals.
During the projected period, the market for biodiesel is anticipated to rise due to the rising need for cleaner fuels. Made from fats and oils like soybean oil and used cooking oil, biodiesel is a fuel for diesel engines. It is domestic, clean, sustainable, and regenerative. A chemical process called transesterification creates an advanced biofuel of superior quality that satisfies ASTM D6751 specifications. Both current older diesel engines and brand-new models that have just rolled off the assembly line have successfully used B20 and lower blends, as well as blends up to B100. Renewable fuels with improved performance and emissions, such as biodiesel, renewable diesel, and renewable jet fuel, will all be accepted as standard low-carbon fuels. By 2030, the National Biodiesel Board predicts that more than six billion gallons of the fuel will have been used for on- and off-road, air, and home heating applications, resulting in an annual reduction of greenhouse gas emissions of nearly 35 million metric tons. With developments in feedstock, the use will rise to 15 billion gallons by 2050. In turn, this is anticipated to boost market expansion in the future.
Restraints:
Biochemical production is still expensive, necessitating the development of new methods or advancements. In order to conduct research and development and build new infrastructure, a large amount of capital is required.
Opportunities:
The largest-ever range of biofuels has been generated in response to public demand to reduce emissions and replace fossil fuels because of environmental concerns. Biodiesel raises the cetane number and lubricity of the fuel. Today, the majority of our energy needs are met by fossil fuels. These energy sources run out very quickly and cannot be replaced. The renewable nature of biodiesel, however, allows it to be used in place of conventional energy sources. Conventional fuels are more in demand due to the growing population and increase in automobile usage.
There are many opportunities ahead since governments are restricting the use of conventional fuel and setting limits for the production of hazardous gases. Because they are miscible in all ratios, biodiesel can be used alone in diesel engines or blended with petroleum diesel. Due in large part to the environmentally favorable attributes of biodiesel and regulations limiting toxicant emissions, major producers of biodiesel are finding opportunities in the market.
Challenges:
The market for biochemicals needs to be expanded, hence new laws and regulations are necessary. Additionally, there is a paucity of knowledge regarding the use of biochemicals as substitutes for currently used chemicals. The biochemical market is projected to suffer as a result of these reasons.
Recent Developments:
In July 2021- RCT-backed amino acid supplement for cognitive decline has been introduced by Ajinomoto Co., Inc. There are seven necessary amino acids in it. The company's range of products based on amino acids has been bolstered by this launch.
Major Key Players:
Archer Daniels Midland
Marathon Petroleum Corporation
Hansen A/S
LIPO Foods
Neste
Shell Plc
Ajinomoto Co., Inc.
KYOWA HAKKO BIO CO., LTD.
Evonik Industries AG
AMINO GmbH
HERO BX
Ag Processing Inc.
VERBIO
Renewable Energy Group, Inc.
NOVAOL, Italy
ARGENT ENERGY
MOL Group
Dupont De Nemours & Co ltd
Martin Bauer GmbH &Co. KG
Cargill Inc.
Naturex SA
Indena SpA
Linnea SA
BASF SE
Arboris LLC
Cargill Inc.
Market Segmentation:
By Type
Biodiesel
Amino Acids
Fine Chemicals
Phytochemicals
Antibiotics
Dyes & Stains
By Application
Pharmaceuticals
Dairy
Automotive
Agriculture
Textile
Food Processing
Buy this Research Report@ https://www.precedenceresearch.com/checkout/2381
You can place an order or ask any questions, please feel free to contact at sales@precedenceresearch.com | +1 9197 992 333