The global biodefense market size surpassed USD 17.34 billion in 2022 and is projected to rise to USD 31.4 billion by 2030, anticipated to grow at a strong CAGR of 7.7 percent during the projection period from 2022 to 2030.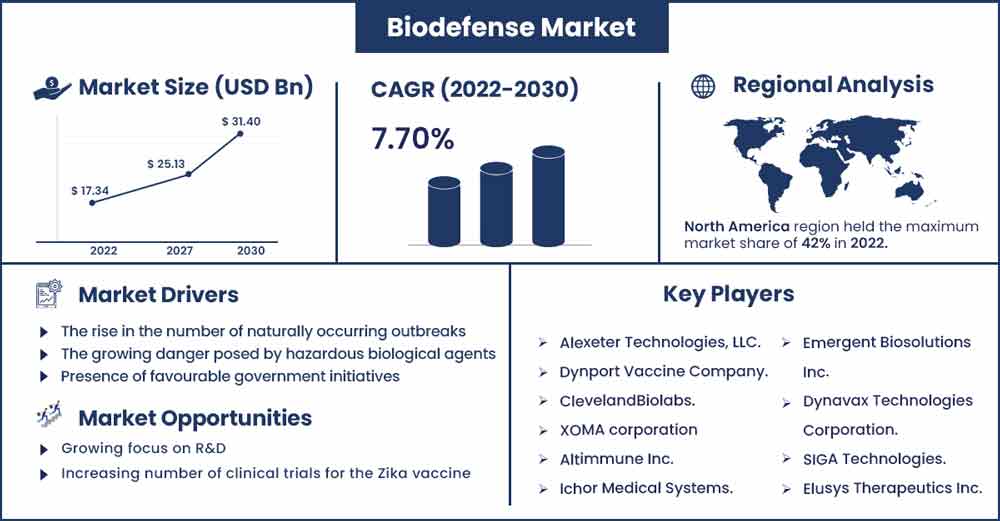 The purposeful release of dangerous bacteria, viruses, and other microorganisms that have the potential to start an epidemic and kill people is referred to as bioterrorism. Due to the harm, it does to human health and the depletion of human resources, this condition has a detrimental effect on the economy. Because of this, governments in industrialized nations make a range of efforts and take preventative measures to fend off these assaults. To protect the populace, the government frequently keeps stock of vaccines and bio-threat detection technologies. Such government actions will aid in accelerating the market share for biodefense. To stop the use of harmful diseases and toxins, customs officers, bioscience labs, and other experts set in place a variety of procedures and systems known as "bio-defenses." Medical methods are used in biodefense to safeguard individuals from bioterrorism. Bioterrorism is the deliberate release of viruses, bacteria, or other organisms with the intent to harm or kill people.
Report Highlights:
Due to increased vaccine manufacturing worldwide in 2022 to stop the spread of numerous viruses, the vaccines segment accounted for the greatest market share. The development of the biodefense market will also be boosted by researchers' ongoing investigations into novel vaccination technologies, such as vector technology, that induce quick protection against pathogen attacks.
Regional Snapshots:
The North American region held the largest market share in 2022. A large number of awareness programs held by both private and public agencies are likely to propel North America to a prominent position in the global biodefense market over the course of the forecast period. For instance, the Schar School of Policy and Government at George Mason University in the United States conducted a symposium on Pandemics and Global Health Security on June 18, 2021. The goal of the workshop was to familiarize participants with the worldwide issues that pandemic preparedness and response, public health, national security, and life sciences face today. Additionally, the Asia Pacific region is anticipated to experience a considerable increase in the global biodefense market over the course of the forecast period due to international events and conferences on biodefense & bioterrorism. For instance, the 2nd International Conference on Bioterrorism and Biodefense will be hosted in Tokyo, Japan on September 24–25, 2021, according to Conference Series LLC LTD, the world's top event planner. Leading academic scientists, researchers, and research scholars will be gathered at Bioterrorism 2022 in order to exchange experiences and research discoveries on all facets of bioterrorism and biological agents.
Biodefense Marke Report Scope:
| | |
| --- | --- |
| Report Coverage | Details |
| Market Revenue in 2023 | USD 18.68 Billion |
| Projected Forecast Revenue in 2030 | USD 31.4 Billion |
| Growth Rate from 2022 to 2030 | CAGR of 7.7% |
| Largest Market | North America |
| Base Year | 2022 |
| Forecast Period | 2022 To 2030 |
| Regions Covered | North America, Europe, Asia-Pacific, Latin America, and Middle East & Africa |

Market Dynamics:
Drivers:
The rise in government biodefense measures brought on by zoonotic infections like Ebola is anticipated to support the expansion of the global biodefense industry. For instance, the Centers for Disease Control and Prevention (CDC) reports that a total of 28,616 cases of Ebola Virus Disease (EVD) and 11,310 fatalities were documented during the Ebola virus outbreak in Guinea, Liberia, and Sierra Leone (2014–2016). There were an additional 36 cases and 15 fatalities as a result of the outbreak's expansion outside of these three West African nations.
Restraints:
The creation of biodefense measures necessitates access to cutting-edge technology, well-stocked facilities, and subject-matter experts. Additionally, the availability of well-established infrastructure is required, including suitable transportation and distribution facilities to remote locations where access is challenging due to challenging terrain or harsh weather conditions. Because there aren't enough resources or facilities for developing vaccinations and new medications, a sizable portion of the population in many developing nations is susceptible to biowarfare.
Opportunities:
Over the course of the projection period, an increasing number of clinical trials for the Zika vaccine are anticipated to support the expansion of the global biodefense market. Takeda Pharmaceutical Company Limited, a Japanese company, for instance, reported on November 28, 2017, that their purified, inactivated, alum-adjuvanted, whole Zika virus vaccine candidate (TAK-426) had entered a Phase 1 clinical study. The creation of Takeda's Zika virus vaccine candidate is a component of a bigger global initiative to stop the spread of the infection among susceptible people.
Challenges:
The development of the biodefense business may be somewhat constrained by low government R&D spending for developing vaccines against bioterrorism attacks in developing and emerging countries.
Recent Developments:
In December 2021 - The Drugs Controller General of India has authorised the use of Biological E's CORBEVAX COVID-19 vaccine, which incorporates Dynavax's CpG 1018 adjuvant, for emergency purposes. In order to fulfil Biological E's requirements under the current contract with the Government of India for 300 million doses, as well as any additional adjuvant needed to meet demand in 2022 and beyond, Dynavax will provide CpG 1018 adjuvant.
Major Key Players:
Alexeter Technologies, LLC.
Dynport Vaccine Company.
ClevelandBiolabs.
XOMA corporation
Altimmune Inc.
Emergent Biosolutions Inc.
Dynavax Technologies Corporation.
SIGA Technologies.
Elusys Therapeutics Inc.
Ichor Medical Systems.
Bavarian Nordic.
Ology Bioservices.
Alnylam Pharmaceuticals Inc.
Biosearch Technologies
Bruker Detection
Market Segmentation:
By Product
Vaccines

Anthrax
Smallpox
Botulism
Others

Biothreat Detection Devices

Samplers
Detectors/Triggering Devices
Identifiers
Assays and Reagents
By Application
By End-User
Hospitals & Clinics
Ambulatory Care Centers
Others
Buy this Research Report@ https://www.precedenceresearch.com/checkout/2298
You can place an order or ask any questions, please feel free to contact at sales@precedenceresearch.com | +1 9197 992 333