The global biodegradable packaging market size surpassed USD 483.09 billion in 2022 and is projected to rise to USD 812.4 billion by 2030, anticipated to grow at a strong CAGR of 6.71 percent during the projection period from 2022 to 2030.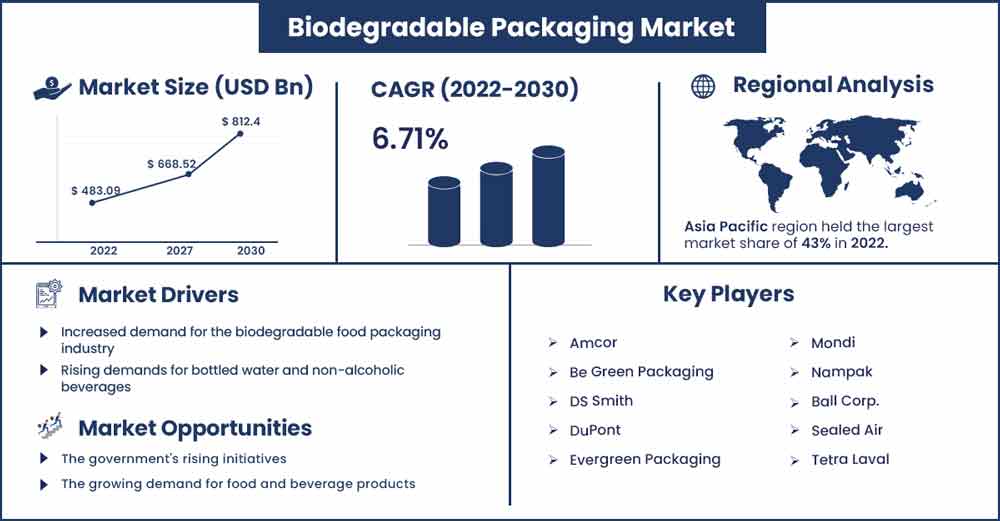 With a user penetration rate of over 26% in 2022, it is anticipated that nearly 2,700 million individuals would likely choose to utilize online meal delivery services by 2026. Biodegradable films may be composted easily and are moisture-resistant. They are used to seal containers, wrap perishables, and act as oxygen sheds for food packaging. Biodegradable bags are also produced using biomaterials. Because they are strong, break-resistant, and long-lasting, they are regarded as secure for packing food items. Bio-oriented polystyrene produced from maize is used to create biodegradable boxes with lids. India saw retail sales of packaged food surpass 77 billion USD in 2018. In both 2018 and the four years previous, the industry's sales value climbed gradually. The need for biodegradable packaging is being further fuelled by the increase in packaged food sales.
Urbanization and the rapidly growing population are expected to increase wastewater output, which will support the market's growth. According to the World Bank, trash production would have grown by 70% from prior levels by the year 2050. Additionally, by mid-November 2022, there will be 8.0 billion people on the planet as a whole. Online delivery is becoming more popular as the population grows, and biodegradable packaging is encouraged. The number of clients using online meal delivery services is expected to reach 2,620 million by 2030, expanding at an 8% yearly pace (CAGR 2022-2030). User penetration in this market is anticipated to reach 24% in 2022.
Asia Pacific, Europe, and North America have recently seen a rise in industry & consumer awareness of eco-friendly goods, which has been accelerating the growth of the worldwide biodegradable packaging market. The term "biodegradability" describes a material's capacity to decompose and revert to its natural state shortly after disposal. Starch, polylactic acid (PLA), cellulose, polyhydroxyalkanoates (PHA), and other biodegradable polymers are used in packaging. The widespread usage of PLA and starch as biodegradable packaging materials for the pharmaceutical and food & beverage sectors is anticipated to fuel the market's expansion between 2022 and 2030.
This is a result of starch and PLA polymers' strong strength, adaptability, and recyclable qualities. Additionally, paper biodegradable packaging, which primarily consists of Kraft, flexible, corrugated, and boxboard materials, is anticipated to see the quickest rate of growth across product categories throughout the course of the projection period. The primary reason propelling the growth of the biodegradable packaging market is the excessive usage of corrugated and flexible materials for personal/homecare packaging applications.
Report Highlights:
Over the projection period, it is expected that the packaging for beverages would have the biggest market share. Factors contributing to the segment's expansion include the growing demand for non-alcoholic beverages and bottled water over the growing demand for high-quality drinking water, the concern over diseases brought on by drinking contaminated tap water, and the portability and convenience that bottled water offers.
According to the International Bottled Water Association, 91% of Americans feel that bottled water ought to be marketed alongside other beverages in 2020. (IBWA). Additionally, the global income from the sale of bottled water climbed from USD 77 billion in 2022 to USD 95 billion in 2022.
The packaging industry is now anticipated to see a rise in the development of affordable biodegradable packaging materials. The market for biodegradable packaging materials is also expected to offer the potential for revenue development as a result of industry-wide product improvements.
Biodegradable Packaging Market Report Scope:
| | |
| --- | --- |
| Report Coverage | Details |
| Market Revenue in 2023 | USD 515.52 Billion |
| Projected Forecast Revenue in 2030 | USD 812.4 Billion |
| Growth Rate from 2022 to 2030 | CAGR of 6.71% |
| Largest Market | Asia Pacific |
| Base Year | 2022 |
| Forecast Period | 2022 To 2030 |
| Regions Covered | North America, Europe, Asia-Pacific, Latin America, and Middle East & Africa |

Regional Snapshots:
The market for biodegradable packaging materials in North America dominates total product sales. It provides more than 24.9% of the market share overall and is anticipated to continue expanding at the same rate. Due to the lower operating costs in Asian nations, production units for biodegradable packaging are now being commercialized by North American manufacturing corporations. The development of the market for biodegradable packaging materials is further supported by the fact that this area has recognized biodegradable standards in place, similar to the American Society for Testing and Materials (ATM) standards in the US, etc.
The United States dominates North America, providing around 18.9% of the market as a whole. The market for biodegradable packaging materials is anticipated to be driven by U.S. Food Packaging Regulations established by the U.S. Food and Drug Administration (FDA), which regulate materials like plastics, papers, etc. to ensure they are safer to use along with growing consumer awareness of eco-friendly packaging. The market for biodegradable packaging materials is predicted to be driven by favorable government laws as well as increased consumer awareness of eco-friendly packaging.
The markets for biodegradable packaging materials in East Asia and South Asia, which together account for about 19.3% and 17.2% of the global market share, are expected to increase at rates in the high single-digit range from 2022 to 2030.
A regional industrial hub is being established as a result of the rise of new businesses in the Asian nations of Thailand and China. Additionally, a number of the biggest names in online shopping and food delivery are expressing interest in switching to biodegradable packaging. If the online food delivery and retail industries in China alone move to biodegradables, there would inevitably be a rise in demand for 700,000 tonnes of biodegradable packaging materials.
Market Dynamics:
Drivers:
The production of plastic garbage is anticipated to rise by nearly 70% and surpass 3.3 billion tonnes by 2050, according to the World Bank.
Governments and institutions have been compelled to enact a ban on single-use plastic packaging materials due to the dangers of plastic waste development. Over 60 nations, regions, and localities have passed a number of laws and regulations that mostly target single-use plastics and plastic packaging. False claims concerning sustainable packaging are restricted by certification processes and labeling laws.
Despite making up only 4% of the global population, the United States produces more than 105 kg of plastic per person annually. The Break Free from Plastic Pollution Act in the US imposes further restrictions on producers, such as the need to manage trash and halt permits for new plastic manufacturing facilities.
Three plastic-related goals were established under the National Action Plan for Sustainable Plastic Management. First, by the end of 2025, recycle 50% of plastics; second, phase out single-use plastic by the end of 2026; and third, by the end of 2030, reduce plastic waste creation by 30%.
Manufacturers must adhere to strict government requirements put in place in local markets and change to environmentally friendly packaging options, which is anticipated to accelerate market growth.
Restraints:
The use of farmland to produce natural components and high costs when compared to traditionally produced packaging materials are only two of the unfavorable aspects that have a significant negative impact on the growth of the global biodegradable packaging market. The market's growth is anticipated to be somewhat constrained by additional reasons such as the difficulty to recycle and the shorter lifespan of some non-biodegradable materials. Additionally, biodegradable materials' inferior strength, cross-contamination in recycling facilities, and load-carrying capability may hinder the market's ability to increase its income.
Opportunities:
Biodegradable materials are extensively used in packaging for commercial products in food and beverage, pharmaceutical, home care, and other sectors. Due to their ease of recycling and complete compostability, recyclable PET plastic bottles are used by many large firms, including Pepsi and Coca-Cola. Many other companies employ biodegradable packaging made of a blend of paper and plastic, such as Real and Tropicana. Pharmaceutical companies are using eco-friendly packaging materials to package a variety of drug doses since they are fully safe and non-toxic in nature. The growing demand for food and beverage products is driving growth in the global market for biodegradable packaging.
Challenges:
The Institute for Supply Management Research estimates that almost 70% of firms reduced their sales objectives as a result of supply chain disruptions. The consumer sector is going through a mixed economy, with certain industries—like frozen foods and household cleaning—seeing a boost in consumer demand and others—such as retail sales and foot traffic in stores, seeing major declines. To keep up with the shift in customer demand toward e-commerce, these companies must adapt. Thus, the consumer products industry as a whole has been forced into the digital era.
Recent Developments:
In June 2021, To enhance the collecting of old carton containers in Udaipur, Rajasthan, India, Tetra Pak partnered with FINISH Society, a well-known NGO for solid waste management. In order to complete the joint project, the FINISH Society will cooperate with the Municipal Corporation of Udaipur to collect old juice and milk packs from the corporation's sorting facilities. These used packs will then be delivered to the closest recycler. Tetra Pak and FINISH Society will also concentrate on educating the community of waste-pickers about the importance of their work in gathering used beverage cartons and selling them to a recycler.
Major Key Players:
Amcor
Be Green Packaging
DS Smith
DuPont
Evergreen Packaging
Mondi
Nampak
Ball Corp.
Sealed Air
Tetra Laval
Market Segmentation:
By Type
Recycled Content Packaging
Reusable Packaging
Degradable Packaging
By Material Type
Plastic

Starch-Based Plastics
Cellulose-Based Plastics
Polylactic Acid (PLA)
Poly-3-Hydroxybutyrate (PHB)
Polyhydroxyalkanoates (PHA)
Other Plastics

Paper & Paperboard

Kraft Paper
Flexible Paper
Corrugated Fiberboard
Boxboard

Bagasse
By Packaging Format
Bottles & Jars
Boxes & Cartons
Cans
Trays & Clamshells
Cups & Bowls
Pouches & Bags
Films & Wraps
Labels & Tapes
Others (Stick pack, Sachets, etc.)
By Application
Food & Beverages
Personal Care
Healthcare
Others
By Distribution Channel
Wholesalers
Retailers
Distributors
Resellers
Others
Buy this Research Report@ https://www.precedenceresearch.com/checkout/2293
You can place an order or ask any questions, please feel free to contact at sales@precedenceresearch.com | +1 9197 992 333