The global butadiene market size was evaluated at USD 12.75 billion in 2022 and is expected to touch around USD 51.8 billion by 2030, growing at a noteworthy CAGR of 19.15% from 2022 to 2030.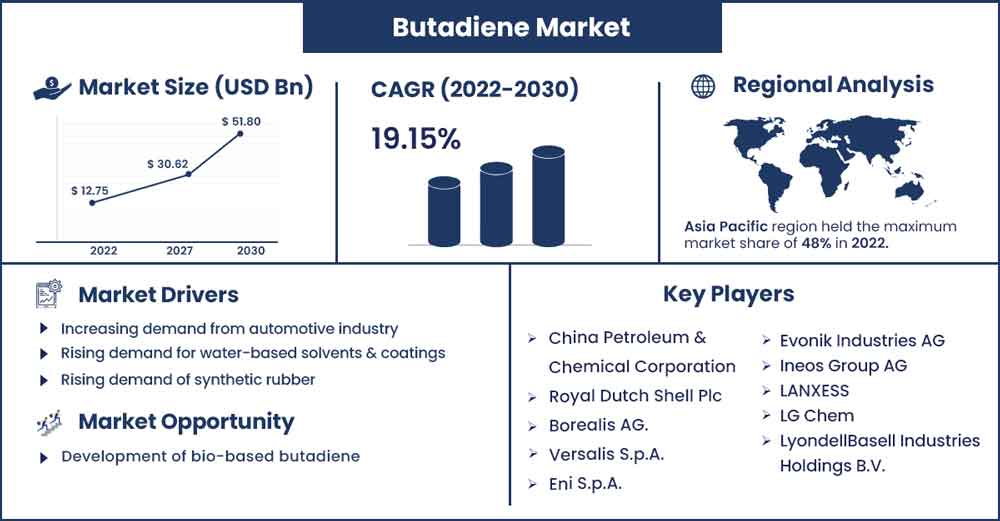 At normal temperature and pressure, butadiene, also known as 1,3-butadiene, is a highly reactive gas that is colorless, noncorrosive and has a slight aromatic or gasoline-like odor. It is created as a waste product from the production of ethylene and propylene and is largely utilized as a monomer in the manufacture of synthetic rubber and plastic. If used sparingly, it can serve as a chemical intermediary. The resulting rubbers or plastics also find usage in home items, clothes for protection, building materials, computers, appliance parts, and telecommunications equipment.
Report Highlights:
On the basis of product, the styrene-butadiene Rubber (SBR) segment has the biggest market share in the butadiene market during the forecast period. The main component is styrene butadiene Rubber (SBR), which is made from butadiene and blended with rubber from natural sources to make tires. The physical and chemical characteristics of these rubber polymers give tires performance-enhancing characteristics including rolling resistance, wear, and grip. Hence, it is anticipated that tire demand would dominate the market.
On the basis of end user, the automobile segment will have a larger market share in the coming years period, the amount of revenue generated through the use of this product will grow well in the coming year. High-performance butadiene rubber is increasingly used in the production of different automotive parts and components, such as hoses, tires, gasket seals, and fuel lines, and there is rising demand for electric cars around the globe. These reasons are favorable for the segment's strong growth.
Butadiene Market Report Scope:
| | |
| --- | --- |
| Report Coverage | Details |
| Market Revenue in 2023 | USD 15.19 Billion |
| Projected Forecast Revenue in 2030 | USD 51.8 Billion |
| Growth Rate from 2022 to 2030 | CAGR of 19.15% |
| Largest Market | Asia Pacific |
| Base Year | 2022 |
| Forecast Period | 2022 To 2030 |
| Regions Covered | North America, Europe, Asia-Pacific, Latin America, and Middle East & Africa |

Regional Snapshots:
The biggest market share was held by the Asia-Pacific in the butadiene market during the forecast period. Currently, Asia-Pacific accounts for roughly half of the world's consumption of this substance and the majority of its derivatives. China dominates the international market and consumes the most butadiene of all the nations. The projected period is likely to see significant expansion in the butadiene market in China and India, which may be ascribed to rising populations, emerging nations, and supportive government investment policies. The demand for butadiene is driven by an increase in the usage of synthetic rubbers and polymers in different end-use sectors. As a consequence of the widespread usage of butadiene and its derivatives in the production of automotive parts including wheel covers, tires, dashboard trims, and other components, Europe is anticipated to experience a large growth over the projection period. Due to its increasing vehicle exports, Germany is the top-ranking country.
Market Dynamics:
Drivers:
Due to the worldwide automotive industry's projected expansion in the next years, the global butadiene market is going to experience this. The global butadiene market is directly impacted by the expansion of the vehicle sector worldwide. Most often, butadiene is used to make styrene-butadiene rubber, ABS resin, and nitrile rubber, which is then used to make car tires. The demand for high-performance automotive tires is expanding as a result of the current global trend toward resource conservation and growing awareness of safety during the operation of an automobile.
Additionally, the demand for butadiene has grown globally due to a strong focus on lowering fuel costs in the automobile industry. A further factor driving up the demand for ABS resin, which uses 13% of the world's butadiene output, is the government's strict rules on decreasing car weight. The variety of end-user sectors that employ butadiene and its outstanding elastic qualities, which are used in the electrical industry as a wire and cable insulation solution, is expected to fuel the market's expansion throughout the course of the projected period.
Additionally, the production of shoes, golf balls, advanced manufacturing components, automobile parts, sandblasting hose inner tubes, rubber isolators and casters, conveyors, shoe soles, pneumatic and water hose covers, as well as polystyrene modifier is anticipated to use butadiene to produce tire treads for both passenger and commercial vehicles.
Restraints:
The market's overall expansion is anticipated to be hampered by the unstable pricing of raw materials combined with the strict regulatory environment. The main raw materials used to produce butadiene are crude oil and gas. Therefore, market dynamics for butadiene are impacted by crude oil price volatility. For instance, due to COVID-19, which has impacted the global supply chain, crude oil and gas output and prices fall to all-time highs in 2022. The market for butadiene has suffered as a result.
Opportunities:
It is anticipated that more study into the production of bio-butadiene from renewable sources would present development opportunities. Traditionally, steam cracking, a type of refinement, is used to create butadiene from petroleum. When heavy crude oil was utilized in refineries in the past, butadiene output was high. Butadiene production volumes risk declining as shale oil or light crude oil output rises, despite the fact that demand is still on the increase. Pacific Northwest National Laboratory (PNNL) can help in this situation. Researchers at PNNL are researching on ways to produce butadiene from renewable sources by inventing a novel catalyst that can transform ethanol into butadiene as part of a project financed by the U.S. Department of Energy's Bioenergy Technologies Office.
Challenges:
Production has been decreased as a result of shale oil's harmful carcinogenic characteristics and its immediate and long-term impacts. Lung, nose, throat, and eye irritation can result from acute low exposures. Frostbite can also happen when the skin is exposed. Acute high exposures may have negative effects on the central nervous system or cause symptoms including headaches, nausea, dizziness, fainting, vertigo, blurred vision, general tiredness, low blood pressure, and migraines. The effects of butadiene exposure over the long term are up for discussion. Numerous human epidemiological studies have shown an increase in cardiovascular and cancer cases.
Recent Developments:
In March 2018- A joint venture business will be established by Kuraray Co., Ltd., PTT Global Chemical, and Sumitomo Corp. with the goal of advancing a feasibility study for the production and sale of butadiene derivatives in Thailand.
Major Key Players:
China Petroleum & Chemical Corporation
Royal Dutch Shell Plc
Borealis AG.
Versalis S.p.A.
Eni S.p.A.
Evonik Industries AG
Ineos Group AG
LANXESS
LG Chem
LyondellBasell Industries Holdings B.V.
Nizhnekamskneftekhim.
Repsol, SABIC
The Dow Chemical Company
TPC Group
Formosa Plastics Corporation
ZEON Corporation.
Shanghai Petrochemical
Market Segmentation:
By Product Type
Butadiene Rubber
Styrene Butadiene Rubber
Acrylonitrile Butadiene Rubber
Nitrile Butadiene Rubber
Styrene Butadiene Latex
Hexamethylenediamine
By Production Process
C4 hydrocarbon extraction
n-butane dehydrogenation
From ethanol
From butenes
By End-User
Automobile Industries
Chemical
Plastics and Polymers
Building & Construction
Consumer Products Industries
Healthcare
Others
Buy this Research Report@ https://www.precedenceresearch.com/checkout/2269
You can place an order or ask any questions, please feel free to contact at sales@precedenceresearch.com | +1 9197 992 333