The global capacitor market size surpassed USD 34.65 billion in 2022 and is projected to rise to USD 61.83 billion by 2032, anticipated to grow at a CAGR of 5.96 percent during the projection period from 2023 to 2032.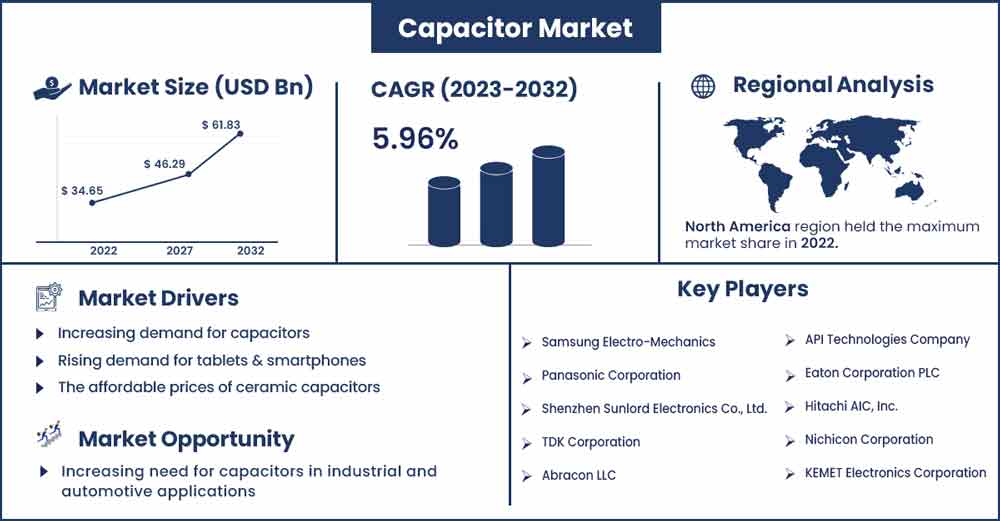 The complexity and variety of electronic devices being used and rising consumer demand for premium brands in newly developing business sectors will drive the capacitor market expansion.
Market Dynamics:
Market Driver:
Increasing demand for capacitors in the medical industry
Electronics are being used in increasingly medical-related applications, ranging from colossal imaging equipment to smart tags for surgical packs. In diagnostic, imaging, patient monitoring, medication administration, and dispensing applications, passive components play a significant role in medical systems. Implantable medical electronic devices are frequently powered by batteries or capacitors that, due to their non-biodegradable nature, must be removed from the body after performing their intended function.
Implantable medical equipment, including pacemakers, insulin pumps, defibrillators, and portable & wearable electronics, all use capacitors. Electrocardiograms, ultrasonic echo devices, and blood gas analyzers are other examples. High reliability, a longer service life, and passing rigorous screening tests are requirements. Today, meeting consumer demand frequently entails shrinking and improving capacitor design and material. Therefore, it is anticipated that the worldwide capacitor market will rise during the forecast period due to the increased use of such components and goods in the medical sector.
Market Restraint:
Insufficient energy density of some capacitors
The market has a decent supply of raw materials, different connections & constructions are freely accessible, and the manufacturing process is highly mechanized. For instance, more energy storage may prevent the growth of the capacitor industry from slowing down due to the product's poor energy capacity. These capacitors will not operate at their intended capacity if improperly fitted, resulting in internal gas pressure and an explosion. The market size can decrease as a result of these drawbacks.
Market Opportunity:
Increasing need for capacitors in industrial and automotive applications
The product's introduction in several automotive applications, including regenerative braking, power assistance, auto-start-stop, catalyst preheating, door locking systems, and electrical system stability, is anticipated to boost demand for these capacitors globally. These capacitors have increased battery capacity, allowing automakers to produce lighter, more fuel-efficient, longer-lasting, and lower carbon dioxide-emitting vehicles. To comply with strict emissions rules worldwide, a lithium-ion capacitor, for instance, is anticipated to enter all vehicle types more quickly, including conventional, hybrid, and electric vehicles.
Capacitor Market Report Scope:
| | |
| --- | --- |
| Report Coverage | Details |
| Market Revenue in 2023 | USD 36.72 Billion |
| Projected Forecast Revenue in 2032 | USD 61.83 Billion |
| Growth Rate from 2023 to 2032 | CAGR of 5.96% |
| Largest Market | North America |
| Base Year | 2022 |
| Forecast Period | 2023 To 2032 |
| Regions Covered | North America, Europe, Asia-Pacific, Latin America, and Middle East & Africa |

COVID-19 Impact:
The COVID-19 pandemic and its spread to multiple nations stopped industrial sector manufacturing, consequently impeding capacitor production. Due to the COVID-19 pandemic, obtaining raw materials was extremely difficult. Government-funded transmission and distribution projects were hampered because of the cessation of several governments' financial streams. As a result, the demand for capacitors declined. The government-funded transmission and distribution projects may continue as soon as feasible as the economies of many nations start to improve, which could enhance the need for capacitors.
Segments Insight:
Type Insights:
Aluminum capacitors are expected to dominate the market in the foreseeable future. For convenience, devices such as air conditioning, window wipers, motors for motorized windows, seats, and aluminum capacitors are used. Important safety and control systems like power steering, airbag controls, and braking systems also use these devices. Aluminum electrolytic capacitors are also used in electric motor drives for applications like gasoline pumps and fans and in engine control units (ECU) for battery controls, gas- and diesel-engine controls, and electric motor drives. Film capacitors are also used in tire-pressure monitoring systems, and keyless entry systems as the global demand for film capacitors has increased in response to the rising popularity of electric, hybrid, and plug-in hybrid vehicles. Also, the need for safety features in vehicles is rising rapidly, owing to the use of technological systems in automobiles.
Application Insights:
Due to the substantial use of capacitors in automotive systems, the automotive electronics segment is predicted to expand. The use of capacitors is growing as alternative propulsion vehicles become more widely adopted and electrical current and circuit control become more crucial. In the meantime, supercapacitors have undergone advancements that make them ideal for use in plug-in hybrids and electric vehicles (EVs), supplementing and, sometimes, replacing batteries.
Regional Insights:
Due to the widespread use of capacitors in energy storage and uninterrupted power supply applications, North America surpassed all other regions as the largest regional market in 2022, with a market value of USD XX million. The manufacturing of electric vehicles has increased, and the development of ultra-small case-size capacitors for portable electronic devices has accelerated growth in North America. As an illustration, the adoption of electric vehicles has accelerated in various regions and nations due to rising fuel costs.
In place of gasoline and diesel engines, electric vehicles use lithium-ion batteries that provide a hybrid charging system. These automobiles are pollution-free and environmentally friendly; when in operation, they don't release any dangerous greenhouse gases. Compared to current costs, the lithium-ion cell cost is lower, making electric vehicles more accessible to consumers. In the foreseeable term, there will be a significant opportunity for greater adoption of these cars due to the falling cost of lithium-ion battery production. Thus, the demand for capacitors in electric vehicles is driving the expansion of the capacitor market.
Additionally, the European market is anticipated to show consistent expansion. High product penetration in Europe is a result of technology advancements and the existence of important industry players. Additionally, it is projected that the development of commercial space and the region's expanding construction market will increase demand for capacitors used in energy storage.
Key Developments:
In May 2022, to increase the production of multilayer ceramic capacitors, TDK Corporation plans to develop a new production facility on the grounds of the Kitakami Factory in Kitakami City, Japan. The new building's construction is anticipated to begin in March 2023 and end in June 2024. With rising demand, the new production facilities are designed to boost the production of highly dependable MLCCs for electric vehicles, autonomous driving, and ADAS.
In February 2022, The KX series of SP-Cap® conductive polymer aluminum electrolytic capacitors, which offer the highest level of industry reliability with up to 5,500 hours of endurance at 125°C, was commercialized by Panasonic Corporation Industry Company. These new capacitors can be used in power circuits for servers, communication base stations, and other devices that need more durable capacitors for high-speed communications.
In August 2021, The Advanced Drive Assist System (ADAS), a crucial safety feature for self-driving cars, contains two types of automobile Multi-Layer Ceramic Capacitors that Samsung Electro-Mechanics created. The newly created MLCCs by Samsung Electro-Mechanics come in two sizes: a tiny product with a 0603 size (0.6mm wide, 0.3mm long) and a high-capacity product with a 3216 size (3.2mm wide, 1.6mm long) and a capacity of 47μF. (microfarad).
Major Key Players:
Samsung Electro-Mechanics
Panasonic Corporation
Shenzhen Sunlord Electronics Co., Ltd.
TDK Corporation
Abracon LLC
API Technologies Company
Eaton Corporation PLC
Hitachi AIC, Inc.
Nichicon Corporation
KEMET Electronics Corporation
Kyocera Corporation
VINATech Co., Ltd.
Vishay Intertechnology, Inc.
Segment Covered in the Report:
By Type
Ceramic Capacitor
Film/Paper Capacitor
Aluminum Capacitor
Tantalum/ Niobium Capacitor
Double-Layer/Super Capacitor
Other
By Application
Industrial
Automotive Electronic
Consumer Electronic
Energy
Other
Buy this Research Report@ https://www.precedenceresearch.com/checkout/2553
You can place an order or ask any questions, please feel free to contact at sales@precedenceresearch.com | +1 9197 992 333