The global chemiluminescence immunoassay market size surpassed USD 6.7 billion in 2022 and is projected to rise to USD 13.74 billion by 2032, anticipated to grow at a CAGR of 7.5 percent during the projection period from 2023 to 2032.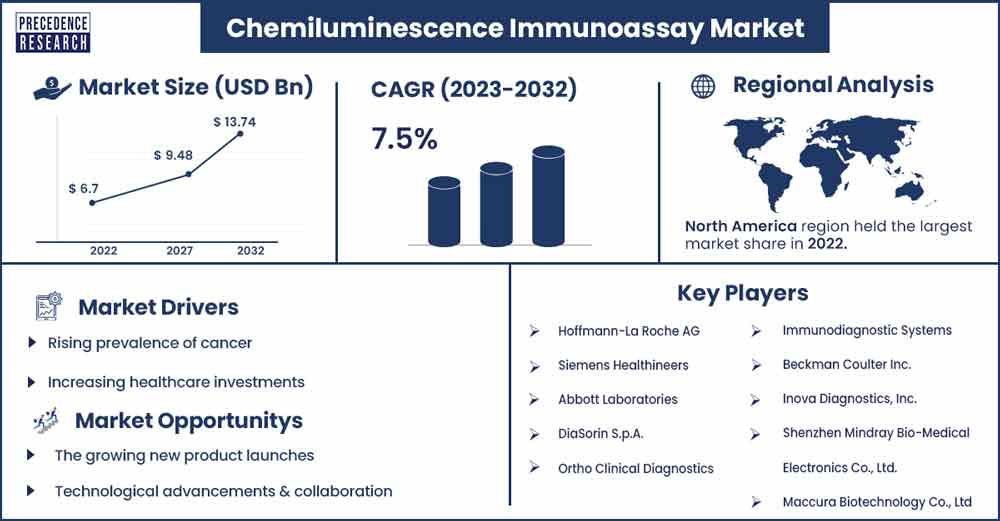 Market Overview
Chemiluminescence immunoassay is an extensively used laboratory technique for detecting specific analytes. Chemiluminescence immunoassay refers to a combination of highly sensitive chemiluminescence techniques with highly specific immune responses for the detection and analysis of various antibodies, antigens, hormones, enzymes, fatty acids, hormones, proteins, and drugs. CLIA is a highly sensitive and biochemical technique that assists in detecting and monitoring chronic disorders. CLIAs are widely used in the areas of life science, environmental monitoring, food safety and clinical diagnosis.
In October 2023, The London Clinic announced the details of a £4m two-year re-fit and design of its in-house blood sciences pathology laboratory. The pathology laboratory includes advanced technology in the diagnosis of cancer conditions which will enable faster and accurate tests. The Clinic's pathology laboratory specializes in a wide range of blood science services such as Biochemistry, Stem cell, Immunology, Histology and Cytology, Blood transfusion, and others.
In May 2023, Fapon Biotech Inc. has partnered with many Indian in-vitro diagnostics (IVD) companies in recent years and has contributed to more than half of the IVD raw materials in the Indian market. Recently, Fapon Biotech has also announced its innovative chemiluminescence one-stop solution strategy in India to help local IVD partners extend their product portfolio and support their business in the chemiluminescence immunoassay industry.
The chemiluminescence immunoassay market is driven by several factors including technological advancements, increasing healthcare expenditure, rise in population, increasing advanced research and development activities, rising adoption of advanced technologies, increasing approval and launch of novel CLIA solutions, growing geriatric population, and rising incidence of Human Immunodeficiency Virus (HIV) disease. chemiluminescence immunoassay the technique is extensively used in the detection of chronic disorders such as cancer, cardiovascular diseases, autoimmune diseases, diabetes mellitus, neurological diseases, and others.
In September 2023, Mindray Anti-HCV assay was granted the Class D certificate under the In Vitro Diagnostics Regulation (IVDR) by TÜV SÜD. Mindray has achieved a remarkable milestone in obtaining CE IVDR Class D certification for anti-HCV assay in the field of CLIA.
In October 2023, Fapon signed a strategic agreement with Halodoc, the largest telehealth platform in Indonesia. This collaboration brings together Fapon's expertise in IVD technologies and integrated solutions with Halodoc's strong sales channels and local service provisions and aims to enhance healthcare standards and boost the country's in-vitro diagnostics (IVD) Indonesia industry.
Regional Insights
North America is expected to hold the largest market share owing to the sophisticated healthcare infrastructure, increasing investment in research & development activities, rise in healthcare investment, presence of prominent market players, rapid adoption of technologically advanced CLIA solutions, and the rising prevalence of chronic diseases.
As per the Centers for Disease Control and Prevention, 6 in 10 adults in the US have a chronic disease and 4 in 10 adults in the US have two or more chronic diseases. Therefore, increasing cases of chronic diseases in the country are projected to boost the demand for effective diagnostic methods, such as CLIA.
The United States is at the forefront of technological development. the country possesses advanced capabilities in introducing such novel solutions. Major players in the market are focused on developing and launching technologically advanced CLIA solutions. For instance, In February 2023, Epitope Diagnostics launched fully automated chemiluminescent immunoassay analyzers (ECL25 and ECL100) together with panel kits of routine and niche chemiluminescence immunoassay tests covering various clinical areas. Thus, this is expected to propel the market growth.
Chemiluminescence immunoassay Market Report Scope
| | |
| --- | --- |
| Report Coverage | Details |
| Market Revenue in 2023 | USD 7.17 Billion |
| Projected Forecast Revenue by 2032 | USD 13.74 Billion |
| Growth Rate from 2023 to 2032 | CAGR of 7.5% |
| Largest Market | North America |
| Base Year | 2022 |
| Forecast Period | 2023 to 2032 |
| Regions Covered | North America, Europe, Asia-Pacific, Latin America, and Middle East & Africa |

Market Dynamics
Drivers
Rising prevalence of cancer
The rising prevalence of cancer across the globe has led to a rise in research activities for the rapid detection, diagnosis, and treatment of the disease. For instance, according to the European Commission's estimates published in the European Cancer Information System (ECIS), New cancer cases rose by 2.3% in comparison with 2020, to reach 2.74 million in 2022. Therefore, with increasing cases of cancer, the demand for verified biomarkers that help in the early diagnosis of various types of cancers is anticipated to fuel the growth of the global chemiluminescence immunoassay market in the coming years.
Increasing healthcare investments
The rapid rise in healthcare investments is the leading driver across the globe for the market. The chemiluminescence immunoassay industry is witnessing significant advancements, revolutionizing diagnostics and research in various areas due to an increase in healthcare investment. Moreover, increasing healthcare investment is anticipated to fuel the market's growth in the United States.
For instance, according to the Commonwealth Fund report published in January 2023, the United States spends roughly 18% of GDP on health care. The healthcare spending brings more research opportunities for the chemiluminescence immunoassay industry while promoting its application in the healthcare industry.
Restraints
The high cost of CLIA systems
The chemiluminescence immunoassay market's expansion is anticipated to be constrained by the high cost of CLIA systems. The high cost and high maintenance cost of chemiluminescence immunoassay analyzers may discourage some small-scale laboratories from adopting or investing in these technologies, limiting the market growth, which acts as a significant restraint for the market's growth.
Lack of skilled professionals
The lack of availability of skilled professionals is projected to hamper the market's growth. It needs a good amount of experience to work in the clinical laboratory. In addition, stringent regulatory policies are likely to limit the expansion of the global Chemiluminescence Immunoassay market during the forecast period.
Opportunities
New product launches
The growing product launches are expected to offer a lucrative opportunity for the market in upcoming years. In July 2023, Fapon, a China-based company launched a latest chemiluminescence immunoassay system Shine i8000/9000. The Shine i8000/9000 chemiluminescence immunoassay analyzer is aimed at boosting testing performance and tackle the ongoing increasing needs of laboratories. The instruments are designed to offer efficient and intelligent solutions for medium to large-sized laboratories.
Technological advancements & collaboration
With robust technological advancements, chemiluminescence immunoassays provide enhanced sensitivity and multiplexing capabilities which enable faster as well as more accurate detection of chronic diseases such as cancer, neurological diseases, cardiovascular disease, and others. In addition, increasing collaborations among key market players is positively influencing the market's expansion.
For instance, In February 2022, Sysmex Corporation partnered with KAINOS Laboratories with the aim of strengthening capabilities to develop and produce diagnostic reagents in the immunochemistry field. Such effective collaboration is expected to offer a lucrative opportunity for the market's expansion during the forecast period.
Recent Developments
In July 2023, Anbio launched an automated, compact, and affordable CLIA Analyzer for clinical testing with an aim to revolutionize clinical diagnostics. The new Anbio ADL i1910 features advanced technology and versatile capabilities. It provides a wide range of qualitative and quantitative testing options for analytes in human serum, plasma, whole blood, and urine samples.
In November 2022, At MEDICA the world's largest trade fair for medical technology in Düsseldorf, Germany. Getein introduced MAGICL 6000, a compact and innovative chemiluminescence immunoassay analyzer, with optimal choice for mid to high-workflow laboratories that require a one-step chemiluminescence solution.
Major Key Players
Hoffmann-La Roche AG
Siemens Healthineers
Abbott Laboratories
DiaSorin S.p.A.
Ortho Clinical Diagnostics
Immunodiagnostic Systems
Beckman Coulter Inc.
Inova Diagnostics, Inc.
Shenzhen Mindray Bio-Medical Electronics Co., Ltd.
Maccura Biotechnology Co., Ltd
Others
Market Segmentation
By Product
Consumables
Instruments
Software & Services
By Application
Cardiology
Therapeutic Drug Monitoring
Oncology
Endocrinology
Autoimmune Disease
Infectious Disease
Others
By End-use
Clinical Laboratories
Hospitals
Pharmaceutical & Biotechnology Companies
Others
Buy this Research Report@ https://www.precedenceresearch.com/checkout/1165
You can place an order or ask any questions, please feel free to contact at sales@precedenceresearch.com | +1 9197 992 333