The global chondroitin sulfate market size surpassed USD 1.22 billion in 2022 and is projected to rise to USD 1.65 billion by 2032, anticipated to grow at a CAGR of 3.1 percent during the projection period from 2023 to 2032.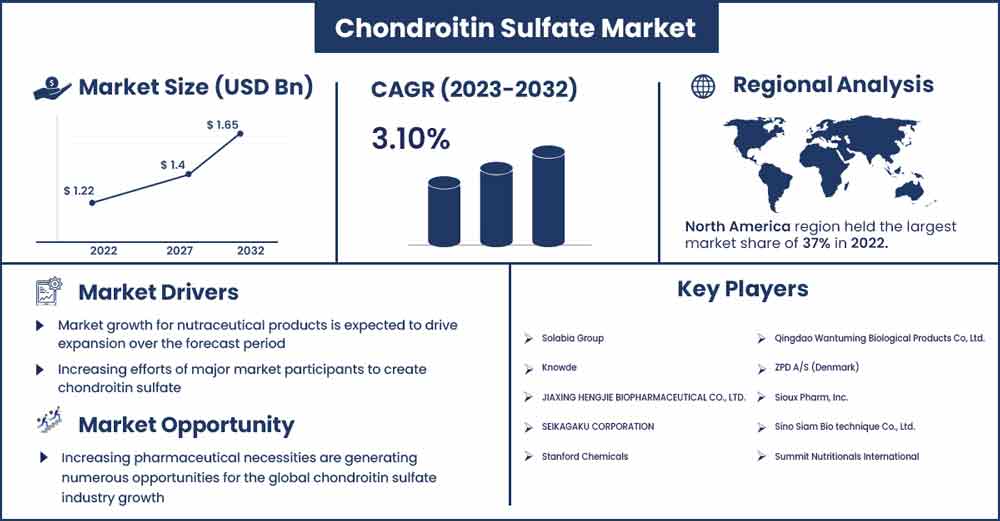 Market Overview:
The sulfated glycosaminoglycan chondroitin sulfate is made up of a chain of alternating sugars like glucuronic acid and N-acetylgalactosamine. It typically appears as a component of a proteoglycan in proteins. The cartilage between joints such as those in the hip, knee, finger, and other joints must contain chondroitin sulfate as a structural component. A common source of chondroitin sulfate for manufacturing is cartilage from cows and sharks. The food and dietary supplement industries' rising demand for chondroitin sulfate, consumers' awareness of the supplement's advantages, and a growing emphasis on preventive healthcare are driving this market's expansion. Additionally, increasing disposable incomes and shifting consumer lifestyles are some of the major elements anticipated to fuel market expansion over the course of the forecast period.
Manufacturers of foods and supplements will demand more chondroitin sulfate in the upcoming years. With an aging population and rising healthcare costs, consumers are more conscious of self-management and preventive care. Chondroitin sulfate is utilized more frequently in joint health supplements to lessen joint pain as the population ages and becomes more health conscious. The demand for chondroitin sulfate is rising because people spend more on nutritious and organic foods.
The refinement and purification procedures must be carried out by cartilage manufacturers who provide the raw materials for pharma-grade to maintain the drug's quality. Vendors of raw materials take cartilages from these source materials and give them to chondroitin sulfate manufacturers, who chemically change the substance to make pharmaceuticals. On the other hand, the raw material required for extraction has been popular because of its growing use in nutraceutical and pharmaceutical applications. Due to the increased prevalence of several diseases in developed countries and the advantages of cartilage products as a result of treatment, the usage of cartilage from these animals has increased. As a result, the price of cartilage and its derivatives has increased, which could constrain the market.
Regional Snapshot:
One of the most promising markets for those involved in the chondroitin sulfate industry is the Asia Pacific region. The market is growing quickly because of the economy's massive development and the individuals' fast emergence in purchasing power. Developing nations like India, Indonesia, China, and others provide lucrative potential growth in addition to South Korea and Japan.
The North American Chondroitin Sulfate sector represents excellent potential because of the presence of capital-intensive Chondroitin Sulfate firms in the region and significant investments in new product launches. Businesses' targeted marketing initiatives and an upbeat economic outlook will support a positive market outlook. The United States, Canada, and Mexico are the three major nations examined in the region.
The market for chondroitin sulfate in Europe is examined across various types and applications. The steady rise in Chondroitin Sulfate market requirements in Western European nations and rising consumer spending in Central and Eastern European countries support the whole market outlook. The size of the chondroitin sulfate market in Germany, Spain, Italy, France, the UK, and other European nations is analyzed and forecasted in the report.
Chondroitin Sulfate Market Report Scope:
| | |
| --- | --- |
| Report Coverage | Details |
| Market Revenue in 2023 | USD 1.25 Billion |
| Projected Forecast Revenue by 2032 | USD 1.65 Billion |
| Growth Rate from 2023 to 2032 | CAGR of 3.1% |
| Largest Market | North America |
| Base Year | 2022 |
| Forecast Period | 2023 to 2032 |
| Regions Covered | North America, Europe, Asia-Pacific, Latin America, and Middle East & Africa |

Report Highlights:
Due to its extensive use in the preparation of numerous medications, particularly those for the treatment of HIV, gastrointestinal inflammation, and HIV, the synthetic source segment is expected to experience the fastest growth throughout the projected timeframe.
Because there is such a high demand for nutraceutical products, the nutraceutical application segment is expected to grow at the fastest rate.
Due to the expansion of end-use industries like pharmaceutical, personal care & cosmetics, and nutraceuticals, Asia Pacific will experience the fastest growth rate.
Market Dynamics:
Driver:
An increase in the personal care and pharmaceutical industries is anticipated to fuel market expansion.
Because of shifting lifestyles and rising healthcare costs, the pharmaceutical and personal care industries are expected to grow. The increasing use of chondroitin sulfate in pharmaceuticals to treat joint pain and inflammation may be a key factor in the market's growth. The product market size may be driven by growth in the personal care sector brought on by rising personal care spending.
Due to its capacity to hydrate, heal, and soothe skin, the product is utilized in skin and hair repair creams and lotions. Due to its advantages, such as its anti-inflammatory qualities and capacity to reinforce the skin's intercellular matrix, chondroitin sulfate is also utilized in skincare products, which increases consumer demand for the product.
Market expansion is likely to be hampered by regulatory obstacles
But some of the factors limiting the growth of the global chondroitin sulfate market include cultural and religious restrictions on the use of chondroitin sulfate (Middle Eastern countries).
Restraint:
The Chondroitin Sulfate Market's Growth is Significantly Hindered by Fluctuating Raw Material Prices
The cartilage of several animals, including cows, chickens, sharks, pigs, and others, contains chondroitin sulfate. The product may be damaged during removal, making the chondroitin sulfate challenging to obtain from these sources and potentially dangerous to consume. Due to this, the extraction procedure is costly since a final product's quality and purity must be maintained. Due to its increasing use in nutraceutical and pharmaceutical products, chondroitin sulfate is in a growing market as a raw material.
Because more people in developed nations are becoming ill and cartilage products aid recovery from illness, there is a greater demand for tissue from these animals. The cost of cartilage and its derivatives has increased. It costs a lot of money to extract substances from cartilage, such as sodium chondroitin sulfate. The final product has to undergo several purification processes to ensure it has not been tampered with. The cost of producing chondroitin sulfate is also expected to rise due to fluctuating cartilage prices, which will slow the market's development.
Opportunity:
Growing Demand from the Pet Food Industry
Animal food contains chondroitin sulfate as a bioactive supplement because it benefits their health in various ways. It is a crucial component of pet food and veterinary supplements that prevent animals from developing hip dysplasia or arthritis issues.
Chondroitin sulfate is also popular because it improves joint mobility in pets, which promotes better health and increased activity. The demand for the product in the feed rating will probably rise. Because more pets are aging and developing new dietary requirements and preferences, the market for pet food is anticipated to expand.
Challenge:
Chondroitin Sulfate is Increasingly Used in Natural Products by the Cosmetic and Personal Care Industry
It has been discovered that chondroitin sulfate has various benefits, including the capacity to strengthen the intercellular matrix and its ability to heal, moisturize, and calm skin irritation with its anti-inflammatory properties.
Producers of skin care product and hair care products are gradually incorporating chondroitin sulfate into their formulas.
Chondroitin Sulfate is becoming more popular due to its availability for a variety of applications
Glucosamine hydrochloride, chondroitin sulfate, manganese ascorbate, and other ingredients are frequently used in conjunction with chondroitin sulfate. The primary functional segment is osteoarthritis, which is treated with glucosamine and chondroitin sulfate.
Other applications for chondroitin sulfate include cosmetics, veterinary supplements, and personal care products. Over the next few years, the chondroitin sulfate market is expected to expand more quickly due to rising demand from various industries.
Recent Development:
January 2022 - To gain access to the American market, Seikagaku Corporation increased the size of its operations in Canada by opening an additional operational facility there.
February 2022 - Exelead was purchased by Sigma Aldrich Inc., which intends to scale up technology by spending more than €600 million.
Major Key Players:
Solabia Group
Knowde
JIAXING HENGJIE BIOPHARMACEUTICAL CO., LTD.
SEIKAGAKU CORPORATION
Stanford Chemicals
Qingdao Wantuming Biological Products Co, Ltd.
ZPD A/S (Denmark)
Sioux Pharm, Inc.
Sino Siam Bio technique Co., Ltd.
Summit Nutritionals International
William Reed Ltd.
Bioiberica S.A.U.
Yantai Ruikangda Biochemical Products Co., Ltd
Market Segmentation:
By Source
Bovine
Poultry
Synthetic
Swine
Shark
By Application
Nutraceuticals
Personal Care & Cosmetics
Animal Feed
Pharmaceuticals
Other Applications
Buy this Research Report@ https://www.precedenceresearch.com/checkout/2726
You can place an order or ask any questions, please feel free to contact at sales@precedenceresearch.com | +1 9197 992 333