The global clinical laboratory tests market size is anticipated to reach around USD 272.61 billion by 2032 up from USD 106.74 billion in 2022 with a CAGR of 9.83% between 2023 and 2032.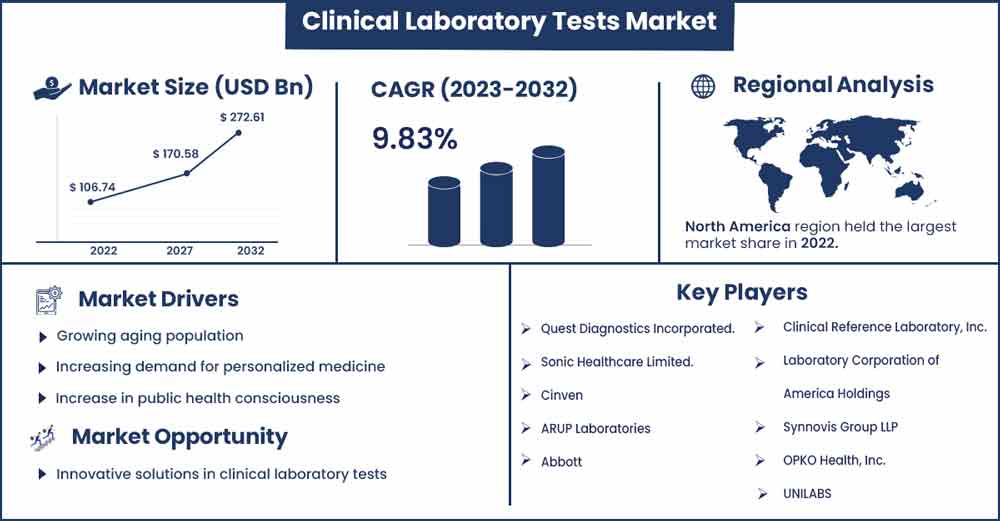 Market Overview:
Clinical laboratory tests are essential to modern healthcare, providing critical information to doctors and other healthcare professionals about a patient's health status. These tests are used to diagnose, monitor, and treat a wide range of medical conditions, from infectious diseases to chronic illnesses like diabetes and cancer. Clinical laboratory tests involve the analysis of biological specimens such as blood, urine, and tissue samples to identify biomarkers, monitor disease progression, and guide treatment decisions; with technological advances and increasing demand for accurate and timely diagnostic information, clinical laboratory testing has become an increasingly important component of modern medicine.
The clinical laboratory tests market includes a wide range of products and services, including reagents, instruments, software, and laboratory testing services. As the demand for accurate and efficient diagnostic services continues to rise, the clinical laboratory tests market is expected to play a crucial role in improving patient outcomes and reducing healthcare costs.
Report Highlights:
By type, the complete blood count segment dominated the global clinical laboratory tests market; complete blood count tests are the most commonly ordered tests in clinical practice. CBC tests provide a general picture of a person's overall health and well-being and can help identify potential health problems before they become more serious; the capability of complete blood count tests for diagnosing the abnormalities in the blood cells along with the potential of monitoring treatments for chronic diseases have been supplementing the segment's growth.
On the other hand, the HGB/HCT testing segment is expected to witness significant growth during the forecast period owing to the rising demand for evaluating various factors through testing, such as anaemia, dehydration, and blood loss. Along with this, the HGB/HCT testing allows the monitoring of ongoing treatment's effectiveness, making it an ideal platform to be utilized in cancer treatment.
By end use, the primary clinics segment held the dominating share of the global clinical laboratory tests market due to the massive preference for clinical laboratory tests in primary clinics. The convenience offered by primary clinics by performing clinical laboratory tests on-site has propelled the segment's growth. Clinical laboratory tests performed in primary clinics may be less expensive than at separate laboratory facilities. Additionally, some insurance plans may cover the cost of these tests when performed in primary clinics; these advantages are predicted to maintain the dominance of the primary clinics segment in the market.
Moreover, the central laboratories segment will show noticeable growth during the forecast period. Central laboratories typically have more resources and advanced technology to perform laboratory tests with greater accuracy and precision. Central laboratories often have more experienced personnel who are better trained to handle complex laboratory tests; the accuracy, reliability, speed, and standardization of laboratory tests of reports from central laboratories highlight the growth of the segment.
Clinical Laboratory Tests Market Report Scope:
| | |
| --- | --- |
| Report Coverage | Details |
| Market Revenue in 2023 | USD 117.23 Billion |
| Projected Forecast Revenue by 2032 | USD 272.61 Billion |
| Growth Rate from 2023 to 2032 | CAGR of 9.83% |
| Largest Market | North America |
| Base Year | 2022 |
| Forecast Period | 2023 to 2032 |
| Regions Covered | North America, Europe, Asia-Pacific, Latin America, and Middle East & Africa |

Regional Snapshot:
North America holds the largest share of the global clinical laboratory tests market. The growth of the market in North America is attributed to the well-established healthcare infrastructure and rapid adoption of advanced clinical testing methods. Several factors, including the growing prevalence of chronic diseases such as cancer and diabetes and the increasing demand for personalized medicine, drive the market of North American clinical laboratory tests.
According to the National Diabetes Statistics Report, published by the Centers for Disease Control and Prevention, 11.3% of the US population has diabetes. The rising number of prediabetic and diabetic patients in the country will grow the demand for clinical laboratory tests in upcoming years.
The region has a high concentration of diagnostic laboratories and hospitals, which provide laboratory testing services to a large patient population.
In the United States, the clinical laboratory tests market is highly regulated by government agencies such as the Food and Drug Administration (FDA) and the Centers for Medicare and Medicaid Services (CMS). These agencies set standards for laboratory testing services, ensuring they are safe, accurate, and reliable.
The clinical laboratory tests market in Asia Pacific is growing at the fastest rate. Improving the healthcare sector and rising investment by prominent key players in the region are observed to boost the market's growth. The Asia Pacific clinical laboratory tests market is a rapidly increasing market driven by rising healthcare expenditure, growing awareness about preventive healthcare, and the growing prevalence of chronic diseases in the region. The clinical laboratory tests market in China and India is expected to increase due to the increasing demand for laboratory testing services, driven by a large population and rising healthcare needs.
According to the Population Reference Bureau, Asia is the home to the elderly; Japan holds approximately 28% of the geriatric population. In Japan, the market is driven by the growing elderly population and the increasing prevalence of chronic diseases such as cancer and cardiovascular diseases, the improving healthcare infrastructure, especially for the elderly population with the deployment of home-care settings and skilled nursing facilities, is fuelling the growth of the market in the country.
Market Dynamics:
Driver:
Growing aging population
The world's aging population is driving demand for diagnostic tests to monitor and manage age-related diseases, such as cancer, diabetes, and cardiovascular diseases.
Increasing demand for personalized medicine
There is a growing trend toward personalized medicine, which involves tailoring treatment to an individual's genetic makeup, lifestyle, and other factors. This requires more precise and specialized laboratory tests.
Restraint:
High cost for lab tests
For patients who cannot afford them, the cost of some clinical laboratory tests can be a barrier. Furthermore, expensive tests may deter healthcare professionals from ordering them, especially if they are not covered by insurance.
Limited accessibility
Clinical laboratory tests might not be offered in some areas or healthcare facilities, particularly in rural or underdeveloped areas. For some patients, this may restrict their access to crucial diagnostic tests.
Stringent regulatory requirements
Strict regulatory requirements for clinical laboratory tests can be time- and money-consuming for manufacturers. The number of new tests released on the market might be reduced.
Limited reimbursement
Clinical laboratory test reimbursement policies can differ significantly, and insurance might not cover some tests. This may reduce the demand for some tests, especially from patients who cannot pay out of pocket.
Opportunity:
Increasing demand for diagnostic tests
As the world's population ages and grows, more chronic diseases and other conditions need to be diagnosed and monitored, increasing the demand for clinical laboratory tests.
Advancements in technology
The demand for clinical laboratory tests might rise due to improvements in laboratory technology like automation, artificial intelligence, and high-throughput sequencing that enable more precise and effective testing.
Increasing awareness and education
Diagnostic tests that can offer individualized information about disease risk and management may be in greater demand as healthcare consumers become more knowledgeable and aware of their health.
Increasing demand for Telemedicine
The demand for clinical laboratory tests that can be carried out outside conventional healthcare settings, such as at home or in community clinics, may rise as telemedicine and remote patient monitoring take off.
Challenge:
Increasing competition
The market for clinical laboratory tests is fiercely competitive, with both long-standing businesses and recent startups vying for market share. Companies may find it challenging to differentiate their goods and services and keep their pricing power.
Pricing pressures
Cost containment is a growing priority for healthcare payers and providers, which may put pressure on the cost of clinical laboratory tests. This could result in lower profit margins for businesses and restrict their capacity to make R&D investments.
Data management
Large amounts of data are produced by clinical laboratory tests, which can be challenging to manage and effectively analyze. Businesses unable to use this data effectively may lose out on chances to enhance their goods and services.
Skilled labor shortage
There needs to be more trained laboratory personnel in many areas. This may make it more difficult for businesses to expand and satisfy the rising demand for clinical laboratory tests.
Recent Development:
March 2022 - Mindray introduced its most recent BC-700 Series hematology analyzers for small-to-midsize laboratories, which incorporate both the complete blood count (CBC) and erythrocyte sedimentation rate (ESR) tests.
September 2022 - The establishment of Bionano Laboratories, a new company that incorporates the clinical testing services formerly provided by Lineagen with the optical genome mapping (OGM) data services of Bionano, was proclaimed by Bionano Genomics Inc. Additionally, it announced the debut of the first OGM-based test created by Bionano Laboratories (LDT).
Key Market Players:
Quest Diagnostics Incorporated.
Sonic Healthcare Limited.
Cinven
ARUP Laboratories
Abbott
Clinical Reference Laboratory, Inc.
Laboratory Corporation of America Holdings
Synnovis Group LLP
OPKO Health, Inc.
UNILABS
Market Segmentation:
By Type
Complete Blood Count
Basic Metabolic Panel Testing
HGB/ HCT testing
Comprehensive Metabolic Panel Testing
BUN Creatinine Testing
HbA1c Testing
Electrolytes Testing
Liver Panel Testing

Hepatitis
Liver Cirrhosis
Bone Disease
Bile Duct Obstruction
Liver Cancer
Autoimmune Disorders
Others

Lipid Panel Testing
Renal Panel Testing
Cardiovascular Panel Tests
By End-Use
Central Laboratories

Complete Blood Count
Basic Metabolic Panel Testing
HGB/ HCT testing
BUN Creatinine Testing
HbA1c Testing
Electrolytes Testing
Comprehensive Metabolic Panel Testing
Renal Panel Testing
Liver Panel Testing
Lipid Panel Testing
Cardiovascular Panel Tests

Primary Clinics

Complete Blood Count
Cardiovascular Panel Tests
Basic Metabolic Panel Testing
HGB/ HCT testing
Lipid Panel Testing
BUN Creatinine Testing
HbA1c Testing
Electrolytes Testing
Comprehensive Metabolic Panel Testing
Renal Panel Testing
Liver Panel Testing
Buy this Research Report@ https://www.precedenceresearch.com/checkout/2748
You can place an order or ask any questions, please feel free to contact at sales@precedenceresearch.com | +1 9197 992 333