The global cognitive computing market size was exhibited at USD 32.6 billion in 2022 and is projected to attain around USD 238.1 billion by 2032, growing at a CAGR of 22% during the forecast period 2023 to 2032.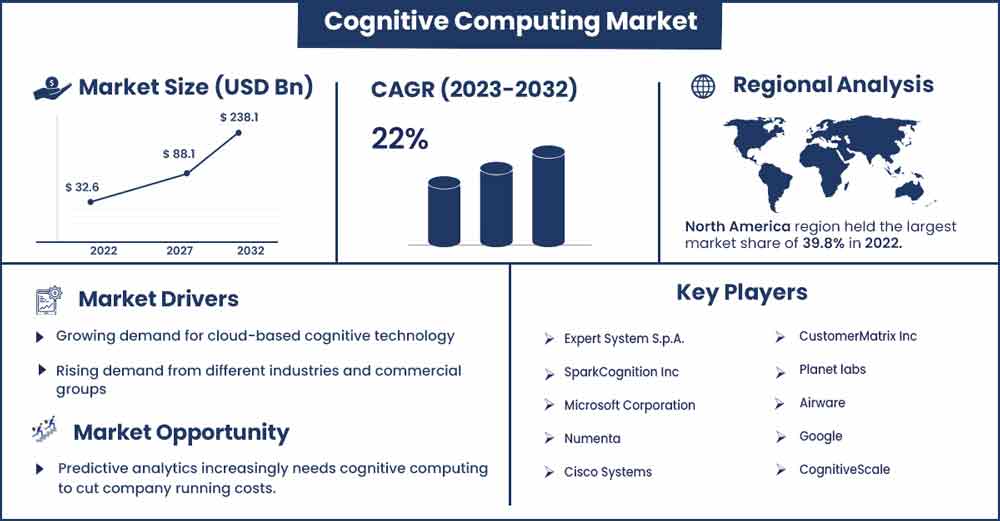 Cognitive computing is a branch of technology that is based on data processing and artificial intelligence. Among these systems are those for story development, machine learning, natural language processing (NLP), logic, speech recognition, and vision. To put it another way, cognitive computing builds automatic IT systems that can handle issues without engaging people by creating a digital model of how people think. Cognitive computing is regarded as groundbreaking because it employs a novel method of learning from structured and unstructured data as opposed to being created with strictly linear or rational principles or solutions.
As a result of recent developments in digital technology, many companies have begun utilizing cognitive technology. According to the study, 30% of company processes will be automated by the start of 2030. Predictive analytics solutions also increase revenue by suggesting products and services to specific customers based on historical data. Through a decrease in business overhead costs, these business methods generate a return on investment.
The exponential development of the cognitive computing industry, a subgroup of AI, is being driven by the usage of AI in an increasing number of business use cases. According to a survey, 35% of companies worldwide will use AI in every day activities by 2021. Artificial intelligence is enabling cognitive computing more than any other technology created in the previous two decades, and its widespread use is changing company efficiency.
Report Highlights:
The natural language processing industry made for the largest revenue share in 2022 more than 42.5%. The natural language processing industry is expected to hold a significant global marketplace during the projection era.
The BFSI sector had the largest income portion in 2022, exceeding 25%. Cognitive computing solutions are being implemented incredibly quickly in the BFSI sector. Between 2022 and 2032, the BFSI application area is expected to grow at a CAGR of more than 28.7%, with a market value of more than USD 6.45 billion in 2022.
The cloud industry, which had a market valuation of more than USD 18.5 billion in 2022, is anticipated to grow at a CAGR of 28.2% during the forecast era.
With a revenue share of over 39.8%, the North American region dominated the cognitive computing industry in 2022. This growth is attributed to the quick adoption of combined cloud systems and the development of new business models.
Cognitive Computing Market Report Scope:
| | |
| --- | --- |
| Report Coverage | Details |
| Market Revenue in 2023 | USD 39.77 Billion |
| Projected Forecast Revenue by 2032 | USD 238.1 Billion |
| Growth Rate from 2023 to 2032 | CAGR of 22% |
| Largest Market | North America |
| Base Year | 2022 |
| Forecast Period | 2023 to 2032 |
| Regions Covered | North America, Europe, Asia-Pacific, Latin America, and Middle East & Africa |

Regional Snapshots:
North America will dominate the market for cognitive computing technology. Because of the constantly growing amount of data being added to and handled in the industrial sector, artificial intelligence and cognitive computing technology are actually on the verge of experiencing tremendous disruption in the data analytics industry. We will soon need to keep and evaluate unstructured data because we need more advanced technology to understand this development and human structure and to prevent ambiguity and machine-level mistakes. According to market research, North America is far ahead of other countries in terms of adjusting to the developing cloud computing technologies.
In North America, the market for cognitive computing has a higher income share. The market for cognitive computing in this area has grown as a result of the quick acceptance of cognitive computing in such business activities, as well as the expansion of internet use, robot use, IT infrastructure, and sophisticated healthcare. By 2020, more than 92% of North Americans will have internet connectivity; as a result, this region's internet penetration in a variety of sectors, including fashion and retail, manufacturing, healthcare, transit, and many more, will control the cognitive computing market.
The market is anticipated to expand significantly more in the years to come as both the economy and customer buying power strengthen. As top AI and cognitive computing vendors like Google Cloud Platform (GCP), Amazon Web Service (AWS), and Microsoft Azure concentrate on integrating their services across various sectors, demand in this area is also increasing. This rise is attributed to the rapid adoption of combined cloud platforms and the appearance of new business models. Strong government policies in the United States and Canada are expected to support the value of data security, speeding up the regional adoption of these systems.
Market Dynamics:
Drivers:
New business opportunities are anticipated to arise from the expanding demand for next-generation centers. Complexity has lately been a problem for IT organizations. Numerous technologies have been implemented in an effort to keep up with the sharply rising business standards. Data centers have increased in cost and complexity due to over-provisioned physical designs. While virtualization and the cloud have improved the situation, they have also made certain data center inefficiencies worse, like a dearth of automation and coordination among its various parts.
By fusing both old and new designs into a singular mineable environment, cognitive data centers can provide infrastructure that is both easier and more adaptable and can react to disruptive changes. Therefore, during the projection period, these cognitive data center traits may offer appealing development possibilities.
Restraints:
Cognitive Computing Technology faces a significant challenge in maintaining continuous data availability, as it requires intermittent human inputs or interaction. Its aim is to process information and think like humans, producing accurate results. However, reaching this level of understanding poses a significant challenge for Cognitive Computing Technology, as it currently lags behind and may encounter errors in comprehending basic problems such as simple images. Developers are working towards integrating deep learning, machine learning, and artificial intelligence algorithms with Cognitive Computing to enhance its ability to understand the human mind more efficiently and rapidly.
Opportunities:
The cognitive computing Ttechnology market has experienced significant growth due to its ability to analyze unstructured or raw data and predict future industry dynamics without requiring specific algorithms to separate relevant data or documents. This has made it more accessible for various industries to utilize cognitive computing in conjunction with artificial intelligence and achieve desired outcomes. IBM's Watson accurately predicted that cognitive computing is a self-repairing and learning technology, capable of surpassing current artificial intelligence dynamics by comprehending unrelated and unstructured human language, images, and voice commands, extracting meaningful insights and generating more job opportunities in the data science field.
Challenge:
Threats to data security and a dearth of qualified workers are two issues that might prevent business growth. Data protection issues remain a major roadblock for the cognitive computing industry. The Insurance Information Institute (III) U.S. reports that, compared to 2020, there were 68% more data leaks in the United States in 2021. Vendors of cognitive computing solutions have a great deal of influence over database administration.
Databases hold a variety of user confidential information as well as payment information like address, picture identification, and debit or credit card details. Some hackers hack databases and take the credentials of authorized users using malware, Distributed Denial-of-Service (DDoS), phishing, and SQL injection assaults. Situations may consequently have a detrimental effect on the stock prices and image of the business. The development of the cognitive computing industry is being constrained by these barriers.
Recent Developments:
In September 2019, Schlumberger, Chevron, and Microsoft joined forces to hasten the development of new technologies. The partnership involved three stages, beginning with the implementation of the Petro technical Suite in the DELFI environment, followed by the creation of cloud-native applications on Azure and ultimately culminating in co-innovation of a suite for cognitive computer processing native abilities.
Major Key Players:
Expert System S.p.A.
SparkCognition Inc
Microsoft Corporation
Numenta
International Business Machines Corporation
Cisco Systems
DeepMind Technologies Limited
CustomerMatrix Inc
Planet labs
Airware
Google
CognitiveScale
Saffron Technology
Enterra Solutions LLC
ColdLight Solutions
Palantir Technologies
Hewlett Packard Enterprise
Orbital Insight
Vicarious
DigitalGenius
DataRobot
Cylance
Vicarious
Darktrace
Ross Intelligence
Indico
Cyberlytic
Market Segmentation:
By Technology
Natural Language Processing
Machine Learning
Automated Reasoning
Information Retrieval
By Application
BFSI
Healthcare
Security
Retail
IT & Telecom
Aerospace & Defense
Others
By Deployment
Buy this Research Report@ https://www.precedenceresearch.com/checkout/2732
You can place an order or ask any questions, please feel free to contact at sales@precedenceresearch.com | +1 9197 992 333