The global deep brain stimulation devices market size was evaluated at USD 1.98 billion in 2022 and it is expected to touch over USD 4.3 billion by 2030, growing at a CAGR of 10.16% during the forecast period 2022 to 2030.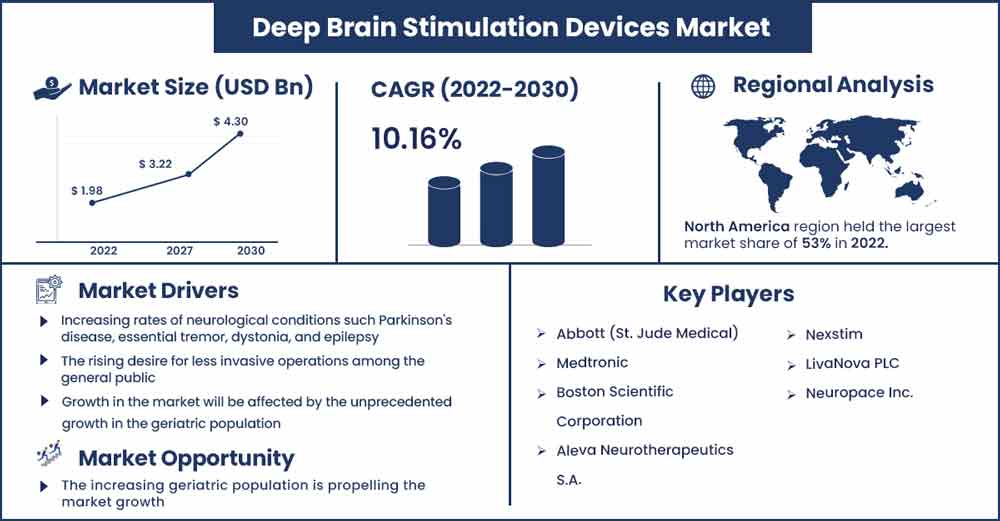 The rise in individuals with Parkinson's disease, dystonia, and multiple sclerosis-related involuntary movements is anticipated to fuel market expansion. A high-impact driving driver for the market is also the rising need for less invasive methods as a result of improved patient outcomes. Deep brain stimulation (DBS) device market development is also anticipated to be supported by the advent of telehealth consultations and eHealth applications to frequently monitor PD patients during the COVID-19 pandemic.
The COVID-19 epidemic has had a detrimental effect on the market by directly influencing demand and production, disrupting the supply chain, and raising costs for businesses. Brain procedures have frequently been delayed or even cancelled during this time in order to stop the coronavirus from spreading. Neurosurgical operations decreased by 55% in the worst-affected countries, including the United States, Russia, India, Brazil, France, the United Kingdom, Italy, and Spain.
Given that some hospitals have modified access policies or limited access to their facilities, manufacturers have found it challenging to meet the needs of their surgeon customers. They, therefore, saw a decline in procedure volumes in 2022, which is anticipated to restrain market expansion. However, tele-consultancy for follow-up and regular check-ups to manage the symptoms of PD patients throughout the pandemic has expanded internationally, and these activities are playing a critical role in enhancing market growth. As a result, it is anticipated that these developments will have a big influence on the adoption of DBS in the years to come.
Additionally, most countries across the world have loosened lockout regulations and resumed performing certain elective procedures; as a result, the industry is anticipated to rebound and expand throughout the time of forecasting. To deal with supply chain interruptions, businesses have been utilizing tactics including rerouting logistics, sourcing from extra partners, and air freight delivery. Major companies also intend to geographically expand their operations and build more warehouses in various locations in order to operate via a variety of accessible channels in the worst-affected areas and meet demand. These traits are anticipated to produce profitable market growth opportunities.
Report Highlights:
The market is segmented into hospitals, Ambulatory surgical centers, and other end-uses. Due to the increased frequency of different neurological diseases that may be efficiently treated in hospital settings by underqualified healthcare personnel, the hospital segment accounted for about USD 906 million in 2022.
The prevalence of lifestyle-related diseases including depression and chronic pain is on the rise, which will increase the market size.
Market participants in this sector have undertaken a number of strategic steps to preserve their financial stability, which has aided in their development as market leaders.
A few reasons that support market developments include the rising frequency of neurological illnesses and the expanding use of cutting-edge technology.
The industry statistics will increase as the demand for less invasive surgical treatments rises.
Deep brain stimulation device hazards and a shortage of qualified healthcare professionals will drive market numbers.
Deep Brain Stimulation Devices Market Report Scope:
| | |
| --- | --- |
| Report Coverage | Details |
| Market Revenue in 2023 | USD 2.18 Billion |
| Projected Forecast Revenue in 2030 | USD 4.3 Billion |
| Growth Rate from 2022 to 2030 | CAGR of 10.16% |
| Largest Market | North America |
| Base Year | 2022 |
| Forecast Period | 2022 To 2030 |
| Regions Covered | North America, Europe, Asia-Pacific, Latin America, and Middle East & Africa |

Regional Snapshots:
The demand for deep brain stimulators is anticipated to be driven by an increase in government funding and activities to raise awareness of Parkinson's disease (PD), which led to North America dominating the market with a share of 51.59% in 2021. As an illustration, the Parkinson's Foundation supported more than 40 PD research initiatives in 2015. The market is expanding as a result of the FDA increasingly approving deep brain stimulators for the treatment of Parkinson's disease. For instance, St. Jude Medical's St. Jude Medical Infinity DBS and its directional lead technology were approved by the U.S. FDA for use in the treatment of Parkinson's disease in October 2016.
Additionally, the existence of powerful rivals, the accessibility of state-of-the-art healthcare infrastructure, and encouraging government efforts all contribute to the expansion of this industry. For instance, the National Institute of Neurological Disorder and Stroke (NINDS) funds studies on DBS to ascertain its safety and efficacy in the management of Parkinson's disease.
From 2022 to 2030, Asia Pacific is anticipated to largely dominate the market. This is explained by the increase in the frequency of neurodegenerative diseases and the unmet need for practical, long-lasting remedies. The market in this area is anticipated to increase as a result of improved clinical development frameworks in emerging economies and growing knowledge of available treatments for neurological diseases. In addition, the existence of high-growth potential in developing nations like Japan, China, and India is probably going to support market expansion. Additionally, it is hoped that the creation of institutions like the Asia-Pacific Centre for Neuromodulation (APCN), which was formed to conduct research and raise awareness about the advantages of deep brain stimulation, will promote regional growth.
Market Dynamics:
Drivers:
Increasing rates of neurological conditions such Parkinson's disease, essential tremor, dystonia, and epilepsy are significant market drivers. According to the World Health Organization (WHO), neurological illnesses account for 6.3% of all diseases and are one of the leading causes of death globally, killing 13.2% of people in wealthy nations and 16.8% of people in low and middle-income nations. Clinically, including long-term treatments like deep brain stimulators is urgent due to high mortality and illness load. Deep brain stimulators are more in demand as an alternative therapy due to rising awareness of the tremendous burden of neurological diseases. Throughout the projected period, this is anticipated to fuel market expansion.
Furthermore, this industry is expected to see growth due to technical developments in DBS technologies. These technical advancements include multi-target stimulation, rechargeable implanted pulse generators, robot-assisted insertion, better microelectrode designs, and customised directed programming. Due to these developments, DBS devices are more effective and provide better symptomatic relief for Parkinson's patients than conventional procedures with fewer side effects. For instance, a new, technologically advanced DBS that can benefit patients with their symptoms is Abbott's Infinity Deep Brain Stimulation System. The first wireless iOS software DBS mobile platform, it provides effective and individualized therapeutic management with a lower risk of side effects.
Countries like the United States and Canada have seen a high incidence rate of mental and movement problems along with a growing senior population. For instance, the Parkinson's Foundation reports that symptoms of PD are often present by age 60 on average. The elderly population is more prone to these illnesses. Similarly, the Canadian Psychological Association reports that around 2% of the population has an obsessive-compulsive condition. Additionally, the market is expanding as a result of a rise in FDA approvals for deep brain stimulation devices used in clinical applications such tremors, severe obsessive-compulsive disorders, and dystonia. For instance, the U.S. FDA granted NeuroPace, Inc. permission to label their RNS System for magnetic resonance imaging in March 2022. These elements should increase demand for DBS devices in these nations.
Restraints:
However, the market for deep brain stimulation devices is constrained by the availability of other treatment alternatives such as pharmacological therapy and surgery.
Opportunities:
According to a study report published by the Parkinson's Disease Society of the United Kingdom in 2022, the rate of prevalence in 2017 was estimated to be 1-2 people in every 100,000 aged 20–29 and 4–5 people in every 100,000 aged 30-39. This rising prevalence is expected to fuel the growth of the global market for deep brain stimulation devices. The incidence rose with age, reaching 1,696 per 100,000 for persons 80 to 84 years old, or almost 1.7% of this age group in the United Kingdom.
The prevalence of neurological conditions such ischemic stroke, Alzheimer's disease, tremors, trauma, and Parkinson's disease (PD) has increased, and these conditions are the main drivers of the worldwide market for deep brain stimulation devices.
Challenges:
Difficulties with deep brain stimulation and Lack of competent healthcare professionals
Recent Developments:
In January 2021, Gaelan Medical Trade LLC, a healthcare provider with several distribution channels in the United Arab Emirates, and BrainsWay Ltd., a global leader in non-invasive advanced therapy for brain illnesses, have announced an exclusive distribution deal. The agreement establishes a multiyear framework for the marketing and sale of BrainsWay's patented, ground-breaking Deep Transcranial Magnetic Stimulation (Deep TMS) system throughout the United Arab Emirates. Deep TMS is currently marketed in various markets for treating brain disorders like major depressive disorder (MDD) and obsessive-compulsive disorder (OCD), among others.
Major Key Players:
Abbott (St. Jude Medical)
Medtronic
Boston Scientific Corporation
Aleva Neurotherapeutics S.A.
Nexstim
LivaNova PLC
Neuropace Inc.
Market Segmentation:
By Product
Single Channel
Dual Channel
By Application
Pain Management
Epilepsy
Essential Tremor
Obsessive-Compulsive Disorder (OCD)
Depression
Dystonia
Parkinson's Disease
Others
By End-Use
Hospitals
Neurology Clinics
Ambulatory Surgical Centers
Research Centers
Buy this Research Report@ https://www.precedenceresearch.com/checkout/2331
You can place an order or ask any questions, please feel free to contact at sales@precedenceresearch.com | +1 9197 992 333