The global disappearing packaging market size was evaluated at USD 3.58 billion in 2022 and is expected to rise to USD 8.7 billion by 2030, growing at a strong CAGR of 11.75 percent throughout the projection period 2022 To 2030.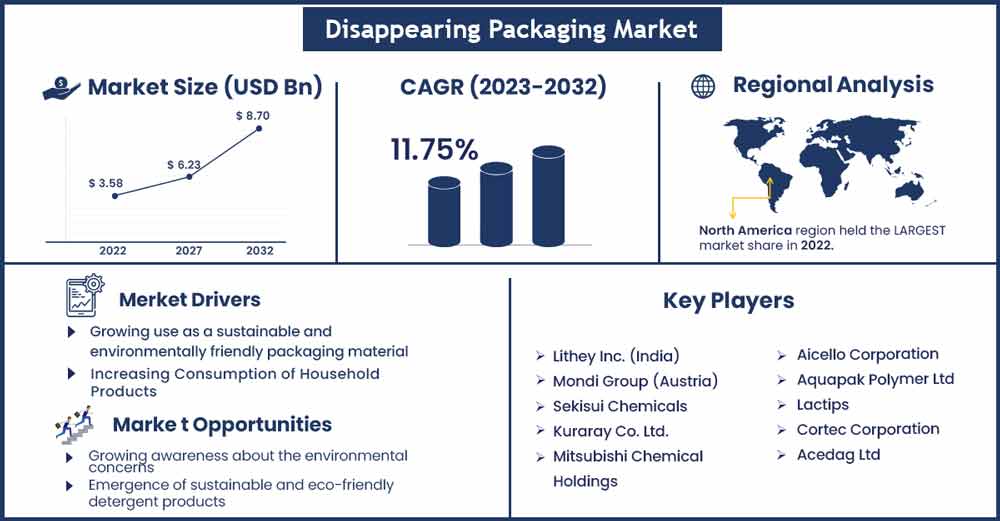 It is possible to make garment packaging sustainable or even "disappear" after usage by using the Disappearing Package technique. The detergent used in its production will dissolve in a washing machine. The best adopters of this packaging will be secondhand clothing stores, who are well-liked by clients who are already driven to recycle, since they may urge customers to recycle the box in the washing machine alongside the item they purchased. The material of choice is robust, has brief water resistance, and is completely dissolve at 40 degrees Celsius. The endeavor can serve as motivation for a circular economy.
The packaging sector is implementing procedures that promote environmental welfare. The rising usage of the disappearing materials for package across several industry verticals is being driven by the need for inexpensive, sustainable, and robust packaging material.
The majority of disappearing packaging is made of highly functional packaging materials, which guarantee sustainable end-of-life possibilities. In order to replace their current product line with the highly demanded disappearing packaging, packaging material manufacturers frequently prefer the materials that are compatible with existing plastics manufacturing equipment and do not require any additional pieces of machinery for their formulation. This would increase the supply of this material on a global scale.
Numerous packaging businesses can greatly benefit from using disappearing packaging, which is also less expensive than traditional plastic packaging. The water-dispersible packing bags were created by a joint venture between Solubag and Polye Materials and cost around 1.5 times as much as regular plastic bags. The price of the company's bags continued to drop in the following generations, boosting the likelihood that packaging businesses will adopt them widely. The need for biodegradable packaging has increased as a result of the expanding use of disappearing packaging across a variety of sectors and the developing environmental and sustainability concerns. The market for disappearing packaging has grown significantly as a result of increased public awareness of the negative environmental effects of single-use plastics and government action to outlaw their use.
Report Highlights:
In the global market for packaging that disappears, North America dominated. There is a high level of consumer awareness of the issues, and North American manufacturers still supply goods for the laundry soap, dishwasher detergent, and many other industries.
The Asia Pacific region is anticipated to develop at the highest pace due to rising interest and manufacturers there. Customers in the area could be prepared to pay extra for more environmentally friendly items like packing materials that disappear, which would further fuel industrial expansion in the area.
Plant-based and petroleum-based polymers are utilized in the market for disappearing packaging, and in the raw materials sector, polymers account for a significant portion of the overall market.
Consumer awareness, regulatory measures, and new product advancements in the industry will advance disappearing packaging. Greater demand will be fueled by growing industry investments and desire in more environmentally friendly goods in emerging economies.
Due to several regulatory requirements that require the use of food-grade polymers for any applications involving direct contact with food, food-grade use holds the largest share in this market.
The market for disappearing packaging contains some of the most lucrative applications in the food and beverage industry.
Disappearing Packaging Market Report Scope:
| | |
| --- | --- |
| Report Coverage | Details |
| Market Revenue in 2023 | USD 4 Billion |
| Projected Forecast Revenue in 2030 | USD 8.7 Billion |
| Growth Rate from 2022 to 2030 | CAGR of 11.75% |
| Largest Market | North America |
| Base Year | 2022 |
| Forecast Period | 2022 To 2030 |
| Regions Covered | North America, Europe, Asia-Pacific, Latin America, and Middle East & Africa |

Regional Snapshots:
In the market for disappearing packaging in 2020, North America held the biggest market share. This is explained by the widespread use of disappearing packaging across several sectors. Plastic trash creation is an issue that is becoming worse every day. Because of the prevalent "throw-away" mentality, 70percent of plastics in the United States wind up in landfills, according to the EPA. However, the market for disappearing packaging in the North American area is driven by rising public awareness of the need to reduce the use of single-use plastics and government initiatives to outlaw their use.
Market Dynamics:
Drivers:
Consumers today are becoming more and more bothered with single-use plastics all around the world. These plastic goods frequently need extra work to trash or simply aren't recycled, which adds to the massive quantity of landfill trash and environmental harm. An greater knowledge of environmental concerns leads customers choose items with more ecologically friendly options.
Additionally, as more people become aware of the options for disappearing packaging, customer confidence in these substitutes grows. Water soluble materials are made utilizing sugars from cornstarch as well as other agricultural byproducts, whereas conventional polymers are often made from petroleum compounds and cannot be broken down. This indicates that the polymers may quickly biodegrade, resulting in reduced waste and greenhouse gas output.
Restraints:
It's improbable that regular customers will take the time to dissolve their eCommerce package rather than tossing it away if there is a unique end-of-life process. At scale, this is probably going to be a major difficulty, but given how quickly consumer patterns are changing, things may radically shift in the next few years. During the shipment of a box, it frequently rains and is generally humid. Plastic has been employed so frequently in the logistics sector because it is undeniably good at keeping out moisture, which is the main reason for this. The product's capacity to function as an eCommerce satchel would need to be thoroughly tested because it is intended to disappear instantaneously. All such factors are restraining the growth of the disappearing packaging market during the forecast period.
Opportunities:
One of the biggest opportunities for industry participants in the market for disappearing packaging is the emergence of sustainable and environmentally friendly detergent products. Around the world, people are becoming more concerned about environmental contamination. Additionally, it has been suggested that chemical-based detergents hurt consumers' skin and eventually degrade the softness and quality of their clothing. The majority of eco-friendly items are organic and created from natural ingredients rather than synthetic additives, chemicals, preservatives, and other compounds that are harmful to human health. Due to the harmful effects of detergents generated from synthetic materials, consumers choose natural and organic detergents, which will further assist the growth of the targeted market throughout the forecast period.
Challenges:
The prohibition on single-use plastics is one of the major obstacles to the expansion of the worldwide disappearing packaging sector. For instance, the Canadian government said in June 2020 that it intended to outlaw single-use plastics in order to lessen the 3 million metric tons of waste that is thrown away there annually. The sectors that produce bottled water and beverages as well as those who work in the plastics industry are predicted to suffer as a result. For instance, the European Council declared the formal passage of EU legislation which may enforce recycling goals and prohibit single-use plastic products in May 2019. Throughout the forecast period, these issues are anticipated to have a negative effect on the market's expansion for disappearing packaging.
Recent Developments:
The water-soluble "Vivos" film created by US business MonoSol is now being investigated as edible packaging for a variety of food and beverage goods, including coffee, hot chocolate, pasta, and oats.
The stiff Polyvinyl alcohol (PVOH), a liquid synthetic polymer, is utilized to create Solupak's soluble packaging, which may be used to store detergents, cosmetics, and specialty chemicals.
Major Key Players:
Lithey Inc. (India)
Mondi Group (Austria)
Sekisui Chemicals (Japan
Kuraray Co. Ltd. (Japan)
Mitsubishi Chemical Holdings (Japan)
Aicello Corporation (Japan)
Aquapak Polymer Ltd (UK)
Lactips (France)
Cortec Corporation (US)
Acedag Ltd. (UK)
MSD Corporation (China)
Prodotti Solutions (US)
JRF Technology LLC (US)
Amtopak Inc. (US)
Market Segmentation:
By Raw Materials
Polymers
Surfactants
Fibers
By Grade
Fruits
Citrus Fruits
Berries
Other fruit types
Vegetables
Roots and Tubers
Brassicas
Flowers and Ornamentals
Nursey Crops
Other product types
By End Use
Glass Greenhouse
Horticulture Glass
Other Glass Greenhouse
Plastic Greenhouse
Polyethylene
Polycarbonate
Polymethly-methacrylate
Buy this Research Report@ https://www.precedenceresearch.com/checkout/2136
You can place an order or ask any questions, please feel free to contact at sales@precedenceresearch.com | +1 9197 992 333