The global drug-eluting balloon catheters market size was exhibited at USD 1.52 billion in 2022 and is projected to attain around USD 5.4 billion by 2030, poised to grow at a strong CAGR of 17.14 percent during the projection period from 2022 to 2030.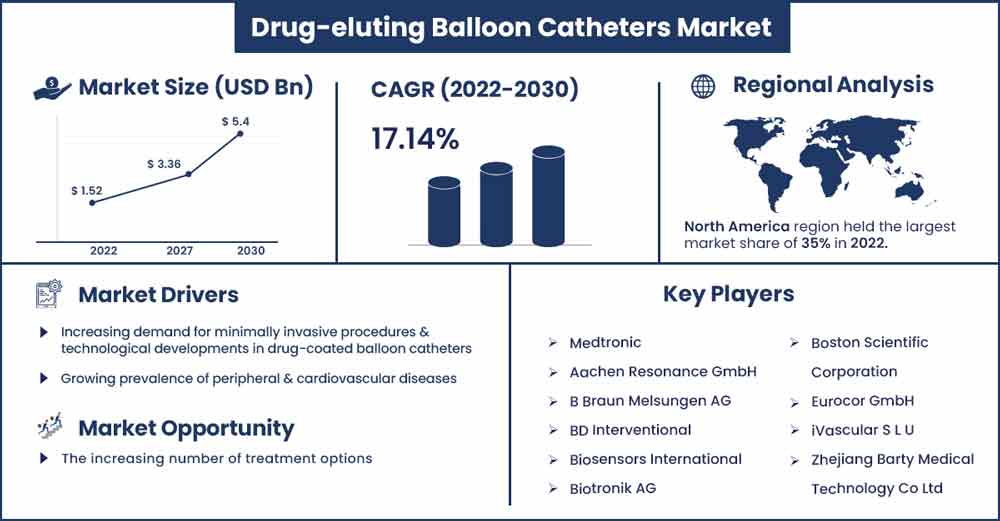 A balloon-like device is placed to the tip of the flexible, fragile balloon catheter. When the catheter is in place, this balloon can be expanded or deflated to open a pathway. Heart-related illnesses, notably coronary heart disease brought on by diabetes, high blood pressure, and high cholesterol levels, are the main conditions that balloon catheters are used to treat. The market is expanding as a result of a number of government efforts, including favorable reimbursement policies, rising geriatric populations, rising cardiac disease incidences, and increased desire for minimally invasive surgery.
Report Highlights:
Drug-eluting balloon catheters segment is anticipated to command the greatest market share. Since drug-eluting balloons are simple to employ and have a higher patency rate than regular PTA balloons, the segment is expanding due to their increased use in the treatment of peripheral artery disorders. The increased development of these devices by prominent manufacturers is another factor contributing to the expansion of the peripheral drug-eluting balloon market.
The market for drug-eluting balloon catheters is divided into three submarkets based on end-use: hospitals & clinics, ambulatory surgical centers, and catheterization labs. Due to the rising demand for minimally invasive treatments and the rising number of hospital in-patient admissions for catheterization procedures, the hospital and clinic sector is expected to continue to dominate the market in 2022.
Drug-eluting Balloon Catheters Market Report Scope:
| | |
| --- | --- |
| Report Coverage | Details |
| Market Revenue in 2023 | USD 1.78 Billion |
| Projected Forecast Revenue in 2030 | USD 5.4 Billion |
| Growth Rate from 2022 to 2030 | CAGR of 17.14% |
| Largest Market | North America |
| Base Year | 2022 |
| Forecast Period | 2022 To 2030 |
| Regions Covered | North America, Europe, Asia-Pacific, Latin America, and Middle East & Africa |

Regional Snapshots:
The North American region held the largest market share in 2022. The increased incidence of urological diseases, renal failure, and the number of highly skilled surgeons are the key causes of this high income share, among others. For instance, according to projections from the Centers for Disease Control and Prevention, every seventh adult in the United States, or more than 37 million individuals, is predicted to have chronic kidney disease (CDC). The need for catheterization procedures, which make use of these devices, is predicted to rise as illness prevalence rises.
In 2022, 13,352 urologists are anticipated to be employed full-time in the United States, according to the American Urological Association (AUANET). Increasing cardiac catheterization hospitalizations are also projected to encourage market expansion across the country. For instance, according to the NCBI, more than 1,000,000 cardiac catheterization procedures are performed annually in the US. The presence of big players in the market will also boost product demand and adoption rates. The demand for catheterization procedures is therefore expected to rise as a result of the aforementioned factors.
Market Dynamics:
Drivers:
Technology developments and rising cardiac disease incidences are anticipated to fuel market expansion. Approximately 60,000 coronary artery bypass surgeries are conducted each year in India, according to the Coronary Artery Disease in Asian Indians (CADI) Research Foundation. Asian Indians make up 5% of the world's population and are known to have the highest incidence of coronary artery disease (CAD). The growing elderly population with diabetes and high blood cholesterol will result in an increase in coronary artery bypass procedures. Additionally, technological developments have led to the creation of novel goods that produce superior results.
For instance, Cardiovascular Systems introduced cutting-edge peripheral balloon catheters for complicated lesions in April 2022. In addition, businesses are funding studies on new technologies' safety as well as research into them, with assistance from the governments. For instance, Terumo Corporation announced the enrollment of the first patient for the trial using its most recent bobby balloon guide catheter in April 2022.
Restraints:
One of the main things impeding the market's expansion is the high cost of the treatment. The high cost of advanced catheters might prevent further business growth. Furthermore, an increasing number of catheterization patients have chronic and cardiovascular conditions such as urinary bladder, renal failure, and coronary heart disease, necessitating the introduction of novel catheters. However, because catheterization procedures for these illnesses are costly, the adoption rate of catheters may be declining throughout low-income countries.
The expensive cost of these devices and their required accessories can prevent the market from growing. Additionally, the high costs associated with catheterization operations may limit market expansion in impoverished countries with relatively low-income levels. As a result, adopting such pricey goods may be difficult for middle-income and low-income countries. As a result, the high cost of these sophisticated devices may limit the growth of the catheter market during the anticipated year.
Opportunities:
The market for drug-eluting balloon (DEB) catheters is growing as more patients who are not candidates for percutaneous coronary intervention (PCI) are using angioplasty balloons. Governments and other organizations are providing more funding and assistance for research to further develop drug-eluting balloon catheters.
Challenges:
As a result of the presence of numerous big and small players, the market is fragmented. Key market players are familiar with these situations and can better support themselves in the industry because of this. However, it is very difficult for new companies to handle the strict restrictions, which limit the entry of new players. However, the increased demand for minimally invasive surgical treatments and the frequency of cardiovascular problems are encouraging new competitors to enter the market, particularly in developing nations where restrictions are somewhat laxer.
Recent Developments:
In February 2019 - In order to treat coronary disease, MedAlliance S.A.'s SELUTION drug-eluting balloon catheter for sirolimus gained FDA approval as a breakthrough product. The company was able to diversify its product line and boost sales as a result of this approval.
Major Key Players:
Medtronic
Aachen Resonance GmbH
B Braun Melsungen AG
BD Interventional
Biosensors International
Biotronik AG
Boston Scientific Corporation
Eurocor GmbH
iVascular S L U
Zhejiang Barty Medical Technology Co Ltd
Lepu Medical Technology (Beijing)Co Ltd
MedAlliance
Market Segmentation:
By Product
Coronary Artery Disease
Peripheral Vascular Disease
By Raw Material
Polyurethane
Nylon
Others
By End-Use
Hospitals and clinics
Ambulatory Surgical Centers
Catheterization Laboratories
Buy this Research Report@ https://www.precedenceresearch.com/checkout/2323
You can place an order or ask any questions, please feel free to contact at sales@precedenceresearch.com | +1 9197 992 333