The global electric vehicle polymer market size was evaluated at USD 13 billion in 2022 and it is expected to touch over USD 519.1 billion by 2030, growing at a CAGR of 58.55% during the forecast period 2022 to 2030.
Since electric cars represent the future of the automobile sector, their general effectiveness and efficiency have to be comparable to those of their gasoline-powered counterparts. Electric Vehicle Polymers are essential in the EV market because of their ability to reduce weight, quick processing, and intricate component molding. Polymers are mostly used in batteries and a few interior and external parts of electric vehicles. High-end engineering electric car polymers have replaced some of the metal-made sections of the vehicles since they can withstand the same strain, stress, and abrasion.
Lightweight materials that can replace metal parts are used in the production of electric vehicles to reduce vehicle weight. The development of high-performance polymers with improved qualities to meet the demands of electric propulsion is being driven by the rising production of battery-powered electric vehicles, or BEVs. Sales of BEVs are estimated to grow steadily as BEV technology advances along with energy density as well as battery capacity and as cars become more autonomous and networked.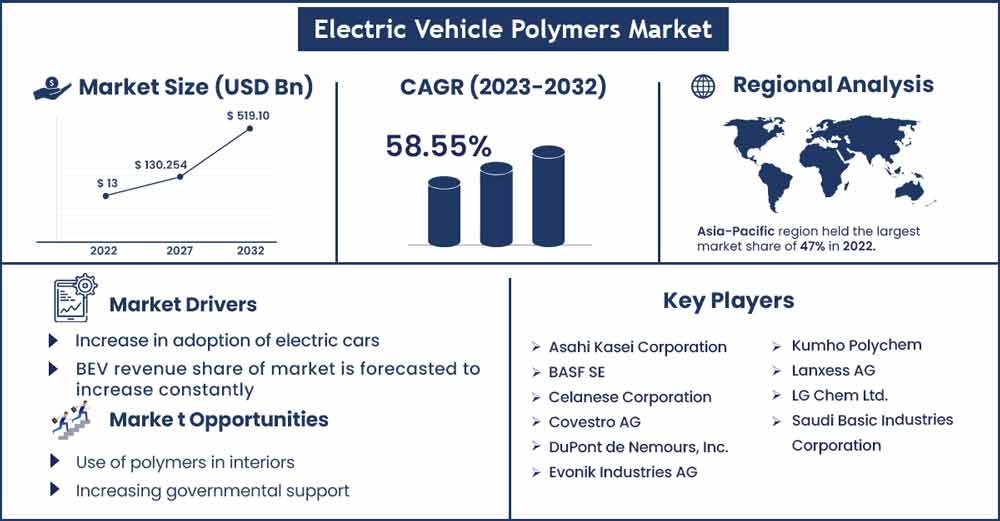 Report Highlights:
During the forecast period, the interior category is anticipated to have the greatest revenue share in the worldwide market due to the rising usage of polymers in interior automotive components including instrument panels, door panels, lightweight seats, sound-absorbing textiles, and many others. Polymer materials work best for flexible, imaginative, and distinctive design, producing interior components that are cosy, fashionable, scratch-resistant, and long-lasting.
Due to increased usage of elastomers in EV components to reduce vehicle weight and overall fuel economy, the elastomers market is anticipated to achieve a rapid revenue growth rate over the projected period. When vulcanised rubber and flexible Polyvinyl Chloride (PVC) are replaced with elastomers, the weight of the vehicle is reduced, resulting in decreased CO2 emissions, increased fuel economy, and improved recyclability for environmental sustainability.
Revenue from the hybrid electric vehicle (HEV) market is anticipated to expand steadily over the course of the forecast period due to the HEV's growing appeal among consumers due to its capacity to run on both an electric motor and a conventional engine. While a gas engine propels the car at higher speeds, an electric engine propels it at lower speeds.
It is estimated that the Europe market would consistently see revenue growth throughout the course of the forecasted year. The rise in market revenue in this sector is due to the region's countries adopting more EVs. Several businesses are investing in polymers to help meet the rising demand for the manufacture of automobile components.
Electric Vehicle Polymer Market Report Scope:
| | |
| --- | --- |
| Report Coverage | Details |
| Market Revenue in 2023 | USD 20.61 Billion |
| Projected Forecast Revenue in 2030 | USD 519.1 Billion |
| Growth Rate from 2022 to 2030 | CAGR of 58.55% |
| Largest Market | North America |
| Base Year | 2022 |
| Forecast Period | 2022 To 2032 |
| Regions Covered | North America, Europe, Asia-Pacific, Latin America, and Middle East & Africa |

Regional Snapshots:
According to projections, the Asia Pacific area would lead the market for electric vehicle polymers. Due to the country's increasing manufacturing of electric vehicles, China is the world's top user of electric vehicle polymers. Due to investments made in the nation by international manufacturers, the demand for high-end engineering electric car polymers is growing at the fastest rate in that nation.
Europe comes in second place in terms of demand, then North America. Incentives programmes and governmental laws encourage the usage of electric vehicles throughout Europe. In Norway, sales of electric automobiles have surpassed those of conventional cars. With one million electric vehicles already sold in the US alone, the region's EV industry is anticipated to grow significantly, which will further support the need for electric vehicle polymers.
Market Dynamics:
Drivers:
The increased production and sales of electric vehicles throughout the world are driving the rapid growth of the worldwide market for electric vehicle polymers during the anticipated period. The market is expanding as a result of the growing emphasis on making electric automobiles lighter, which might ultimately improve the performance of the vehicle. The market value is increasing as a result of favourable government rules and investments in the construction of charging infrastructure. In addition to these, the benefits linked to polymers, such as weight reduction that improves mileage or fuel economy, are supporting the market's expansion. High efficiency and a strong strength to weight ratio are essential for electric vehicle technology, which has led to a rise in the usage of lightweight materials. Polymers have been shown to increase fuel economy by 5% and offer long-term performance and efficiency advantages. Rapid progress in polymer science has expanded the range of automotive uses for these materials. Increasing the usage of polymers to improve the performance and economy of electric cars, as well as to lower noise, vibration, and harshness levels, are some of the main drivers anticipated to fuel market revenue growth throughout the projected period.
Restraints:
Lithium-ion batteries used in electric vehicles (EVs) have advanced polymer-based battery pack protective separators, which may significantly increase battery power, guarantee temperature stability, and increase EV range on a single charge. Vehicle batteries can be shielded from impact by these battery pack protection devices. These are some additional important elements that are anticipated to drive future market revenue growth. However, changes in the price of polymer raw materials have the potential to significantly impede market revenue growth throughout the projection period.
Opportunities:
With the introduction of strict laws and the swiftly shifting customer tastes for inexpensive, lightweight, and fuel-efficient automobiles, plastic's function in the design and manufacture of automotive vehicles has recently grown increasingly crucial. Over 66.9% of the plastic used in autos originates from four primary polymers: polyurethane, polyamides, polypropylene, and PVC. Plastic makes up one-third of all vehicle components. The use of polymers in electric cars has expanded as manufacturers place more emphasis on lowering prices and the total weight of the vehicles.
In place of metal parts, polymers are frequently employed in automotive interiors, exteriors, and beneath the hood. In addition, to lessen the chance of flames spreading, flame-retardant polymers, such as textiles and adhesives, are employed in automobiles. Electric vehicle electrical currents and intense heat are no match for engineered thermoplastics. By lowering the possibility of short circuits, polymers have also greatly decreased the weight of the batteries and increased battery safety. These crucial elements have increased the need for polymers in electric cars and are anticipated to keep the market growing in the future.
Challenges:
The high cost of using electric vehicles Polymers might impede market expansion. On the other hand, manufacturers' increasing use of polymers in brand-new electric car parts is anticipated to fuel prospective demand throughout the projected period.
Recent Developments:
Solvay, a chemical manufacturer, stated in February 2022 that it will invest around USD 322 million to increase its output of polyvinylidene fluoride (PVDF). More sales of EVs across all companies are projected to spur increased investment in EV polymers, which is anticipated to fuel market revenue growth over the course of the forecast period.
Covestro and Toyota teamed up to create a novel lightweight polyurethane composite containing kenaf fibres for the LQ concept car in February 2020. According to reports, polyurethane is 30% lighter than typical material. The substance is based on Covestro's cutting-edge Baypreg-F NF technology and Toyota Boshoku's experience utilising kenaf fibres. The novel material is utilised in the door trims of the LQ concept car.
Major Key Players:
Asahi Kasei Corporation
BASF SE
Celanese Corporation
Covestro AG
DuPont de Nemours, Inc.
Evonik Industries AG
Kumho Polychem
Lanxess AG
LG Chem Ltd.
Saudi Basic Industries Corporation
Solvay
Market Segmentation:
By Component
Powertrain System
Exterior
Interior
By End User
Hybrid Electric Vehicles (HEV)
Plug-In Hybrid Electric Vehicles (PHEV)
Battery Electric Vehicles (BEV)
Fuel Cell Electric Vehicle (FCEV)
By Type
Engineering Plastics

Acrylonitrile Butadiene Styrene (ABS)
Polyamide
Polycarbonate
Polyphenylene Sulfide (PPS)
Polyurethane
Polypropylene
Fluoropolymer
Thermoplastic Polyester
Others (Polyethylene, Polyacetal, Polyphenylene Ether, Polyphenylene Oxide, Polysulfone, Polyethersulfone, Polyetherimide, Polyphthalamide, Polyetheretherketone)

Elastomers

Synthetic Rubber
Natural Rubber
Fluoroelastomer
Silicone Elastomer
Others (Thermoplastic Olefin, Styrenic Block Copolymer, Thermoplastic Polyurethane, Thermoplastic Vulcanizate, Thermoplastic Copolyester, Polyether Block Amide)
Buy this Research Report@ https://www.precedenceresearch.com/checkout/2162
You can place an order or ask any questions, please feel free to contact at sales@precedenceresearch.com | +1 9197 992 333