The global electrification market size was exhibited at USD 73.64 billion in 2022 and is projected to attain around USD 172.9 billion by 2032, growing at a CAGR of 8.91% during the forecast period 2023 to 2032.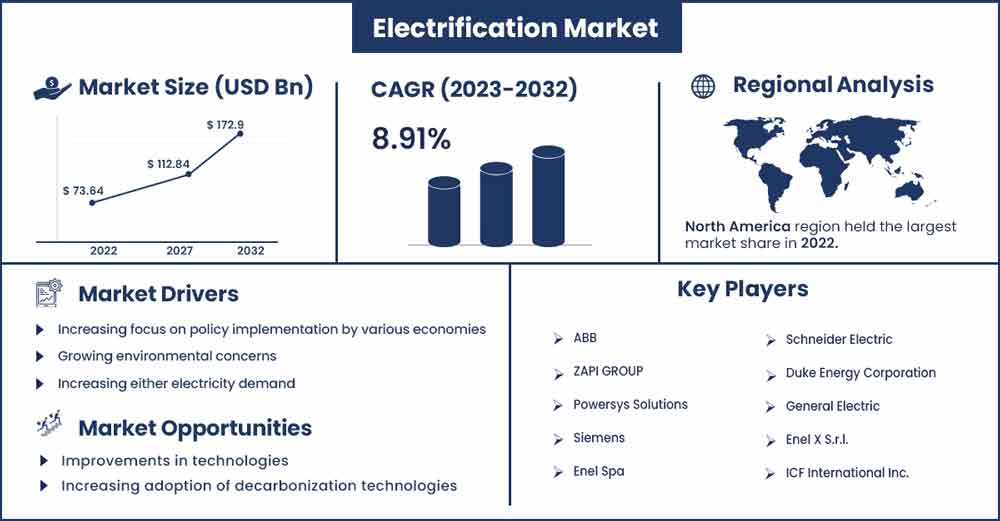 The major factor driving the market is the increasing shift towards sustainable solutions and reducing the carbon footprint on the environment. Furthermore, the rising awareness of benefits of electrification among consumers along with the increasing supportive initiatives and policies by the government is also anticipated to augment the growth of the electrification market in the forecast period.
Market Overview:
The term electrification describes the transition away from using fossil fuels as a key energy source in a number of industries, including transportation, construction, and industrial. The mix of environmental, economic, and technological forces is what is causing this transformation. Growing interest in renewable energy and energy-saving technologies has resulted from concerns over climate change and the need to cut carbon emissions in recent years.
Governments all over the world are putting regulations and incentives in place to encourage the adoption of these solutions at the same time as technological advancements have made them more efficient and economical. In the upcoming years, the electrification industry is anticipated to expand quickly due to these and other factors.
Further, the transition to electric vehicles is anticipated to accelerate as battery technology advances and charging infrastructure expands, supporting market growth. Energy-efficient technologies and solutions are becoming more common in the building sector as building owners and managers seek to reduce energy costs while meeting sustainability goals. The electrification market is also opening up new opportunities for companies that offer electrification solutions, such as technology firms, energy providers, and infrastructure developers. As the market expands, it is expected to play a growing role in the global transition to a more sustainable and low-carbon economy.
Regional Insights:
North America registered the largest revenue share in 2022. To encourage the adoption of electrification solutions, the region's government is providing a variety of incentives, including tax credits for electric vehicle purchases, funding for electric vehicle charging infrastructure, and grants for renewable energy projects. Concerned about energy security and the effects of climate change, the region is attempting to reduce its reliance on fossil fuels and increase its use of renewable energy sources. This is driving up investment in electrification solutions. Many technology companies in the region are at the forefront of developing new electrification solutions. These businesses are driving innovation and making electrification more efficient and cost-effective.
Asia Pacific is expected to register a rapid CAGR during the forecast period. The increasing population and economy is expected to increase the demand for energy. This is driving up investment in new energy infrastructure, such as electrification solutions. Technological advancements, particularly in renewable energy and energy storage, are making electrification solutions more effective and cost-competitive. This is fueling the demand for these solutions in the Asia Pacific. The region has a rapidly growing middle-class population, which is also expected to increase the energy demand and further open up new opportunities for electrification solutions. More people are able to afford electric vehicles and other electrification solutions with an increase in incomes.
Electrification Market Report Scope:
| | |
| --- | --- |
| Report Coverage | Details |
| Market Revenue in 2023 | USD 80.2 Billion |
| Projected Forecast Revenue in 2032 | USD 172.9 Billion |
| Growth Rate from 2023 to 2032 | CAGR of 8.91% |
| Largest Market | North America |
| Base Year | 2022 |
| Forecast Period | 2023 to 2032 |
| Regions Covered | North America, Europe, Asia-Pacific, Latin America, and Middle East & Africa |

Report Highlights:
By Source, the renewable energy segment held the largest share in the global electrification market. This is owing to the increasing shift towards greener solutions due to increasing carbon emissions. The nuclear power segment is expected to grow at a significant CAGR owing to its ability to generate electricity with lower carbon emissions compared to fossil fuels.
By Application, the transportation segment held the largest share in the global electrification market. This is owing to the increasing advancements in the battery technology for electric vehicles which further reduces the cost of the electric vehicle as well as carbon emissions.
Market Dynamics:
Drivers:
Growing environmental concerns
The primary cause of climate change is the release of greenhouse gases. If emissions are not significantly reduced by the end of this century, it is predicted that global warming will exceed 2°C and may perhaps reach 5°C in comparison to the pre-industrial era. The European Union strives to achieve aggressive goals to keep global warming to a maximum of 2°C in this framework, and even more so since the signing of the Paris Agreement.
In comparison to 1990 emission levels, the EU aims to reduce emissions by 40% by 2030, and advocates for a carbon-neutral Europe by 2050. Transport is one of the major sectors that need to take action and reduce its emissions due to its contribution to the overall emissions of greenhouse gases. Electrification solutions, such as renewable energy and electric vehicles, are seen as an important part of the solution to reducing greenhouse gas emissions and mitigating climate change. Further, in order to optimize the benefits of switching from fossil-fuel end uses to electricity-driven solutions, decarbonizing the power sector is a critical component of any emissions-reduction strategy.
Restraint:
Diversity of industrial sectors
The industrial sector includes a wide range of sub-sectors and products, as well as several process heating modules and applications. In regards to development, design, and conversion costs, this diversity is a barrier to widespread electrification. Each industry sub-sector and product may have unique product specifications and process heating requirements that necessitate application-specific designs and performance specifications for electrified processing. This design and engineering challenge is particularly difficult when it comes to electrifying processes with a high degree of process integration.
Opportunities:
Increasing adoption of decarbonization technologies
Wind, solar PV, and heat pump technologies are already mature and widely used in many countries, particularly in regions such as North America and Europe. As a result, they provide significant revenue generation opportunities over the next decade, as uptake is expected to increase significantly as a result of decarbonization efforts and further economic improvements. Further, battery advancements continue to help lower electric vehicle costs, while smart vehicle charging complements friendly electricity rate structures and low electricity rates.
A widespread network of public, workplace, and/or utility-owned charging stations alleviates range anxiety, while fast and efficient charging technologies alleviate inconveniences, even for longer trips or larger vehicles. Also, urban planning and optimal smart routing further cut back on the demand for and expense of infrastructure which is also likely to provide growth opportunities for the market in the near future.
Challenges:
Backlog of renewable projects
As 2022 began, renewable projects totaling 1,300 gigatonnes of wind, solar, and battery storage capacity was proposed in the United States. These projects, if connected to the grid, could provide 80 percent clean electricity by 2030. According to a Lawrence Berkeley National Laboratory report, however, due to the backlog of applications, the majority of them are unlikely to be built. To connect a renewable energy project to the grid, it needs to first carry out a series of research to see how the transmission system will be impacted, and then enter into an "interconnection agreement" with the grid operator. After that, permits must be obtained, power purchase agreements must be negotiated with communities or other entities, and the project must be built.
According to the report, projects typically take four years to receive approval. The lag time can cause financial uncertainty for projects, leading to the cancellation of many of them. Delays in interconnection queues and backlogs to bring new generation projects online are thus one of the most significant barriers to clean energy policies.
Recent Developments:
In February 2023, Enel Green Power company 3SUN, and UniCredit, acting as Global Coordinator and Bookrunner and Structuring Mandated Lead Arranger, signed a project financing agreement worth up to 560 million euros, divided into an 85 million euro VAT loan and a 475 million euro senior term loan, to fund the expansion of 3Sun's solar panel factory in Catania, Sicily.
In January 2022, ABB announced its acquisition of a controlling stake in InCharge Energy, a provider of commercial charging infrastructure solutions for electric vehicles (EVs). With the addition of InCharge Energy, ABB's E-mobility Division in the North American market will be strengthened by widening its customer base and broadening its fleet electrification software and digital services offering.
Key Market Players:
ABB
ZAPI GROUP
Powersys Solutions
Siemens
Enel Spa
Schneider Electric
Duke Energy Corporation
General Electric
Enel X S.r.l.
ICF International Inc.
Market Segmentation:
By Source
Renewable Energy
Nuclear Power
Fossil Fuel-based
By Application
Transportation
Industrial
Buildings
Buy this Research Report@ https://www.precedenceresearch.com/checkout/2680
You can place an order or ask any questions, please feel free to contact at sales@precedenceresearch.com | +1 9197 992 333