The global extended reality market size surpassed USD 35.14 billion in 2022 and it is projected to attain around USD 345.9 billion by 2030, poised to grow at a CAGR of 33.09% from 2022 to 2030.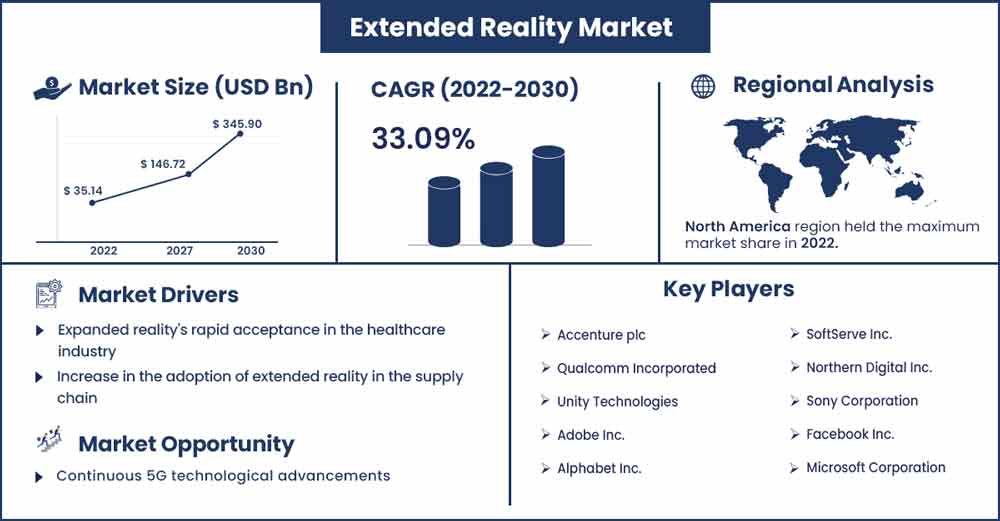 In terms of developing technologies, extended reality (XR) includes immersive technologies like virtual reality, augmented worlds, mixed reality, and other potential future realities. Virtual reality (VR), augmented reality (AR), and mixed reality are only a few of the unique technologies included in extended reality (XR). The demand for augmented reality is now increasing steadily from a variety of industrial fields, despite the fact that interest in it has fluctuated significantly over the previous few years. During the forecast period, it is expected that the rising popularity of virtual reality and augmented reality will continue to be the primary driver driving the worldwide extended reality (XR) market.
The market for extended reality technology is projected to increase during the assessment period as a result of the significant increase in disposable income and rising consumer desire for the best possible all-around entertainment experience. While the gaming industry is expected to provide companies in the present extended reality (XR) market landscape a wide range of prospects, other industrial sectors, such as healthcare, education, real estate, media, and entertainment are expected to offer profitable chances. The extended reality (XR) market environment has seen rapid innovation thanks to the exponential growth in smartphone penetration and technological improvements, which has led to an increase in demand.
Regional Snapshots:
The extended reality market in North America is anticipated to expand rapidly over the course of the projection year, mostly as a result of the existence of several suppliers that are investing heavily in market advancements, including Qualcomm and Microsoft. One of the most cutting-edge marketplaces for virtual reality, augmented worlds, and mixed reality (MR) is the United States.
The majority of the businesses developing this technology are situated in the US. Greater accessibility to smart gadgets and increased technological exposure have generated significant demand in the area. Users responded favourably to Microsoft's augmented reality (AR) device, Hololens, which was initially made available in North America.
Additionally, a sizable market share is anticipated for the area. Both direct and indirect methods of utilising these technologies to foster innovation and advance prosperity have been developed by the US government. Additionally, the State Department's Foreign Service Institute has begun using virtual reality (VR) as an immersive learning tool in certain training.
Additionally, a number of training programmes for augmented reality and virtual reality have been put in place to grow local workforces and manage wastewater. Due to its greater exposure to technology and easy access to resources, which fueled a strong demand for all-inclusive reality solutions, the area is also leading the industry. Several regional businesses are integrating cutting-edge technology in their AR/VR devices.
Extended Reality Market Report Scope:
| | |
| --- | --- |
| Report Coverage | Details |
| Market Revenue in 2023 | USD 46.76 Billion |
| Projected Forecast Revenue in 2030 | USD 345.9 Billion |
| Growth Rate from 2022 to 2030 | CAGR of 33.09% |
| Largest Market | North America |
| Base Year | 2022 |
| Forecast Period | 2022 To 2030 |
| Regions Covered | North America, Europe, Asia-Pacific, Latin America, and Middle East & Africa |

Report Highlights:
Virtual reality (VR) employs computer technology to build a virtual setting that immerses people in an encounter. Particularly in medical schools, virtual reality (VR) is utilised as a training tool. It is also used to prepare future surgeons for robotic surgery. By 2022, Apple intends to release a virtual reality (VR) headset that will show a 3D digital world for viewing films, playing games, and chatting.
Businesses leverage the external world to increase sales and develop fresh methods for interacting with customers. Reliance Jio, a leading provider of telecom services in India, introduced the Jio HoloBoard MR Headset in August 2022. Users of the headgear will be able to project a 3D hologram of a surface right in front of their eyes. It will offer a cinematic experience in hands-free video chatting, hands-free purchasing, and mixed reality education.
In the healthcare industry, extended reality is utilised to teach staff to execute or experience surgery without endangering the welfare of patients. With the use of extended reality, patients and medical professionals may get real-time reports on health issues.
When compared to other regional markets, the Asia Pacific market's revenue is anticipated to grow at the highest rate. The industry is currently expanding as a result of positive steps taken by governments in the area, such as investments and financing for extended reality businesses. Japan launched 5G commercial services in 2019, which prompted telecom firms to take strategic actions to provide platforms for watching virtual reality and augmented reality content utilising 5G connection.
Market Dynamics:
Drivers:
Computer technology is used to generate a simulated world as part of virtual reality technology. VR immerses the user into an experience, in contrast to conventional user interfaces. In place of staring at a computer screen in front of them, users are now immersed in and able to interact with a three-dimensional reality. The use of this technology has changed as a result of the simulation of as many senses as is feasible, including touch, vision, hearing, and smell.
In addition, teachers in a variety of educational sectors are increasingly using virtual reality technology, mostly to raise the bar for instruction. For instance, the advent of VR in the educational field has made it possible for students to be fully engaged in a VR setting outside of the boundaries of actual classrooms. Additionally, the technology offers less expensive lessons that are more engaging and visually appealing for the kids.
In recent years, virtual reality technology has also carved out a place for itself in the gaming sector. A more modern gaming age that provides gamers with an immersive first-person perspective experience has taken form thanks to VR. Virtual reality has become more widely available and more reasonably priced thanks to developers like Oculus and HTC over the past few years. Additionally, Oculus unveiled its standalone wireless virtual reality headset Oculus Quest.
Restraints:
The primary difficulty impeding the expansion of the extended reality industry is the health problems caused by excessive usage of gadgets. Although extremely advanced, extended reality technologies have also come under scrutiny for potential health risks. The most frequent risk is users getting hurt when they accidentally run into actual items while immersed in the virtual environment. After utilising extended reality gadgets, some users have reportedly experienced headaches, eye strain, dizziness, and nausea. The University of Leeds' research predicts that 20 minutes of virtual reality exposure will have an impact on certain kids' capacity to judge how far away things are from one another.
Opportunities:
The increasing use of artificial intelligence (AI) technology in virtual reality applications also raises the level of virtual characters. The Chinese internet behemoths Tencent and Baidu have been attempting to incorporate VR and AI into mobile applications and video games. Scalability is another benefit that cloud technologies are bringing to VR companies. The cloud services will be used to store programmes, data, as well as memory in non-real servers and will be streamed it on-demand as the volume of VR-generated data rises. This is also anticipated to fuel continuous service upgrades and VR innovation.
Challenges:
The COVID-19-caused global economic slump poses a danger to the market for extended reality. Due to the unanticipated circumstance of lockdowns in important areas, the continuing epidemic has raised the need for extended reality gadgets (Europe, APAC, and North America). Since the COVID-19, many firms' workers work from home, which raises the need for virtual meetings, training, and conferences. The epidemic has impacted extended reality gadget production all around the world as well. The pandemic's catastrophic effects on the industrial sector have put a stop to the global supply of extended reality gadgets.
Recent Developments:
Oppo debuted the Air Glass in December 2022. These augmented reality (AR) glasses include a Cicada Wing Design and an in-house Spark Micro Projector. Diffraction waveguide displays with touch, speech, head tracking, and gesture capability are available with the Air Glass. With an attachable AR-capable display that snaps into pre-existing prescription glasses, the frame has a monocle design for the glass. The firm has also made it possible for consumers to have seamless experiences thanks to integration with the rest of their ecosystem. For instance, customers may confirm, cancel, and swap application cards when an Air Glass and an Oppo Watch 2 are connected.
Solotech purchased XR Studios in December 2022. This full-service company specialises in extended reality, which includes augmented reality technologies for live broadcast as well as virtual productions. In accordance with the strategic strategy, XR Studios will carry on as a distinct company and brand and maintain its strong market leadership trajectory. The deal quickens Solotech and XR Studios' ascent to the top position as a global supplier of extended reality solutions.
Major Key Players:
Accenture plc
Qualcomm Incorporated
Unity Technologies
Adobe Inc.
Alphabet Inc.
SoftServe Inc.
Northern Digital Inc.
Sony Corporation
Facebook Inc.
Microsoft Corporation
Tata Elxsi
Semcon
HTC Corporation
Market Segmentation:
By Type
Virtual Reality (VR)
Augmented Reality (AR)
Mixed Reality (MR)
By Components
Hardware
Software
Services
By End-Use
Education
Automotive
Retail
Manufacturing
Aerospace
Healthcare
Media and Entertainment
Buy this Research Report@ https://www.precedenceresearch.com/checkout/2436
You can place an order or ask any questions, please feel free to contact at sales@precedenceresearch.com | +1 9197 992 333