The global extended reality market size was exhibited at USD 35.14 billion in 2022 and is projected to hit around USD 345.9 billion by 2030, growing at a CAGR of 33.09% during the forecast period 2022 to 2030.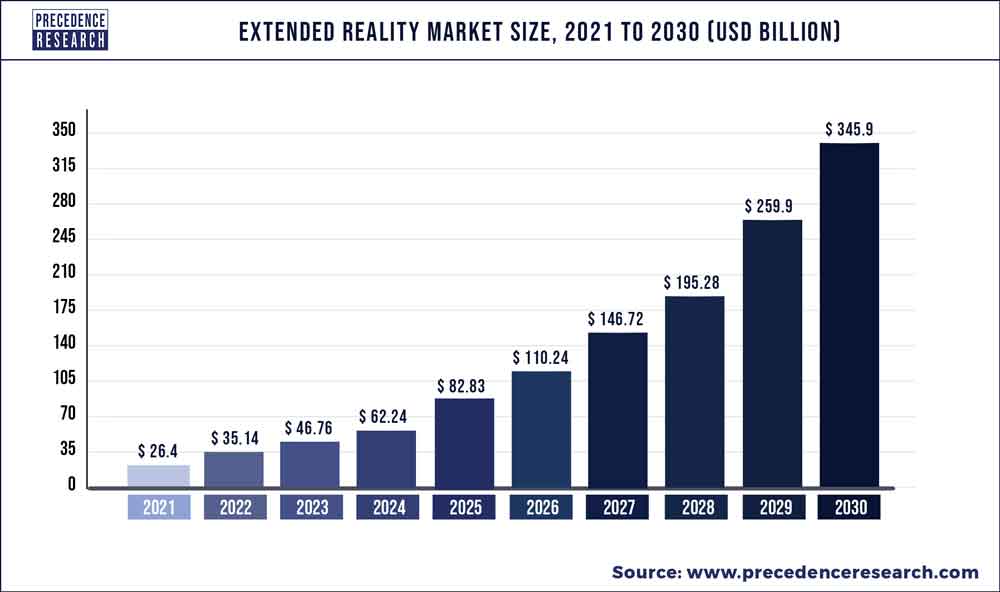 Access our Premium Real Time Data Intelligence Tool, Visit: Precedence Statistics
Key Insights:
By type, the augmented reality (AR) market segment captured more than 55% in 2021.
The virtual reality market is expected to expand from 2022 to 2030.
By components, the software segment is predicted to expand from 2022 to 2030.
Due to the extensive use of AR technology by schools and colleges, the education sector is expected to expand significantly in the near future.
The North America region is anticipated to lead the worldwide market from 2022 to 2030.
A combination of graphics technologies, including virtual reality, augmented reality, and mixed reality, is known as extended reality. It makes use of software and headgear that provide real sounds and visuals to turn a virtual environment into an interactive one. Currently, it is utilized in a variety of corporate hiring procedures, such as onboarding, and staff training.
Additionally, businesses all around the world not only utilize it to promote their goods and services but also to save money and give customers first-hand experience. Many businesses have transitioned to the remote working environment through the cloud because of COVID-19 and the growing worries about the safety of the workplace. This is the main driving force behind the desire for XR, which enables workers to effectively work from home, attend virtual meetings, and envision an environment for their businesses. In addition, the rise in people choosing gaming as a career due to major advancements in internet speed and the accessibility of cutting-edge gaming equipment is fuelling the market's expansion.
The booming entertainment sector is also boosting the adoption of XR for remote viewing of live concerts and sporting contests on smartphones. Additionally, XR is used in contemporary imaging technologies including computed tomography (CT) scans and magnetic resonance imaging. This is having a beneficial impact on how XR is used in the healthcare sector, along with the increased occurrence of chronic illnesses and the growing need to increase diagnostic effectiveness. Additionally, it is projected that XR's use will increase globally in the defense, transportation, retail, travel, and tourist sectors as people become more aware of its advantages. Although extended reality is becoming more and more popular on a global scale, the high prices of hardware may limit the expansion of the extended reality (XR) industry within the study's allotted time.
Growth Factors
Due to growing investments in virtual reality and augmented worlds technologies, as well as to quicken the development of several other technologies and linked devices, the extended reality (XR) industry is expanding rapidly. The popularity of extended reality technology is also anticipated to increase as 5G technology becomes more widely used. Additionally, by enabling a more efficient allocation of processing resources to the network, 5G is anticipated to alleviate some of the main issues with extended reality.
Report Scope of the Extended Reality Market
Report Coverage
Details
Market Size in 2022
USD 35.14 Billion
Market Size by 2030
USD 345.9 Billion
Growth Rate from 2022 to 2030
CAGR of 33.09%
Base Year
2021
Forecast Period
2022 to 2030
Segments Covered

By Type
By Components
By End-Use

Regions Covered

North America
Europe
Asia-Pacific
Latin America
Middle East & Africa

Key Market Drivers
Expanded reality's rapid acceptance in the healthcare industry - The usage of extended reality in the industry creates new chances for medical professionals and has a bright future, especially for contemporary healthcare organizations. Without endangering patients' lives, the use of extended reality technology in the healthcare industry is lowering costs and improving patient outcomes. Before beginning any medical operation, extended reality technology can assist surgeons in exploring the target organs by imagining the finer details of the patient's anatomy to make it a risk-free approach.
Increase in the adoption of extended reality in the supply chain - The market will expand as a result of rising applications in the supply chain industry, which include supply chain management, product development, prototyping, and quality control in the automotive sector. The three main use cases are virtual prototypes, immersive showrooming, and augmented training. Prototypes based on virtual reality may be used by engineers and manufacturing companies to mimic the volume, size, and distance of automobile parts. They are able to see all the important elements more clearly in a virtual environment where flaws and conception mistakes may be quickly identified. Removing the need for businesses to spend money on physical assets increases production efficiency and reduces costs. Consequently, it is anticipated that the growing usage of XR in the automobile industry would propel the expansion of the Extended Reality Market.
Key Market Challenges
Amid the COVID-19 Pandemic, there is macroeconomic uncertainty and a loss of consumer confidence - The growth of the worldwide extended reality (XR) industry is anticipated to be temporarily impacted by the COVID-19 pandemic outbreak. Despite a significant increase in demand for entertainment items, such as VR and AR sets, during the shutdown period in some countries of the world, particularly during the second quarter of 2020, sales of virtual reality and augmented reality products are predicted to fall. There is a window of opportunity for the participants amid the continuing COVID-19 dilemma as a number of businesses are moving toward using augmented reality and virtual reality goods to get around the limitations. The two main concerns that are most likely to impede the growth of the extended reality (XR) business in 2020 are macroeconomic instability and declining consumer confidence.
Key Market Opportunities
Continuous 5G technological advancements - Extended reality technology use is accelerating in both professional and personal settings. The introduction of 5G technology is anticipated to solve these issues by enabling the efficient distribution of processing power. A few countries, including China, South Korea, and the United States, have already started offering 5G services in a select number of their chosen cities. A huge amount of money has been invested globally to bring 5G to every region of the world.
Segments Insight
Type Insights
The virtual reality, augmented reality, and mixed reality categories make up the worldwide extended reality market. In 2021, the augmented reality (AR) market segments accounted for more than 55%. During the projected time, the virtual reality market is expected to expand. The video game industry has embraced virtual reality technologies. A new gaming age that offers gamers an immersive first-person experience has been created through virtual reality (VR). In recent years, virtual reality has improved in both affordability and accessibility. Oculus also announced the Oculus Quest, a stand-alone wireless virtual reality headset.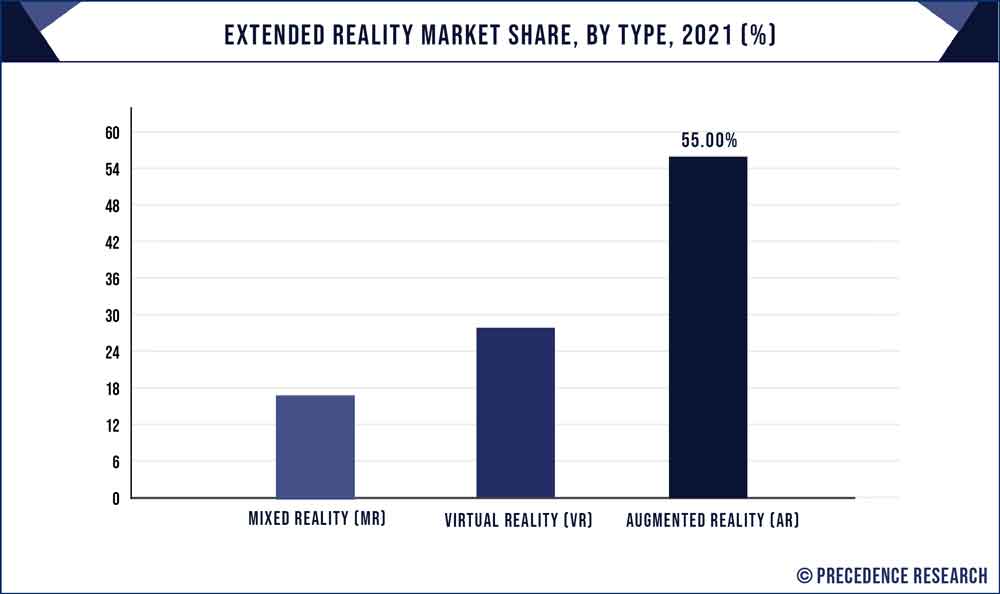 It is a standalone device that runs an Android-based operating system and can run wireless games and applications. Instead of employing external sensors, it makes use of internal sensors and a multitude of cameras on the front of the headset to enable positional tracking with six degrees of freedom. The "Passthrough" safety function uses the cameras as well, showing a view when a user exits the designated border region.
Components Insights
The hardware, software, and services segments of the global extended reality market are divided based on components. In the near future, it is predicted that the software industry will expand. For instance, AVEVA XR provides a full range of virtual and augmented reality solutions for generating immersive visual surroundings for improved program management and digital training simulations. Industrial Software Products, an AVEVA SELECT Partner, offers augmented maintenance and operation software. It assists in addressing typical workforce difficulties, boosting training efficiency and effectiveness, and mimics equipment settings for complex control and safety scenarios.
End Use Insights
The global market for extended reality is divided into many segments based on end applications, including media & entertainment, education, automotive, retail, manufacturing, and aerospace. Due to the extensive use of AR technology by schools and colleges, the education sector is expected to expand significantly in the near future. The COVID-19 outbreak has pushed the usage of augmented reality (AR) advanced technologies in the education industry as instructors look for more inventive methods to teach and provide dynamic information for pupils. Numerous companies in the educational technology sector, such as Neo Bear, Strivr Labs, Corporation, Talespin Reality Labs, Corp, and Health Scholars, are investigating the potential of augmented reality technology for educational applications.
Virtual platforms are gaining ground in the retail and e-commerce sectors to meet the growing client demand for online shopping. In particular, augmented reality (AR) technology may provide customers with a digital "try before you buy" experience and help businesses significantly cut return rates. For instance, Google Arts & Cultures can be used in the classroom. The virus and quarantine have made planning student trips to museums, galleries, theatres, and other locations much more challenging. Without ever leaving the classroom or the house, this Google program enables students to take a virtual 3D tour of some of the most well-known places in the world, experience a day at the ballet, and even go abroad.
Regional Insights
Due to the presence of numerous major companies investing sizable sums in industry advancements, like Microsoft and Qualcomm, North America is anticipated to lead the worldwide market over the projection period. The development of augmented reality (AR), virtual reality (VR), and mixed reality (MR) have been spearheaded by nations like the United States. The majority of the businesses engaged in these technological advancements are based in the US. The high demand in the region is a result of growing technology exposure and the accessibility of smart devices. For instance, customers responded quite favorably to Microsoft's augmented reality device, Hololens, when it was initially made available in North America.
The US Army will get more than 120,000 Microsoft HoloLens augmented reality headsets, according to sources from CNBC. The agreement follows Microsoft's receipt of a contract for the development of Army prototype headsets, which may be valued up to $21.88 billion over ten years. The Pentagon awarded Microsoft a cloud contract with a potential value of $10 billion a year and a half before to this one.
Recent Developments
Immersivecast unveiled the XR Metaverse Workspace in November 2021, a service environment that enables multi-dimensional Web 3.0 integrating NFT, AR, and VR and streamlines the creation of content. The product was unveiled at MWC 2021 during a first-ever 5G network slicing testing with Deutsche Telekom, Samsung, and Ericsson. It inspired the business to increase its market share in the US and Korea.
In September 2021, Facebook Inc. said that it will invest USD 50 million to engage with organizations to sustainably build the so-called Metaverse, a virtual environment in which people can move about and interact using a variety of gadgets. The company has made significant investments in augmented reality and virtual reality, producing Oculus VR headsets and developing AR glasses and wristbands. The new XR Programs and Research Fund will spend the funds internationally over a two-year period to make sure that Metaverse technology is created in a way that is inclusive and empowering.
Key Market Players
Accenture plc
Qualcomm Incorporated
Unity Technologies
Adobe Inc.
Alphabet Inc.
SoftServe Inc.
Northern Digital Inc.
Sony Corporation
Facebook Inc.
Microsoft Corporation
Tata Elxsi
Semcon
HTC Corporation
Segments Covered in the Report
(Note*: We offer reports based on sub-segments as well. Kindly, let us know if you are interested)
By Type
Virtual Reality (VR)
Augmented Reality (AR)
Mixed Reality (MR)
By Components
Hardware
Software
Services
By End-Use
Education
Automotive
Retail
Manufacturing
Aerospace
Healthcare
Media and Entertainment
By Geography
North America
Europe
Asia-Pacific
Latin America
Middle East & Africa (MEA)