The global fermentation chemicals market size surpassed USD 79.84 billion in 2022 and it is expected to rake around USD 134.55 billion by 2030, poised to grow at a CAGR of 6.74% during the forecast period 2022 to 2030.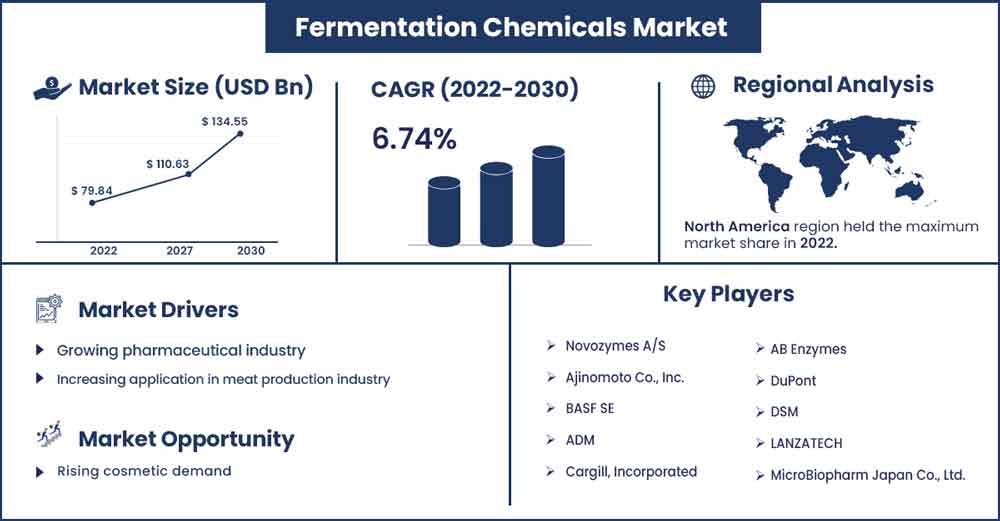 Chemicals used in fermentation are employed as a catalyst for the process of increasing chemicals to hasten fermentation. In the production of alcohol, these compounds serve as vital raw materials. Ethanol, the primary component in the creation of alcoholic beverages, is produced during the fermentation process. The main components of these compounds are vegetable feedstocks including corn, sugar, and starch. The majority of end-use businesses now utilize these products in the fermentation process because there aren't any feedstocks available. Beet, sugarcane, tapioca, wheat, and corn are among of the primary raw materials utilized in manufacture. These agricultural byproducts are rich in carbohydrates and starch. As a result, a significant portion of fermentation chemicals are used in the food business.
A major driver of industrial growth is the use of fermentation chemicals to flavor or increase the shelf life of products. Additionally, it is anticipated that the market share of fermentation chemicals will increase over the next few years due to the proliferation of personal care products in developing nations. Sales of fermentation chemicals will be driven by increased consumer spending on hygiene and personal care products as well as the economic expansion of developing nations during the anticipated time frame.
Report Highlights:
On the basis of product, the organic acid segment will have a larger market share in the coming years period, the amount of revenue generated through the use of this product will grow well in the coming year. Among the fundamental classes of compounds that can be generated by microbial activities, organic acids play a significant role. Based on the presence of carbon, hydrogen, and oxygen elements, these differ from one another. Citric acid, succinic acid, lactic acid, and other forms of organic acids are among those that are created.
On the basis of application, the industrial applications segment has the biggest market share in the fermentation chemicals market during the forecast period. Chemicals for fermentation are typically used in industrial settings. Higher penetration has been attained as a result of the adoption of green chemistry and numerous rules for commercial and industrial uses. Industrial fermentation refers to the use of microorganisms, such as fungus, bacteria, and eukaryotic cells, in the production of products including ethanol, citric acid, and acetic acid. Food additives made from various derived products, such as antioxidants, preservatives, colors, and vitamins, are thought to be preferable to those made from chemicals.
Regional Snapshots:
The biggest market share was held by North America in the fermentation chemicals market during the forecast period. Heavy industrialization is a characteristic of North America. Major industry players with operations in the food and beverage, pharmaceutical, nutrition, and plastics and fibers sectors are well-represented in the region. Over the course of the forecast period, North America is anticipated to have the quickest growth in the enzymes market. It's anticipated that the growing demand for enzymes from numerous industrial uses, including paper, personal care, and starch, will significantly impact industry growth.
Fermentation Chemicals Market Report Scope:
| | |
| --- | --- |
| Report Coverage | Details |
| Market Revenue in 2023 | USD 85.22 Billion |
| Projected Forecast Revenue in 2030 | USD 134.55 Billion |
| Growth Rate from 2022 to 2030 | CAGR of 6.74% |
| Largest Market | North America |
| Base Year | 2022 |
| Forecast Period | 2022 To 2030 |
| Regions Covered | North America, Europe, Asia-Pacific, Latin America, and Middle East & Africa |

Market Dynamics:
Drivers:
The demand for meat is projected to see significant growth internationally due to the growing population and economies of developing nations. The consumption of meat is anticipated to increase in the future due to shifting dietary habits in various parts of the world. Meat consumption is broken down into four categories based on consumption: pork, poultry, sheep, and beef and veal. The majority of the meat consumed in developing nations is made up of pork and chicken. Pig farmers and poultry owners are focusing more on the feed given to animals as a result of the rising demand for meat.
Natural feedstock and amino acids are essential for animal raising. Meat's quality and quantity are improved by amino acids. As one of the main animal feed additives due to their nutritional value, the demand for amino acids is anticipated to increase in the worldwide meat market. Animals' muscle tissues can develop with the aid of these. The market for fermentation chemicals is anticipated to increase as a result of the fact that amino acids enable the efficient use of feedstock. Major players are concentrating on expanding their capacity for amino acid synthesis to satisfy the rising demand internationally.
Moreover, the pharmaceutical market in the U.S. is anticipated to develop, especially in the country. It is anticipated that pharmaceutical companies will conduct more research to create novel medicines by cultivating microorganisms. Regulating agencies like the U.S. Environmental Protection Agency (EPA) and U.S. Department of Energy have implemented strict laws on greenhouse gas (GHG) emissions from chemical industries. This finally caused industry participants to change their attention to exploiting biological methods for chemical synthesis. Beet, sugarcane, tapioca, wheat, and corn are some of the main agricultural products used in manufacturing. These agricultural derivatives include a lot of starch and carbohydrates. The largest consumer of fermentation chemicals is the food industry. Over the course of the forecast period, an expanding global population, particularly in Asia and the Pacific, is anticipated to increase demand for food.
Restraints:
The need for these chemicals is being hampered by the variability of the production process in the fermentation of bacteria, lactic acid, and ethanol. This issue may soon limit the market expansion of fermentation chemicals.
Opportunities:
The creation of environmentally acceptable fermentation chemicals would create a window of opportunity for their use in several fields, such as biomass conversion. Due to rising individual awareness of personal care and cleanliness, cosmetics and toiletries have seen enormous demand in recent years. Environmental change has increased skin and treatment of skin issues, which has opened up a significant market opportunity for cosmetic applications. These fermented skin care solutions frequently include herbs, yeast, and fruits that provide anti-inflammatory and other relaxing properties for the skin.
Challenges:
Lactic acid fermentation is expensive, which limits its application in the dairy business. Over the forecast period, this factor is anticipated to restrain the market expansion of fermentation chemicals.
Recent Developments:
In March 2018 - To scale up their fermentation and collagen production, Modern Meadow established a long-term agreement with Evonik, a leading provider of microbial fermentation. To industrialize and scale up the manufacturing of collagen for use in Modern Meadow's bio leather materials technology, Evonik will be the company's global development partner.
Major Key Players:
Novozymes A/S
Ajinomoto Co., Inc.
BASF SE
ADM
Cargill, Incorporated
AB Enzymes
DuPont
DSM
LANZATECH
MicroBiopharm Japan Co., Ltd.
Novasep, TCI Chemicals (India) Pvt. Ltd
Biocon
Evonik Industries AG
Dow
Lonza
Amano Enzyme Inc.
INVISTA
Chr. Hansen Holding A/S
Market Segmentation:
By Product
Organic Acid
Amino acids
Citric acids
Lactic acids
Others
Enzymes
Alcohol
Others
By Application
Food and Beverages
Pharmaceuticals
Plastic and Fibers
Industrial
Others
Buy this Research Report@ https://www.precedenceresearch.com/checkout/2382
You can place an order or ask any questions, please feel free to contact at sales@precedenceresearch.com | +1 9197 992 333