The global healthcare contract sales organizations (CSOs) market size surpassed USD 13.6 billion in 2022 and it is expected to rake around USD 29.77 billion by 2032, poised to grow at a CAGR of 8.2% from 2023 to 2032.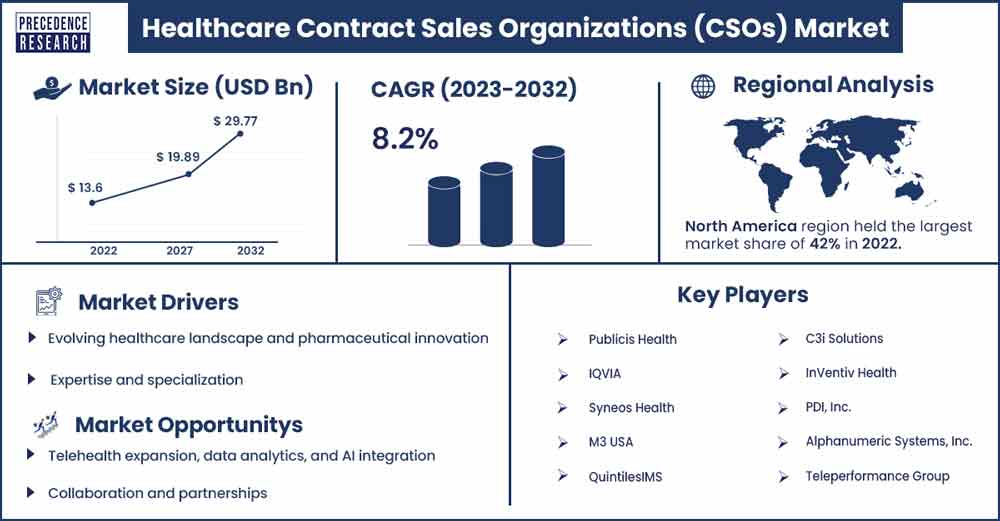 Market Overview
Healthcare contract sales organizations, also known as CSOs provide various services, such as contract sales representatives, sales force outsourcing, and other sales-related tasks. CSOs are frequently used by pharmaceutical corporations to oversee their field sales forces or to market particular medications in particular areas. The healthcare sector is heavily regulated, where CSOs have to follow tight guidelines for compliance. This involves ensuring their sales agents are conversant with all applicable rules and policies. Their worldwide reach enables them to offer sales assistance in diverse areas and adeptly handle the intricacies of disparate healthcare systems and laws. One of the most important factors for healthcare companies looking for CSO services is the capacity to handle a variety of markets.
Pharmaceutical businesses are constantly under pressure to cut expenses and boost productivity. Outsourcing sales tasks to specialized companies may be less expensive than keeping an internal sales team. Sales and marketing professionals focusing on pharmaceuticals are usually known as CSOs. They frequently hire experts with in-depth knowledge of market trends, compliance requirements, and the healthcare sector.
Pharmaceutical corporations may work with CSOs to gain access to local knowledge to increase their market share, particularly in emerging regions. CSOs can facilitate market entry and expansion by navigating intricate regulatory environments, cultural quirks, and market dynamics. The need for professional sales and marketing services is partly fueled by the rising number of new drug launches and the necessity of successful market penetration.
Regional Snapshot
North America holds the largest healthcare contract sales organization's market share. Contract sales organizations (CSOs) are vital to the healthcare sector in North America because they offer pharmaceutical, biotechnology, and medical device businesses outsourced sales and marketing services. They frequently act as an extension of the client's sales team, assisting them in connecting with physicians, other stakeholders, and healthcare professionals. Changes in healthcare delivery methods, technological developments, regulatory differences, and general economic conditions can all impact the healthcare CSO market. Numerous businesses are fighting for contracts from pharmaceutical and healthcare clients in the competitive market for healthcare CSOs.
US pharmaceutical businesses frequently contract with CSOs to do specific tasks to cut costs and increase efficiency. As companies look for ways to simplify processes and adjust to sector changes, this trend will probably continue. The pharmaceutical industry is heavily regulated, and any modifications to the laws may affect how CSOs conduct business.
Modifications to healthcare regulations and compliance standards may impact the operations of CSOs in the Canadian market. The demand for CSO services may be affected by general trends in the Canadian healthcare sector, including new technologies, shifts in patient demographics, and the development of novel treatment modalities. The need for CSO services can be directly impacted by the health and expansion of Canada's biotech and pharmaceutical industries. The level of competition among CSOs and the extent to which they may set themselves apart by their offerings, knowledge, and market penetration. CSO and healthcare provider partnerships and collaborations may impact market dynamics.
In March 2023, to promote the adoption of regenerative agriculture practices across the country, PepsiCo announced a $216 million multi-year investment in long-term, strategic partnership agreements with three of the most reputable farmer-facing organizations, including practical farmers of Iowa, Soil and Water Outcomes Fund, and the IL Corn Growers Association.
North America has several key players in the healthcare contract sales organizations market, including EPS Corp., IQVIA, Inc., Axxelus, PDI, inVentiv Health, and Ash Field Healthcare.
In September 2022, UDG Healthcare, a Dublin-based provider of healthcare services, submitted its first set of financial statements after being acquired by a US private equity group for Euro 3.2 billion. Following its acquisition by US private equity behemoth Clayton, Dubilier & Rice in a deal estimated to be for euro 3.15 billion, UDG Healthcare was delisted from the London Stock Exchange.
Healthcare Contract Sales Organizations (CSOs) Market Report Scope
| | |
| --- | --- |
| Report Coverage | Details |
| Market Revenue in 2023 | USD 14.65 Billion |
| Projected Forecast Revenue by 2032 | USD 29.77 Billion |
| Growth Rate from 2023 to 2032 | CAGR of 8.2% |
| Largest Market | North America |
| Base Year | 2022 |
| Forecast Period | 2023 to 2032 |
| Regions Covered | North America, Europe, Asia-Pacific, Latin America, and Middle East & Africa |

Market Dynamics
Drivers
Expertise and specialization
CSOs frequently focus on particular therapeutic domains, including neurology, cardiology, cancer, infectious diseases, etc. owing to this expertise, they can gain a thorough grasp of the distinct opportunities and challenges found in certain medical specialties. CSOs focus on particular sales channels, including hospital sales, specialty care, or primary care. Certain CSOs possess specialized knowledge in particular geographic areas, tailoring their marketing and sales approaches to the distinct features of various markets. This can involve considering regional laws, cultural variances, and market factors. As the requirement for specialization rises, the demand for CSOs is expected to grow.
Technological advancements
Technological advancements have given rise to virtual engagement platforms, allowing Healthcare CSOs to conduct virtual meetings, product presentations, and training sessions. This is especially significant in situations where in-person interactions are limited, providing flexibility and continuity in sales efforts. The integration of mobile health solutions enables healthcare CSOs to leverage mobile devices for sales activities.
Mobile applications provide sales representatives with on-the-go access to product information, customer profiles, and sales support tools, enhancing productivity and responsiveness. Advanced CRM systems tailored for the healthcare industry enable CSOs to manage customer relationships effectively. These systems streamline communication, track interactions, and ensure personalized engagement with healthcare professionals, ultimately boosting sales effectiveness.
Restraints
Data security and privacy concerns
CSOs frequently work with patient data, which includes private and medical data. Strong security measures must be 1put in place to guard against misuse, breaches, and illegal access to this personal information. Healthcare CSOs are subject to national, international, and regional data privacy laws, including the European Union's General Data Privacy Regulation (GDPR). To reduce the risk of data breaches, CSOs need to invest in solid cybersecurity solutions such as intrusion detection systems, firewalls, encryption, and frequent security audits. Data breaches are sometimes the result of human error.
Reputation risks
Unethical sales activities, such as off-label promotion of pharmaceutical drugs or improper incentives for medical practitioners, can harm the reputation of CSOs. Legal action, fines, and reputational harm may arise from breaking healthcare laws and industry standards. Healthcare CSOs frequently handle private customer and patient information. Any security flaws or data breaches may result in reputational harm and a loss of trust. A CSO's reputation may suffer significantly if the goods it promotes or sells have problems with safety or quality.
Opportunities
Collaboration and partnerships
CSOs can increase the range of services they offer by collaborating with other related businesses. This can be very helpful in the healthcare industry, where rules, compliance, and market dynamics are complicated. CSOs can improve their awareness of the healthcare environment by combining their resources and expertise. By working with local partners, CSOs can efficiently handle regional differences and compliance needs. In the healthcare sector, integrating modern technology like digital tools and advanced analytics can improve the efficacy and efficiency of sales and marketing campaigns.
Patient-centric approaches
CSOs must possess a thorough awareness of their patients' requirements, inclinations, and habits. To do this, patient demographics, medical histories, and course of treatment must be examined to adjust sales and marketing tactics. This could entail producing instructional materials, setting up seminars, and using Internet channels to spread knowledge. Using a variety of communication channels is essential for CSOs that prioritize patients. This involves communicating with patients on their terms through digital platforms like social media, online forums, and telehealth services, in addition to more conventional approaches like in-person meetings. As healthcare setting increase their emphasis on patient-centric approaches for better outcomes, the market for healthcare CSOs is observed to grow.
Recent Developments
In December 2022, to support the expansion of Tetris Pharma's commercial platform throughout Europe, the biopharmaceutical company Arecor Therapeutics plc, through its subsidiary Tetris Pharma Ltd, announced that it has entered into a service agreement with Syneos Health, the only fully integrated biopharmaceutical solutions organization designed with customer success in mind.
In May 2023, to improve quality, strengthen its Medicare sales partnerships, and enhance customer experience, Centene Corporation announced the establishment of a preferred Medicare brand, WellCare. WellCare is approaching sales and distribution from two angles as Medicare Advantage and Part D marketing requirements change.
Key Market Players
Ashfield Healthcare Communications
Publicis Health
IQVIA
Syneos Health
M3 USA
QuintilesIMS
C3i Solutions
InVentiv Health
PDI, Inc.
Alphanumeric Systems, Inc.
Teleperformance Group
AmerisourceBergen Corporation
Advanced Health Media (AHM)
Xerox Corporation
TrialCard
Market Segmentation
By Service
Personal Promotion
Non-Personal Promotion
By End-use
Pharmaceutical Companies
Biopharmaceutical Companies
Medical Device Companies
Buy this Research Report@ https://www.precedenceresearch.com/checkout/3358
You can place an order or ask any questions, please feel free to contact at sales@precedenceresearch.com | +1 650 460 3308