The global in-vehicle infotainment market size surpassed USD 24.13 billion in 2022 and it is expected to rake around USD 59 billion by 2032, poised to grow at a CAGR of 9.32% during the forecast period 2023 to 2032.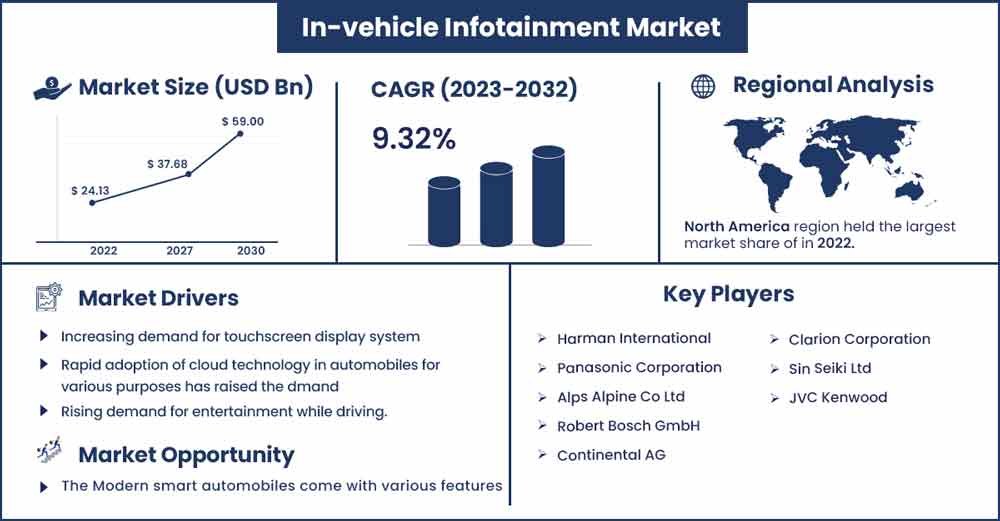 Market Overview:
Vehicle systems that give entertainment and information to drivers and passengers are referred to as "in-vehicle infotainment" (IVI) systems. In-vehicle infotainment systems integrate various technologies and features to enhance the overall driving experience, connectivity, and convenience for passengers. To deliver these services, IVI systems use audio/video interfaces, keypads, touchscreens, and other devices. For years to come, a driver's choice of a new automobile will be heavily influenced by the performance of the in-vehicle electronics. Automobiles have changed from being hardware-driven machines to electrical gadgets. The significance of software and electronics is rising due to this development. Automotive electronics designers now have a significant hurdle in system complexity; they must constantly include new connection options, comfort features, and advanced driver aid systems. The aspects of the user experience and interface enabled by innovative electrical technology will be increasingly differentiated.
Regional Snapshot:
North America holds the largest share of the market for in-vehicle entertainment. The economies of North American nations are growing significantly. Additionally, more factories are producing passenger and commercial automobiles due to the growing need for these vehicles in developed countries like Canada and the U.S. The commercial vehicle industry in North America is growing rapidly due to rising demand for commercial vehicles and significant expenditures in upgrading technologies. These automobiles come with a wide choice of cutting-edge entertainment systems and are utilized to deliver daily commodities.
Asia-Pacific is expected to have the most significant growth throughout the anticipated timeframe. The rise in disposable income of local consumers is increasing the demand for in-vehicle infotainment systems. Due to their efficacy, AR technology-based solutions are preferred by customers. Most vehicles are produced in nations like China, India, and Japan. Therefore, the demand for cars is driven by rising vehicle production, which is also pushing automotive OEMs to boost manufacturing capacity and install infotainment systems in cheaper automobiles.
Report Highlights:
By component, the in-vehicle infotainment industry is dominated by the hardware sector, although the software component is predicted to rise during the forecast period. Hardware interfaces provide optimal integration of mobile and entertainment systems by providing seamless interaction with external networks and devices.
By vehicle, the market for vehicle entertainment systems benefits from the rising sales of SUVs and passenger automobiles. The enormous requirements for sophisticated systems, especially in luxury cars, promotes the segment's growth.
By product type, the worldwide in-vehicle infotainment market is dominated by the display unit segment, the use of touchscreens and greater dependence on satellite navigation systems are driving the segment's growth.
By location, the front-row position segment, which provides an authentic listening experience with amplifiers and speakers, leads the worldwide in-vehicle infotainment industry.
By connectivity, with new features, autonomous driving, and improved multimedia and entertainment systems, 5G connection is predicted to rule the worldwide in-vehicle infotainment industry. Weather and traffic predictions can also be integrated and streamed without interruption.
In-vehicle Infotainment Market Report Scope:
| | |
| --- | --- |
| Report Coverage | Details |
| Market Revenue in 2023 | USD 26.38 Billion |
| Projected Forecast Revenue in 2032 | USD 59 Billion |
| Growth Rate from 2023 to 2032 | CAGR of 9.32% |
| Largest Market | North America |
| Base Year | 2022 |
| Forecast Period | 2023 To 2032 |
| Regions Covered | North America, Europe, Asia-Pacific, Latin America, and Middle East & Africa |

Market Dynamics:
Driver:
Rising collaborations and partnerships
Major participants in the vehicle infotainment industry are expecting new development prospects due to collaboration and partnerships between e-commerce businesses and automakers. For instance, the in-vehicle next-generation infotainment systems for Hyundai Motor Company are anticipated to launch by 2025 and will be powered by Samsung Electronics' Exynos Auto V920, the company's most recent automotive processor, according to an announcement made in June 2023. Samsung's first automotive chip partnership with Hyundai Motor is the Exynos Auto V920. Based on a 10-core CPU architecture, the processor provides considerable performance boosts across the CPU, GPU, and NPU, assuring a more secure and enjoyable in-vehicle experience. Such business activities that include collaborations and partnerships are observed to act as a driver for the market's growth.
Restraint:
Design complexity and high cost of production
The widespread use of infotainment systems in automobiles needs to be improved by the complexity involved in integrating various applications, such as GPS navigation and social networking apps, into one in-vehicle information and entertainment system. GM, Mercedes-Benz, Toyota, and other European automakers are working on developing MirrorLink-compatible apps. As a result, OEMs like Ford US are finding it harder to operate since they will have to similarly add novel applications to their system, raising their manufacturing costs. Since software and content creators must adapt their solutions for each platform, the availability of many non-standardized platforms adds to the complexity. A non-distracting user interface must be designed and developed to facilitate connected services, which raises manufacturing expenses for Tier 1 suppliers and OEMs.
Opportunity:
Technological advancements
Modern smart automobiles come with various features that may be controlled through mobile applications, from 3D downloading maps to alerts on vehicle maintenance. The ability to lock or unlock the automobile, as well as stop or begin the engine from a distance, is available to drivers of internet-connected vehicles. Smart vehicle infotainment systems also come with Alexa and Siri, which offer specialized voice-based assistance functions to improve the driving experience. Through this, voice commands may be used to control fundamental processes within the automobile, such as altering the AC temperature, setting navigation, opening or shutting sunroofs, starting or halting engines, etc.
Manufacturers of entertainment systems and various connected features are focusing on achieving this goal since safeguarding the lives of individuals inside the cars from poor roads, adverse conditions, and reckless drivers on roadways is their top priority. As a result, today's smart head units transform automobiles into mobile computers that are flawlessly controlled and monitored. According to industry analysts, video-based services will present significant potential for the car sector, and game consoles will soon be a standard component in four-wheelers. Additionally, the manufacturers are focusing on establishing a quick data-sharing procedure between smart cars and other vehicles. Such emphasis on technological advancements is observed to offer a plethora of opportunities for the market's growth.
Challenge:
Rising security issues
Automotive telematics applications utilize wireless communication networks in in-vehicle infotainment systems, which are vulnerable to hacking and data theft. These contemporary technologies provide real-time information and updates together with Internet access. However, having access to such data opens the door to data breaches and the potential for harmful software. Malware transmission from in-vehicle information and entertainment systems to other networks like the CAN bus is also a severe threat. The in- vehicle information and entertainment systems may be connected to the crucial operations of the car by this virus. Therefore, hackers can take over the vehicle's essential systems, like the engine and brakes, by attaching a mobile phone or laptop to the car's onboard diagnostic connection. The sophisticated systems demand that passengers or drivers share their personal information with the service department of the car manufacturer, which is readily hackable. Such problems limit market expansion and cast doubt on the safety of automobile telematics.
Recent Developments:
In June 2023, the ACCESS Twine in-vehicle infotainment system was chosen by XPENG for Car (Twine4Car) to deliver applications, games, and popular streaming services for its new line of electric vehicles. This summer, deliveries to Europe will start for the entire electric XPENG P7 car. Future XPENG drivers will also have the choice to update their vehicles to integrate Access' Twine4Car IVI via an over-the-air software update (OTA).
In October 2022, leading South Korean auto part manufacturer Hyundai Mobis announced that it would support an innovative system of in-vehicle infotainment (IVI) for next-generation automobiles that was created in collaboration with a Swiss business. The IVI platform for future automobiles was designed by Hyundai Mobis and Luxoft and unveiled on October 11 during the German International Suppliers Fair.
Major Key Players:
Harman International
Panasonic Corporation
Alps Alpine Co Ltd
Robert Bosch GmbH
Continental AG
Clarion Corporation
Sin Seiki Ltd
JVC Kenwood
Market Segmentation:
By Component
By Vehicle
Passenger Car
Light Commercial Vehicle
Heavy Commercial Vehicle
By Product Type
Audio Unit
Display Unit
Heads-Up Display
Navigation Unit
Communication Unit
By Location
By Connectivity
Buy this Research Report@ https://www.precedenceresearch.com/checkout/2598
You can place an order or ask any questions, please feel free to contact at sales@precedenceresearch.com | +1 9197 992 333