The global knowledge process outsourcing market size surpassed USD 86 billion in 2022 and it is expected to rake around USD 309.16 billion by 2032, poised to grow at a CAGR of 13.7% during the forecast period 2023 to 2032.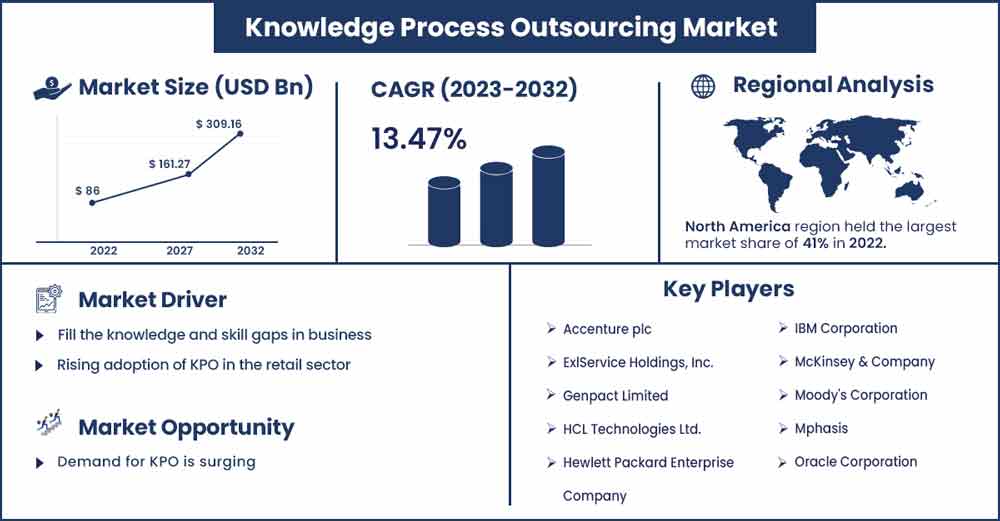 One of the main causes that has permitted the rise is the enormous amount of data that is available, as it has to be processed and analyzed. The KPO industry also saw how the business evolved into a consultative model. One of the biggest issues the worldwide KPO market faces is the compliance with the laws and regulations issued by various governments. As business operations are increasingly regarded as being outsourced globally, corporations are seeking more specialized and analytical skills; as a result, KPOs are steadily providing these needs for firms who are eager to outsource third-party service providers.
The time for the marketing of services and goods is running out due to a competitive market environment and growing globalization. For instance, investment managers are required in the BFSI capital markets to make faster strategic choices due to the change in demand for complicated, international goods. Due to its advancement from cost-driven capabilities to strategic platforms, middle office outsourcing has become increasingly popular as it has made it easier for investment managers to execute corporate plans.
Report Highlights:
In 2022, the Asia Pacific region, which had the most KPO companies and consultants overall, topped the market. This is a result of the quick offshoring of crucial procedures and expert services. The expansion of the market is being driven by the rising number of trained professionals, such as engineers, architects, and attorneys, in developing nations like India, China, and the Philippines.
The healthcare and pharmaceutical industries contributed significantly to the KPO market's revenue in 2022.
It is anticipated that the legal process outsourcing service category would have the quickest development in the knowledge process outsourcing market due to the efficiency of the services provided and the cost savings.
Knowledge process outsourcing is gaining popularity in the IT and telecom industries. It is anticipated that the category would grow at a CAGR of 20.8% during the ensuing eight years.
The healthcare and pharmaceutical industries contributed significantly to the KPO market's revenue in 2022.
Knowledge Process Outsourcing Market Report Scope:
| | |
| --- | --- |
| Report Coverage | Details |
| Market Revenue in 2023 | USD 97.35 Billion |
| Projected Forecast Revenue in 2032 | USD 309.16 Billion |
| Growth Rate from 2023 to 2032 | CAGR of 13.7% |
| Largest Market | Asia Pacific |
| Base Year | 2022 |
| Forecast Period | 2023 To 2032 |
| Regions Covered | North America, Europe, Asia-Pacific, Latin America, and Middle East & Africa |

Regional Snapshots:
Due to an increase in activities linked to IT offshoring/outsourcing, it is predicted that the knowledge process outsourcing market in North America would grow rapidly over the course of the forecast period. This encourages the expansion of the knowledge process outsourcing industry in the area. Due to growing customer demand for high-quality services, which in turn is pressuring businesses to adopt systems and business models that not only add strategic value to their products and services but also improve operational efficiency, the Asia Pacific region is expected to hold a significant share of the knowledge process outsourcing market. The KPO market in the APAC region is expected to expand more quickly as a result of this. India, which leads in KPO services, is one of the key nations boosting the KPO market's expansion.
Due to the region's numerous big and medium-sized businesses placing a greater focus on research and data analysis, South America is predicted to have the quickest development in the global KPO industry.
Market Dynamics:
Drivers:
The Retail Industry's Growing Adoption of KPO is Fueling Market Growth
In the current world, almost every firm is driven by data or information, allowing them to create new products and serve customers more successfully. The retail sector is increasingly in need of knowledge process outsourcing as the value of data within businesses rises.
KPO services are being offered to retail firms by KPO service providers to assist them in finding solutions to their challenging queries. Retail firms may get extensive analytics solutions from KPO service providers, including studies on customer behavior and buying habits. The data from the KPO service provider contains figures on market share, sales projections, and customer buying trends, preferences, and routines.
Predictive modeling is another tool used by KPO service providers to generate actionable insights on client behavior. Innovative solutions are further offered to the retail industry, such as competitive intelligence, which monitors rivals' pricing tactics and the introduction of new items.
The need for KPO services is rising in the retail industry since KPO service providers also assist retail businesses in streamlining company operations and enhancing their brand image via effective marketing strategies.
Restraints:
Increased laws relating to unemployment in particular areas brought on by a skills shortage are anticipated to impede market expansion. Additionally, qualified workers are given average rates and are expected to do tasks at a low cost since KPO businesses have a high attrition rate, which hinders the expansion of the industry. Additionally, tightening laws relating to unemployment in particular areas brought on by a skill shortage are anticipated to restrain market expansion.
Opportunities:
Industries may make significant time and financial savings by outsourcing important system processes. The rising need for professional services, including as training, research, managed services, and maintenance, is another element driving the industry's rise. In emerging nations like China, India, and the Philippines, there are highly skilled professionals, such as lawyers, engineers, and architects, who can provide professional services at lower costs than their western counterparts. Because there is so much information in the world, it can be difficult to extract useful information from the sources that are available.
The cycle time for launching new goods and services has shortened as a result of increased industry competition on a worldwide scale. Customers want high-quality services, therefore businesses must implement policies and organizational frameworks that not only increase productivity but also strategically advance their products and services. Product and service research, key hardware management, market and competitor research, boosting organizational performance in business administration, and coping with volatile business situations are all areas where KPO helps firms. The major objective of KPO is to provide better services and specialized solutions.
As a result, it is fueling the market's expansion during the projection period.
Challenge:
The KPO sector is confronted with obstacles like a lack of skilled labor and expertise, worries about data security and shoddy infrastructure, and an increase in real estate expenses. These characteristics collectively provide significant obstacles to the industry's expansion and development. For instance, the KPO sector needs people with the appropriate skill sets and domain expertise, but this is a problem, particularly in emerging nations.
Recent Developments:
In January 2022, HCL Technologies and OSRAM which is a German manufacturer of electric lighting, expanded their current collaboration. The extension of the collaboration sought to standardize enterprise resources planning and CRM systems inside the corporation and to digitalize the major business operations of the company. The alliance would promote worldwide IT operations by increasing agility and scalability to speed up innovation. It would also enable increased maturity in ams OSRAM's digital execution capabilities. HCL would create and manage a cutting-edge digital foundation through data center, hybrid cloud, and network transformation in order to make this possible.
In July 2021, Accenture acquired Linkbynet, a renowned supplier of cloud services. The capabilities of Accenture Cloud First were strengthened as a result of this purchase. Deep engineering and cloud specialty, cutting-edge technological tools, managed services, and cybersecurity intelligence would all be added by this purchase.
Key Market Players
Accenture plc
ExlService Holdings, Inc.
Genpact Limited
HCL Technologies Ltd.
Hewlett Packard Enterprise Company
IBM Corporation
McKinsey & Company
Moody's Corporation
Mphasis
Oracle Corporation
Pangea3 (Thomson Reuters Corp.)
R.R. Donnelly & Sons Company
SAP
Tata Consultancy Services Limited.
Texas Instruments Incorporated.
Wipro Limited
WNS (Holdings) Ltd.
Segment Covered in the Report
By Service
Analytics & Market Research

Customer & Marketing Analytics
Operations & Supply Chain Analytics
Competitive Intelligence & Industry Analysis

Engineering & Design
Financial Process Outsourcing
Legal Process Outsourcing
Publishing Outsourcing
Research & Development Outsourcing
Other
By Application
BFSI
Healthcare
IT & Telecom
Manufacturing
Pharmaceutical
Retail
Others
Buy this Research Report@ https://www.precedenceresearch.com/checkout/2415
You can place an order or ask any questions, please feel free to contact at sales@precedenceresearch.com | +1 9197 992 333