The global medical bed market size surpassed USD 3.38 billion in 2022 and it is expected to rake around USD 6.03 billion by 2032, poised to grow at a CAGR of 6% during the forecast period 2023 to 2032.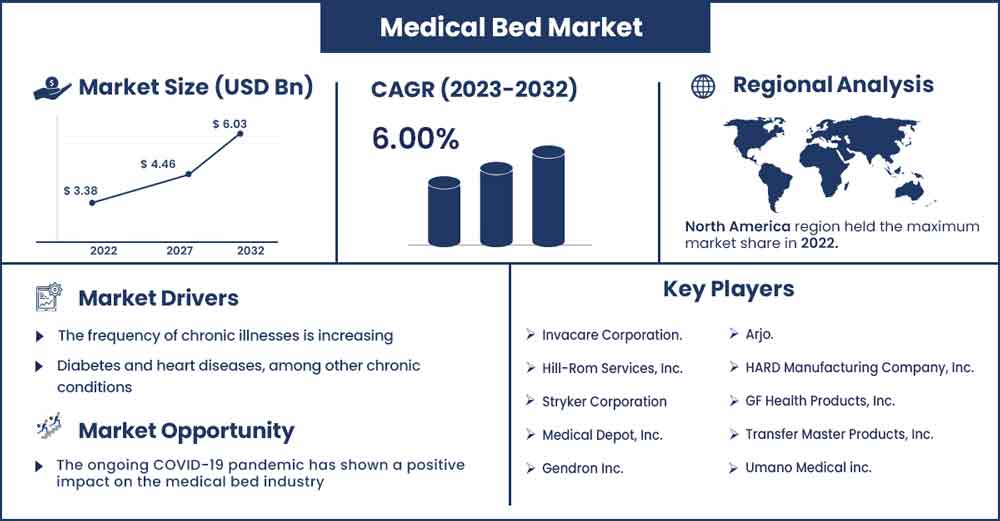 The market for medical beds is anticipated to increase in the next years as a result of factors including rising investments in healthcare infrastructure development, technical advancements in ICU beds, rising numbers of beds in private hospitals, and rising numbers of chronic care patients. On the other hand, the shrinking supply of beds in public hospitals may somewhat restrain market expansion. Home care is a developing trend that is anticipated to provide market participants a variety of options.
Hospitals are suffering from a severe bed scarcity in both intensive care units (ICUs) and ordinary wards as a result of the increased hospitalisation rates. The need for hospital beds is also being driven by the rising frequency of several illnesses, including cancer and cardiovascular diseases (CVDs). Other growth-promoting elements include a variety of product developments, such as the creation of motorised hospital beds.
The international healthcare landscape has changed during the last few decades. Unprecedented economic development has been seen in several nations throughout the world. Although several of these nations were impacted by the 2008 global economic crisis, they seem to have recovered and are still growing, albeit at considerably slower rates.
As a result, the economic, cultural, industrial, and healthcare settings in these economies have seen a significant transformation. Large-scale legislative changes, economic liberalisation, the quickly expanding middle-class populations with rising buying power, and greater expenditures in infrastructure development are the main drivers of this industry's explosive expansion.
In most developed and emerging nations, the development of healthcare infrastructure is a major concern. The market for medical beds benefits from increased infrastructure investments in the healthcare sector. Investment growth results in higher expenses for medical beds, which is a key driver of market expansion.
Regional Snapshots:
Europe is anticipated to lead the worldwide hospital bed market throughout the forecast period, outpacing other important regions including North America, Asia, Europe, and the Rest of the World (RoW). Consumers and healthcare organisations are being encouraged to purchase sophisticated and somewhat pricey hospital beds as a result of rising healthcare spending in Europe's medical sector. With a stable CAGR of 3.4%, the market for hospital beds in Europe will grow from US$ 1,643.2 million in 2014 to US$ 2,010.2 million in 2020.
A large portion of Asia's population is ageing and has a disproportionate number of geriatric patients, which is why it is developing but at a much faster rate than Europe. The availability of more long-term healthcare facilities in North America is helping to strengthen its position in the worldwide market for hospital beds.
Medical Bed Market Report Scope:
| | |
| --- | --- |
| Report Coverage | Details |
| Market Revenue in 2023 | USD 3.57 Billion |
| Projected Forecast Revenue in 2032 | USD 6.03 Billion |
| Growth Rate from 2023 to 2032 | CAGR of 6% |
| Largest Market | North America |
| Base Year | 2022 |
| Forecast Period | 2023 to 2032 |
| Regions Covered | North America, Europe, Asia-Pacific, Latin America, and Middle East & Africa |

Report Highlights:
The number of medical beds installed in the nation has increased dramatically as a result of rising healthcare costs. The Canadian Institute for Health Information (CIHI) estimates that Canada spent USD 264 billion on healthcare overall in 2019. The iron and steel sector, which accounts for a portion of 60.0% of the entire market in terms of value, will continue to dominate the refractories market.
The prevalence of chronic illnesses is rising alarmingly. Patients with compromised health need intensive care, potentially in a hospital or other such settings. The need for cutting-edge beds is on the rise. The market for medical beds now offers advances thanks to active research. Electrical beds offer enhanced features above regular beds to improve patient comfort and care while putting less stress on caretakers. The market for medical beds is anticipated to rise due to increased product development and ongoing developments.
Market Dynamics:
Drivers:
The widespread usage of hospital beds for patient soothing highlights the importance of the expanding global hospital bed market. A key factor in the growth of the worldwide hospital beds market is consumer preference for well-equipped and convenient hospital beds. The global market for hospital beds is also growing as a result of beds created specifically for the group of patients being treated. The availability of home healthcare for vegetative patients encourages regular customers to use hospital beds.
The buying patterns of hospitals throughout the world are being influenced by electronic and other medical gadgets linked to the beds. However, the prices at which these beds must be manufactured and sold are impeding the expansion of the worldwide market for hospital beds, leaving the major players in the sector with meagre earnings. Additionally, hospital beds are losing ground to more "friendly" or homecare beds due to implications from incorrect movement, bed sores, and mechanical abrasion.
Restraints:
During the projected period, high costs related to medical beds and smart medical beds are anticipated to restrain market growth. Another issue restricting market growth throughout the evaluation period is the sale of goods under several trademarks. The proliferation of fake goods through internet platforms is posing a serious threat to market development.
The market, however, is projected to fight the aforementioned market-hinderning factors and promote market growth as product innovation continues to rise. For instance, Stryker Corporation unveiled their "ProCuity" smart bed in October 2022.
Opportunities:
During the projection period, integration of smart technology in medical beds is anticipated to present considerable expansion prospects. Automation, digitalization, and other technical advancements have been widely adopted by smart beds to improve the therapeutic process. Forbes, an American business publication, highlighted the advancements in healthcare technology that empower medical organisations to provide more individualised treatment in July 2021. The widespread use of cutting-edge technologies like 3-D AI, VR, and other contemporary approaches in the healthcare industry has altered the market's dynamics.
The demand for the product has been significantly increased by the healthcare infrastructure's increased desire for smart medical beds in order to provide top-notch services to its patients. According to ArcGIS, a commercial programme managed by the Environmental Systems Research Institute, there will be a demand for about 816,554 staffed beds with smart features in hospitals across the United States until September 2022.
Additionally, expanding player alliances are anticipated to have a substantial impact on the market throughout the projection period. In order to arrange patient registrations and check-ins, AT&T established a cooperation with LifeMedID and Elo Self-Service Solutions in March 2020, further solidifying the company's position in the industry. These measures should increase the use of smart beds in hospitals, which will help the market throughout the projection period.
Challenges:
When treating patients, it is imperative to employ specialist medical beds. The simple adjustment feature guarantees that patients have to move their bodies as little as possible. It gives the patient a good night's sleep, which is crucial for healing. These distinguishing qualities are expensive. The cost of medical beds varies according on the beds' features, safety standards, brand, and size. For instance, speciality beds like ICU beds cost between US$25,000 and US$30,000, while bariatric beds like Stryker's Bari 10A cost between US$35,000 and US$40,000. A bariatric bed is a special type of bed with a sturdy, extra-wide bed frame that can support patients up to 1200 pounds in weight.
Recent Developments:
In March 2020, In order to assist with the COVID-19 response, Hill-Rom has said that the manufacturing of critical care items, such as ICU and med-surg unit smart hospital beds, will be increased.
Major Key Players:
Invacare Corporation.
Hill-Rom Services, Inc.
Stryker Corporation
Medical Depot, Inc.
Gendron Inc.
Arjo.
HARD Manufacturing Company, Inc.
GF Health Products, Inc.
Transfer Master Products, Inc.
Umano Medical inc.
ProBed Medical Technologies
American Medical Equipment.
Getinge AB.
Amico Group of Companies.
Merivaara
ANTANO GROUP
LINET.
Stiegelmeyer GmbH & Co. KG
Mobility Aids Sales and Services
PARAMOUNT BED CO., LTD.
Market Segmentation:
By Type
Electric Bed
Semi Electric Bed
Manual Bed
By Application
Outpatient Clinics
Medical Nursing Homes
Medical Laboratory and Research
By Usage
Acute Care
Long Term Care
Psychiatric Care
Maternity
Buy this Research Report@ https://www.precedenceresearch.com/checkout/2438
You can place an order or ask any questions, please feel free to contact at sales@precedenceresearch.com | +1 9197 992 333