The global medical device outsourcing market size was evaluated at USD 65.82 billion in 2022 and is expected to touch around USD 224.42 billion by 2032, growing at a noteworthy CAGR of 13.10% from 2023 to 2032.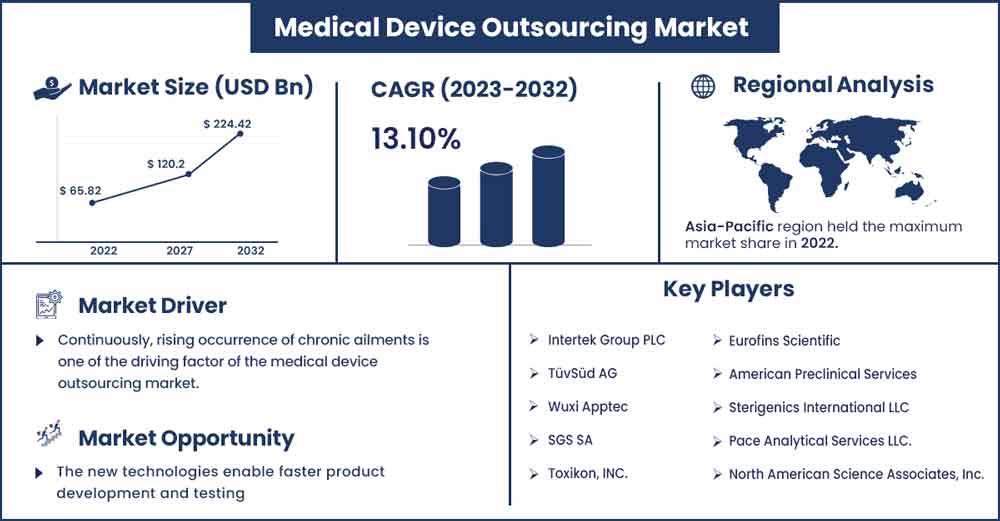 Market Overview:
Companies might choose to outsource to take advantage of specialized expertise, reduce operational costs, focus on core competencies, accelerate time-to-market, or adapt to market fluctuations more efficiently. The medical device outsourcing market refers to the industry segment where medical device manufacturers contract out certain aspects of their production, design, development, and other processes to third-party companies or suppliers. These third-party companies are often specialized in specific areas of the medical device production lifecycle, and they provide services to the original equipment manufacturers (OEMs) to streamline operations, reduce costs, and improve efficiency.
Contract manufacturers (CMOs) can produce medical devices on behalf of the original manufacturer. This can include components, sub-assemblies, or even entire devices. Some OEMs may outsource the design and engineering of their medical devices to specialized firms. These firms may offer expertise in specific areas such as product design, prototyping, and testing. Outsourcing partners can assist with navigating complex regulatory frameworks and ensuring that devices meet the necessary standards and requirements for approval and market access.
Regional Snapshot:
Asia Pacific is observed to witness significant growth at a robust pace during the forecast period. Collaboration between Western medical device companies and Asia-Pacific manufacturers can lead to mutually beneficial partnerships. Western companies can tap into the region's expertise, while Asian companies can gain access to established markets. Many countries in Asia-Pacific have lower labor and operational costs compared to Western countries. This cost advantage can make medical device manufacturing and development more affordable, attracting companies looking to reduce their production expenses.
Asia-Pacific has a substantial pool of skilled engineers, technicians, and professionals in the medical and engineering fields. This skilled workforce can provide high-quality services, including research and development, design, prototyping, and manufacturing of medical devices. While regulatory environments can vary from country to country, some countries in the region have developed robust regulatory frameworks for medical devices. These regulations ensure the safety and quality of medical devices, which is crucial for both manufacturers and consumers.
Europe has another notably expanding marketplace for medical device outsourcing services. Some European governments offer incentives and support for research and development in the medical device industry, encouraging innovation and growth. European countries typically have strong intellectual property protection laws and mechanisms. This can be crucial for companies seeking to protect their proprietary technology and innovations when outsourcing. Europe offers a wide range of capabilities, from research and development to manufacturing and regulatory support. This diversity allows for a comprehensive approach to medical device outsourcing, meeting the varying needs of different companies.
Medical Device Outsourcing Market Report Scope:
| | |
| --- | --- |
| Report Coverage | Details |
| Market Revenue in 2023 | USD 74.11 Billion |
| Projected Forecast Revenue in 2032 | USD 224.42 Billion |
| Growth Rate from 2023 to 2032 | CAGR of 13.10% |
| Largest Market | Asia Pacific |
| Base Year | 2022 |
| Forecast Period | 2022 To 2030 |
| Regions Covered | North America, Europe, Asia-Pacific, Latin America, and Middle East & Africa |

Report Highlights:
By application, the cardiology segment is predicted to grow fastest in the upcoming years. The field of cardiology has witnessed significant technological advancements in medical devices, such as pacemakers, stents, catheters, and implantable defibrillators. These advancements require specialized expertise for design, development, manufacturing, and regulatory compliance. Outsourcing offers medical device companies the ability to leverage the expertise of specialized manufacturers and research institutions, reducing overall costs associated with in-house development and production.
By services, the contract manufacturing segment dominated the global market in 2022, the segment is expected to sustain its position during the forecast period. Contract manufacturers often operate on a larger scale, allowing them to achieve economies of scale and reduce production costs. This is especially important in the medical device industry, where cost containment is a priority due to regulatory pressures and the need to keep healthcare expenses in check.
Market Dynamics:
Driver:
The growing burden of chronic diseases
Chronic diseases often require ongoing monitoring, treatment, and management. This leads to an increased demand for medical devices such as glucose monitors, insulin pumps, pacemakers, continuous positive airway pressure (CPAP) machines, and more. As the prevalence of chronic diseases rises, so does the need for these specialized medical devices. Developing and manufacturing medical devices involves substantial resources, including skilled labor, research and development costs, regulatory compliance expenses, and manufacturing facilities. Outsourcing allows companies to optimize their resource allocation by leveraging external partners' existing infrastructure and expertise, reducing the need for large upfront investments. Outsourcing enables companies to tap into a global network of expertise and resources. This is particularly advantageous when entering new markets where local regulations, customs, and preferences may vary. Outsourcing partners with a global presence can provide valuable insights and support for market expansion. Thus, the growing burden of chronic diseases is observed to be a driver for the market.
Restraint:
Security issues
Medical devices often involve complex technology and innovation. Outsourcing to third-party manufacturers could expose valuable intellectual property to potential theft or unauthorized access. This could lead to imitations of products or even unethical competition. Outsourcing involves sharing designs, proprietary algorithms, and manufacturing processes with external partners. This can create vulnerabilities in the supply chain, as these partners might not have the same security measures in place, making it easier for malicious actors to gain access to critical information. Thus, such security issues are considered to hamper the growth of the market.
Opportunity:
Technological advancements
New technologies enable faster product development and testing. By outsourcing certain aspects of the development process, medical device companies can leverage the capabilities of external partners to expedite time-to-market. This is crucial in the competitive healthcare industry where getting products to market quickly can lead to a significant competitive advantage. As technology evolves, medical devices are becoming more complex and sophisticated. Outsourcing allows medical device companies to tap into specialized expertise and resources without having to invest heavily in-house. Outsourcing partners can bring fresh ideas, innovative solutions, and specialized knowledge to the table, accelerating the development of cutting-edge medical devices.
Challenge:
Complicated reimbursement policies
Medical device outsourcing companies often work with innovative technologies and products that might not have well-established reimbursement codes or coverage policies. When reimbursement is uncertain, it becomes difficult for these companies to project their potential revenues accurately. This uncertainty can discourage investments in research, development, and production of new medical devices. Navigating complex reimbursement policies requires a significant amount of time and resources. Medical device outsourcing companies need to dedicate resources to understand the reimbursement landscape, stay updated with policy changes, and work with payers to advocate for proper reimbursement. This diverts resources away from core activities like research, development, and manufacturing.
Recent Developments:
In March 2023, Science, a developer of brain-computer interfaces (BCI), introduced a platform to improve medical device production outsourcing. Max Hodak, the CEO of Science, co-founded Neuralink, Elon Musk's attempt to develop brain-computer interfaces (BCIs). Up until 2021, he was Neuralink's president. His latest collaboration with science involves the development of new technology for BCI that doesn't have a skull implant.
In July 2023, according to a recent analysis from market research firm Reportlinker.com, the worldwide contract manufacturing market for medical devices is anticipated to expand significantly between 2018 and 2028. Growth overseas, particularly in developing countries, and modifications to the regulatory framework are two current market trends.
In January 2023, medical practice owners contemplating outsourcing insurance coverage and patient billing in Northwest Arkansas now have a new choice. AMB Technology LLC, a HIPAA-compliant, full-service healthcare billing and consulting company, was established in Bentonville by Mikal Murders. Using a unique combination of software and services, he said it would assist solo and small-group medical and dental practices in increasing income and reducing expenses.
Major Key Players:
Intertek Group PLC
TüvSüd AG
Wuxi Apptec
SGS SA
Toxikon, INC.
Eurofins Scientific
American Preclinical Services
Sterigenics International LLC
Pace Analytical Services LLC.
North American Science Associates, Inc.
Charles River Laboratories International, Inc.
Market Segmentation:
By Service
Product Upgrade Services
Regulatory Affairs Services

Legal representation
Clinical trials applications
Regulatory writing and publishing

Quality Assurance
Product Maintenance Services
Product Testing & Sterilization Services
Product Design and Development Services

Molding
Designing & engineering
Machining
Packaging

Product Implementation Services
Contract Manufacturing

Accessories manufacturing
Component manufacturing
Device manufacturing
Assembly manufacturing
By Application
Drug delivery
Dental
Diabetes care
Cardiology
Endoscopy
IVD
Ophthalmic
Diagnostic imaging
Orthopedic
General and plastic surgery
Others
Buy this Research Report@ https://www.precedenceresearch.com/checkout/1057
You can place an order or ask any questions, please feel free to contact at sales@precedenceresearch.com | +1 9197 992 333