The global nanotechnology drug delivery market revenue was evaluated at USD 83.8 billion in 2022 and is expected to attain around USD 183.11 billion by 2032, growing at a CAGR of 8.13% from 2023 to 2032.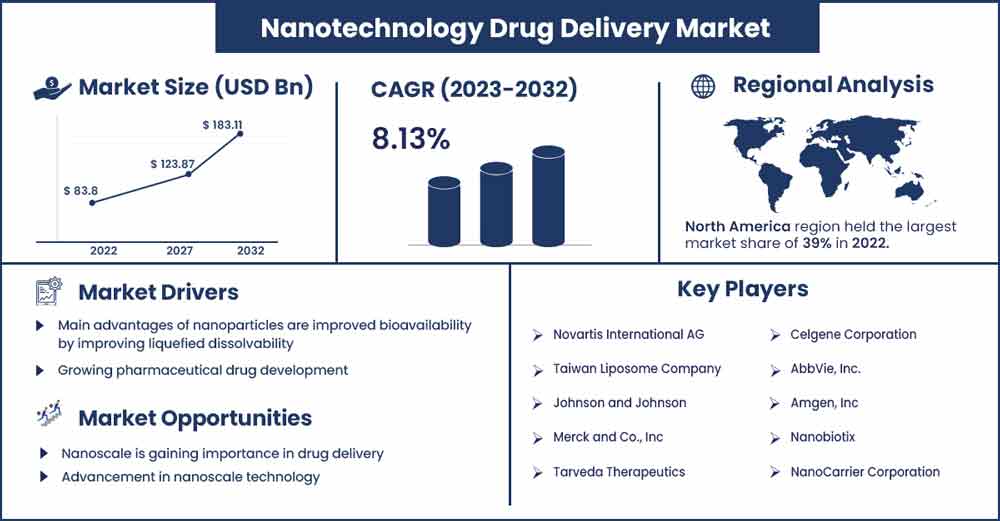 Factors such as increasing awareness of nanotechnology drug delivery systems, growing pharmaceutical drug development, and the benefits of nanotechnology drug delivery in infection treatment and heart disease are driving the market growth. Moreover, rising FDA approvals and Nanoscale is gaining importance in drug delivery which is expected to drive the market. However, the high cost of nanotechnology drug delivery techniques, environmental concerns, and stringent government regulation obstruct market growth.
Regional Landscape:
Asia Pacific is estimated to grow faster during the forecast period. The growth is due to rapid development, an increase in healthcare spending, and the improvement of healthcare facilities owing to economic growth, increased spending capacity, cancer prevalence, and improvements in healthcare infrastructure. According to the Cancer Organization, the Asia Pacific region accounted for approximately 5.9 million cancer cases diagnosed in 2020 and is expected to account for about 7.8 million new cancer cases by 2050. This will increase the demand for advanced drug delivery treatment using nanotechnology. Furthermore, Europe is expected to grow faster during the forecast period owing to the rising number of pharmaceutical and biotechnology manufacturers due to consumers' affordability of branded nanotechnology products.
Nanotechnology Drug Delivery Market Report Scope:
| | |
| --- | --- |
| Report Coverage | Details |
| Market Revenue in 2023 | USD 90.61 Billion |
| Projected Forecast Revenue by 2032 | USD 183.11 Billion |
| Growth Rate from 2023 to 2032 | CAGR of 8.13% |
| Largest Market | North America |
| Base Year | 2022 |
| Forecast Period | 2023 to 2032 |
| Regions Covered | North America, Europe, Asia-Pacific, Latin America, and Middle East & Africa |

Market Dynamics:
Driver:
Rising incidence of chronic diseases
The nanotechnology drug delivery market is propelled by the increasing incidence of chronic diseases such as cancer, tumour, heart disease, and coronary artery disease owing to an unhealthy lifestyle and changing ecosystems globally. According to the World Health Organization, cancer will be the most common cause of death in 2020, accounting for 9.6 million deaths worldwide, with over 300,000 new patients diagnosed yearly. Nanomedicine is critical in improving human physical condition by decreasing side effects.
Nanotechnology-based drug delivery statins, nano antibiotics, and other agents can effectively treat cancer, coronary artery disease, and several others. Nanoantibiotics will use this impact to improve infection treatment by combining nanoparticles with antimicrobial therapies and nanosized biological molecules for enhanced antibiotic drug delivery.
Nanomedicines have been shown to have numerous advantages over conventional drugs in effective transport over fine capillary blood vessels, relatively high increase in target tissues, decreased inflammatory or immune response, and strong affinity efficacy.
Furthermore, these nanomedicines have several advantageous properties that make them helpful in managing various diseases involving specific drug delivery, regulated drug release of drugs rapid growth with a broad therapeutic index, and low adverse events. The numerous benefits provided by nanomedicines have piqued the interest of pharmaceutical behemoths, resulting in significant capital spending in this sector.
Restraint:
Environmental concerns
Growing environmental concerns as nanotechnology procedures are not environmentally friendly and can result in serious environmental hazards. Using chemicals for nanoparticle extraction will contribute to the pollution of the environment. Health-related concerns are another factor that limits market growth.
Opportunity:
Rising FDA approvals
FDA approvals are increasing, and this market has seen a surge in ground-breaking drugs due to extensive research and development in various diseases. For instance, on June 17, 2020, Nanobiotix Company obtained a response from the US FDA on developing effectively constructed platinum-based chemotherapy. The Company had begun further Phase III clinical trials for the treatment of neck and head cancer based on the development of chemistry, manufacturing, and controls (CMC) through required research design to assist the potential New Drug Application (NDA).
Covid-19 Impact:
The influence of COVID-19 on global health is vast. However, the global impact on the economy, workers, and businesses will also be significant. This worldwide crisis necessitates a science and technology reaction to the COVID-19 pandemic, with nanotechnology expected to explore innovative results during the pandemic. A study by Leuschner et al. points to using nanotechnology to manage the cytokine storm, which is one of the rare clinical difficulties of COVID-19. Nanoparticles play a vital role in disease pathogenesis at various stages, including adhesion and membrane synthesis throughout viral entry and infected cell protein fusion.
Technology Landscape:
The nanocrystals segment is expected to grow faster during the forecast period, and this is due to the growing demand for effective treatment drugs and the advancement of innovative nanomedicine. For instance, NanOlogy Company launched a new drug delivery injection Nanopac in May 2020 to treat Cancer and Mucinous Cystic Neoplasms. Nanocrystals enhance the bioavailability and dissolution rate of poorly water-soluble hydrophobic drugs in numerous formulations for oral delivery.
Moreover, liposomes are estimated to grow faster during the forecast period. Liposomes are frequently used as model cells or carriers for many bioactive agents such as drugs, vaccines, cosmetics, and nutraceuticals. Medications associated with liposomes have significantly different pharmacokinetic properties than free drugs. Liposomes also effectively reduce systemic toxicity and prevent effective at reducing systemic toxicity and preventing early drug degradation after administration.
Application Landscape:
The anti-inflammatory/ immunology segment is estimated to grow faster during the forecast period. This is primarily due to increased investments in developing new immune system drugs for various diseases. For instance, Ventus was introduced with $ 60 million from Versant and GV. The biotech intends to develop drugs that target the immune system's first defense line, also known as innate immune systems, from its dual headquarters in Waltham and Montreal. For instance, in 202, Ventus Therapeutics Company was awarded USD 60 million in funding to develop medicines that target the innate immune system.
Key Developments:
In August 2022, Cytimmune Sciences, a clinical-stage biotech firm, presented new data on the Company's novel cancer nanomedicines. The presentation occurred at the Cytokine Drug Development Conference in Boston, Massachusetts.
In June 2022, A team of Ohio University researchers discovered that while high concentrations of these DNA devices can cause a slightly resistant reaction, it isn't sufficiently stamped to be hazardous.
In Jan 2022, Penn Medicine researchers discovered a more robust method for preventing the body's proteins from treating nanomedicines like intruders by covering the nanoparticles to smother the insusceptible reaction that hoses the treatment's viability.
In June 2020, With FDA approval, NanOlogy Company began clinical trials using nanotechnology-based drug delivery devices such as intratumoral (IT) injections of NanoPac to treat lung cancer. Companies are increasing their market penetration through collaborations, acquisitions, mergers, and licensing.
Major Key Players:
Novartis International AG
Taiwan Liposome Company
Johnson and Johnson
Merck and Co., Inc
Tarveda Therapeutics
Celgene Corporation
AbbVie, Inc.
Amgen, Inc
Nanobiotix
NanoCarrier Corporation
Market Segmentation:
By Technology
Nanocrystals
Nanoparticles
Liposomes
Micelles
Nanotubes
Others
By Application
Neurology
Oncology
Cardiovascular/Physiology
Anti-Inflammatory / Immunology
Anti-infective
Others
Buy this Research Report@ https://www.precedenceresearch.com/checkout/2762
You can place an order or ask any questions, please feel free to contact at sales@precedenceresearch.com | +1 9197 992 333