The global nanotechnology drug delivery market size was reached at USD 83.8 billion in 2022 and is expected to hit around USD 183.11 billion by 2032, poised to grow at a CAGR of 8.13% between 2023 and 2032.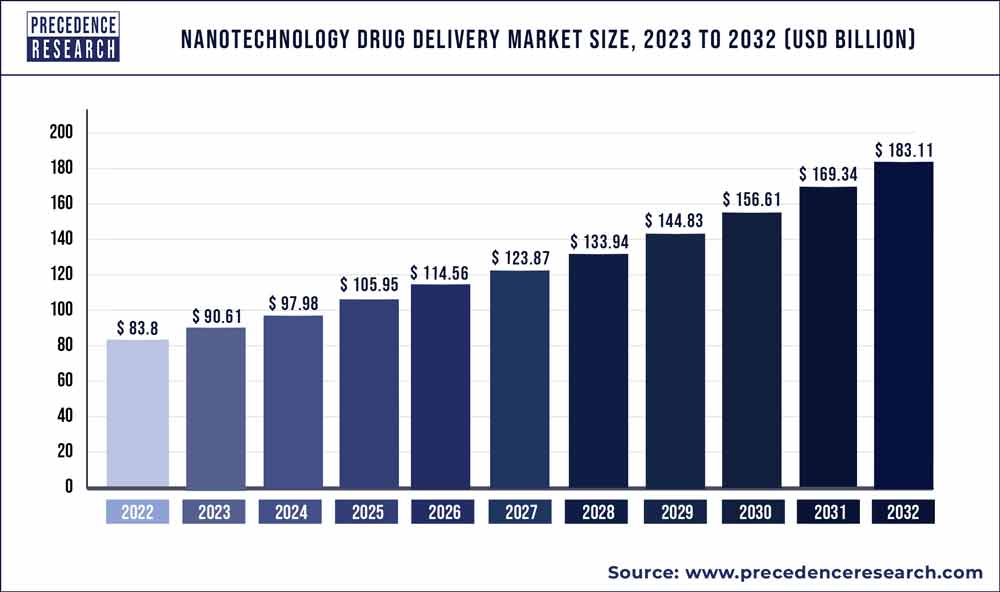 Access our Premium Real Time Data Intelligence Tool, Visit: Precedence Statistics
Key Takeaways:
North America dominated the global market and contributed more than 39% of the revenue share in 2022.
By Technology, the nanoparticle segment generated for the maximum market share in 2022.
By Application, the oncology segment captured for the largest market share in 2022.
Nanotechnology provides numerous advantages in treating chronic human diseases through the site-specific and target-oriented delivery of precise medicines. There have recently been several notable applications of nanomedicine (chemotherapeutic agents, biological agents, immunotherapeutic agents, and so on) in treating various diseases. World Health Organization says CVDs kill more people than other causes, with over 17.9 million deaths yearly. The American Heart Association targets a 20% reduction in cardiovascular disease and stroke deaths by 2020, focusing on factors such as physical action, nutrition, obesity, smoking, blood pressure, cholesterol, and blood sugar. An increasing mortality rate increases people's burden, which can drive demand for novel nanotechnology drug delivery procedures that are more effective than conventional medicine and thus push the general market to grow.
Report Scope of the Nanotechnology Drug Delivery Market:
| | |
| --- | --- |
| Report Coverage | Details |
| Market Size in 2023 | USD 90.61 Billion |
| Market Size by 2032 | USD 183.11 Billion |
| Growth Rate from 2023 to 2032 | CAGR of 8.13% |
| Largest Market | North America |
| Base Year | 2022 |
| Forecast Period | 2023 to 2032 |
| Segments Covered | By Technology and By Application |
| Regions Covered | North America, Europe, Asia-Pacific, Latin America and Middle East & Africa |

Market Dynamics:
Drivers: Adoption of nanotechnology drug delivery in infection treatment and heart disease
The main advantages of nanoparticles are improved bioavailability by improving liquefied dissolvability, rising resistance period in the body, increasing partial life for authorization/escalating explicitness for its linked receptors, and directing the drug to a specific part in the body (its site of action). This reduces the required medication and prescribed toxicity, allowing for the safe transfer of toxic therapeutic drugs and protecting non-target tissues and cells from severe side effects. It is increasingly being used in several treatments involving drug transporter frameworks and the passage of organ barriers, such as blood-cerebrum obstruction, cell film, and others.
Nanotechnology is also being used to improve the delivery of heart disease drug treatments. Even though inflammatory changes increase vascular permeability and retention of nanoscale molecules, targeted drug delivery to diseased heart tissue is possible. Coronary artery disease is the gradual formation of plaque on the major arteries, which can lead to heart failure. And since disease development occurs at the cellular level, nanomedicine can be used as a valid treatment. Current treatment for coronary artery disease is primarily based on statins, which are known to have dose-dependent side effects that limit their use. Nanotechnology could enable statins to be delivered to the site of need, reducing toxicity to other cells.
Considering the increasing strains of drug-resistant bacteria, the use of nanotechnology for drug delivery is also being applied to infection treatment. Though the increased permeability and retention effect is most associated with cancer treatments, there are shared pathophysiological pathways that suggest the impact could be used to treat infections. During an infection, vasodilation occurs quickly, increasing capillary permeability. Although a malfunctioning lymphatic system causes the retention effect in cancer tumors, studies have revealed that rapid lymphatic clearance of small molecules during infection does not occur as expected.
The disease is characterized by dysfunctional lymphatic drainage. Nonantibiotics will use this effect to improve infection treatment by combining nanoparticles with antimicrobial therapies and nanosized biological molecules for improved antibiotic drug delivery
Furthermore, Aging has been repeatedly identified as a critical risk factor for neurological disorders. As a result, the growing geriatric population increases the number of people suffering from various brain illnesses. According to a research study published in the Journal of the Alzheimer's Association, the prevalence of Alzheimer's dementia rises drastically with age, with 3% of persons aged 65 to 74, 17% of those aged 75 to 84, and 32% of people aged 85 or older suffering from the disease. Thus, the rising prevalence of genetic and cardiovascular diseases, advancements in nanoscale diagnostic technologies, and growing demand for personalized therapies are all driving the expansion of the nanotechnology drug delivery market.
Restraint: High cost of nanotechnology drug delivery technique
Price is a significant challenge for companies developing nanotherapeutics. Nanodrugs are far more expensive to produce than traditional medicines. These diseconomies of scale result in significantly higher selling prices or acquisition costs for hospitals, impeding the everyday success of nanomedicines. The increased cost-effectiveness of nanotherapeutics can offset the high acquisition costs. A high acquisition cost may be a severe barrier to reimbursement in European countries where medicines are selected and funded from public sources based on rational selection. High-priced nanomedicines have a very low chance of reaching the market and, thus, the patient in these countries.
Opportunity:
Nanoscale is gaining importance in drug delivery
Nanotechnology is critical in the development of drug-delivery technologies that have the potential to expand the medical market. Nanotechnology can be used to reformulate existing pharmaceuticals extending their lives, improving their performance, and increasing acceptability by increasing effectiveness, safety, and patient adherence and eventually lowering health care costs. Nanotechnology can enhance the efficacy of medications that have failed clinical trials. It provides drug delivery systems, treatment, and management for chronic diseases like cancer, HIV/AIDS, and diabetes.
Advancement in nanoscale technology
Recent advances in research have provided scientists with new tools for understanding and exploiting phenomena that occur naturally when matter is organized at the nanoscale. These phenomena are based on quantum and other physical effects, such as swollen expanse. Furthermore, the fact that most biological processes occur at the nanoscale provides scientists with models and templates to imagine and build new approaches that will improve most biological processes occur at the nanoscale offers scientists with models and templates to conceive and develop new strategies that will improve one's add medication, imaging, computing, printing, chemical catalysis, materials synthesis, and many other fields.
Technological advancement
Increased emphasis on technological advancements for better healthcare services is expected to boost the industry's growth. The healthcare industry is one of the most important sectors where nanotechnology has made significant progress in diagnosing and treating chronic diseases such as cancer, heart disease, and other problems. Technology firms have received considerable funding as healthcare organizations focus on transdermal insulin administration. The market has shifted its attention to transdermal medicine delivery. Moreover, personalized medicine distribution is being strongly emphasised to limit the chance of adverse effects. This approach delivers reachability with greater efficacy and less degradation by bypassing the body's defence mechanisms. Such technical advancements and expenditures are projected to boost market expansion in the future years.
COVID-19 Impact:
COVID-19 has impacted the development of the nanotechnology drug delivery market. According to the researchers, multidrug nanoparticles for impacted drug delivery could reduce infection in COVID-19 patients. COVID-19 management, analysis, and medication are being established using nanotechnology. The nanotechnology utilized in COVID-19 has several benefits, including improved. Virus-inactivating air filtration, inexpensive, extensible exposure approaches for virus-related particles, greater personal protection equipment (PPE) such as facemasks, novel antiviral vaccine and drug delivery platforms, new therapeutic results, and so on, all of which contribute to the advance of the nanotechnology drug delivery market.
Segments Insight:
Technology Insights:
Based on technology, the global nanotechnology drug delivery market is segmented into Nanocrystals, Nanoparticles, Liposomes, Micelles, Nanotubes, and Others. In 2022, the nanoparticle segment accounted for the highest market share. The market is gaining traction due to increased capital spending on drug research in emerging countries worldwide. Nanoparticles (NP) play an essential role in drug delivery as they conjugate various drugs in various ways.
The NP surface is designed with ligands to increase cell affinity and co-polymers to protect against immune cells. The drug-conjugated nanoparticles can eventually recognize the site, attach to the target, and enter the cell via receptor-mediated endocytosis. Then NPs can controllably release drugs to cure diseases. Growing research and development activities in nanoparticle analysis, financial funding from public-private organizations, and increased R&D shifting to China by global drug and biopharmaceutical organizations are growing market interest. The increasing annual spending of the biopharmaceutical industry worldwide pushes the acceptance of nanoparticles. Further, the rising application of nanoparticles in cancer therapy, Diagnostic testing, HIV and AIDS treatment, and nutraceutical delivery is driving the growth of this segment.
Application Insights:
Based on application, the global nanotechnology drug delivery market is segmented into Neurology, Oncology, Cardiovascular/Physiology, Anti-Inflammatory / Immunology, Anti-infective, and Others. In 2022, the Oncology segment accounted for the highest market share. According to the American Cancer Society, the number of new cancer cases and deaths is expected to be 1.9 million and 608,570, respectively, in 2021. Provocative routes Nanoparticles (NPs) are a type of medicine shipper typically less than 100 nm in size and can affect growth regions while decreasing off-target effects. Furthermore, NPs can stimulate natural and adaptive immune systems in the tumor microenvironment (TME), resulting in a disease-fighting resistant response.
Regional Insights:
In 2022, North America dominated the global nanotechnology drug delivery market and generated more than 39% of the revenue share in 2022. North America is investing in researching and developing novel technologies such as nanotechnology. Countries such as the United States launched numerous initiatives to commercialize the technology on a larger scale.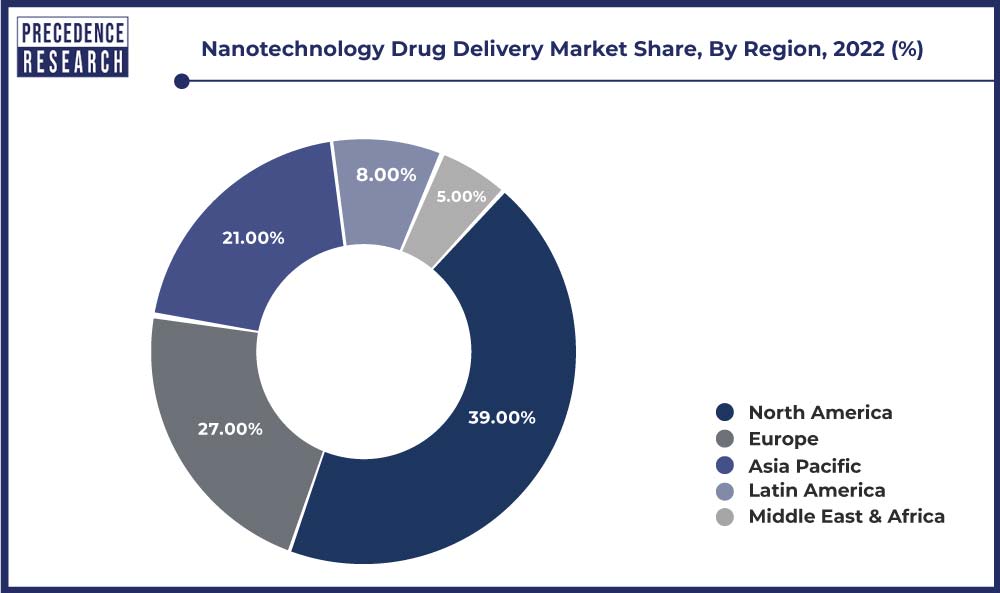 One such initiative is the national nanotechnology Initiative. It is a research and development initiative that provides a systematic framework for the national federal government and departments to coordinate research and nanoscale resources.
Recent Developments:
In Feb 2022, Merck bought Exelead for $780 million in cash, subject to regulatory approvals and other customary closing conditions.
In June 2022, Baker Heart and Diabetes Institute researchers designed and developed a novel nanoparticle drug delivery technology that can identify and treat a variety of diseases as well as significantly improve the efficacy of an atherosclerosis treatment.
Company Profiles and Competitive Intelligence:
Market players attempt to increase their market share through investments, partnerships, acquisitions, and mergers. Businesses are also investing in the development of new products. Furthermore, they are concentrating on maintaining competitive pricing. Some of the prominent market players include:
Novartis International AG
Taiwan Liposome Company
Johnson and Johnson
Merck and Co., Inc
Tarveda Therapeutics
Celgene Corporation
AbbVie, Inc.
Amgen, Inc
Nanobiotix
NanoCarrier Corporation
Segments Covered in the Report
(Note*: We offer report based on sub segments as well. Kindly, let us know if you are interested)
By Technology
Nanocrystals
Nanoparticles
Liposomes
Micelles
Nanotubes
Others
By Application
Neurology
Oncology
Cardiovascular/Physiology
Anti-Inflammatory / Immunology
Anti-infective
Others
By Geography
North America
Europe
Asia-Pacific
Latin America
The Middle East and Africa