The global newborn eye imaging systems market size was evaluated at USD 1,535.97 million in 2022 and is expected to attain around USD 2,785.32 million by 2032, growing at a CAGR of 6.50% from 2023 to 2032.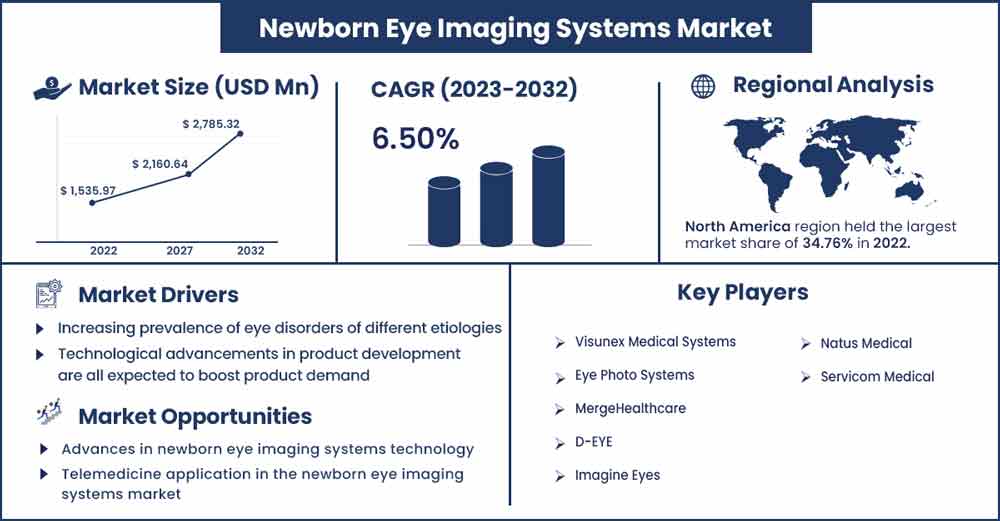 The rapidly increasing number of infants suffering from eye problems worldwide is one of the key factors driving the demand for newborn eye imaging systems. Furthermore, the various market players in the newborn eye imaging systems industry are launching advanced imaging devices and technologies and raising funds for research activities, which also largely contribute to the growth in the global market.
Market Dynamics:
Drivers:
Retinopathy of prematurity (ROP) is becoming more common
ROP is now widely recognized as one of the major preventable causes of blindness and visual impairment in children. ROP accounts for 10% to 37% of all childhood blindness worldwide, and ROP is still a significant cause of childhood blindness in high-income countries. Still, it is becoming more common in middle-income economies such as Eastern Europe, Latin America, India, and China. Special Neonatal Care Units have been established in several remote areas worldwide. The United Nations Children's Fund (UNICEF) provided technical and financial support for constructing the first eight units.
Restraint:
High costs and a lack of awareness
A wide-field digital camera capable of retinal imaging in premature infants has been evaluated as a screening alternative to the Indirect Ophthalmoscope. Camera-captured retinal images can be saved, sent to experts, reviewed, analyzed, and compared sequentially over time, making them suitable for telemedicine. This camera, however, currently needs to replace an indirect ophthalmoscope due to its high cost and limitations in diagnostic accuracy, particularly with poor image quality. A significant barrier to ensuring appropriate ROP care is a regional shortage of ophthalmologists available to perform ROP diagnostic examinations.
Opportunities:
Telemedicine application in the newborn eye imaging systems market
Telemedicine is a new technology that captures medical data for subsequent interpretation by a remote expert. According to studies, telemedicine has an extremely high accuracy and reliability for identifying clinically significant ROP. This suggests that telemedicine could play a role in improving ROP care delivery.
Newborn Eye Imaging Systems Market Report Scope:
| | |
| --- | --- |
| Report Coverage | Details |
| Market Revenue in 2023 | USD 1,660.90 Million |
| Projected Forecast Revenue in 2032 | USD 2,785.32 Million |
| Growth Rate from 2023 to 2032 | CAGR of 6.50% |
| Largest Market | North America |
| Base Year | 2022 |
| Forecast Period | 2023 To 2032 |
| Regions Covered | North America, Europe, Asia-Pacific, Latin America, and Middle East & Africa |

Segments Insight:
Disease Insight:
Retinopathy of prematurity (ROP) is the leading cause of preventable infant blindness worldwide. Access to care, a need for doctors knowledgeable about ROP, and difficulties with reliable documentation are all barriers to ROP screening and management.
Color blindness, also known as color vision deficiency (CVD), is a condition in which a person has difficulty distinguishing between specific colors, such as yellow and orange, green and brown, pink and grey, or blue and purple. Color blindness is not usually inherited; various factors, such as diabetic retinopathy, macular degeneration, glaucoma, eye injury, and age, can cause it. The market is expected to expand due to increased government efforts to raise public awareness of health issues, rising healthcare costs worldwide, and an increasing number of colorblind people. According to the Howard Hughes Medical Institute, there were approximately 350 million colorblind people worldwide in 2022.
Device Type Insights:
In 2022, the basic device segment contributed the most to the newborn eye imaging market. Hospitals use basic devices to diagnose eye diseases. The machines take an image of a newborn baby's eye, including pupil dilation and the retina, and provide information on optic nerve function.
The wireless device segment is expected to grow the fastest in the coming years. These are essential for visual acuity testing, glaucoma screening, and intraocular pressure measurement.
End-user Insights:
Using newborn eye imaging systems in hospitals for various therapeutic and diagnostic purposes for cataracts, glaucoma, cornea, retina, and oculoplastic contributes to the segment's growth.
The Ambulatory surgery centers (ASCs) segment is projected to grow over the forecast period. Ambulatory surgery centers (ASCs) are specialized medical facilities that provide outpatient surgical services. Outpatient procedures allow patients to leave the hospital on the same day as their procedure without being admitted, fueling the growth of this market segment. Along with the numerous benefits that the technology offers, the use of newborn eye imaging systems in ASC is rapidly increasing. One of these advantages is that it provides high-quality photos and the least amount of radiation exposure while imaging. Furthermore, cost reduction, shorter recovery times, and the adoption of minimally invasive surgeries with the help of the newborn imaging system are major factors driving the growth of ambulatory surgical centers.
Regional Insights:
The increasing adoption of artificial intelligence (AI) technology propels this region's growth. In the US, an artificial intelligence technique has diagnosed blindness-causing disease in premature newborns.
Over the forecast period, the region is expected to account for xx%, driven by the rising prevalence of congenital glaucoma. Primary congenital glaucoma is a common vision-threatening disease in children. Although it is a rare condition, primary congenital glaucoma is the most common cause of pediatric glaucoma and can lead to blindness. Furthermore, the growing use of eye imaging systems techniques is expanding the growth of this region. High-resolution imaging technologies are used in digital retinal imaging to take photographs of the eye's interior. This allows VSP (vision service plan) network doctors to examine the retina's health to identify and manage diseases such as diabetes, glaucoma, and macular degeneration.
Recent Developments:
In April 2022, businessman Gregg Scheller established Kogent Surgical and Katalyst Surgical in Chesterfield, Missouri (USA). Carl Zeiss, President and CEO of Meditec AG, Dr. Markus Weber, and ZEISS Medical Technology agreed that this acquisition is crucial from a strategic standpoint.
The QUATERA 700*, a breakthrough in phaco technology, was approved by the US Food and Drug Administration (FDA) in April 2022, according to ZEISS Medical Technology. It has the revolutionary QUATTRO Pump from ZEISS, which provides outstanding chamber stability irrespective of intraocular pressure (IOP) and flow.
Intelligent Retinal Imaging Systems (IRIS) and Biomedix sign a strategic partnership agreement in February 2021. By supporting them in preventing or swiftly identifying diabetic retinopathy, our collaboration has a substantial influence on health plans and diabetic patients.
Major Key Players:
Visunex Medical Systems
Eye Photo Systems
MergeHealthcare
D-EYE
Imagine Eyes
Natus Medical
Servicom Medical
Market Segmentation:
By Disease Type
ROP
Retinal Disease
Strabismus
Refractive Error
Color Blindness
Others
By Device Type
Basic Device
Wireless Device
By End-User
Hospitals
Ophthalmology Diagnosis Centers
Ambulatory Surgical Centers
Others
Buy this Research Report@ https://www.precedenceresearch.com/checkout/2546
You can place an order or ask any questions, please feel free to contact at sales@precedenceresearch.com | +1 9197 992 333