The global plant-based food market size was exhibited at USD 39.8 billion in 2022 and is projected to attain around USD 87.12 billion by 2032, growing at a CAGR of 8.2% during the forecast period 2023 to 2032.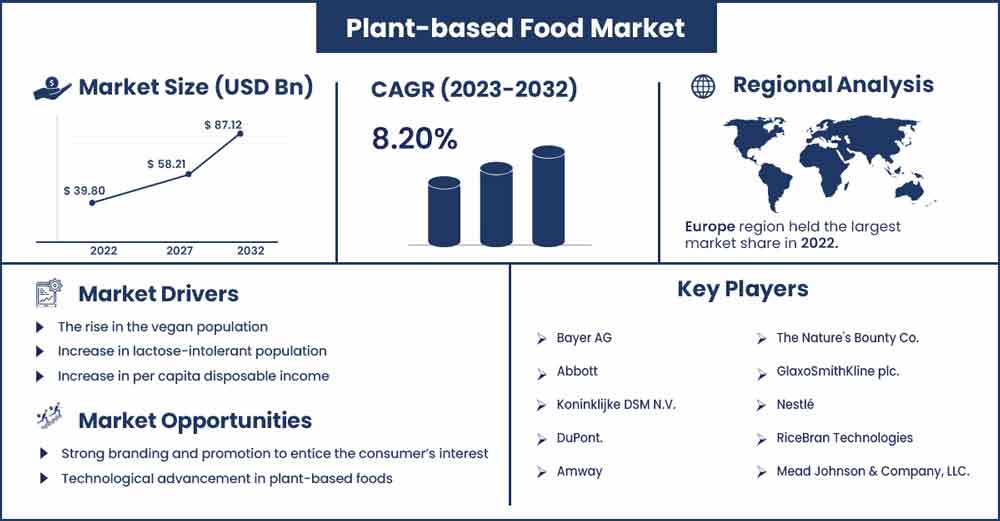 Plant-based foods are dairy-free or meat-free meals made from plant-based ingredients. Meat substitutes are products that taste, smell, and look like real meat yet are healthier than meat. These items are increasingly being utilized as meat and meat product alternatives. They are often made of soy, wheat, peas, and other ingredients. Plant-based meals are high in protein, minerals, and nutrients, and their popularity is fast increasing. The plant-based meal business is predicted to grow significantly in the next years because to its high nutritious content and ecologically benign nature. Recognizing the growing acceptance of plant-based meals and food, some companies are developing plant-based foods with clean-label and plant-based ingredients. However, the growing cost of plant-based meals is anticipated to limit growth, especially in countries with low consumer per capita income.
Report Highlights:
On the basis of product type, plant-based food is segmented into dairy substitutes, meat substitutes, seafood substitutes, baked goods and confectionery, RTD beverages, RTE meals, and others. As the lactose-intolerant population grows and consumers' moral concerns about animal abuse in existing dairy farming practices develop, the dairy alternatives category will constitute the overwhelming portion of the plant-based food sector.
On the basis of source, plant-based food is segmented into soy, wheat, peas, canola, lentil, and others. The soy category will represent the majority share of the plant-based food industry. Soy is an important plant protein with several cardiovascular advantages. It lowers blood pressure and strengthens the heart which encourages the consumer to opt for soy-based foods.
On the basis of distribution channels, plant-based food is segmented into supermarkets and hypermarkets, specialty stores, HoReCa, convenience stores, and online sales. The plant-based food sector will be dominated by the HoReCa category. This segment's expansion is due to expanding development, rising discretionary money, and rapid expansion of hotels, restaurants, and cafés across the globe.
Plant-based Food Market Report Scope:
| | |
| --- | --- |
| Report Coverage | Details |
| Market Revenue in 2023 | USD 42.86 Billion |
| Projected Forecast Revenue by 2032 | USD 87.12 Billion |
| Growth Rate from 2023 to 2032 | CAGR of 8.2% |
| Largest Market | Europe |
| Base Year | 2022 |
| Forecast Period | 2023 to 2032 |
| Regions Covered | North America, Europe, Asia-Pacific, Latin America, and Middle East & Africa |

Regional Snapshots:
Europe has been established as the largest market for plant-based foods globally. In recent years, the demand for meat in the UK, Germany, France, and other nations, mainly in Western Europe, has decreased. Canned meats, convenience foods, hamburgers, pies, steaks, meatballs, sausage rolls, and other goods are popular in the region. The European plant-based meat market is highly competitive. Furthermore, Quorn Foods, a key competitor in the European meat substitute industry, has concentrated on market expansion while improving its manufacturing capacity to solidify its market position. According to the World Health Organization (WHO), 30% to 70% of individuals in European Union nations are overweight. Due to the greatest prevalence of obesity, the UK has emerged as the region's largest market for meat substitutes. Furthermore, other Western European nations, such as France and Germany have emerged as significant markets for meat alternative products as health consciousness and veganism have grown. As a result, the spike in the requirement for meat substitute products is likely to boost the expansion of the plant-based food industry in Europe.
Market Dynamics:
Drivers:
To accommodate customer demand, manufacturers are developing new items. According to the Good Food Institute, the European Food Safety Authority (EFSA) issued their scientific conclusion in October 2021, saying that Eat Just's mung bean protein, the essential ingredient in the company's plant-based egg, is safe to consume. The European Commission accepted red bean amino as an authorized new food in April 2022, paving the door for commercial release in the European Union in late 2022. Looking at the plant-based meat category, the previous three years have all experienced significant growth, with new product releases growing each year from 2019 to 2021, enhancing diversity and consumer access to the sector. As customers are given more options, such a product introduction will present a potential for market expansion.
Restraints:
Protein is a source of amino acids, and adequate protein intake is critical for maintaining the health and development of muscles. Animal proteins are complete proteins as they contain all the essential amino acids required in a complete meal. Animal protein is linked with nutritional benefits and assists in lowering the risk of type 2 diabetes, lowering the risk of heart diseases and maintaining body weight. Awareness regarding the nutritional benefits of animal proteins is increasing among the global population and especially health-conscious consumers, therefore increasing the consumption of animal protein. The higher availability of animal protein in the market due to increased livestock farming complemented by cost-effective pricing by manufacturers is encouraging them to opt for animal protein products. The increase in demand for animal protein by the non-vegetarian population is acting as a barrier for growth of plant-based foods.
Opportunities:
Manufacturers of plant-based seafood products are carrying out technological advancements to reduce the cost of products, mimicking the taste of original seafood products. Eat beyond is investing in innovation, focusing on growing the alternative protein industry, and addressing the global demand for food security through the efficient creation of animal-free protein. The recent advancements are optimized texturization through high-moisture extrusion, shear cell, and 3D printing which is required for mimicking the taste of original seafood, crop breeding specifically for plant varieties with high protein content and functionality and others. Such technological advancements will help the market to grow at a significant rate.
Recent Developments:
Nestle introduced plant-based minced, ground meat and an upgraded version of the fantastic burger, in various European nations like Germany, Norway, Austria, and Sweden in August 2019.
Major Key Players:
Bayer AG
Abbott
Koninklijke DSM N.V.
DuPont.
Amway
The Nature's Bounty Co.
GlaxoSmithKline plc.
Nestlé
RiceBran Technologies
Mead Johnson & Company, LLC.
Medifast, Inc.
Premier Nutrition Corporation
TOOTSI IMPEX Inc.
U.S. Spice Mills, Inc.
Health Food Manufacturers' Association
NOW Foods
Glanbia PLC
Herbalife International of America, Inc.
Bionova
Puris
Ingredion GmbH
Morning Star Farms
Sotexpro
Tyson Food, Inc.
Glanbia Plc
Ocean Hugger Foods
Good Catch Foods
Impossible Foods, Inc.
New Wave Foods
Sophie's Kitchen, Inc.
Gardein
Quorn (Monde Nissin Corporation)
Market Segmentation:
By Product Type
Dairy Alternatives
Meat Alternatives
Seafood Alternatives
Baked Goods and Confectionery
RTD Beverages
RTE Meals
Others
By Source
Soy
Wheat
Pea
Canola
Lentil
Others
By Distribution Channel
Supermarkets and Hypermarkets
Specialty Stores
HoReCa
Convenience Stores
Online Sales
Buy this Research Report@ https://www.precedenceresearch.com/checkout/2585
You can place an order or ask any questions, please feel free to contact at sales@precedenceresearch.com | +1 9197 992 333