The global portable oxygen concentrators market size surpassed USD 2.54 billion in 2022 and is expected to attain around USD 5.7 billion by 2030, expanding at a strong CAGR of 10.61 percent throughout the projection period from 2022 to 2030.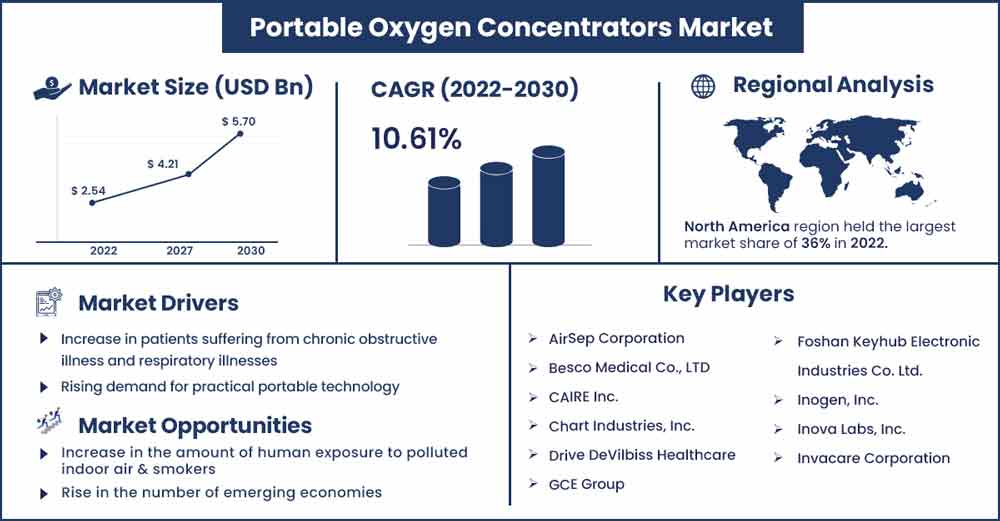 People experiencing breathing problems can receive oxygen through the use of a portable oxygen concentrator, a piece of hospital device. To provide the client with liquid oxygen, the equipment separates oxygen and nitrogen from of the surrounding air. POCs have two blood oxygenation methods, pulse dosing, and continuous flowing, a plug-in power supply, a knob to adjust the flow velocity, an alert indicator, and an inlet for a nasal prong. The design of portable gas extractors has evolved as companies have produced them in shorter, more mobile sizes. Patients now can transfer portable gas inverters more rapidly because the present generation has become more mobile and therefore can fit inside a car.
Distributors aim to sell the most compact and lightest portable oxygenation concentrators, while original equipment producers of these devices compete to advance the products mechanically and technically. For instance, Servotech Electric Grid revealed in June 2022 that it will launch a medical-grade aeration harvester in India and improve the product's exposure to increase sales for the manufacturer by partnering with famous higher education institutions like IIT Jammu. Additionally, by investing money and establishing reasonable reimbursement policies, the government and private groups are encouraging business expansion. Strategic moves like purchases or acquisitions among corporations encourage and provide platforms for new market players.
Report Highlights:
Because of population aging and growth in the prevalence of chronic respiratory diseases worldwide, it is anticipated that the number of individuals needing hospital oxygen would gradually climb. The COVID-19 pandemic, the most recent in a line of respiratory infections, was blamed for the temporary increase in unit purchases of portable gas condensers. The market grew in 2022 as a consequence of an increase in hospitalization, respiratory issues, and a rise in diseases needing oxygen concentrators. The rapid number of elderly, growing incidence of respiratory illnesses, especially chronic obstructive pulmonary disease, and growing recognition and knowledge of compressed air condensers are projected to propel the demand for these devices over the next years. Additionally, throughout the forecast period, advancements in health systems & favorable reimbursement guidelines are anticipated to drive the worldwide portable gas concentrators industry.
Regional Snapshots:
Because of its developed healthcare system and growing knowledge of cutting-edge treatment options, North America dominates the global market for portable oxygen concentrators. The industry's rate of growth in just this country will also blossom due to the development of minimally invasive techniques. Due to the increased frequency of chronic illnesses including asthma and COPD as well as the expansion of the healthcare industry in this area, Asia-Pacific is anticipated to expand between 2022 and 2030.
Portable Oxygen Concentrators Market Report Scope:
| | |
| --- | --- |
| Report Coverage | Details |
| Market Revenue in 2023 | USD 2.81 Billion |
| Projected Forecast Revenue in 2030 | USD 5.7 Billion |
| Growth Rate from 2022 to 2030 | CAGR of 10.61% |
| Largest Market | North America |
| Base Year | 2022 |
| Forecast Period | 2022 To 2030 |
| Regions Covered | North America, Europe, Asia-Pacific, Latin America, and Middle East & Africa |

Market Dynamics:
Drivers:
The rate of industry expansion will be driven by a rise in the incidence of chronic disorders between 2022 and 2030. One of the main drivers of industry growth is the increased incidence of respiratory illnesses, such as asthma and sleep disorders. The population ages, which is prone to various illnesses, as well as the increased need for useful portable technologies, are driving the market forward. The industry for pressurized air extraction techniques will be significantly affected by the rise in environmental pollutants that are inhaled daily. In addition, rising urbanization and high levels of discretionary income are the main factors promoting the growth of the portable concentrator sector. The industry for portable condensers will be further driven by rising healthcare costs and people's continually evolving lifestyles, 2 extra significant market drivers.
Restraints:
The market for portable gas condensers will experience slower growth because of the high price of oxygen extractors. The market for portable gas extractors will face difficulties due to a lack of qualified workers and tight regulatory requirements. Furthermore, during the projected timeline of 2022–2030, the COVID–19's effects on the distribution chain and restricted reimbursements would act as restraints and then further impede the market's growth pace.
Opportunities:
In addition, the business is growing as a result of an increase in the amount of human exposure to polluted indoor air & smokers. These opportunities will be advantageous to the industry of portable condensers. A rise in the number of emerging economies as well as higher adoption rates of cutting-edge innovations will further generate positive possibilities for the growth of the portable concentrators industry all through the course of the forecast period.
Challenges:
The biggest barrier inhibiting the widespread usage of portable extraction methods is the high cost of the item. POC acceptability is constrained in emerging markets since there is less disposable income available and the device is more expensive than in developed countries. Furthermore, the government's tough regulations and reimbursement standards are impeding the business expansion of portable extractors. Changes in the FDA's approval procedure for surgical supplies in various countries are impeding the sector to growth. The industry's growth may also be negatively impacted by a lack of qualified experts and a limiting increase in comprehension.
Recent Developments:
A variety of medical-grade oxygenated heat exchangers had been introduced by Servotech Energy Plants in June 2021. Servotech has expanded the breadth of its network of key collaborations by partnering with IIT Jammu and IISER Bhopal to convey expertise for the manufacturing of o2 extractors in India and make its product truly indigenous. Hospitals, medical facilities, universities, corporate bodies, and other significant stakeholders that demand the item will receive concentrators from Servotech.
Inogen, Inc. unveiled the Inogen One G5, a small, multifuel generator made to suit patient oxygen needs, in April 2019.
Precise Medicine released the Live Active 5 portable generator in October 2019. The drug was created for those with chronic obstructive pulmonary disease and other respiratory disorders, and it can be helpful.
In October 2018, NGK SPARK PLUG Corporation, Limited announced that it had bought the oxygen-related products businesses of CAIRE, Incorporated in The Us, Chart BioMedical (Chengdu) Corporation, Limited in China, and Chart BioMedical Limited in the United Kingdom. This move was made to strengthen its position in the international market for air compressor condensers. This step helped the company improve the marketability of its product line.
For those with COPD and other respiratory conditions, ResMed unveiled "Mobi," its second portable gas extraction product, in January 2018.
Major Key Players:
AirSep Corporation
Besco Medical Co., LTD
CAIRE Inc.
Chart Industries, Inc.
Drive DeVilbiss Healthcare
Foshan Keyhub Electronic Industries Co. Ltd.
GCE Group
Inogen, Inc.
Inova Labs, Inc.
Invacare Corporation
Koninklijke Philips N.V
Nidek Medical
O2 CONCEPTS LLC.
Oxus America, Inc.
Philips Respironics
Precision Medical, Inc.
ResMed
Smith's Medical, Inc.
Zadro Health Solutions
Market Segmentation:
By Product Type
By Technology
Continuous Flow
Pulse Flow
By Indication
Chronic Obstructive Pulmonary Disease (COPD)
Asthma
Sleep Apnea
Others
By Application
Homecare
Travel
Hospital
Others
Buy this Research Report@ https://www.precedenceresearch.com/checkout/2317
You can place an order or ask any questions, please feel free to contact at sales@precedenceresearch.com | +1 9197 992 333