The global rehabilitation equipment market size surpassed USD 18.1 billion in 2022 and it is projected to rise USD 30.19 billion by 2032, anticipated to grow at a CAGR of 5.3 percent during the projection period from 2023 to 2032.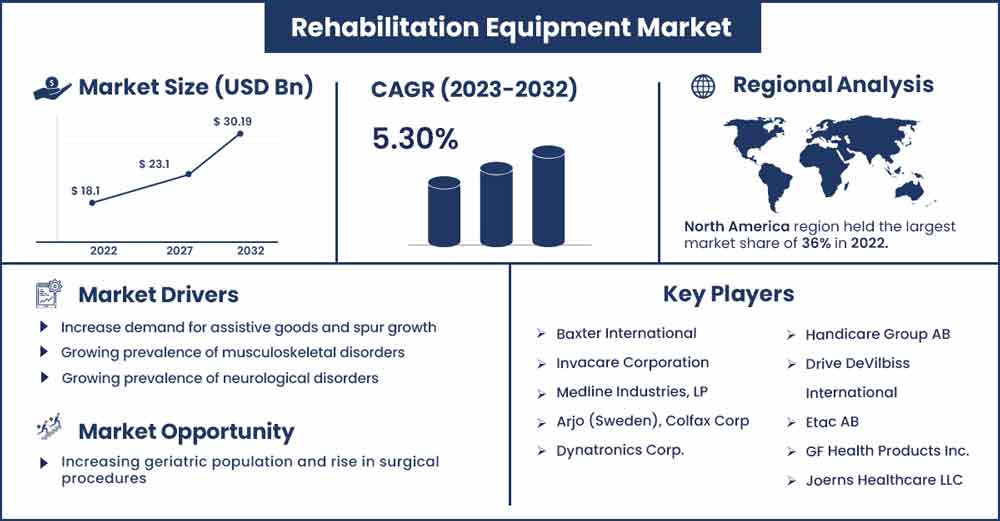 The term "rehabilitation" describes a group of actions intended to improve or restore human capacities through various forms of training, therapy, and drugs. Devices for continuous passive motion, body support, walking assistance treatment, and mobility are a few of the often utilised rehabilitation tools. These techniques are used to aid in the prevention of secondary impairments, improve range of motion, build stronger muscles, and increase strength, coordination, and endurance. Because of this, it is frequently used in physiotherapy and occupational therapy operations. This helps to reduce the risk of mental and physical issues.
The rising incidence of chronic diseases like cancer and arthritis, which call for rehabilitation therapies, the high risk of caregiver injuries when handling patients manually, the rising obese populations, in addition, the rising demand for rehabilitation treatments as a result of improved access to the healthcare system are the main factors driving the growth of this market. However, the major obstacles in the industry include reimbursement concerns and ongoing challenges with managing bariatric patients.
Regional Snapshots:
The greatest portion of the world market for rehabilitation equipment was in Europe. The enormous contribution from economically secure and technologically sophisticated nations like Germany, the United Kingdom, and France is credited with contributing significantly to the large proportion of this regional market. The expansion of the market in Europe is being driven by an aging population and an increase in the frequency of musculoskeletal ailments in these nations. The market in Asia-Pacific is anticipated to grow at the greatest CAGR over the forecast period. The expanding number of healthcare institutions and rising healthcare costs in Asian nations are credited with driving market expansion in the Asia Pacific region.
Rehabilitation Equipment Market Report Scope:
| | |
| --- | --- |
| Report Coverage | Details |
| Market Revenue in 2023 | USD 18.97 Billion |
| Projected Forecast Revenue in 2032 | USD 30.19 Billion |
| Growth Rate from 2023 to 2032 | CAGR of 5.3% |
| Largest Market | North America |
| Base Year | 2022 |
| Forecast Period | 2023 To 2032 |
| Regions Covered | North America, Europe, Asia-Pacific, Latin America, and Middle East & Africa |

Report Highlights:
North America dominated the field and is anticipated to maintain its dominance for the duration of the prediction. With a promising CAGR of 8.2% over the course of the anticipated year, Asia Pacific is expected to be the region's fastest-growing market.
With about 33.1%, hospitals had the highest percentage in 2019. It is projected that this market segment would grow greatly over the next years due to hospitals' enormous patient numbers.
Over the course of the projection period, the market is anticipated to be driven by an ageing population, shifting lifestyles, a rise in physiotherapy clinics, and supporting healthcare reforms.
The mobility equipment category dominated the market as a whole, with a share of 37.1%.
Market Dynamics:
Drivers:
Caretakers who manually handle impaired people risk suffering serious musculoskeletal injuries. Since the patient must be physically pulled over the bed and onto a stretcher by caregivers, there is an increased risk of back injuries during lateral transfers. This motion puts the caregiver's body into an uncomfortable posture, which may hurt their musculoskeletal system.
Both direct as well as indirect costs are associated with injuries that occur in healthcare facilities. Direct costs relate to the cost of medical care and the number of man-days missed from work, but indirect costs are much harder to quantify and include caregivers' impaired function. Even after several months, healthcare workers still report significant discomfort from workplace accidents. Additionally, caregiver injuries have an impact on patient care because it's typically not possible to immediately replace wounded employees. Because fewer caregivers are required to move than lift a similar number of patients, the quality of carefulness is impacted, particularly for patients with restricted mobility.
As a result, patients stay in hospitals for longer periods of time, increasing the entire cost of healthcare. The usage of mobility solutions, such as wheelchairs and patient lifts, has increased throughout healthcare facilities since the establishment of safe rehabilitation care programs. Caregiver injuries are caused by the physical handling of patients while they are moved between rehabilitation care facilities. This compromises the health and well-being of patients while also causing lost workdays and financial losses. Healthcare institutions are concentrating on giving the best service possible without endangering their staff in order to overcome these obstacles. As a consequence, the market for rehabilitation equipment is growing due to a rise in demand for equipment such as slings, patient lifts, and wheelchairs.
Restraints:
The expansion of this market is anticipated to be constrained by a lack of knowledge regarding the efficient usage of rehabilitation equipment. For instance, failing to receive the right care and rehabilitation after a stroke can have serious negative impacts on how the body functions. Patients may completely ignore the signs of serious diseases as a result of this absence of awareness, which has an impact on how rehabilitation is used. In nations like Taiwan and Malaysia, where the consequences of this issue are exacerbated by a lack of adequate infrastructure and labor, this is a major issue. Patient access to therapy and related tools is also impacted in this circumstance. Access to rehabilitation equipment is often limited by other reasons, such as inadequate referrals and family members' lack of understanding about available rehabilitation options.
Individuals with incapacities in low, as well as middle-income nations, have limited access to rehabilitation treatments. Evidence reveals that there are several hurdles that prevent persons with impairments from obtaining healthcare services. The expansion of this industry is being constrained by the lack of accessibility to rehabilitation treatments.
Opportunities:
Government rules are being put into place on a global scale to shorten the time and expense of medical procedures. Providing care in a patient's home is often less expensive than doing it in a facility, especially if the informal care that is already available is utilized well. Additionally, the home care market is anticipated to have considerable expansion in the upcoming years due to the development of new technologies like remote patient monitoring. In the upcoming years, the need for equipment needed for treating patients in home care settings, such as mobility devices, patient transfer devices, and hospital beds, will rise in response to the rising demand for home care.
Challenges:
A crucial factor that directly influences the use of medical devices for rehabilitation is reimbursement. The cost of many devices in this sector may be prohibitive for patients, they will have to rely on repayment to have access to the equipment. Only a small portion of rehabilitation equipment, including hospital wards, patient elevators, commode seats, crutches, walkers, wheelchairs, and scooters, is covered by various organisations, including Medicare and Medicaid in the US. For patients as well as potential customers, the enrollment process' complexity is a major barrier to obtaining reimbursements for rehabilitation equipment. In addition, medical professionals must prescribe the necessary rehabilitation equipment in order for it to be covered by insurance. This could prevent the use of rehabilitative devices for home healthcare.
Recent Developments:
Tyromotion purchased the assets of yband treatment AG in July 2020 to encourage patient responsibility in rehabilitation procedures using movement trackers. By enhancing their product offering, the firm will help them establish their presence in the market.
Bioness Inc. announced the commercial release of its newest Bioness Integrated Therapy Systems (BITS) for rehabilitation centers in October 2020. The strategic move will help the business grow both its client base and product portfolio.
Major Key Players:
Baxter International
Invacare Corporation
Medline Industries, LP
Arjo (Sweden), Colfax Corp
Dynatronics Corp.
Handicare Group AB
Drive DeVilbiss International
Etac AB
GF Health Products Inc. (US)
Joerns Healthcare LLC
Prism Medical UK Ltd.
Guldmann
EZ Way Inc.
LINET (Czech Republic)
Carex Health Brands
Roma Medical
Caremax Rehabilitation Equipment Co. Ltd.
Antano Group
Ossenberg GmbH
WINNCARE
Sunrise Medical LLC
TecnoBody
Enraf-Nonius
Proxomed
Market Segmentation:
By Product
Therapy Devices
Daily Living Aids

Medical Beds
Bathroom & Toilet Assist Devices
Reading Writing & Computer Aids

Mobility Equipment

Wheelchairs & Scooters
Walking Assist Devices

Exercise Equipment

Lower Body Exercise Equipment
Upper Body Exercise Equipment

Body Support Devices

Patient Lifts
Medical Lifting Slings
Others
By Application
Physiotherapy
Occupational Therapy
Strength, Endurance
Pain Reduction
By End-Use
Hospitals & Clinics
Rehab Centers
Home Care Settings
Physiotherapy Centers
Buy this Research Report@ https://www.precedenceresearch.com/checkout/2327
You can place an order or ask any questions, please feel free to contact at sales@precedenceresearch.com | +1 9197 992 333