The global solar cell market size was evaluated at USD 108.8 billion in 2022 and is expected to touch over USD 508.18 billion by 2032, representing at a CAGR of 17.2% during the forecast period 2023 to 2032.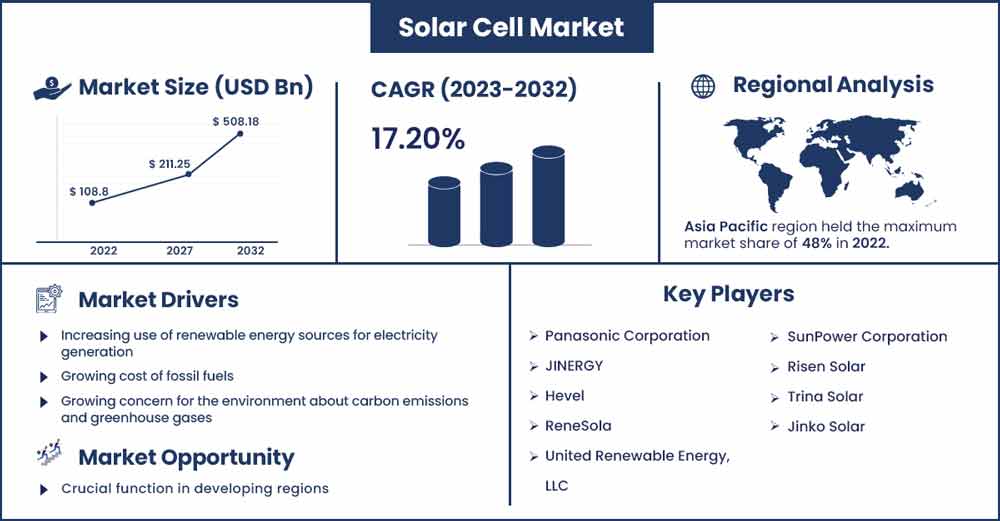 The need for sustainable technology, such as solar cells, has been fuelled by the growing intake of sources in renewable energy across major countries. Government incentives that are expected to encourage investment in the solar business include tariffs, auctions, and tax breaks. Additionally, as technology advances quickly and the general public becomes more aware of them, solar cells will transition from being a costly and risky sector to one that is affordable and highly efficient, which will increase demand in the years to come. Solar heating, photovoltaic cells, and other technologies may all be used to capture solar energy, which is the radiant energy that the sun releases. It is a practical renewable energy source that successfully fights both the growing greenhouse gas emissions and global warming.
Due to the growing worries about increasing carbon footprints worldwide and the efforts of policymakers to adopt cleaner fuels and technologies throughout the residential, industrial, and commercial sectors, solar cells are predicted to experience significant growth over the forecast period. Major players in the solar cell industry have boosted their R&D efforts in order to create novel technologies and achieve economies of scale to improve their market share. To increase their reach and service a larger consumer base, these leaders are also implementing strategic alliances, acquisitions, agreements, and joint ventures, which will help the sector flourish over time. To further impact their position in the market and spur demand growth across the industry, the leading market shareholders are also involved in forward and backward integration with after-sale service providers and raw material suppliers.
Report Highlights:
It is anticipated that rising power demand and increasing adoption of renewable energy sources would propel market growth for the solar cell sector.
The BSF segment's USD 3.9 billion in sales in 2021 was driven by the deployment of efficient substitutes.
During the projected period, monocrystalline cells are expected to keep their market-leading position, while multi crystalline silicon cells are expected to grow at the fastest pace, reaching 25.0%. The technological simplicity of the production process, which results in lower product costs compared to rivals, is expected to promote market expansion.
By 2022, Europe's demand for solar cells would have surpassed 45% of the total capacity deployed globally. Growth is predicted to be supported throughout the foreseeable period by the availability of favorable government incentives and regulations connected to PV installations.
The use of solar energy has increased significantly over the world, and from 2023 to 2032, the market is expected to grow by 20.5%.
Solar Cell Market Report Scope:
| | |
| --- | --- |
| Report Coverage | Details |
| Market Revenue in 2023 | USD 122.07 Billion |
| Projected Forecast Revenue in 2032 | USD 508.8 Billion |
| Growth Rate from 2023 to 2032 | CAGR of 17.2% |
| Largest Market | Asia Pacific |
| Base Year | 2022 |
| Forecast Period | 2023To 2032 |
| Regions Covered | North America, Europe, Asia-Pacific, Latin America, and Middle East & Africa |

Regional Snapshots:
By 2032, the market for solar cells in North America is anticipated to reach $1.5 billion. Increasing energy demand will be complemented by government initiatives to increase the use of renewable energy sources in the energy mix in order to reduce rising carbon emissions. Additional financial incentives, renewable energy grid rules and refunds, and investment tax credits, have been provided by regulators to encourage the use of sustainable technology, such as solar cells. Along with increased PV installations in corporate headquarters and off-site business & industrial locations, rising voluntary solar system purchases by utilities will further fuel regional growth.
Market Dynamics:
Drivers:
Solar cell demand has significantly grown as a result of more rooftop installations, which has in turn stimulated activity in the architectural sector. Similarly, it is predicted that the need for solar power halls and parabolic troughs in the production of energy would push the market for concentrated solar power systems. One of the key factors fueling the growth of the worldwide solar power business is the growing cost of fossil fuels. The growing concern for the environment about carbon emissions and greenhouse gases. Additionally, throughout the predicted time frame, the global market for solar energy will grow as a result of rising government initiatives and encouraging laws to lessen the adverse effects of hazardous gas emissions.
Restraints:
One of the main obstacles to the expansion of the solar cell industry is the intermittent nature of solar energy. Due to the variation in sun irradiation intensity during the day and across the seasons, solar power system output changes greatly. Due to its sporadic nature, grid planning procedures become more frequent and backup power is required to meet the increased demand for electricity. A backup power system does exist in certain solar PV facilities, but it has to be enhanced. As a result, good demand management, power adjustment, and auxiliary systems based on energy storage systems and grid changes are crucial for the efficient use of solar energy. While other renewable energy sources like pumped hydropower employ the reverse flow of water into the reservoir to create energy, solar power's intermittent nature still requires the usage of specialized technologies. As a result, solar energy adoption is impacted by its erratic availability, which is anticipated to restrain the growth of the worldwide panels market over the forecast period.
Opportunities:
One of the key factors impacting the growth of the solar panel industry is floating solar PV projects. An inventive way to deploy solar PV systems over water infrastructure is with floating solar PV technology. This novel technique aids in water conservation since floating panels lessen water loss from evaporation. In comparison to land-based systems, these floating panels operate at lower temperatures, increasing the effectiveness of power generation.
In recent years, several floating panel projects have been created in reservoirs, lakes, and ponds. During the projection period, it is predicted that these initiatives would raise demand for solar PV systems and, therefore, solar panels. Developing such floating solar PV systems has already begun in nations including China, India, Japan, and South Korea. For instance, Huainan City and Pei County in China are home to two of the largest floating solar PV projects. Similar to this, South Korea has several floating solar PV facilities in the provinces of Jipyeong, Otae, and Cheongpung Lake.
Challenges:
The issue of load shedding is one that the growing and undeveloped areas deal with frequently. The market participants are making significant efforts in those areas to support the expansion and growth of the solar power industry. Solar energy is viewed as an effective and affordable solution for the production of electricity. Furthermore, the government is making ongoing attempts to advance and broaden the energy sector. During the projected period, this aspect will have a direct influence on the expansion and growth of the global solar power market.
Recent Developments:
In September 2022, a big European provider of sustainable energy solutions will purchase a sizeable number of solar panels from Trina Solar Co., a provider of PV as well as smart energy overall solutions. The 588,000 Vertex DEG21C.20 bifacial solar modules will be housed in the 379 MW project, which will be located close to Alcántara in Extremadura located in Spain.
As of October 2022, JinkoSolar Holding's 182 mm N-type monocrystalline silicon solar cell represents a substantial technical leap. The National Institute of Metrology in China has confirmed that JinkoSolar's large-size monocrystalline silicon TOPCon solar cells measuring 182 mm and above have the greatest sunlight conversion efficiency of 26.1 %
Major Key Players:
Panasonic Corporation
JINERGY
Hevel
ReneSola
United Renewable Energy, LLC
SunPower Corporation
Risen Solar
Trina Solar
Jinko Solar
Market Segmentation:
By Material
By Product
BSF
PERC/PERL/PERT/TOPCON
HJT
IBC & MWT
Others
By Technology
Monocrystalline
Polycrystalline
Cadmium Telluride (CDTE)
Amorphous Silicon (A-Si)
Copper Indium Gallium Diselenide
By Installation Type
Residential
Commercial
Utility
Buy this Research Report@ https://www.precedenceresearch.com/checkout/2339
You can place an order or ask any questions, please feel free to contact at sales@precedenceresearch.com | +1 9197 992 333