The global solar farm market size was evaluated at USD 73.68 billion in 2022 and is expected to touch around USD 267.8 billion by 2030, growing at a noteworthy CAGR of 17.51% from 2022 to 2030.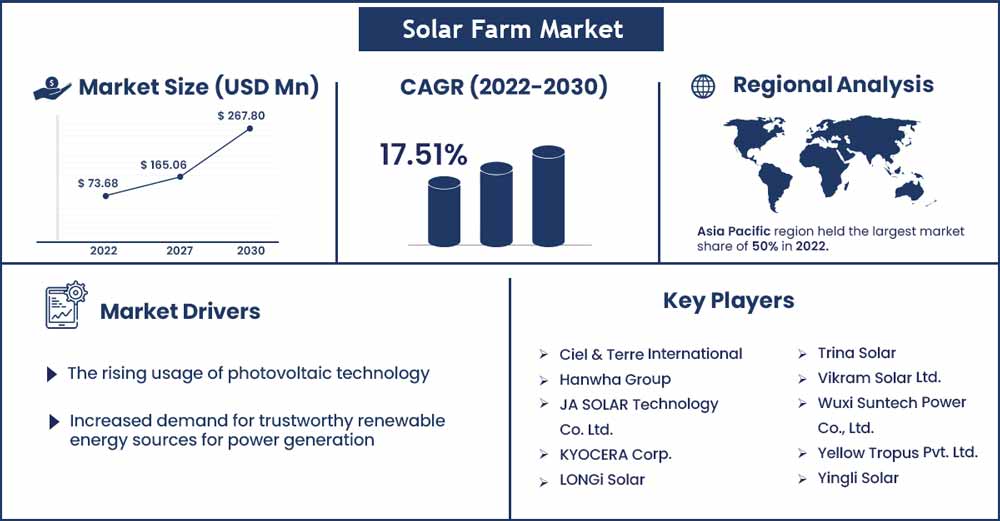 Government policies that encourage the use of photovoltaic technology are propelling the global solar farm business forward. Asia-Pacific had the biggest revenue market share in 2022 and is expected to retain its dominance by 2030. The production of solar farms has been hampered by the lockdown in several nations throughout the world. Furthermore, raw resources have been in limited supply. Solar farms are places with a large number of solar panels built to gather and generate power from the sun. These differ from rooftop solar systems and commercial solar power systems in that they are made up of decentralized ground-mounted panels that are widely spread over the land to give electricity to homes, businesses, and electric grids.
The reduction of energy-related CO2 emissions is important to the energy revolution. Rapidly transitioning away from the usage of fossil fuels that causes climate change and toward cleaner renewable forms of energy is crucial if the world is to meet the Paris climate targets. This shift is being driven by a number of factors. First, the cost of renewable energy is rapidly declining. In 2018, the global weighted average cost of energy from all commercially accessible renewable power production technologies fell further.
Rising worries about climate change, the health consequences of air pollution, energy independence, and access to energy, as well as unpredictable oil prices in the past few decades, have necessitated the development and deployment of alternative, low-carbon technological solutions such as renewables. Over the years, solar PV has been a pioneering renewable technology. By the end of 2018, the total installed capacity of solar PV (excluding CSP) has surpassed 480 GW globally, making it the second-largest renewable energy source behind wind. Solar PV once again topped overall renewable and electric capacity increases last year, adding twice as much capacity as wind so more than other fossil fuels and nuclear combined, with solar PV additions totaling about 94 GW.
The cheap cost of PV (Photovoltaic) panels, together with the availability of various solar farm companies investing significantly in the market to create eco-friendly energy with less pollution than generated by fossil fuels, is primarily responsible for market expansion.
Report Highlights:
Increased demand for first-generation cells, which comprise both monocrystalline and polycrystalline silicon cells, has been spurred by an increase in solar applications. The third-generation cells category is predicted to develop rapidly due to continued R&D in the solar industry and a rise in solar panel efficiency. Increased installation of solar energy systems in architectural and residential applications has created attractive business potential.
The COVID-19 epidemic has impacted worldwide supply chains and commercial activities. While the pandemic has a substantial influence on 2020 solar farm demand, market predictions do take industry trends into consideration, with best estimates for how the COVID-19 pandemic will impact the solar farm market in different industry types.
Solar Farm Market Report Scope:
| | |
| --- | --- |
| Report Coverage | Details |
| Market Revenue in 2023 | USD 86.57 Billion |
| Projected Forecast Revenue in 2030 | USD 267.8 Billion |
| Growth Rate from 2022 to 2030 | CAGR of 17.51% |
| Largest Market | Asia Pacific |
| Base Year | 2022 |
| Forecast Period | 2022 To 2030 |
| Regions Covered | North America, Europe, Asia-Pacific, Latin America, and Middle East & Africa |

Regional Snapshots:
Asia Pacific dominated the worldwide market and is expected to expand at the fastest rate during the forecast period. High power consumption, improving living conditions, and adequate solar irradiation are some of the primary factors driving regional market expansion. China alone will have deployed around 48 GW of solar plants by 2022.
In 2022, Europe was the second-largest market for solar energy. In 2022, the European Union (EU) nations deployed around 18.2 GW of solar PV plants. Supportive legislation, renewable energy objectives, and an increasing number of solar farms are driving industry expansion. The United States deployed 19 GW of solar plants in North America.
During the predicted period, the Middle East and Africa area also made substantial contributions. In 2022, the region deployed roughly 1.5 GW of solar PV projects, while numerous solar projects are now under construction.
Market Dynamics:
Drivers:
Deployment of renewable energy has grown in last decade, hitting record levels and striking power capacity expansions in several locations across the globe. Photovoltaic solar power installation has dominated the renewable market from the past decade, outperforming all other renewable technologies. As of the end of 2018, the global capacity of grid-connected and installed solar PV power has reached 480 GW, showing a 20% y-o-y increase over the year 2017 (386 GW) and a CAGR of approximately 43% since the year 2000.
Consumers can use photovoltaic energy for their own electrical needs and export the excess solar power to nations such as the United States, Spain, and France. When compared to other countries, China's solar photovoltaic sector has grown significantly. These rules encourage the adoption of photovoltaic technology. As a result, these restrictions are projected to have a favorable influence on the solar farm business. Furthermore, with the rising usage of photovoltaic technology, demand for solar farms is likely to skyrocket.
Restraints:
Despite the fact that PV technology is cost-effective and a great solution for a wide range of end-use applications, market development is stifled by the high capital costs involved with PV installations when compared to other developing renewable technologies. The expense of installing farms increases the overall cost of PV. As a result, overall PV system deployment is likely to be limited throughout the projection period. Furthermore, solar energy has a limited lifetime and must be stored in batteries for subsequent use. The batteries used to store solar energy are highly expensive, big in size, and require regular replacement, which will limit the expansion of the worldwide solar farms industry.
Opportunities:
Solar farming is likely to continue pushing total renewables growth in various locations over next decade, owing to the abundant resource availability, large market opportunity, and cost competitiveness. According to research, solar farming power installations might almost sixfold during the following 10 years, reaching a total capacity of approximately 840 GW globally by 2030 and rising to 8 519 GW by 2050. This suggests that overall installed capacity in 2050 will be about eighteen times greater than in 2018. In 2050, around 60% of total solar PV capacity would be utility scale, with the remaining 40% dispersed (rooftop).
International investment in small capacity distribution of solar PV systems (less than 1 megawatt [MW]) was $36.3 billion in the year 2018, a 15% decline from 2017. While India, Japan, Germany, Australia, and Netherlands remained key markets with over $1 billion each, the U.S., the largest market for comparatively tiny solar, had a 15% y-o-y reduction to $8.9 billion.
Challenges:
Despite the well-established benefits of commercially sustainable energy generation, the expansion of the solar energy sector is hampered by a number of roadblocks and bottlenecks encountered by solar power manufacturers across the world. The industry suffers primarily as a result of many limits, overlaps, and policy gaps in legislation, which operate as substantial difficulties and require immediate attention in order to market and gather solar energy. The regularly encountered obstacles of insufficiently qualified and experienced labour, a scarcity of vendors for efficient and quality equipment, and a strong reliance on conventionally produced energy form only a fraction of the significant technical issues faced in establishing a solar farm.
Recent Developments:
In March, 2022: First Solar, Inc. has entered in the definitive agreement with PAG Real Assets to acquire 293 megawatts DC utilities solar projects development platform in Japan. The deal is scheduled to conclude in the second quarter of 2022 for the project development platform and into the second half of the year 2022 for an O&M platform, if the regulatory clearances, third-party with consents, and the other normal closing conditions are met.
Major Key Players:
Ciel & Terre International
Hanwha Group
JA SOLAR Technology Co. Ltd.
KYOCERA Corp.
LONGi Solar
Trina Solar
Vikram Solar Ltd.
Wuxi Suntech Power Co., Ltd.
Yellow Tropus Pvt. Ltd.
Yingli Solar
Market Segmentation:
By Technology
Solar Photovoltaic
Mono-Si
Thin Film
Multi-Si
Others
By Type
Utility-Scale
Distributed Generation
Micro-Grids
Others
By End User
Residential
Commercial
Industrial
Buy this Research Report@ https://www.precedenceresearch.com/checkout/2145
You can place an order or ask any questions, please feel free to contact at sales@precedenceresearch.com | +1 9197 992 333