The global solar farm market size was estimated at USD 61 billion in 2022 and is expected to reach around USD 299.53 billion by 2032, growing at a CAGR of 17.3% over the forecast period from 2023 to 2032.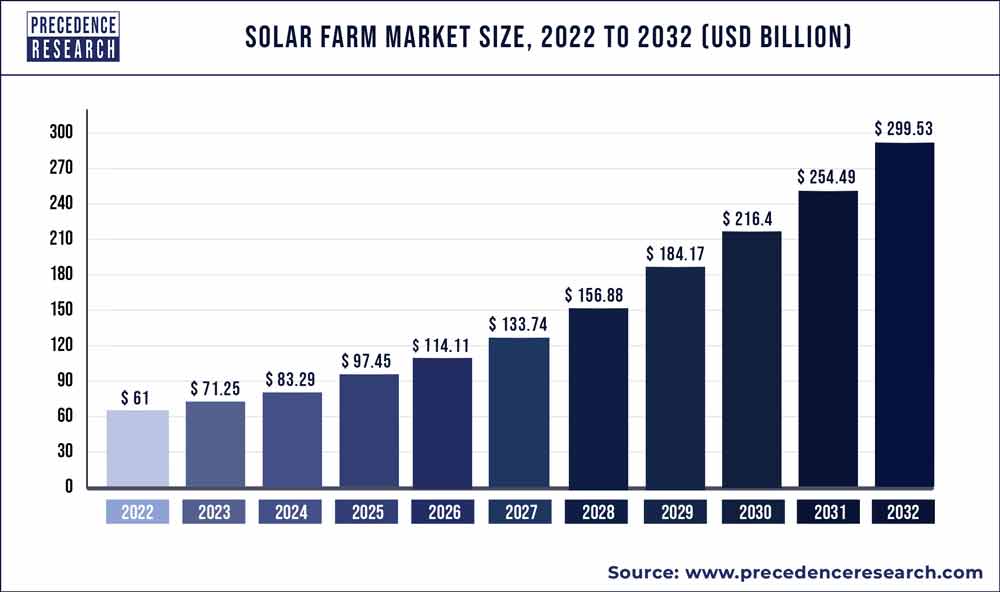 Access our Premium Real Time Data Intelligence Tool, Visit: Precedence Statistics
Key Takeaways:
The utility-scale segment is growing at a registered CAGR of 15.7% from 2023 to 2032.
The commercial segment is expected to grow at a CAGR of 16.5% from 2023 to 2032.
The industrial segment is expected to hit a CAGR of 16.3% over the forecast period.
Asia-Pacific is growing at a CAGR of 17.7% over the forecast period.
The solar water farm industry has grown rapidly in recent years, owing to the cheap cost of PV panels and the strong presence of solar water farm companies. Furthermore, public awareness of solar water farming is growing as a result of government legislation encouraging the production of electricity from renewable sources in order to reduce reliance on fossil fuels and reduce pollutant emissions. According to the United States Solar Energy Industries Association (SEIA), the government has enacted legislation such as net metering and community solar to encourage the use of photovoltaic technology to generate power. Consumers in nations such as the United States, Spain, and France can use photovoltaic energy for their personal electrical needs and sell the excess solar power. In comparison to other nations, China's solar photovoltaic business has grown significantly over the years. According to the China Photovoltaic Industry Association, China's photovoltaic energy capacity increased by 34% year on year in 2018. At the end of 2018, total installed PV capacity topped 170 gigatonnes, up from 136 gigatonnes in 2017. These rules encourage the adoption of photovoltaic technology. As a result, these restrictions are projected to have a favourable influence on the solar pump business. Furthermore, as photovoltaic technology becomes more widely used, the need for solar farms is likely to skyrocket.
As solar farms have been widely used in Asia-Pacific region is giving opportunities for the industry to grow. This is mostly due to an increase in demand for renewable power. Africa and the Middle East are two additional important markets with high solar farm market share. There is an increase in demand for solar energy-generated power. Kenya, Morocco, Namibia, and Nigeria are all predicted to provide significant market growth opportunities due to increased usage of solar technology. Increasing emphasis on clean fuel power generating energy sources, along with land scarcity, will drive the worldwide market over the forecast period. Regulatory bodies throughout the world are establishing a number of clean energy objectives that will aid in pollution management. Because of the increased demand for trustworthy renewable energy sources for power generation, the technical component of solar technology is expected to develop significantly throughout the predicted time.
If the land was previously actively maintained, solar farms have the ability to boost the biodiversity value of a site. Sheep grazing or an autumn cut with grass clipping removal might boost the site's flora richness. In Germany, for example, the solar park in Kobern-Gondorf serves as a natural reserve for endangered flora and animals. Solar parks, in general, have no detrimental environmental influence on the surrounding region or fauna. Of course, they provide a significant beneficial contribution to efforts to reduce CO2 emissions, which benefits the environment in general.
Growth Factors
The solar water farm industry has grown at a rapid rate, owing to the cheap cost of PV panels and the strong presence of solar water farm companies. Furthermore, public awareness of solar water farming is growing as a result of government legislation encouraging the production of electricity from renewable sources in order to reduce reliance on fossil fuels and reduce pollutant emissions. Consumers can use photovoltaic energy for their own electrical needs and export the excess solar power to nations such as the United States, Spain, and France. In comparison to other nations, the Chinese solar photovoltaic sector has grown significantly over the years. Unpredictable fossil fuel prices, the need to disassociate reliance on the fossil fuel imports from the areas of political volatility, the environmental concerns about the greenhouse gas emissions are associated with the fossil fuel use, government incentives, other supportive programms making the solar power more cost competitive, and the shift in consumer preference are the most important factors stimulating the growth of the solar power market overall. Many countries have established clean energy objectives and are attempting to meet them by shifting to renewable energies such as solar. A slew of changes are taking place on a worldwide scale. European nations, for example, are focusing the most on both PV and CSP technologies, while locations like as Germany, Italy, and the Czech Republic have seen significant development in PV installation. Spain has seen growth, mostly in the CSP industry.
Solar has grown at a 33 percent yearly rate on average over the previous decade. Presently there currently more than the 121 gigatonnes (GW) of the solar capacity built countrywide, enough to power 23.3 million homes, thanks to strong government policies such as the solar Investment Tax Credit, fast dropping costs, and rising demand for the sustainable electricity across the commercial and public sectors. Considering Over the last decade, the cost of the installing solar has a plummeted by more than a 60%, allowing the sector to grow into new areas and deploy thousands of the systems countrywide. The average-sized housing system has reduced from the pre-incentive price of $40,000 in year 2010 to around $20,000 till date, while utility-scale prices have recently ranged from $16/MWh to $35/MWh, making it competitive with all other kinds of generation.
Report Scope of the Solar Farm Market
| | |
| --- | --- |
| Report Coverage | Details |
| Market Size in 2023 | USD 71.25 Billion |
| Market Size by 2032 | USD 299.53 Billion |
| Growth Rate from 2023 to 2032 | CAGR of 17.3% |
| Base Year | 2022 |
| Forecast Period | 2023 to 2032 |
| Segments Covered | Technology, Type, End User and Geography |
| Companies Mentioned | Ciel & Terre International, Hanwha Group, JA SOLAR Technology Co. Ltd., KYOCERA Corp., LONGi Solar, Trina Solar, Vikram Solar Ltd., Wuxi Suntech Power Co., Ltd., Yellow Tropus Pvt. Ltd., Yingli Solar |
Segments Insights
Technology Insights
The worldwide solar farm market is divided into two segments based on technology: solar photovoltaic and concentrated solar power. Solar PV systems are further classified as mono-si, thin-film, multi-si, and others, while CSP is classified as power tower, parabolic trough, and linear fresnel. In 2022, the solar PV category retained a commanding proportion of the worldwide market. In 2022, around 120 GW of new solar PV plants were built.
In 2022, 120 GW of solar PV plants were installed globally. The decreasing cost of PV technologies, as well as increasing panel efficiency and energy yield, are driving the use of solar PV technology. Due to its high efficiency, small design, and durability, mono-si technology is likely to gain popularity in solar PV throughout the projection period.
The parabolic trough sub-segment within this segment is predicted to increase at the fastest rate over the projection period. It is one of the most widely used CSP technologies. This is due to the fact that the category has applications in all end-use industries.
Type Insights
The worldwide solar farm market is classified as distributed generation, utility-scale, microgrids, and others. The utility-scale category held the greatest market share of 45.5% in the worldwide solar farm market in 2022. Utility-scale solar farms are photovoltaic projects that may grow up to 1 GW and cover many acres of land. According to the SEIA, over 37,000 MW of utility-scale photovoltaic facilities are operational, with another 12,000 MW under construction.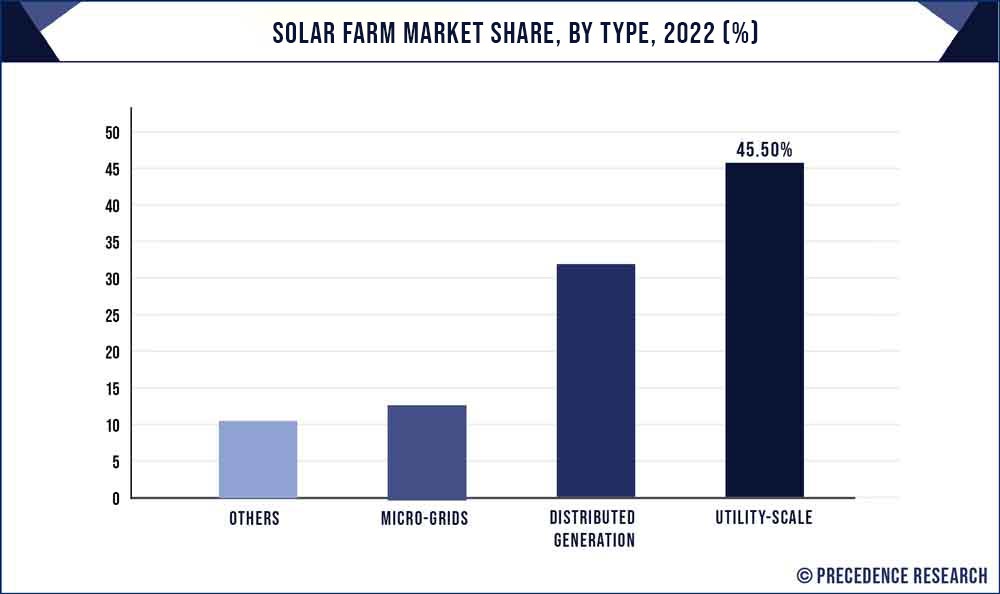 Because of the true depth of the purpose and its strength, these large-scale solar farms differ from common photovoltaic alternatives. The electricity generated through a power purchase agreement (PPA) is purchased by utility customers, or the farm is owned by the utility. The market is predicted to rise because to an increase in expenditures in grid expansion and integration technologies such as storage and UV connection.
Solar Farm Market Share, By Region, 2022 (%)
| | |
| --- | --- |
| Regions | Revenue Share in 2022 (%) |
| North America | 18% |
| Asia Pacific | 49% |
| Europe | 27% |
| Latin America | 4% |
| MEA | 2% |
Regional Insights
Asia-Pacific contributed the most income to the market. Solar energy is frequently used in Asia-Pacific to generate power for standalone systems and rural electrification. The expansion of the Asia-Pacific solar farm industry is being fueled by a surge in government programs for rural electrification, such as Akshay Urja. These programs are anticipated to increase demand for PV energy by distributing solar farms in rural regions. Such measures are projected to increase demand for solar pumps, consequently adding to the worldwide market's growth.
Asia-Pacific has dominated the market with the highest share in recent years and is expected to continue in the future, owing to the region's increasing emphasis on decreasing GHG (Green House Gas) emissions and fostering sustainable development. Furthermore, the increasing installation of solar panels for electricity generation, particularly in rural areas, as well as various tax benefits and incentives provided by the government for solar panel installations, are expected to propel the Global Solar Farm Market to rapid expansion across Asia-Pacific in the coming years. China now leads the regional market, and this trend is expected to continue between 2022 and 2027, thanks to substantial government backing through subsidies linked with solar farm projects. India, on the other hand, is expected to develop at the quickest rate in the following years, with a target of installing 175GW of renewable capacity by 2022, including 100 GW from solar energy.
North America, on the other hand, is predicted to be the second-largest market during the forecast period, owing to rising demand for solar panels for electricity and the spread of solar lighting systems in rural regions across the continent. The United States is the region's fastest growing market, with California accounting for a sizable part. Nonetheless, with the ongoing decline of solar panel prices, new states are expected to gain a considerable market share in the United States in the future years.
Europe, on the other hand, is predicted to have the fastest market growth in the future years. The market in Europe is largely driven by increased solar energy output in the region to reduce dependency on fossil fuels, as well as an increase in building activities leading to the installation of Building Integrated Photovoltaics (BIPV) systems to generate power. Furthermore, strict rules imposed by the governments of various European nations to reduce carbon emissions will push the regional market in the coming years.
Key Market Developments
The total Solar Distributed Generation (DG) will build a solar rooftop on Danones plant in Klaten, Indonesia, that is the largest in Central Java, in October 2020, with the capacity of roughly 3,000 kWp. Total Solar DG developed, installed, and operates the rooftop solar systems, which include around 8,340 the solar panels covering the area of the 16,500 sqm.
Canadian Solar announced in August 2020 that it has begun construction of one of Malaysia's largest commercial and industrial rooftop solar projects in conjunction with Antah Solar Sdn. Bhd. and Eleaps Sdn. Bhd. The 5 MWp project, located in Penang, Malaysia, will cover an area of more than 26,000 m2.
Key market players in Solar Farm Market
Ciel & Terre International
Hanwha Group
JA SOLAR Technology Co. Ltd.
KYOCERA Corp.
LONGi Solar
Trina Solar
Vikram Solar Ltd.
Wuxi Suntech Power Co., Ltd.
Yellow Tropus Pvt. Ltd.
Yingli Solar
Segments covered in the report
(Note*: We offer report based on sub segments as well. Kindly, let us know if you are interested)
By Technology
Solar Photovoltaic
Mono-Si
Thin Film
Multi-Si
Others
By Type
Utility-Scale
Distributed Generation
Micro-Grids
Others
By End User
Residential
Commercial
Industrial
By Geography
North America
Europe
Asia-Pacific
Latin America
Middle East & Africa (MEA)