The global solar photovoltaic glass market size surpassed USD 20.15 billion in 2022 and is expected to attain around USD 142.75 billion by 2030, expanding at a strong CAGR of 27.72 percent throughout the projection period 2022 to 2030.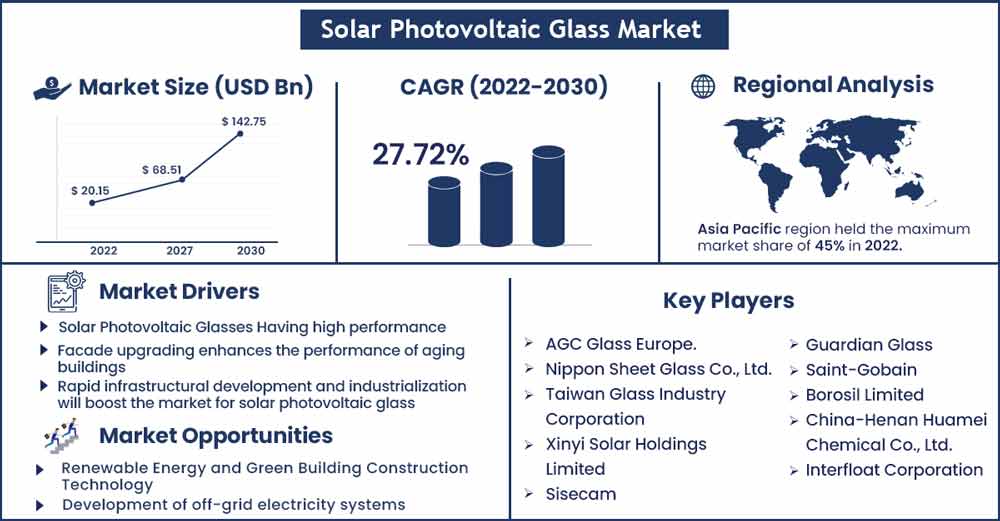 Solar cells are used in solar photovoltaic (PV) glass, which turns solar radiation into electricity. It is put on building rooftops to generate power that the entire structure may use. In these glasses, the solar cells are mounted between two glass panes and have a unique resin filler. Better sunray absorption and penetration are made possible by these items. Solar PV glass is clean, renewable energy sources. Solar PV cell use in buildings aids in the creation of sustainable energy. It is highly likely that throughout the projected period, glass-based solar power concentrators with high energy conversion efficiency will be placed in next-generation windows due to the rise in building development and nearly zero detrimental energy emissions. Manufacturers are putting their efforts into creating new goods with more effectiveness and improved thermal insulation.
Global solar glass market supply chains were impacted by the COVID-19 epidemic, which had an impact on the market. Due to a downturn in certain industries, such as construction, delays in building projects, and obstacles in export and import, it saw a decline in demand. The energy investments made in upcoming solar projects will determine the recovery of the global solar glass market's development.
Both residential and non-residential applications employ solar PV glasses. The market for solar photovoltaic glass is further constrained by the high installation costs associated with such glass. R&D and innovation are also anticipated to lead to the development of low-cost solar PV glass production, which will lower the price of such glass and help it acquire greater momentum. This should stimulate market expansion in turn. This market is expanding as a result of an increasing number of government efforts, like the Paris Climate Agreement to offer solar energy.
Report Highlights:
A significant obstacle for the market for solar photovoltaic glass is the high costs associated with the installation, storage, and purchase of power conversion devices. Despite being affordable and a viable solution for many end-use applications, solar PV glass technology has a high installation cost.
The price to install solar PV glass varies by region and nation, however, it is often greater in growing and developing nations. This aspect will likely limit the market's growth, along with the poor uptake in low-income areas, which is expected to hinder the market's expansion.
The market for solar photovoltaics is dominated by the sector of tempered glass. Tempered glass is used in solar panels because it is more durable than other types of glass and breaks into little fragments when it does.
The global solar PV glass market is expanding as a result of the development of green building construction technology, which increasingly uses solar PV glasses as a component of sustainable construction.
Solar Photovoltaic Glass Market Report Scope:
| | |
| --- | --- |
| Report Coverage | Details |
| Market Revenue in 2023 | USD 25.74 Billion |
| Projected Forecast Revenue in 2030 | USD 142.75 Billion |
| Growth Rate from 2022 to 2030 | CAGR of 27.72% |
| Largest Market | Asia Pacific |
| Base Year | 2022 |
| Forecast Period | 2022 To 2030 |
| Regions Covered | North America, Europe, Asia-Pacific, Latin America, and Middle East & Africa |

Regional Snapshots:
Increasing numbers of commercial, industrial, and utility regions are driving expansion in the Asia Pacific market. Commercial areas are multiplying astronomically. Additionally, people are shifting toward using renewable energy sources for energy conservation as knowledge of energy conservation and the usage of such sources, such as solar panels, is growing. Additionally, as people's purchasing power rises, the use of solar panels is growing. Additionally, the existence of significant key players also contributes significantly to the growth of the Asia Pacific Solar PV Glass Market. The top three Asia-Pacific nations for solar installations and solar PV glass production are China, India, and Japan.
Market Dynamics:
Solar photovoltaic glass is in high demand from end users, which is driving market growth. In places like windows, roofs, skylights, and facades, traditional construction materials are being increasingly replaced with solar PV glass, which is predicted to be highly popular. Additionally, the industrial and commercial sectors in emerging nations have a high need for solar photovoltaic glass, which propels market expansion.
The market for solar photovoltaic glass will increase at a faster rate due to rising awareness of the advantages of renewable energy sources and the constant need to stop environmental deterioration. Laws to reduce greenhouse gas emissions will also increase market value. Other market growth variables anticipated to support market expansion include the use of sustainable energy for building envelopes and the rise in demand for green building technologies in homes and businesses.
Restraints
The changing environmental landscape and expensive technology in developing and rising countries are two major obstacles to the growth of the global solar PV glass market. Additionally, throughout the projected period, the complexity of subsidies in China and India, the developing grid congestion issues, and production limitations may act as a barrier to the growth of solar PV glass.
Opportunities:
Various government initiatives that are supportive of the global solar pv glass market's future growth:
The modernizations occurring across the whole value chain are causing rapid change in the solar PV glass business. One of the most plentiful and cleanest renewable energy sources on the planet is solar energy. To assure the production of renewable energy, the government has also provided encouraging environmental laws at the state level for the construction and operation of solar PV projects. Solar energy is a fully renewable energy source, which is its main advantage.
Manufacturers are continuously looking for methods to build solar panels more effectively as the solar industry grows, so the time it takes for solar to pay for its electricity will continue to shrink. Additionally, it is projected that supporting government actions to ensure a sustainable future through the usage of renewable energy would accelerate market growth. Due to the fact that solar energy has no negative environmental consequences and, once placed on a roof, creates no emissions, it is regarded as a "green" source of energy. Additionally, compared to the clean energy solar panels provide, the relative environmental cost of manufacturing them is falling quickly.
Challenges:
The market for solar photovoltaic glass has significant obstacles due to the high costs associated with power conversion device installation, storage, and purchase. Solar PV glass technology has a high installation cost, despite the fact that PV technology is affordable and a good choice for many end-use applications. Solar PV glass installation costs vary by region and nation, although they are often higher in growing and developing economies. The market for solar photovoltaic glass will be hampered by this reason and the delayed adoption in low-income areas, which are both expected to hinder market development.
Recent Developments:
As an illustration, in June 2018, AGC Solar and Ubiquitous Energy teamed to develop transparent solar glass technology strategically. ClearView Power, a transparent solar coating from Ubiquitous Energy, can capture non-visible light (ultraviolet and infrared) and convert it to power while still transmitting visible light. Direct application of these coatings over the solar glass is possible. The technological capabilities of AGC Solar in the market for solar photovoltaic glass are anticipated to be strengthened by this agreement.
Ipasol Neutral 70/37 and Ipasol Light Grey 60/33 were two new products introduced by AGC Solar in July 2016. Strong light transmission and significantly reduced heat radiation are provided by ipasol neutral 70/37's sun protection, whilst ipasol light grey 60/33 also provides reasonably high light transmission with an extraordinarily low solar factor, allowing 60%.
Tesla introduced its 2,000 square foot (10 square meter) Tesla Solar Roof tiles in October 2019. Compared to version 2, the solar roof is easier and less expensive to install.
Major Key Players:
AGC Glass Europe.
Nippon Sheet Glass Co., Ltd.
Taiwan Glass Industry Corporation
Xinyi Solar Holdings Limited
Sisecam
Guardian Glass
Saint-Gobain
Borosil Limited
China-Henan Huamei Chemical Co., Ltd.
Interfloat Corporation
Guangdong Golden Glass Technologies Ltd.
Hecker Glastechnik GmbH & Co. KG
ENF Ltd.
Emmvee Toughened Glass Private Limited
Euroglas GmbH
Market Segmentation:
By Type
Photovoltaic Glass
Multifunctional Glass
AR Coated
Tempered
Others
By Grade of Transparency
Low Transparency
Medium Transparency
High Transparency
By Application
Curtain Walls
Facades
Skylights
Solar PV Panels
Glazing
Wind Shield
Others
By End Use
Building and Construction
Automotive Industry
Solar Energy
Infrastructure
Others
Buy this Research Report@ https://www.precedenceresearch.com/checkout/2123
You can place an order or ask any questions, please feel free to contact at sales@precedenceresearch.com | +1 9197 992 333