The global spine surgery robots market size was evaluated at USD 162.9 million in 2022 and it is expected to touch over USD 537.36 million by 2032, growing at a CAGR of 12.68% during the forecast period 2023 to 2032.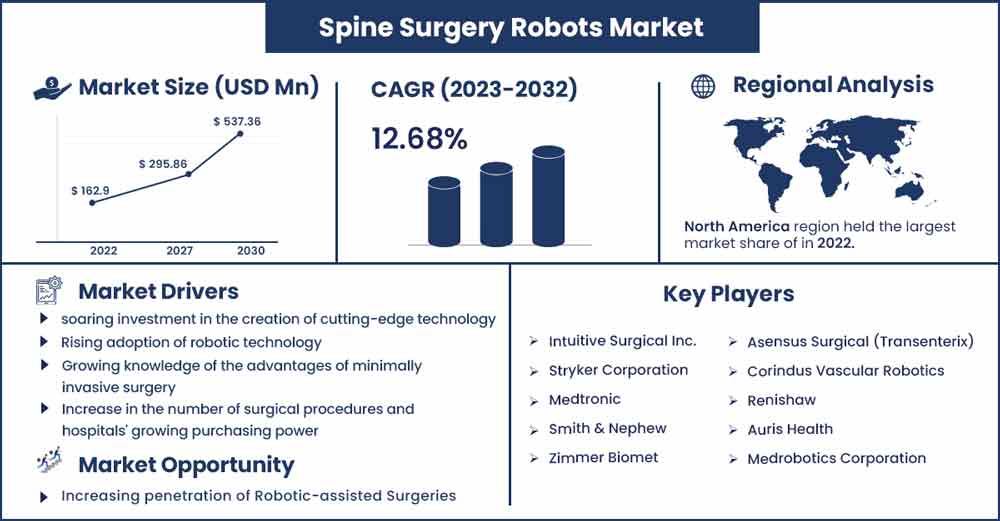 Market Overview:
Robotic spine surgery, often known as robot-assisted spine surgery, uses automated guiding technology during spinal neurosurgery. Spine surgery robots offer numerous benefits over traditional surgery methods. These robots provide enhanced visualization, real-time imaging and navigation capabilities to the surgeons. These robots are observed to assist in reducing the risk of complications and shortening the recovery time for patients.
Instrumentation operations and spinal fusion are now the principal uses of robots in spine surgery. However, in the upcoming period, robots are anticipated to be utilized in more difficult surgeries such as vertebroplasties, ablation, spinal tumor removal, and deformity repair.
Regional Snapshot:
In terms of revenue, the North American market has a significant portion and is predicted to increase profitably. Strong healthcare infrastructure in the region along with the potential technological capabilities in the healthcare sector supplement the market's growth in North America. Sedentary lifestyles in the region have led to a rise in spine-related conditions such as degenerative disc diseases and spinal deformities. Such rising cases of spinal-related cases is expected to promote the market's growth during the forecast period. Moreover, the continuous advancements in robotic technologies have led to the development of more sophisticated and precise robotic systems, this element acts as a driving factor for the market in North America.
The market for Asia-Pacific is predicted to expand at the quickest rate during the forecast period. This can be primarily attributable to the population's rising healthcare expenditure and the increasing knowledge of healthcare management, which are anticipated to fuel the target market's expansion throughout the projected period. The market has grown as a result of an increase in spine operations, an aging population, and a demand for less invasive treatments. A rise in the use of technologically advanced devices manufactured by major companies like Mazor Robotics as well as a growth in local Chinese businesses are expected to fuel the global market for spine surgical robots.
Report Highlights:
By application, due to technological advancements, the segment for minimally invasive procedures will likely hold fifty percent of the market. The rapid adoption of invasive procedures in developing countries along with the developing healthcare infrastructure is observed to promote the segment's growth.
By application, the open surgery segment is expected to maintain its position in the market during the forecast period. The flexibility and precision along with the control offered by robotics for open surgeries promote the segments' growth.
By end-user, the hospital segment dominated the market in 2022, the segment will continue to grow with the advancements in surgical procedures at hospitals, the availability of specialty care centers in the hospitals' premises also plays a significant role in the dominance of the segment.
Spine Surgery Robots Market Report Scope:
| | |
| --- | --- |
| Report Coverage | Details |
| Market Revenue in 2023 | USD 183.55 Million |
| Projected Forecast Revenue in 2032 | USD 537.36 Million |
| Growth Rate from 2023 to 2032 | CAGR of 12.68% |
| Largest Market | North America |
| Base Year | 2022 |
| Forecast Period | 2023 To 2032 |
| Regions Covered | North America, Europe, Asia-Pacific, Latin America, and Middle East & Africa |

Market Dynamics:
Driver:
Quicker recovery offered by robot-assisted surgeries
As fewer incisions and tissue damage are made in robot-assisted spine surgeries, the patients are prone to heal/recover quickly and effectively. Consequently, patients could return to regular activities more quickly than individuals with traditional surgery. According to studies examining post-surgical healing and recovery, robot-assisted technology causes minor damage to muscle tissue. This might mean less discomfort, fewer instances of muscular strain, and less stiffness throughout the healing and recovery process. As patients focus on short hospital stays, fewer complications and minimally invasive surgeries, the demand for robot-assisted surgeries is expected to grow. This element is expected to act as a driver for the market's growth.
Restraint:
High cost of investment and procedures
Although robotic surgery is becoming popular owing to its efficacy and success rates, the adoption of robotics in the healthcare sector is quite complex due to its price. Most robotic procedures cost around $5,000 more than those performed under a doctor's supervision. The expense of the robots is the main factor keeping the processes' prices high. Therefore, the high cost of procedures hinders the market growth for spine surgery robots. Along with this, the investment in robotics in the healthcare sector for surgical procedures is also high. Countries with underdeveloped economies and less funds for investment are likely to avoid such investment due to the cost factor. Moreover, the high cost of investment is likely to limit the adoption of robotics by both patients and healthcare providers. This investment factor is also observed to create a restraint for the market's growth.
Opportunity:
Lesser complication risks
Robotic assistance allows for a highly controlled surgical approach, which may contribute to the more precise insertion of spinal instrumentation, like pedicle screws, reducing the rate of problems related to inserting this instrumentation in the spine. However, the success of these operations has been the subject of conflicting studies. When evaluating robot-assisted spine operations and conventional surgeries, some studies have seen a reduction in complications of around 48.3%. Considering the reduced rate of complications with robot-assisted surgeries and rising demand for quicker yet more efficient surgeries from the global healthcare sector, the adoption of spine surgery robots is predicted to grow in the upcoming period. This element will offer a set of opportunities for the market to grow.
Challenge:
Risk of robotic malfunction
Being a very rare limitation, robotic malfunction creates a significant challenge for the market's growth. power disruptions, mechanical damage and technical complications are few factors that can cause robotic malfunction. In some cases, wrong human intervention or human errors and problems with control panels also cause a complication with the operation of robots. Such risks of malfunction may affect negatively on the acceptance of robotics in the healthcare sector for surgical purposes by hampering the market's growth.
Recent Developments:
In September 2022, eCential Robotics, a French robotic spinal surgery technology business, declared that the FDA had approved their 3D imaging, navigation, and robotics guidance system. The Gières, France-based essential robots company, intends to begin marketing its North American surgical robotics system with the aid of recent alliances with American implant businesses. With almost 2,000 surgeries, the business has sold ten systems across Europe.
In October 2022, THINK Surgical, a technological developer creating orthopedic surgical robots, stated that Korea's new investor, KDB Investment Global Healthcare, invested $100M in the business to facilitate a quicker commercial launch of multiple new technologies.
Major Key Players:
Intuitive Surgical Inc.
Stryker Corporation
Medtronic
Smith & Nephew
Zimmer Biomet
Asensus Surgical (Transenterix)
Corindus Vascular Robotics
Renishaw
Auris Health
Medrobotics Corporation
Think Surgical
Verb Surgical (part of Johnson and Johnson)
OMNIlife Science
CMR Surgical
Market Segmentation:
By Application
Spinal Fusion
Minimally Invasive Procedures
Scoliosis
Osteoporotic Compression Fractures
Others
By Method
Minimally Invasive Surgery
Open Surgery
By End User
Hospitals
Ambulatory Surgical Centers
Buy this Research Report@ https://www.precedenceresearch.com/checkout/2599
You can place an order or ask any questions, please feel free to contact at sales@precedenceresearch.com | +1 9197 992 333