The global sports medicine market size surpassed USD 10.93 billion in 2022 and is projected to rise USD 21.86 billion by 2032, anticipated to grow at a CAGR of 7.18 percent during the projection period from 2023 to 2032.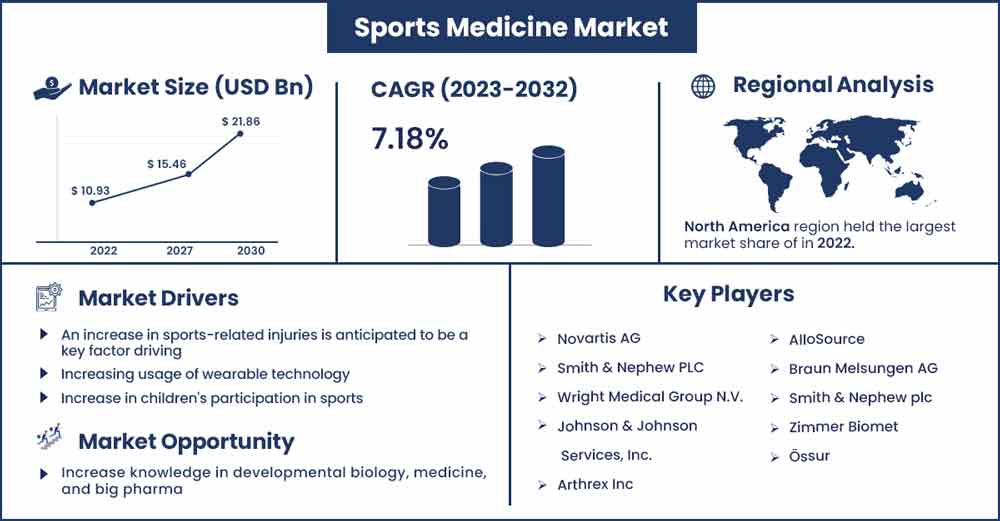 Market Overview:
Sports medicine encompasses various disciplines, including orthopedics, physical therapy, exercise physiology, sports nutrition, sports psychology, and athletic training. The primary goal is to optimize performance, prevent injuries, and provide specialized care for athletes at all levels, from recreational to professional. The sports medicine market includes a wide range of products and services, such as surgical equipment, braces and supports, implants, orthobiologics, rehabilitation and physiotherapy products, diagnostic imaging systems, and monitoring devices. Additionally, it encompasses services like physical therapy, rehabilitation programs, and sports medicine clinics. The global sports medicine market is driven by various end-users, including professional athletes, sports teams, hospitals and clinics, and individuals engaged in sports and fitness activities.
Regional Snapshot:
North America dominated the market in 2022 and is anticipated to expand significantly throughout the forecast period. The market growth in North America is attributed to the rise in sports-related injuries, active government support of sporting events, and rising public awareness of the importance of physical fitness. Additionally, throughout the forecast period, an increase in demand for less invasive procedures is expected to support the expansion of the North American sports medicine market.
Due to the region's growing interest in sports, Europe is expected to expand its market share to the second largest throughout the projected period. As a consequence of the government's increasing efforts to develop the sports medical devices market, the market is predicted to rise throughout the forecast period.
Latin America is expected to expand at a significant CAGR throughout the predicted period due to the rising popularity of sports. Brazil is predicted to have a thriving sports medicine sector over the assessment period. With the increasing focus on sports and physical activities, there has been a corresponding increase in awareness about sports-related injuries and the importance of proper prevention, treatment, and rehabilitation. This has led to a greater demand for sports medicine services, including injury prevention programs, orthopedic treatments, physical therapy, and rehabilitation.
Report Highlights:
By product, in 2022, the body repair and rebuilding segment led the market for sports medicine. The high risk of fractures and ligament injuries during sports and games promotes the growth of the segment.
By application, the knee application segment is expected to dominate the sports medicine industry. Knee injuries often require orthopedic interventions such as arthroscopic surgery, ligament reconstruction, meniscectomy, and total knee replacement.
Sports Medicine Market Report Scope:
| | |
| --- | --- |
| Report Coverage | Details |
| Market Revenue in 2023 | USD 11.71 Billion |
| Projected Forecast Revenue in 2032 | USD 21.86 Billion |
| Growth Rate from 2023 to 2032 | CAGR of 7.18% |
| Largest Market | North America |
| Base Year | 2022 |
| Forecast Period | 2023 To 2032 |
| Regions Covered | North America, Europe, Asia-Pacific, Latin America, and Middle East & Africa |

Market Dynamics:
Driver:
Medicinal advancements
Over time, the medicine sector has undergone a significant amount of change. The most effective methods in use today have completely changed the landscape of sports medicine. Open surgical procedures were employed in earlier treatments. The introduction of arthroscopic surgery in sports medicine has revolutionized how injuries are treated and has reduced the time it consumes to get injured athletes back on the pitch. Sports medicine doctors have made platelet-rich plasma (PRP) shots available, and they have proven to be more effective for making significant bodily repairs. PRP has shown outstanding outcomes when injection advice is provided by musculoskeletal ultrasonography. Using less intrusive technologies to remove wounded tissue is one of the most recent advancements in surgery. In addition, ultrasound waves are used.
Hip operations aren't as invasive as they once were. They are really among the least invasive orthopedic treatments now accessible, which makes them an excellent choice for sportsmen. Because of the connection between neurological problems and concussions, there has been an increase in trauma understanding among athletes. In addition to neurocognitive tests, team doctors now monitor balance and memory assessments to ensure the athlete is completely healed. The advancements stated above are only a few that are revolutionizing the sports medicine market and accelerating its expansion.
Restraint:
Potential hazards caused by opioids
The opioid issue is not exempt from affecting sports medicine. Americans use 80% of the world's supply of opioids despite making up only 4.6% of the global population. According to recent CDC research, 20% of people who receive an initial 10-day medication for opioids become long-term users. Opioids can cause drowsiness and impair cognitive function, leading to reduced alertness and concentration. Opioids can impair coordination, balance, and reaction time, increasing the risk of accidents and injuries during physical activities. Athletes may be more prone to falls, misjudgments, or poor technique while under the influence of opioids. Considering the potential hazard caused by opioids for sports players, the adoption of sports medicine with opioid content is expected to be hampered.
Opportunity:
Technological advances
Computer technology has advanced significantly in recent years, and this innovation is being used in sports medicine to address the player's biomechanics. For instance, computers can now predict the kind of injuries that may occur and treat them using various techniques such as fluoroscopy and multiplane ultrasonography. For partial hip and knee replacement surgeries, cutting-edge computer-aided robotic equipment is now accessible. Surgery planning is made possible by computer software that uses the patient's anatomy three-dimensional Computed Tomography scan. The program then feeds the blueprints to the robot, which directs the doctors during their procedure. Therefore, technological advancements in sports medicine are opening up the potential for the market to develop even more and will do so in the future. Such technological advancements are observed to offer a plethora of opportunities for the market.
Challenge:
Lack of awareness about sports medicine
A lack of awareness about sports medicine may lead to limited funding and research opportunities in the field. Funding for research on sports injuries, treatment modalities, and performance optimization may be allocated less priority compared to other areas of healthcare. This can hinder the development of new technologies, treatment options, and evidence-based practices in sports medicine. Education programs, public campaigns, and collaboration between sports medicine professionals and sports organizations can help disseminate information and promote the importance of timely and appropriate sports medicine care.
Recent Developments:
In April 2023, Anurag Thakur, Union Sports Minister, unveiled the Know Your Medicine smartphone app, which would assist athletes in researching the presence of banned chemicals in medications and making educated decisions. With app versions in English and Hindi and user-friendly functions including search by picture and text choices and search by drug and ingredient options, the program is accessible to Android phone users.
In February 2023, according to a news release, the Cedars-Sinai Kerlan-Jobe Institute started a youth sports medicine program to educate and inform young players, their parents, and coaches. According to the announcement, the program, centered on injury diagnostics, prevention, physical therapy, and pain management approaches in juvenile athletics, will be implemented with assistance from a group of physician leaders, sports medicine and pediatrics specialists, and physical therapists.
In May 2023, The OSU Centre for Health Sciences inaugurated an Athletic Training - Sports Medicine Project ECHO line with the Oklahoma State University Human Performance and Nutrition Research Institute (HPNRI). Specialty care for complicated health disorders is available through Project ECHO, particularly in rural and disadvantaged areas with fewer and more difficult-to-access experts. Patients who ordinarily wouldn't obtain best-practice medical treatment due to where they reside can now do so, thanks to Project ECHO. Instead of transferring people, Project ECHO employs a hub-and-spoke telementoring strategy to move information so that regional primary care professionals may obtain specialization to offer patients in their regions high-quality, specialized treatment.
Major Key Players:
Novartis AG
Smith & Nephew PLC
Wright Medical Group N.V.
Johnson & Johnson Services, Inc.
Arthrex Inc
AlloSource
Braun Melsungen AG
Smith & Nephew plc
Zimmer Biomet
Össur
Medtronic
Mueller Sports Medicine, Inc.
RTI Surgical Holdings
CONMED Corporation
Surgalign
Arthrex Inc.
AlloSource
Stryker
Hanger Inc
Otto Bock Healthcare GmBH
Market Segmentation:
By Product Type
Body Reconstruction & Repair

Surgical Equipment
Soft Tissue Repair
Bone Reconstruction Devices

Body Support & Recovery

Braces and Other Support Devices
Compression Clothing
Hot & Cold Therapy

Body Monitoring & Evaluation

Cardiac
Respiratory
Hemodynamic
Musculoskeletal
Others

Accessories

Bandages
Tapes
Disinfectants
Wraps
Other
By Application
Knees
Shoulders
Ankle & Foot
Back & Spine
Elbow & Wrist
Hips
Others
Buy this Research Report@ https://www.precedenceresearch.com/checkout/2592
You can place an order or ask any questions, please feel free to contact at sales@precedenceresearch.com | +1 9197 992 333