The global sports medicine market size was exhibited at USD 10.93 billion in 2022 and is expected to be worth around USD 21.86 billion by 2032, growing at a CAGR of 7.18% from 2023 to 2032.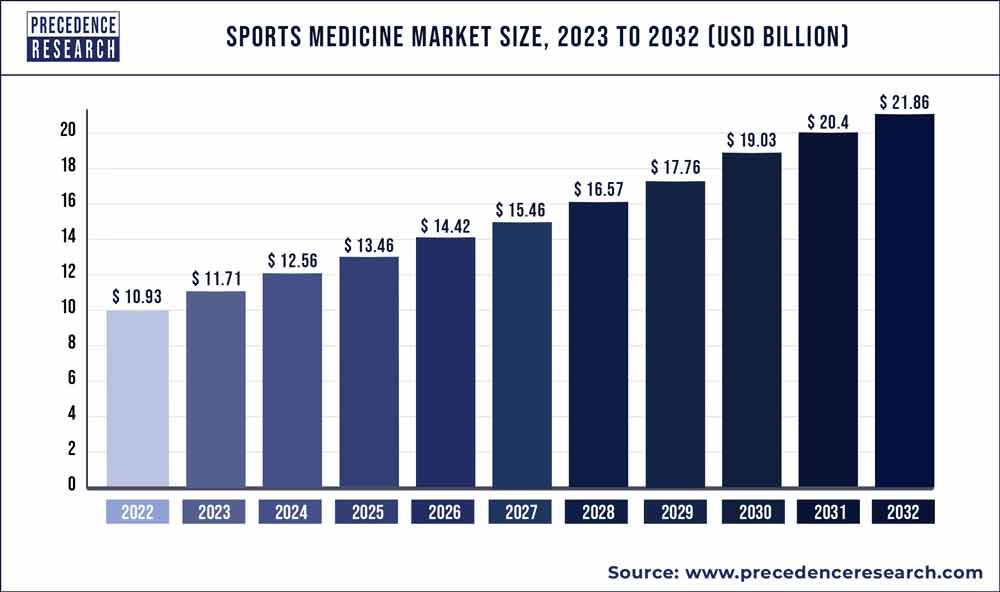 Access our Premium Real Time Data Intelligence Tool, Visit: Precedence Statistics
Key Points:
By product type, the body reconstruction and repair segment dominated the market with a revenue share of 40.0% in 2022.
The accessories segment is anticipated to witness the fastest growth rate of 9% over the forecast period.
By application, the knees segment led held the highest revenue share of 31% in 2022, aided by the rising incidences of knee injuries.
By geography, North America led the market for sports medicine with the highest revenue share of 48% in 2022.
A wide variety of medical and paramedical specialities are included in the relatively new medical speciality of sports medicine. Although it's a popular misconception that sports medicine is solely relevant for athletes and sports professionals, it has applications for everyone, including those who are healthy and active.
Amateur athletes are becoming more interested in sports medicine, which improves overall public health by promoting physical activity and quality of life. The discipline thus covers all years, from childhood to old age, intending to maintain and promote physical health throughout all age groups. Sports medicine, commonly referred to as sports and exercise medicine (SEM), is a field of medicine that focuses on preventing, diagnosing, and treating injuries that are sustained during sports or physical activity. Its main goal is to support athletes in exercising safely and effectively to meet their training objectives. Sports medicine specialists typically have specialized training to help patients maximize function and reduce handicaps. They deal with various physical ailments, such as acute traumas like strains, sprains, fractures, and dislocations, chronic overuse injuries like tendonitis, degenerative illnesses, and overtraining syndrome.
Market Growth
Sports injuries occur more frequently, and individuals participate in more sports and fitness-related activities, boosting the demand for sports medicine. The market for sports medicine is also anticipated to grow over the projected period as a proactive treatment for sports injuries gives way to preventive care. The demand for sports medicine has expanded due to the increasing usage of wearable technology, such as fitness bands and other sensors that help track stress loads and prevent fatigue-related ailments in athletes. For instance, the Nova Scotia-based performance-based company Athletigen Technology, Inc. collaborates with various athletes to use the data gathered from their DNA to enhance their health and performance while lowering the frequency of sports-related illnesses.
Market Trends
The increasing use of wearable technology, such as fitness bands, to track athletes' stress levels and prevent athlete fatigue and injury issues has contributed to the market's growth.
Due to an increase in sports injuries and the number of people engaging in athletic and fitness activities, there is a rising demand for sports medicine. The market is expected to grow over the forecast period due to the switch from a strategic approach to preventative care for sports-related injuries.
The high cost of implant materials significantly constrains the market's expansion. In nations like India, where only a tiny percentage of the population has access to health insurance, an expensive implant poses a severe threat to the market's expansion. Since orthopaedic surgeons undertake most operations for sports injuries, a significant barrier for the business is the need for educated orthopaedic doctors.
Additionally, it is anticipated that during the forecast period, a rise in public-private funding for focused research, an increase in children's participation in sports, and an increase in innovation and development due to technological advancements globally will present lucrative opportunities for market participants.
Report Scope of the Sports Medicine Market
| | |
| --- | --- |
| Report Coverage | Details |
| Market Size in 2023 | USD 11.71 Billion |
| Market Size by 2032 | USD 21.86 Billion |
| Growth Rate from 2023 to 2032 | CAGR of 7.18% |
| Largest Market | North America |
| Base Year | 2022 |
| Forecast Period | 2023 to 2032 |
| Segments Covered | By Product Type and By Applications |
| Regions Covered | North America, Europe, Asia-Pacific, Latin America and Middle East & Africa |

Market Dynamics:
Market Drivers
Sports injuries are becoming more common everywhere, which is directly affecting the market's expansion. This predicts that rising rates of knee injuries, sore muscles, Achilles tendon injuries, pain along the shin bone, rotator cuff injuries, fractures (broken bones), and dislocations are directly influencing the market's growth. According to the Board of Certification for Athletic Trainers, an estimated 2 million acute ankle injuries happen each year in the United States. Rising investment in research & development, particularly in developed and developing nations, will further open up attractive market expansion potential for medical instruments and technologies.
The market growth rate is also being boosted by research and development efforts being made to comprehend the human body. Another significant element promoting market growth is the increased focus on improving the state of healthcare facilities and the infrastructure for healthcare as a whole. Increased public-private partnerships and strategic collaborations to fund and implement new and improved technology are also opening up attractive market prospects.
Market Restraints
However, the increase in product recalls, and the need for healthcare infrastructure in underdeveloped nations are impeding market expansion. For instance, Zimmer Biomet recalled several medical products in 2016, including bones, surgical screws, implants, and instruments for trauma and sports medicine. Additionally, the total number of medical devices recalls rose by 126% in the first quarter of 2018. Customers' perceptions of a product and a firm become more negative as a result of a product recall, which is currently impeding the market for sports medicine.
Due to slow economic growth, underdeveloped and developing nations need more sophisticated healthcare infrastructure. These nations also have relatively low levels of government spending on healthcare, which inhibits the use of these items. Furthermore, one reason for the delayed growth of sports medicine in these nations is a need for athletic culture.
Market Opportunities
Sports medicine is anticipated to expand as manufacturers place more emphasis on regenerative medicine research and clinical clearances.
Regenerative medicine provides cutting-edge treatments for the non-surgical management of frequent incidences associated with damage. Treatments typically use the patient's own totipotent cells to encourage the repair of the wounded part of the body. Regenerative medicine is receiving a lot of attention due to the potential of these stem cells to increase knowledge in developmental biology, medicine, and big pharma. A doctor might suggest a regenerative medicine treatment plan when a sports injury is difficult to repair with typical non-surgical remedies like rest and physical therapy. This covers therapies, including stem cell therapy, platelet-rich plasma therapy, and specific cartilage repair techniques. This is a crucial element anticipated to fuel the market for sports medicine expansion.
The market's major companies likewise concentrate on growing their operations in developing nations. For example, Smith & Nephew opened its first Medical Education Centre for the Asia Pacific in Singapore in November 2021.
Segments Insights:
By Product Insights
The sector drove the sports medicine market for body reconstruction and repair in 2022. Devices, including surgical tools, soft tissue repair tools, and bone reconstruction tools, are included in the body reconstruction and repair sector. The significant market share was attributable to the rising use of arthroscopy devices in minimally invasive procedures, the use of fracture and ligament repair devices, and both.

On the other hand, over the projected period, the accessories section is anticipated to develop the fastest. Bandages, tapes, wraps, disinfectants, and other items needed for treating minor sports injuries are primarily included in this segment. The primary driver propelling the growth of this market is the increasing use of PRICE (Protection, Rest, Ice, Compression, and Elevation) therapy as the urgent treatment for any sports injury.
By Application Insight
In 2022, the knee application category led the sports medicine market and held the most significant market share because of the ongoing rise in knee injuries. A lot of sports-related and other physical activity-related ailments involve the knee, and this is due to the knee joint's deterioration caused by excessive running and jumping. Knee injuries are quite frequent and makeup about 41% of all sports injuries, according to the British Journal of Sports Medicine.

Additionally, there are a number of cutting-edge therapies available, such as arthroscopic knee replacement, dry needling, soft tissue massage, osteopathic manipulation, and platelet-rich plasma therapy. Some key reasons influencing the segment's growth are the large range of readily available therapies and the rising prevalence of knee injuries.
Regional Analysis
In 2022, the U.S. dominated the North American sports medicine market, and this trend is anticipated to last throughout the evaluation period.
Due to millennials' growing infatuation with exercise and fitness, there is an increasing need for sports medicine in the nation. Additionally, doctors are teaching people about the need to engage in regular physical activity for disease prevention and health maintenance.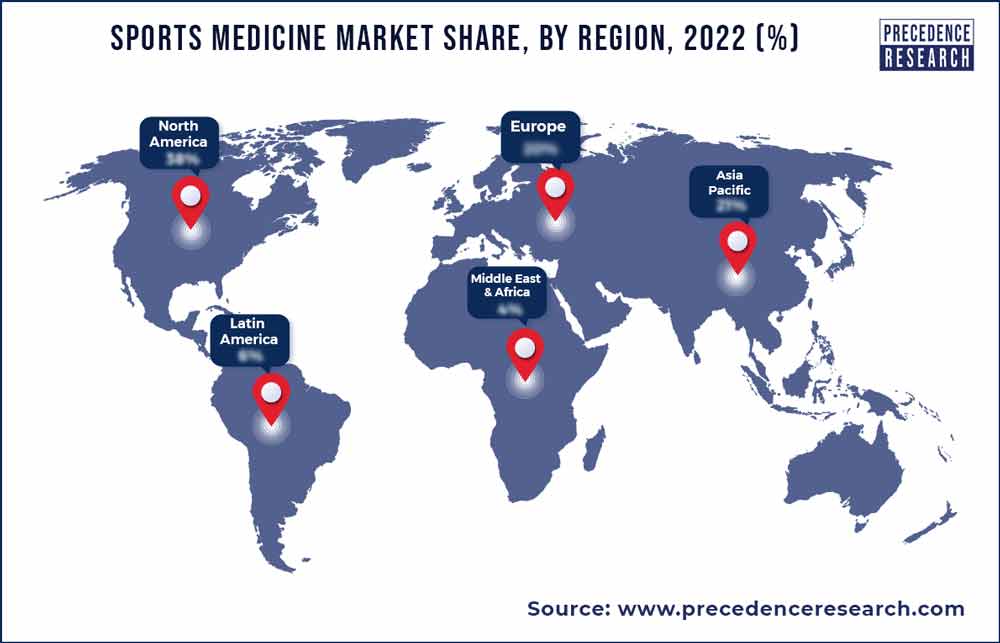 During the anticipated timeframe, Germany is expected to develop in the European sports medicine market. Athletic injuries are becoming more common as football, and other sports see increased involvement. Additionally, the country's citizens are well aware of the advantages of cardiorespiratory physical fitness, which is helping the sports medicine business expand.
Throughout the assessment period, there will be a rise in demand for sports medicine in India. The impact of many national sports promotion government efforts might be credited with growth. For instance, the Sports Authority of India introduced the sports marketing program NSTC (National Sports Talent Contest Scheme) for trainees at the sub-junior level. In an effort to promote participation in active sports, the Indian government is making an effort to find young sports talent in schools, ages 8 to 14. There have been other initiatives of a similar nature to raise awareness of the sports industry in India, and it is anticipated that these will fuel market expansion during the ensuing years.
Recent Developments:
In August 2021, The ROSA® hip system from Zimmer Biomet was given FDA approval for robotically assisting direct anterior total hip arthroplasty.
In June 2021, In Switzerland, an orthopaedic implants developer Mathys AG Bettlach was acquired by DJO. The company's ability to create and provide orthopaedic technologies for the future generation is aided by this purchase.
In June 2020, Smith & Nephew recently announced the release of INTELLIO Connected Tower Solution, a new product that allows users to manage various sports medicine systems from a distance wirelessly.
Market Key Players:
Novartis AG (Switzerland)
Smith & Nephew PLC
Wright Medical Group N.V. (U.S.)
Johnson & Johnson Services, Inc. (U.S.)
Arthrex Inc. (U.S.)
AlloSource (U.S.)
Braun Melsungen AG (Germany)
Smith & Nephew plc (Germany)
Zimmer Biomet (U.S.)
Össur (Iceland)
Medtronic (Ireland)
Mueller Sports Medicine, Inc. (U.S.)
RTI Surgical Holdings
CONMED Corporation (US)
Surgalign (U.S.)
Arthrex Inc. (U.S.)
AlloSource (U.S.)
Stryker (U.S.)
Hanger Inc, (U.S.)
Otto Bock Healthcare GmBH (Germany)
Segments Covered in the Report:
(Note*: We offer report based on sub segments as well. Kindly, let us know if you are interested)
By Product Type
Body Reconstruction & Repair

Surgical Equipment
Soft Tissue Repair
Bone Reconstruction Devices

Body Support & Recovery

Braces and Other Support Devices
Compression Clothing
Hot & Cold Therapy

Body Monitoring & Evaluation

Cardiac
Respiratory
Hemodynamic
Musculoskeletal
Others

Accessories

Bandages
Tapes
Disinfectants
Wraps
Other
By Application
Knees
Shoulders
Ankle & Foot
Back & Spine
Elbow & Wrist
Hips
Others
By Geography
North America
Europe
Asia-Pacific
Latin America
The Middle East and Africa