The global platelet rich plasma market was valued at USD 535 million in 2022 and is predicted to reach over USD 1,840.29 million by 2032, poised to grow at a compound annual growth rate (CAGR)of 13.2% during the forecast period 2023 to 2032.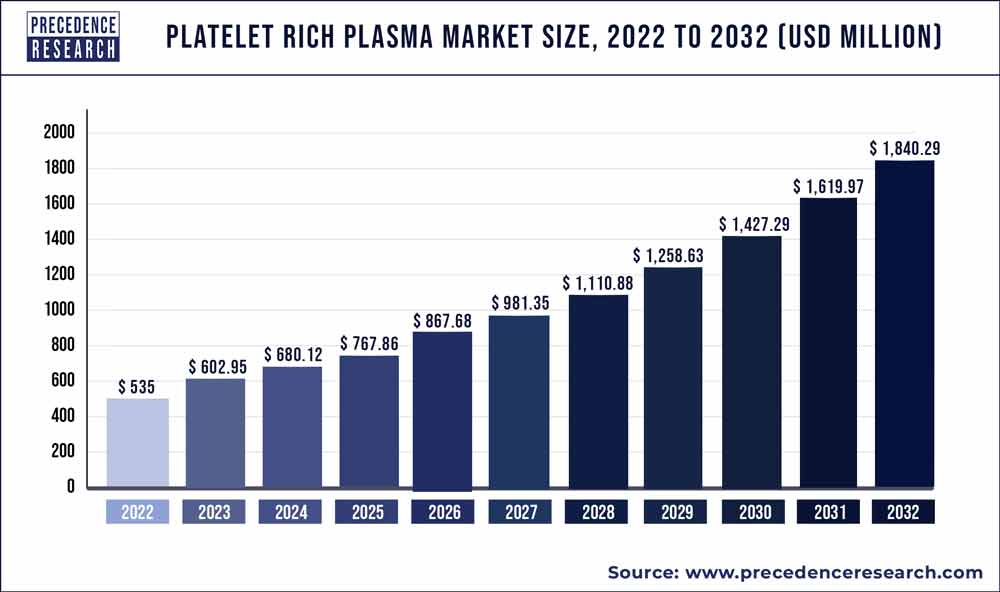 Access our Premium Real Time Data Intelligence Tool, Visit: Precedence Statistics
Growth Factors
Platelet rich plasma (PRP) therapy has gathered substantial attention over the last few decades, primarily owed to its latent capability in regenerative medicine such as maxillofacial and oral surgery, veterinary and sports medicine. Platelets as a key component of the PRP, comprise above 1100 diverse proteins, with plentiful post-translational alterations, ensuing in above 1500 protein-based bioactive aspects. These aspects embrace growth factors, immune system messengers, enzymes and their inhibitors and other factors which can contribute in wound healing and tissue repair.
Intensifying elderly population and mounting pervasiveness of orthopedic circumstances are certain other influences pushing the growth of platelet rich plasma marketplace. As per data published by National Center for Biotechnology Information, more than 1.4 million people are identified with fractures associated to osteoporosis each year. Furthermore, intensifying alertness related to platelet rich plasma therapy for dental treatment is projected to augment the market development.
Product Insights
Among different product segment analyzed in this research report, pure PRP conquered the overall market in 2022. Pure PRP reduces red neutrophils and blood cells. Neutrophils and red blood cells, white blood cell, have no therapeutic effect, and also encompass inflammatory components, which may upsurge pain post treatment. Nevertheless, leukocyte-rich fibrin is anticipated to progress at the fastest growth rate during the estimate period. Leukocyte-rich fibrin offers enhanced healing response and suggestively decreased retrieval time.
Scope of the Platelet Rich Plasma Market
| | |
| --- | --- |
| Report Highlights | Details |
| Market Size in 2023 | USD 602.95 Million |
| Market Size by 2032 | USD 1,840.29 Million |
| Growth Rate from 2023 to 2032 | CAGR of 13.2% |
| Base Year | 2022 |
| Forecast Period | 2023 to 2032 |
| Segments Covered | Product, Origin, Application |
| Regional Scope | North America, Europe, Asia Pacific, Latin America, Middle East & Africa (MEA) |
| Companies Mentioned | Zimmer Biomet, Arthrex, Inc., Harvest Technologies Corporation, Stryker Corporation, DePuy Synthes, Inc., Cesca Therapeutics, Inc., AdiStem Ltd., Exactech Inc., ISTO Biologics, Nuo Therapeutics |
Application Insights
Different applications covered in the market are cosmetic surgery, orthopedic surgery, neurosurgery, general surgery and others. Among all,in 2022, orthopedics application segment led the global PRP market. Osteoarthritis is the most dominant kind of arthritis, and it affects around 31 million Americans each year. Due to increasing elderly populace, occurrence of doctor-diagnosed arthritis is projected to upsurge suggestively during prediction period.
Cosmetic surgery segment is projected to advance at rapid pace within assessment period on account of intensification in the applications of platelet-rich plasma products in hair transplant and other cosmetic applications. Platelet-rich plasma therapy is witnessing a momentous growth in its acceptance and reception for arthritis treatment as it impedes inflammation, cuts the rate of progression of osteoarthritis, motivates the formation of new cartilage, and upsurges the production of natural lubricating joint fluid. In this way, it eases painful joint friction, and also encompasses proteins that modify a patient's pain receptors and decreases pain sensation. Thus, the above-mentioned factors are anticipated to accelerate the growth of the arthritis segment.
Origin Insights
Depending on origin, global platelet-rich plasma market has been categorized into autologous, allogeneic, and homologous platelet-rich plasma. The autologous platelet-rich plasma segment is expected to govern the global platelet-rich plasma market throughout the estimate period on account of purging of cost for the fees to be paid to blood donors and clinical scrutiny of blood-borne diseases.
Regional Insights
Geographically, North America garnered major stake in the global platelet-rich plasma market as it is base of most significant players who are operating in the field of PRP market. North America and Europe are likely to lead the global market arena throughout the prediction period, mostly owed to the great occurrence of orthopedic disorders, upsurge in occurrence rates of rheumatology, intensification in the amount of sport wounds, and rush in acceptance of platelet-rich plasma therapy.
Asia Pacific is anticipated to record the rapid growth during upcoming years. Government bodies of emerging nations such as Mexico, India, and Brazil, are making enormous investments to create alertness concerning plasma therapy. PRP marketplace is expected to advance at a lucrative rate as it has the latent to support in delivering improved management of numerous orthopedic problems associated to wrist, elbow, shoulder, hip, back, knee, and ankle, which are on the upsurge in evolving regions.
Key Companies & Market Share Insights
Foremost companies in the global platelet-rich plasma market are engrossed on implementing collaboration and partnership tactics to augment their market stake. For example, in 2019, CollPlant, rehabilitated its special distribution contract with Arthrex for Vergenix STR, an injectable gel consists of cross-linked bioengineered recombinant human typeI collagen, rhCollagen, along with autologous platelet-rich plasma for tendinopathy treatment.
Certain prominent companies functioning in the Platelet Rich Plasma market are as follows:
Zimmer Biomet
Arthrex, Inc.
Harvest Technologies Corporation
Stryker Corporation
DePuy Synthes, Inc.
Cesca Therapeutics, Inc.
AdiStem Ltd.
Exactech Inc.
ISTO Biologics
Nuo Therapeutics
Segments Covered in the Report
This research report includes complete assessment of the market with the help of extensive qualitative and quantitative insights, and projections regarding the market. This report offers breakdown of market into prospective and niche sectors. Further, this research study calculates market revenue and its growth trend at global, regional, and country from 2020 to 2032. This report includes market segmentation and its revenue estimation by classifying it on the basis of product, origin, application and region as follows:
By Product
Leukocyte Rich PRP
Pure PRP
Leukocyte Rich Fibrin
By Origin
Allogeneic PRP
Autologous PRP
Homologous PRP
By Application
Cosmetic Surgery & Dermatology
Orthopedic Surgery
General Surgery
Ophthalmic Surgery
Neurosurgery
Other
Regional Outlook
North America
Asia Pacific
Europe
Latin America
The Middle East and Africa