The global stand-up pouches market size surpassed USD 24.55 billion in 2022 and is projected to rise to USD 53.46 billion by 2032, anticipated to grow at a CAGR of 8.1 percent during the projection period from 2023 to 2032.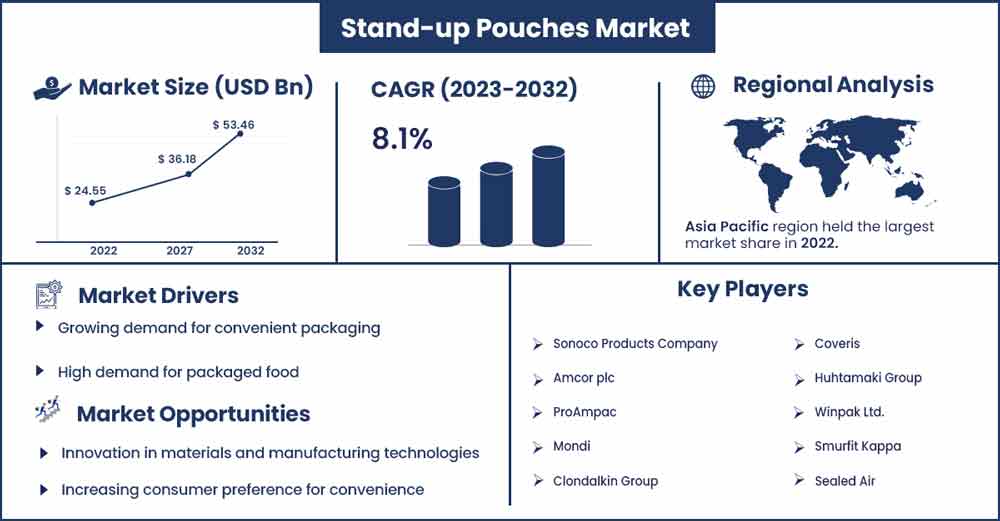 Market Overview
The industry that innovates and distributes flexible packaging options known as stand-up pouches is called the stand-up pouch market. Due to its flat bottom gusset and ability to stand straight on store shelves, these pouches are aesthetically pleasing and practical. They are frequently used to package various goods, such as food, drinks, pet food, personal care items, etc. Manufacturers, suppliers, distributors, retailers, and industries that use stand-up pouches for packaging are all in the market. Due to the stand-up pouches' greater adaptability, convenience, and sustainability compared to other packaging solutions, this market has experienced tremendous growth.
In June 2022, collectively, Constantia Flexibles and Plasthill Technical Films, a subsidiary of the Dutch Oerlemans Packaging Group, will commercialize CompresSeal, a unique technology of Constantia Flexibles, in Europe. The CompresSeal film weighs up to 30% less and has a higher seal integrity than conventional polyethylene films. Beginning in August 2022, the first clients in a few markets will have access to it.
Consumers benefit from the convenience of stand-up pouches. They are famous for on-the-go lives since they are lightweight and resealable and frequently have features like spouts or resealable zippers. Modern material science has created stand-up pouches that are more sustainable and environmentally friendly. For instance, recyclable materials and polymers made from biomaterials have become more popular. The food and beverage, pet food, personal care, pharmaceutical, and other industries all employ stand-up pouches. The market has grown as a result of this application diversity. Stand-up pouches weigh less than conventional rigid packaging materials like glass or cans. This lessens the overall environmental impact of packing while also lowering shipping costs.
In April 2023, to provide sustainable packaging options for food products that are used in stand-up pouches, lay-flat bags, and fitment pouches, Pregis, a manufacturer of flexible and protective containers based in Chicago, teamed up with Nova Chemicals Corp., based in Calgary, Alberta.
In November 2022, The Bag-in-Box sustainable Fluids and liquids packing and dispensing solutions business Liquibox, an early-stage innovator and manufacturer of fresh food, drink, consumer goods, and industrial end-markets, was acquired by SEE, according to a statement. The fastest-growing sector in SEE, Cryovac Fluids & Liquids, is enhanced by this acquisition. Flexible packaging for fluids and liquids represents a $7 billion addressable revenue potential with a promising 6% estimated annual growth rate.
In September 2022, Sonoco, a pioneer in diverse worldwide packaging, declared that it had signed a legally binding deal to buy privately held Danish paper maker S.P. Holding, Skjern A/S. The acquisition increased Sonoco's conversion business' manufacturing capacity for clients throughout Europe and adjacent areas.
Regional Snapshot
Asia Pacific is expected to hold the dominating position in the market. The region has witnessed tremendous economic expansion and urbanization in recent years. Due to changing lifestyles and growing consumer purchasing power, stand-up pouches and other handy and creative packaging solutions are in high demand. Stand-up pouches are portable and lightweight and take up little room in storage.
Due to the busy lifestyles of consumers in Asia Pacific, stand-up pouches are a desirable alternative for both manufacturers and customers. Sustainable packaging options are becoming more and more critical as environmental awareness grows. Stand-up pouches align with the sustainability objectives of both customers and local governments when made with eco-friendly materials and recyclable components.
Berry Global's new manufacturing plant and international center of excellence are now being built in India. It is close to the business's current operations in Bangalore in Sira. The brand-new factory will provide top-notch capabilities to the healthcare industry and other important market sectors.
Berry will be able to expand its R&D innovation capabilities and scale up manufacturing to meet the rising demand from customers in South Asia and India. This will allow Berry to provide local and start-up firms and national and multinational corporations with the highest possible quality and service.
Stand-Up Pouches Market Report Scope
| | |
| --- | --- |
| Report Coverage | Details |
| Market Revenue in 2023 | USD 26.52 Billion |
| Projected Forecast Revenue by 2032 | USD 53.46 Billion |
| Growth Rate from 2023 to 2032 | CAGR of 8.1% |
| Largest Market | Asia Pacific |
| Base Year | 2022 |
| Forecast Period | 2023 to 2033 |
| Regions Covered | North America, Europe, Asia-Pacific, Latin America, and Middle East & Africa |

Market Dynamics
Drivers
Growing demand for convenient packaging
Modern lifestyles are becoming more hurried, which has increased the demand for packing options that are portable and simple to use. Due to its portability and convenience, stand-up pouches are preferred by consumers who lead busy lives. The sustainability of stand-up pouches is a significant design consideration. Compared to conventional packaging types like solid containers or glass bottles, they frequently need fewer resources during production. In addition, improvements in material science have produced environmentally friendly alternatives, including compostable or recyclable pouches.
Stand-up pouches require less manufacturing material than other packaging options like glass or metal. As a result, packing becomes lighter and more compact, requiring less energy for transportation and lowering production costs and carbon emissions. For instance, it's more than the food inside the packaging that matters to consumers when they purchase at the grocery store. Consumers are rethinking every step of their food purchasing process, including their food packaging.
High demand for packaged food
Packaged foods, particularly snacks, ready-to-eat meals, and beverages are preferred for convenience and portability. Stand-up pouches provide a portable and lightweight packing option, making them perfect for consumption while traveling. Due to the availability of eco-friendly materials and sustainable packaging solutions, stand-up pouches are becoming increasingly popular among consumers who care about the environment. Concerns regarding plastic waste are addressed by using recyclable or biodegradable materials in pouches. Compared to rigid packaging types such as cans or glass jars, stand-up pouches are frequently cheaper to create and transport. This cost-effectiveness may decrease manufacturing costs, which businesses may pass to customers or keep for themselves by increasing margins.
Restraints
Limited shape and size
Stand-up pouches are often made of flexible materials, such as plastic, aluminum, or paper, which can be challenging to work into precise designs. This limits design alternatives, especially when compared to options for rigid packaging. Storage and transit efficiency issues could arise from non-standard shapes and sizes. Pouches that differ significantly from the norm in size might not stack or fit into shipping and storage containers. A stand-up pouch's size is slightly limited by the volume it can carry without losing its distinctive shape. Extremely large or atypically formed pouches may lose their stability or capacity to remain upright.
Transportation and storage issues
Plastic, foil, or laminate are some examples of flexible materials used to make stand-up pouches. They are less expensive and lighter but are also more prone to damage during shipment. They are more easily pierced or ripped than rigid packaging, which can result in product loss or contamination. The materials used to make some stand-up pouches are sensitive to temperature changes. Extreme heat or cold might degrade the integrity of the pouch during transport or storage, which could result in leaks or poor product quality. To offer the essential barrier qualities for maintaining product freshness and quality, stand-up pouches frequently rely on numerous layers of materials. The bag's usefulness may be diminished if these layers are damaged while being transported.
Opportunities
Innovation in materials and manufacturing technologies
Improved barrier qualities in new materials can increase defense against external elements, including light, oxygen, and moisture, essential for maintaining the quality and freshness of packaged items, especially in sectors like food and pharmaceuticals. Modern heat-sealing processes provide safe and secure closures while protecting the integrity and safety of the product. Modern robots, automation, and printing technologies streamline production, boosting productivity and reducing lead times. This enables mass production without sacrificing quality.
Increasing consumer preference for convenience
Consumers need practical packaging solutions that fit easily into their hectic schedules in today's fast-paced environment. Stand-up pouches provide a hassle-free experience by making storing, transporting, and consuming goods simple. They meet the needs of contemporary consumers by being lightweight, simple to open, and resealable. Stand-up pouches effectively use available space on shop shelves and in storage.
They take up less room than conventional rigid packaging like bottles or jars, which is essential for customers with little room for storage at home and for merchants looking to fill as much shelf space as possible. Food and beverage, pet food, personal care, and home goods are just a few industries where stand-up pouches are used. Due to its adaptability, manufacturers can access various markets and satisfy customers' demands.
Recent Developments
In March 2023, a line of heat-resistant water-based ink-printed oven-friendly films and pouches from packaging maker Sirane was recently introduced. The company, which currently provides a wide variety of oven- and microwave-safe packaging, claimed that by creating appropriate water-based inks, it would be able to produce the goods in a way that was substantially more environmentally friendly.
In February 2023, according to a statement from ProAmpac, proActive Recyclable R-2050 was introduced to service the European market. Due to its distinct performance traits, R-2050 is a perfect alternative to traditional multi-material laminates without sacrificing the efficiency of high-speed filling lines.
In January 2023, the P-15 stand-up pouch spout and cap have been introduced to the market by Mespack and Hoffer Plastics. They are now made to work with monolayer materials and Mespack's horizontal form-fill-seal machinery.
Major Key Players
Sonoco Products Company
Amcor plc
ProAmpac
Mondi
Clondalkin Group
Coveris
Huhtamaki Group
Winpak Ltd.
Smurfit Kappa
Sealed Air
Bischof+Klein
FLAIR Flexible Packaging Corporation
Glenroy, Inc.
Hood Packaging Corporation
Uflex Limited
Market Segmentation
By Type
Standard
Retort
Aseptic
Hot-filled
By Material
Paper
Plastic
Bioplastic
Metal
By Closure
By Application
Pet Food
Food & Beverages
Healthcare
Homecare
Personal Care & Cosmetics
Others
Buy this Research Report@ https://www.precedenceresearch.com/checkout/1146
You can place an order or ask any questions, please feel free to contact at sales@precedenceresearch.com | +1 9197 992 333