The global protective coatings market size was estimated at USD 15.2 billion in 2021 and is expected to hit around USD 21.7 billion by 2030, poised to grow at a compound annual growth rate (CAGR) of 4.04% from 2022 to 2030.
Asia Pacific protective coatings market was valued at USD 5.1 billion in 2021

By end user, the infrastructure & construction segment registered the highest revenue share of over 28% in 2021.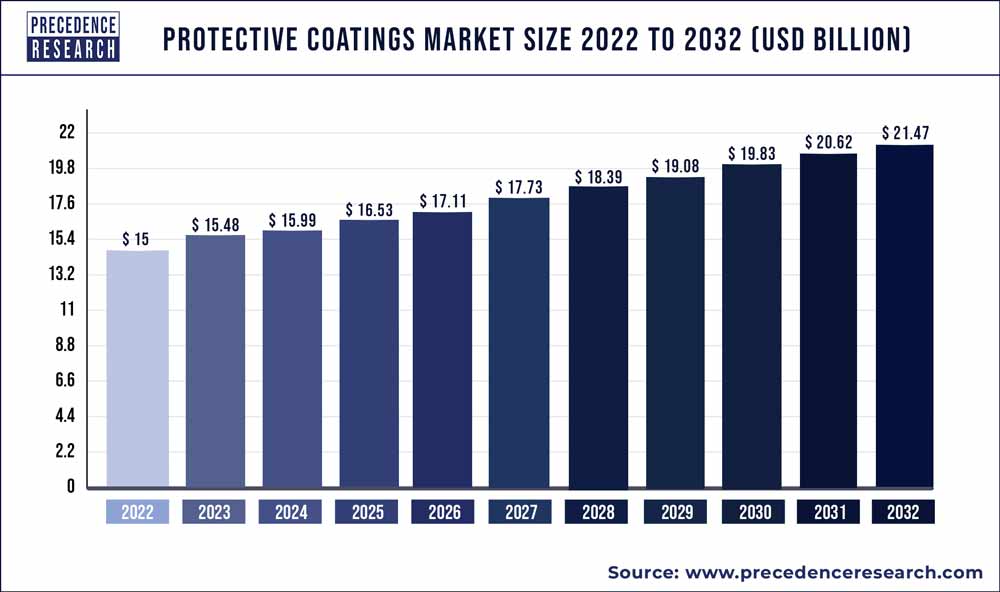 The purpose of a protective coating is to prevent or inhibit corrosion by adding a layer of substance to the surface of another material. A shielding layer could be metallic or non-metallic. Protective coatings are applied using a variety of techniques and have various uses besides preventing corrosion. Polymers, epoxies, and polyurethanes are often used substances in non-metallic protective coatings. Zinc, aluminum, and chromium are among the substances utilized to create metallic protective coatings.
The development of the construction industry, particularly in rising economies like Japan, China, and, India is being heavily fueled by the country's strong economic growth and growing government initiatives to build the nation's infrastructure. Over the course of the projected period, rising infrastructure spending in these countries is anticipated to support market growth for protective coatings.
Growth Factors
Concrete is frequently used in civil engineering structures since it is a durable and robust material. Buildings must also fulfil the owner's and architect's expectations for their aesthetic appeal. By avoiding water infiltration, sealing, and adapting surface cracks, protective coating solutions can increase the concrete's longevity as well as its appearance and color palette. Depending on where they are and what they are used for, concrete structures are exposed to a wide range of environmental conditions. The two most frequent factors contributing to concrete deterioration and reinforcing corrosion are carbonation and chloride attack.
Concrete with a coating to protect it from physical and chemical harm from the outside environment concreting coating enhances its appearance, simplicity of upkeep, and light reflectance. If coatings are applied correctly to a concrete surface that has been properly prepared, they can increase a structure's lifespan. Protective surface coatings are typically applied to protect freshly installed or repaired concrete surfaces from future chemical attack and invasion by noxious liquids and gases. impregnated with a water-repelling agent, pore-blocking elastic, and crack-bridging properties. The possibilities for this concrete surface protection include chemical resistance, abrasion and wear resistance. Hence, rising demand for corrosion protection of concrete is expected to be the driving factor.
Formulating Technology Insights
Depending upon the formulating technology, the solvent-based segment is the dominant player and is anticipated to have the biggest impact on protective coatings market. Organic chemicals that resemble solvents are present in solvent-based coatings, which operate as liquefying agents and evaporate when in contact with oxygen. Additionally, the liquefying chemicals fasten the drying process by a chemical reaction with environmental oxygen. Because of their nature, solvent-based coatings are simple to apply in a humid environment and at various temperatures. Additionally, solvent-based coatings dry quickly, many businesses choose them to avoid chemical interactions. For instance, businesses like Jamestown Coating Technologies provide industrial paints that are solvent-based and more resilient than coatings that are water-based. Therefore, the quick-drying properties of solvent-based coatings enable their use in humid conditions, which supports the development of solvent based segment of coatings.
The market for products based on water is anticipated to develop the fastest. Since this coatings technology has advanced, water-based coatings are now on par with or even superior to their solvent-based equivalents. High grade water dispersed acrylic emulsions are extremely durable, dry quickly, and smell significantly less.
Resin Type Insights
During the projected period, the epoxy segment is anticipated to be the largest. The Asia Pacific region's stable economy, rising disposable income, and rising living standards in developing nations like China, India, Malaysia, and Vietnam are all contributing to the region's expanding epoxy coating market. Epoxy coatings are resilient coatings that are used in a variety of applications. These coatings are well-liked because they give metals and other materials a quick-drying, strong, and protective coating. These coatings are quick and simple to apply, unlike conventional powder coatings, which makes them perfect for a number of applications. When used in flooring applications, they create a long-lasting and resilient flooring solution. In a range of commercial and industrial settings, including commercial and retail establishments, manufacturing facilities, industrial facilities, hospitals, warehouses, showrooms, aero plane hangars, and garages, they are used on concrete floors. They feature a glossy surface and are available in a range of hues and designs.
During the forecast period, the polyurethane section is anticipated to have a strong market expansion. Polyurethane coatings have qualities including physical damage tolerance, barrier properties, and chemically inert. By generating a thin, pleasing to the eye gloss covering and shields metal surfaces from damage, these coatings can also be utilized to safeguard metal surfaces.
End Use Insights
On the basis of end use industry, the infrastructure & construction category accounted for the largest market share in both volume and value. Protective coatings are applied to structures to increase their durability and to shield them from UV rays, fire, and corrosion. To increase heat resistance and minimize the impact of corrosive gases, they are used in industrial projects. the expanding construction industry and the need for these coatings to protect equipment from deterioration and to enhance its performance in affected locations. Throughout the projection period, this component is most likely to drive the market.
The offshore structure has a significant growth during the forecast period. For marine structures, whether they are submerged or located far below the surface of the water, coatings are the best form of protection. The primary factor is the steel, which is extremely susceptible to marine corrosion, makes up the majority of maritime structure, including ships, mobile or fixed drilling platforms, production platforms, bridges, pilings, and piping. To keep steel from reverting to its initial form, iron oxide, it needs to be completely protected. One, and maybe the only, way to shield every surface of a steel structure from the elements is using surface coatings.
Protective Coatings Market Share, By Region, 2021 (%)
| | |
| --- | --- |
| Regions | Revenue Share in 2021 (%) |
| North America | 39% |
| Asia Pacific | 19% |
| Europe | 30% |
| Latin America | 7% |
| MEA | 5% |

Regional Insights
Due to a growth in demand from finished industries such as infrastructural projects, power, automobiles, oil and gas, industrial, and maritime, Asia Pacific holds the largest market share 35% in 2021. Due to rising government spending in infrastructural projects, it is projected that infrastructure and building will increase in developing Asia Pacific countries like China and India. Among other things, these projects involve building bridges, trains, airports, and more. There is a high need for protective coatings that are used to stop and slow down corrosion brought on by severe weather patterns. These coatings are necessary to increase the durability and require no upkeep nature of the buildings and constructions. It is projected that the region's market will be fueled by rapid increase in construction sector.
According to predictions, North America's automotive industry will grow quickly, ultimately driving the market. As consumer interest in electric vehicles rises, the automotive sector is anticipated to grow. Due to the US's strong economy and the excellent development of the real estate sector commercial, it is anticipated that the non-residential building industry would grow. Additionally, there has been an increase in state and federal spending on institutional and public buildings. It is projected that the market will be driven by the rising demand from the commercial building and automotive industries.
Key Market Developments
The FIRETEX passive fire protection coatings portfolio from Sherwin Williams Protective and Marine has included a solution that allows for precise coating thickness parameters, which enhances applications and decreases capital for onshore assets.
Report Scope of the Protective Coatings Market
Report Coverage
Details
Market Size in 2022
USD 15.81 Billion

Market Size by 2030

USD 21.7 Billion

Growth Rate from 2022 to 2030
CAGR of 4.04%
Base Year
2021
Forecast Period
2022 to 2030
By Formulating Technology

Solvent based
Water based
Powder coatings

By Resin Type

Epoxy
Polyurethane
Acrylic
Alkyd
Zinc

By End Use

By Application

Abrasion Resistance

Chemical Resistance

Fire Protection

Heat Resistance

Corrosion Resistance

Pipe Coatings

Tank Linings

Others

Regions Covered

North America
Europe
Asia Pacific
Latin America
Middle East & Africa

Companies Mentioned

The Sherwin-Williams Company
PPG Industries, Inc.
Jotun
Akzo Nobel N.V.
Kansal Paint Co., Ltd.
Sika AG
The Chemours Company
Dulux Protective Coatings
Oasis Paints
Wacker Chemie AG
Henkel AG & Co. KGaA
NIPSEA GROUP
Berger Paints
Sherwin-Williams
Hempel