The global remote sensing technology market size was estimated at USD 18.16 billion in 2022 and is expected to hit around USD 55.36 billion by 2032, representing a CAGR of 11.79% from 2023 to 2032.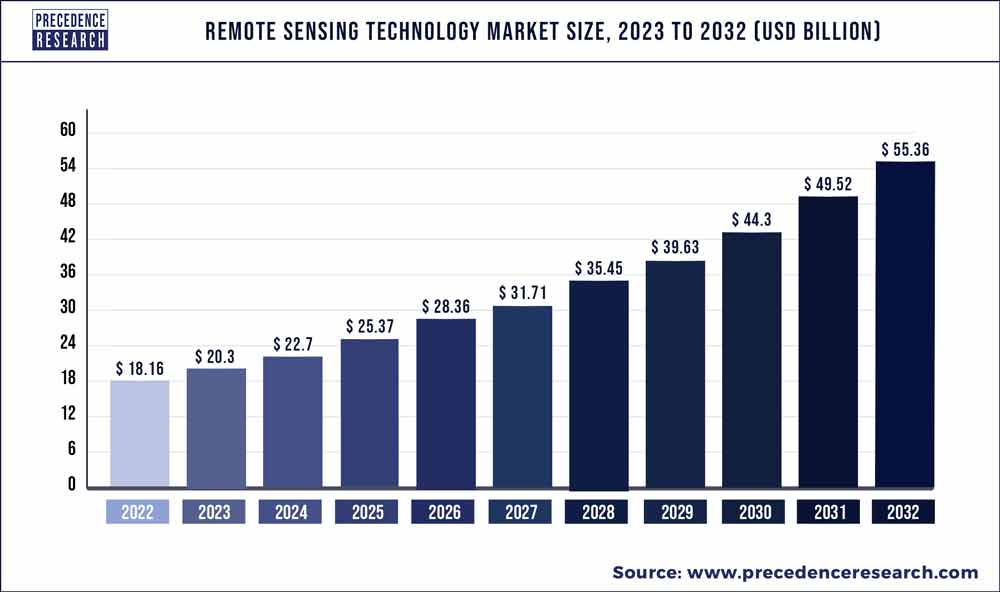 Access our Premium Real Time Data Intelligence Tool, Visit: Precedence Statistics
Key Takeaways:
North America region dominated the market and generated more than 41% of the revenue share in 2022.
By Technology, the passive remote sensing segment contributed more than 58% of revenue share in 2022.
By Application, the military and intelligence segment dominated the market and captured more than 34% of the revenue share in 2022.
By Platform, the aerial systems segment dominated the market and recorded more than 71% of the revenue share in 2022.
Remote sensing technology involves the utilization of sensors to obtain information and data concerning the planet's atmosphere, surface, and other features without any direct physical contact. This technology is utilized for gathering insights related to natural resources, the environment, weather, and various other aspects of the planet's surface and atmosphere. The information and data collected through remote sensing technology are applied in multiple domains, such as agriculture, climate monitoring, natural resource management, urban planning, forestry, and more.
Remote sensing technology is used in various aspects of life to gather information and data about the Earth's surface and atmosphere from a distance. Remote sensing technology is used to improve crop management by providing information on crop health, moisture levels, and soil characteristics. This information is used to optimize irrigation and fertilizer use, reduce water usage, and improve crop yields. Also, Remote sensing technology is utilized to map forest cover, assess forest health, and monitor deforestation. This information helps in forest management and planning, as well as in preventing wildfires. Remote sensing technology is used to identify and monitor natural resources, such as water, minerals, and oil. This helps in the exploration and management of these resources.
Growth Factors:
In the upcoming years, the global market for remote sensing technology is projected to grow significantly. This can be attributed to the increasing focus of governments on developing solutions for earth observation, utilizing aerial and satellite imaging systems, which creates a substantial demand for remote sensing technology. Additionally, there is a growing emphasis on solving end-to-end remote sensing problems through a science and engineering approach, which is influencing market dynamics.
Over the years, remote sensing technology has advanced greatly, providing a range of impressive surveying techniques with several advantages. This technology can survey vast and inaccessible areas, and the data collected from remote sensing can be used and analyzed in multiple applications.
For instance, data obtained from remote sensors used to survey a construction site can also be utilized to analyze and plan new roads. Data collected from forests to assess the risk of natural calamities like wildfires can also be employed to monitor biodiversity.
Remote sensing imagery has several specific uses in monitoring the planet/earth, such as mapping vast forest fires from space, predicting weather by tracking clouds, observing erupting volcanoes and dust storms, tracking the growth of cities and changes in farmland or forests, and mapping the rugged topography of the ocean floor.
Currently, many ongoing researches are seeking to improve remote sensing functionality. Researchers at the Resilient Infrastructure and Disaster Response (RIDER) Center of the FAMU-FSU College of Engineering are further investigating the better way to predict the areas for road-clogging which they become most severe after the tropical cyclones. This research is particularly relevant as remote sensing research is improving hurricane response.
Several factors have contributed to the growth of the remote sensing technology market. Here are some of the key growth factors in detail:
One of the significant factors is technological advancements. The development of advanced remote sensing technologies, such as high-resolution imaging sensors, has led to the expansion of remote sensing applications. The increased availability of satellite data and improvements in data processing techniques have also contributed to the market's growth.
Another factor driving growth is the rising demand for geospatial information. Many industries, including agriculture, natural resource management, urban planning, and climate monitoring, among others, require accurate and timely geospatial information. Remote sensing technology offers a cost-effective and efficient way to gather this information, driving the growth of the market.
The growing use of unmanned aerial vehicles (UAVs), or drones, has also expanded the range of remote sensing technology applications. Drones can collect data in areas that are difficult to access, such as forests and mountainous terrain, and provide high-resolution imagery for a range of applications.
Report Scope of the Remote Sensing Technology Market:
| | |
| --- | --- |
| Report Coverage | Details |
| Market Size in 2023 | USD 20.3 Billion |
| Market Size by 2032 | USD 55.36 Billion |
| Growth Rate from 2023 to 2032 | CAGR of 11.79% |
| Largest Market | North America |
| Base Year | 2022 |
| Forecast Period | 2023 to 2032 |
| Segments Covered | By Technology, By Application, and By Platform |
| Regions Covered | North America, Europe, Asia-Pacific, Latin America and Middle East & Africa |

Key Market Drivers:
The use of remote sensing and geographic information systems (GIS) in environmental risk management is expanding rapidly
A new sensor design is revolutionizing the use of remote sensing and geographic information systems (GIS) technology for spatial data analysis, mapping, and distribution. Remote sensing technology allows for precise spatial data extraction of the Earth's water and land surfaces from satellite or aircraft images. These parameters are subsequently analyzed, stored, manage, and then displayed using GIS. By using remote sensing data with varying spatial and temporal resolutions, the environmental variables can be measured. These technologies offer integrated solutions by combining the geospatial data from remote sensing and other given sources, and demographics. Advanced image process methods and algorithms may enable faster creation of the global environmental database.
As environmental risks caused by humans or natural disasters increasingly threaten communities globally, ecological risk assessment and management are essential for functions and the health of modern civilization. Remote sensing and GIS technology enable more creation of geo-referenced reports and the maps, which are utilized to develop inclusive environmental solutions. These technologies are increasingly vital for managing and assessing environmental risks as the global industrialization and further population growth place more pressure on the planet's environment.
Remote sensing has the ability to enhance the resilience of the agriculture productions system
Modern agriculture faces various challenges, including the depletion of water and land resources, the climate change, and high production costs, which are exacerbated by the COVID-19 crisis. These issues threaten the long-term economic and environmental sustainability of the food supply system. Meeting the needs of a growing global population requires scientific and technological advancements. Advances in artificial intelligence (AI) and remote sensing have enabled the precise measurement of field-scales phenotypic info and the integration of bigger data in the prescriptive and further predictive management tools.
To address these challenges, agriculture firms and researchers are exploring ways to incorporate progressive technologies like remote sensing in their systems. These advancements are essential for keeping pace with climate change and feeding a rapidly expanding global population.
Key Market Challenges:
The remote sensing technology market has experienced significant growth in recent years, attributed to its diverse applications and benefits. However, there are some major challenges that need to be addressed to sustain this growth in the future.
Some of these challenges include:
High cost: The cost of developing and deploying remote sensing technology can be substantial. Additionally, the cost of acquiring, processing, and analyzing data can also be high, making it difficult for small and medium-sized enterprises to adopt and implement remote sensing technology.
Technical complexity: Remote sensing technology requires a high level of technical expertise in areas such as data analysis, image processing, and GIS. This can make it difficult for non-experts to understand and effectively use the technology. Therefore, there is a need for user-friendly interfaces and tools that can simplify the technical complexity of remote sensing technology.
Data availability: Although there has been an increase in the availability of satellite and aerial imagery, there are still limitations in data availability, particularly in developing countries. The lack of reliable and timely data can hinder the adoption and growth of remote sensing technology in these regions.
Key Market Opportunities:
Emerging applications: Remote sensing technology is finding numerous new applications, such as precision agriculture, urban planning, disaster response, and climate monitoring. As technology continues to advance, it creates new opportunities for growth in the market.
Government initiatives: Governments are increasingly investing in remote sensing technology to support various applications, such as natural resource management, disaster response, and infrastructure planning. This investment creates new opportunities for remote sensing technology providers to offer their services to government agencies.
Integration with AI and big data: The integration of remote sensing technology with artificial intelligence and big data analytics can improve data processing and analysis, leading to more accurate and timely insights. This creates opportunities for remote sensing technology providers to develop new solutions that leverage AI and big data.
Segments Insight:
Technology Insights:
In 2022, the largest market share of remote sensing technology was held by the passive remote sensing segment. Its use in Earth observation applications is widespread due to its ability to provide higher-quality satellite images.
The active remote sensing segment also expected to grow at the CAGR of more than 6.5% in seven years. The technology emit its own lightto monitor and also analyzes for surface characteristics, making it effective for analyzing surface characteristics at night. Active remote sensing technology is frequently used to measure forest structure, sea surface topography, ice, and among other applications, and it overcomes the limitations of passive remote sensing technology.
Application Insights:
The military and the intelligence sector has dominated the market with the highest revenue share in 2022. The increased use of technology by developed nations to detect and to prevent criminal and harmful activities is a significant factor in this growth. Additionally, countries like China and Russia are focusing for utilizing satellite images for defense purposes. These factors are likely to contribute to market growth in the coming years.
The disaster management sector is expected to exhibit the fastest CAGR of 17.96% during the projection period. Remote sensing technology provides valuable information on natural disaster loke storms and volcanic eruptions. The availability of updated and continuous data assists authorities in making better decisions related to evacuations and post-disaster actions. The application segment also includes living resources, agriculture, weather, infrastructure, and others.
Platform Insights:
In 2022, the aerial systems segment dominated the market with the largest share. This was due to the rising adoption of drones or Unmanned Aerial Vehicles (UAVs) for aerial mapping, which reduces costs and allows for faster data collection. Furthermore, drones can provide highly accurate data for surface mapping in areas that may not be accessible by satellites.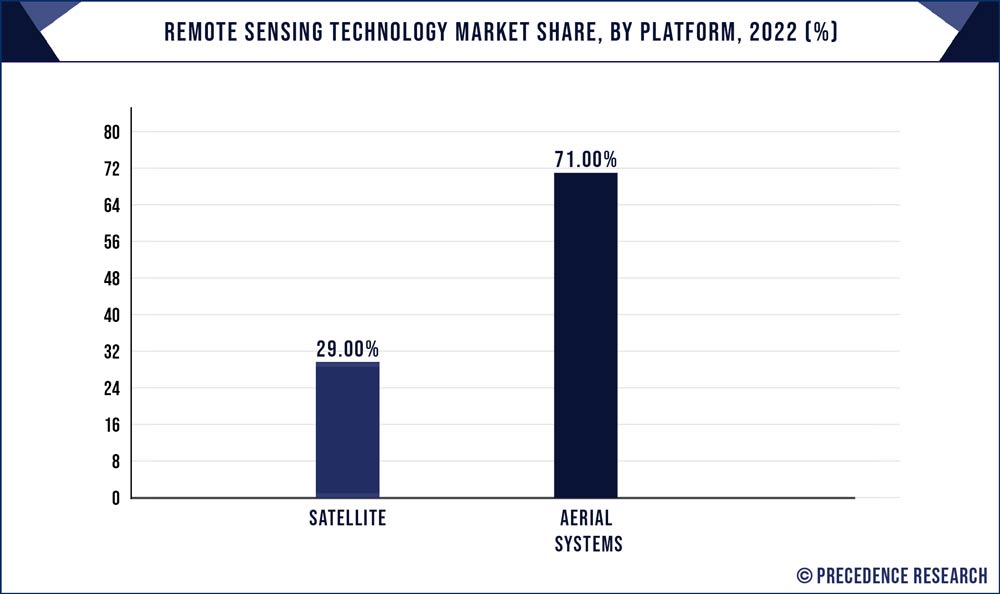 The satellite segment is predicted to witness a significant CAGR of over 4% in next seven years. It is attributed to mainly the increasing number of earth observation projects by main space agencies, including NASA. Another factor expected to drive demand in the forecast period is the growing use of satellite-based images for weather forecasting. Meteorological satellites are capable of estimating winds near sea surfaces from space, and which is useful in tracking and locating cyclones.
Regional Insights:
North America is predicted to grow at a CAGR of around 11.35%. This can be attributed to the presence of significant market players. Use of the remote sensing technology in precision agriculture is expected to drive market growth over the forecast period. This technology equips water resource managers with the tools to combat dry spells and droughts and match crop irrigation needs.
Over the next ten years, the Asia-Pacific region is projected to grow at a significant CAGR of 14.24%. This growth is mainly due to the increase in the adoption of earth observation applications for infrastructure development. Countries like China, India and Japan are launching satellites to further improve their earth observation capabilities which aid in development. The Indian Space Research Organization (ISRO) has announced plans to launch ten more earth observation satellites in the next two years.
Recent Developments:
In January 2022, Northrop Grumman Corporation successfully conducted a rocket motor static test for its precision strike missile. The purpose of the test was to verify the design of the motor for production. Northrop Grumman's use of digital technologies helps to make the production of tactical solid rocket motors more cost-effective and efficient.
Key Market Players:
Airbus SE
BlackSky Global LLC
Harris Corporation
ImageSat International N.V.
L3Harris Technologies, Inc.
Lockheed Martin Corporation
Maxar Technologies Inc.
Mitsubishi Electric Corporation
Raytheon Technologies Corporation
The Boeing Company
Segments Covered in the Report:
(Note*: We offer report based on sub segments as well. Kindly, let us know if you are interested)
By Technology
Active Remote Sensing
Passive Remote Sensing
By Application
Agriculture & Living Resources
Military & Intelligence
Disaster Management
Infrastructure
Weather
Others
By Platform
By Geography
North America
Europe
Asia-Pacific
Latin America
Middle East and Africa