The global satellite communications (SATCOM) market size accounted for USD 81.26 billion in 2022 and it is expected to hit around USD 211.34 billion by 2032, growing at a CAGR of 10.03% during the forecast period 2023 to 2032.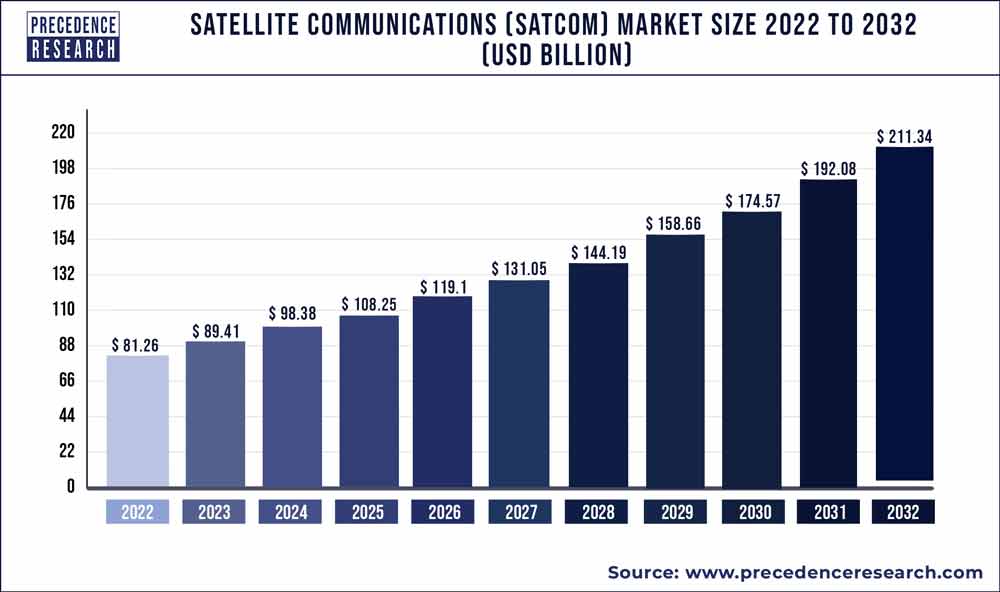 Access our Premium Real Time Data Intelligence Tool, Visit: Precedence Statistics
Key Takeaways:
North America dominated the global market with the largest market of 34% in 2022.
By Component, the equipment segment contributed more than 60% of revenue share in 2022.
By Application, the broadcasting segment contributed more than 24% of revenue share in 2022.
Market Overview:
Satellite communications, often referred to as satcom, involve the use of artificial satellites to transmit and receive signals for various communication purposes. These purposes can include television broadcasting, internet connectivity, telephone services, data transmission, navigation, and remote sensing. Satellites operate by transmitting signals from Earth to space and vice versa, providing global coverage and enabling communication in remote or difficult-to-reach areas.
The satellite communications market has experienced remarkable growth over time, driven by the rising need for high-speed internet connectivity, the expansion of digital broadcasting services, disaster recovery, emergency communication requirements, and the increasing adoption of IoT (Internet of Things) devices. One of the transformative trends is the emergence of High-Throughput satellite (HTS) technology. HTS has revolutionized the industry by offering superior data transfer rates and increased capacity in comparison to traditional satellites. This advancement has paved the way for enhanced broadband services, particularly in rural and underserved areas.
Low Earth Orbit (LEO) and Medium Earth Orbit (MEO) satellite constellations have garnered attention as well. Companies such as SpaceX (Star link) and One Web have deployed these constellations, which hold the potential to deliver global, low-latency internet coverage. Comprising numerous small satellites working in tandem, these constellations ensure comprehensive coverage. Integration with 5G networks represents another significant trend. Satellite communications are being seamlessly integrated with 5G networks, enhancing connectivity, particularly in remote regions. This integration facilitates quicker data transfer rates, reduced latency, and overall improved performance.
The utilization of satellites for remote sensing and earth observation is gaining momentum. These satellites play an increasingly vital role in tasks such as environmental monitoring, disaster management, agriculture, and urban planning through advanced remote sensing technologies. This trend contributes to more informed decision-making and the adoption of sustainable practices.
The growing interest in commercial space exploration is fuelling demand for satellite communications. Activities such as space tourism, lunar exploration, and ventures beyond earth's bounds have led to heightened requirements for satellite communications to support these endeavours. In terms of regional market distribution, factors including technological progress, infrastructure development, economic growth, and regulatory policies influence the landscape. North America, particularly the United States, has held the lion's share of the satellite communications industry. This dominance is attributed to the presence of major satellite operators, manufacturers, and technology innovators in the region. Europe and the Asia-Pacific region are making increasing contributions to the market.
Growth Factors:
The satellite communications market is currently undergoing a substantial surge in growth, attributed to a convergence of influential elements that are actively reshaping the industry's landscape. These pivotal growth factors encompass an array of technological advancements, the evolving demands of users, the ever-expanding scope of applications, and strategic innovations. The surge in demand for seamless global connectivity stands as a fundamental driving force. Satellite communications offer a reliable solution to bridge communication gaps in remote and underserved regions by furnishing internet access, voice communication, and data transfer services where traditional infrastructure remains inadequate.
The emergence of High-Throughput satellite (HTS) technology has had a significant impact, amplifying the market's growth trajectory. These satellites boast augmented data transmission capabilities, effectively facilitating faster and more efficient broadband services. This advancement plays a particularly pivotal role in fulfilling the escalating need for high-speed internet access on a global scale. The widespread proliferation of Internet of Things (IoT) devices across diverse industries underscores the necessity for robust communication networks. Satellite communication effectively supports the wide-scale deployment of IoT devices across sectors such as agriculture, transportation, healthcare, and smart cities, thus steering market growth.
The expansion of digital broadcasting services, inclusive of platforms like direct-to-home (DTH) television and radio broadcasting via satellites, is decisively fostering market growth. Satellites serve as a conduit for disseminating high-quality content to expansive audiences, thereby contributing to the thriving media and entertainment sectors. The pivotal role played by satellite communications in disaster recovery and emergency response scenarios cannot be overstated. Their capacity to establish communication links in instances where terrestrial infrastructure is compromised is indispensable during natural disasters, making satellite technology indispensable for governments, organizations, and relief efforts.
The increasing reliance on satellites for remote sensing and earth observation applications constitutes a significant driver of market growth. These technologies are harnessed for tasks like environmental monitoring, weather forecasting, agricultural analysis, urban planning, and resource management, effectively enhancing the precision of decision-making processes. The burgeoning interest in commercial space exploration, encompassing endeavours like space tourism and lunar missions, has created fresh avenues for satellite communications. These missions inherently require dependable communication links to oversee command and control, facilitate data transmission, and ensure the safety of those venturing into space. Satellite communications hold a position of paramount importance in military and defence operations.
The secure and dependable communication channels provided by satellites are indispensable for real-time intelligence gathering, surveillance, reconnaissance, and secure data transmission. The ongoing innovations in satellite launch technologies and satellite design are rendering space more accessible and cost-effective. This, in turn, encourages the participation of new market entrants and spurs growth within satellite communication services. The presence of favourable regulatory frameworks and efficient spectrum management policies substantially facilitates the growth of satellite communications. Governments and international bodies are collaboratively working towards optimal spectrum allocation and minimal interference, thus contributing to a conducive market environment. The growth of the satellite communications market is underpinned by a multifaceted blend of factors, each addressing heightened connectivity demands, technological advancements, the expansion of applications spanning diverse industries, and the exploration of novel horizons in space-based communication.
Report Scope of the Satellite Communications (SATCOM) Market:
| | |
| --- | --- |
| Report Coverage | Details |
| Market Size in 2023 | USD 81.26 Billion |
| Market Size by 2032 | USD 211.34 Billion |
| Growth Rate from 2023 to 2032 | CAGR of 10.03% |
| Largest Market | North America |
| Base Year | 2022 |
| Forecast Period | 2023 To 2032 |
| Segments Covered | By Component and By Application |
| Regions Covered | North America, Europe, Asia-Pacific, Latin America, and Middle East & Africa |

Market Dynamics:
Driver:
Advancements in technology
Technology development is an important contributor to advancing the expansion and development of the satellite communications industry. Systematically proposing creative solutions that improve the performance, efficiency, and general capabilities of satellite-based communication systems, these technical advancements are redefining the industry. Technology advancements are a major factor driving the satellite communications market forward. These technological advancements from HTS to LEO/MEO constellations and 5G integration improve connection, broaden applications, and reimagine the potential of international communication.
Restraint:
High costs
Although the market for satellite communications is booming with innovation and potential, it is constrained by a serious problem i.e., high costs. A significant market limitation is the high cost of satellite communications, which includes infrastructure expenditures as well as costs for satellite development, launch, and operation. Finding strategies to control and reduce these costs will be essential for fostering accessibility, innovation, and the long-term expansion of satellite communication services as the sector develops.
Opportunity:
New business models
The market for satellite communications offers an attractive potential in the shape of fresh and cutting-edge business concepts. New methods for selling satellite-based services are developing as the market continues to change, giving both existing firms and up-and-comers new opportunities for expansion and diversification. Exciting potential for expansion and innovation are presented by new business models in the satellite communications sector. Stakeholders may develop value-added services that meet changing client expectations and propel the industry's continuous progress by using new trends including space tourism, IoT services, partnerships, and data analytics.
Challenge:
Governmental restrictions
The satellite communications business faces a substantial obstacle in the form of governmental restrictions. The development, implementation, and use of satellite communication systems may be hampered by these intricate and often changing restrictions imposed by national and international agencies. The industry for satellite communications faces tough obstacles from regulations. The industry's global and dynamic character calls for extensive international collaboration, flexible regulatory frameworks, and effective spectrum management to guarantee equitable access, avoid interference, and promote the sector's ongoing development and innovation.
Impact of Covid-19:
The COVID-19 epidemic has had a tremendous impact on the satellite communications industry, with results that have both challenged and advanced several aspects of the sector. The need for stable internet access increased as a result of lockdowns and distant work, and satellite communications became crucial in filling in the gaps in off-the-grid and underdeveloped areas. As a result of the epidemic, industries including telemedicine, distant education, and remote monitoring benefited from satellite communications. Applications for satellite-based remote sensing became increasingly popular, helping to track the virus's progress and assisting with disaster management. Project delays brought on by financial instability had an influence on the deployment of satellites and the growth of infrastructure.
Event cancellations and venue closings have an influence on the entertainment industry, changing consumer habits and having an impact on satellite-based transmission. During these difficulties, the pandemic highlighted the value of robust communication networks, which may encourage additional spending on satellite equipment for neglected areas. Systematically embracing remote work and virtual cooperation, the satellite communications sector proven its capacity for resilience and flexibility in times of crisis. The pandemic had a complex effect on the satellite communications industry. The sector's contribution to maintaining basic services, worldwide connectivity, and the pace of the digital transition was highlighted. The future course of the sector will be greatly influenced by how well it can navigate difficulties and take advantage of new opportunities.
Segments Insight:
Component Insights:
In 2022, the equipment segment dominated the satellite communications market. The physical equipment and modern technologies required for satellite communication operations are included in the equipment category. Small satellites, such as CubeSats and Small Sats, have emerged as a result of technological advancements in satellite design and are an affordable choice for a variety of uses. These developments have opened access to space and given niche firms and startups a chance to break into the market. In order to meet the various communication demands of both established operators and up-and-coming businesses, the equipment segment exhibits a persistent pursuit of efficiency, scalability, and flexibility.
The services segment encompasses the range of offerings provided to end-users, governments, enterprises, and industries that rely on satellite communication. These services encompass data transmission, voice communication, broadband connectivity, broadcasting, IoT connectivity, and value-added applications such as remote sensing and earth observation. Services cater to the growing demand for seamless global connectivity, disaster recovery solutions, remote monitoring, and real-time data exchange across various sectors.
Application Insights:
In 2022, the broadcasting segment dominated the satellite communications market. The broadcasting segment stands as a cornerstone of the satellite communications landscape, providing a reliable and efficient means to distribute content to vast audiences. Broadcasting via satellite encompasses television and radio broadcasting, direct-to-home (DTH) services, and multimedia content delivery. Satellite broadcasting offers high-quality signals that transcend geographical boundaries, enabling seamless transmission of news, entertainment, educational content, and live events to diverse audiences.
The airtime segment focuses on providing connectivity services to users through satellite networks. This includes various communication services, such as voice calls, messaging, data transfer, and internet access. Airtime services cater to a wide range of industries, including maritime, aviation, defense, disaster response, remote areas, and IoT applications.
Regional Insights:
The satellite communications market was led by North America in 2022. North America, particularly the United States, has historically held a prominent position in the global satellite communications market. It boasts a robust ecosystem of satellite operators, manufacturers, technology innovators, and service providers. The region's advanced space infrastructure, coupled with a strong focus on innovation, has enabled the deployment of high-capacity satellites and groundbreaking constellations.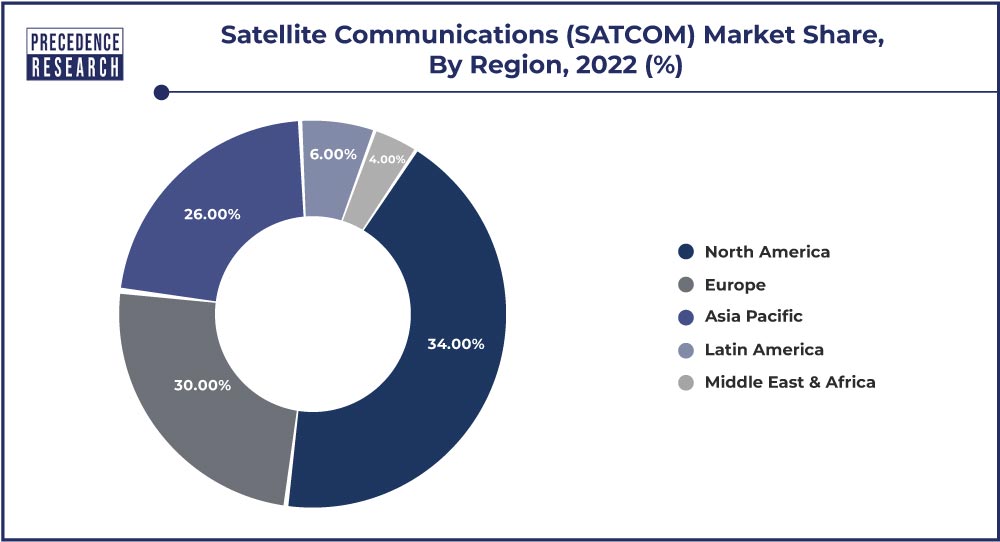 In Europe, the European Space Agency (ESA) and multiple European countries have contributed to satellite development and deployment. The region houses major satellite operators offering services ranging from broadcasting to broadband connectivity. Europe's emphasis on collaboration, research, and technology development ensures its continuous influence in the global market.
In the Asia-Pacific region, there has been rapid growth in the satellite communications market. Countries such as China, India, and Japan have made substantial investments in space programs, satellite launches, and related technologies. The region's escalating demand for connectivity, expanding economies, and technological advancements contribute to its rising significance.
Recent Developments:
In March 2023, One Web constellation took total count of its constellation to 618 satellites with the launch of 36 Low Earth Orbit (LEO) satellites by New Space India Limited (NSIL).
In August 2023, The German launch service provider has raised 32.9 million dollars from global investment firm Kohlberg Kravis Roberts & Co.
Key Market Players:
SES S.A.
Intelsat
Eutelsat
Inmarsat
Iridium Communications
Viasat
Tele sat
Hughes Network Systems
Thales Alenia Space
One Web
SpaceX (Star link)
China Satellite Communications Corporation
Segments Covered in the Report:
(Note*: We offer reports based on sub-segments as well. Kindly, let us know if you are interested)
By Component
By Application
By Geography
North America
Europe
Asia-Pacific
Latin America
Middle East and Africa