The global semiconductor wafer market size was estimated at USD 20.18 billion in 2022 and it is expected to hit around USD 35.16 billion by 2032, poised to grow at a CAGR of 5.71% during the forecast period 2023 to 2032.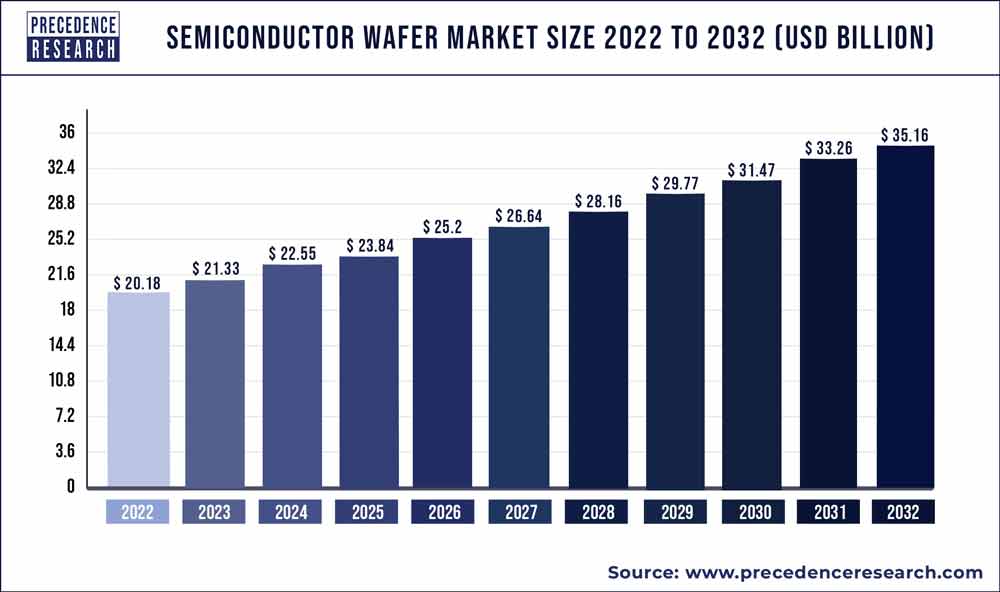 Key Takeaways:
North America is expected to grow at a significant rate during the forecast period. Whereas Asia Pacific is expected to witness the fastest rate of growth throughout the forecast period.
By wafer size, the 12-inch segment is expected to hold a dominating share throughout the forecast period.
By technology, the wafer bumping segment is expected to dominate the market throughout the forecast period.
By product, the memory segment held the dominating share of the market and will sustain its growth in the semiconductor wafer market.
By application, the consumer electronics segment is expected to sustain the dominating position in the predicted timeframe.
Market Overview:
A substrate, a thin slice of semiconductor material, is called a wafer and is used to create integrated circuits. Wafers are widely regarded as the brains of electronic gadgets since they serve as the foundation on which circuits with integrated circuits are embedded. Other materials are also diffused and deposited onto the wafers to create microcircuits. It can be a substratum for various microelectronic components skillfully inserted into and on top of silicon wafers.
These semiconductors regulate the electrical current between the tiny IC components inside different electronic gadgets. These include mobile phones, laptops, PCs, and tire pressure sensor systems. The ICs can, therefore, operate as commands for the operations of each device. Silicon wafers are frequently utilized as the primary components of semiconductors in the production of integrated circuits (IC) due to their excellent mobility at both low and high temperatures.
For instance, in August 2023, the growing use of semiconductors in common appliances and generous subsidies from the US and the EU to keep the West ahead of China in the battle for cutting-edge technology are encouraging chipmakers to invest billions of dollars in establishing new plants.
Growth Factors:
The wafer industry is expanding due to ongoing developments in semiconductor technology, such as the shift to smaller process nodes (for example, from 14nm to 7nm and beyond). As a result, producers can create more compact, potent, and energy-efficient chips. For features such as autonomous driving, electrification, and connection, the car industry is becoming increasingly dependent on cutting-edge electronics. More sophisticated semiconductor wafers are needed for this.
One primary driver is the widespread use of electronic devices in various sectors, including consumer electronics, automotive, healthcare, and telecommunications. Manufacturing the integrated circuits (ICs) utilized in these devices is intimately related to the demand for semiconductor wafers.
More potent and energy-efficient chips are needed due to the growth in data centers and cloud computing services. The need for cutting-edge semiconductor wafers has consequently increased.
Government funding, subsidies, and policies may majorly determine how the semiconductor sector develops. R&D expenditures and financial incentives for semiconductor production sites can fuel growth. The need for specialist chips such as graphics processing units (GPUs) and microcontrollers, which are made on semiconductor technology, is being driven by the rapid development of artificial intelligence (AI) and Internet of things (IoT) technologies.
The need for specialized semiconductors is driven by the healthcare industry's expanding reliance on electronic equipment for diagnoses, monitoring, and treatment. The global emphasis on sustainability and the shift towards greener technologies, including electric vehicles and energy from renewable sources, drives the demand for power electronics and additional semiconductor components.
Report Scope of the Semiconductor Wafer Market:
| | |
| --- | --- |
| Report Coverage | Details |
| Market Size in 2023 | USD 21.33 Billion |
| Market Size by 2032 | USD 35.16 Billion |
| Growth Rate from 2023 to 2032 | CAGR of 5.71% |
| Largest Market | North America |
| Base Year | 2022 |
| Forecast Period | 2023 to 2032 |
| Segments Covered | By Wafer Size, By Technology, By Product, and By Application |
| Regions Covered | North America, Europe, Asia-Pacific, Latin America, and Middle East & Africa |

Driver:
Rising demand for large current and voltage handling capacity
Electronics, aerospace, automotive, telecommunications, and energy from renewable sources are a few sectors where semiconductor wafers are used. Different current and voltage parameters are required for each of these applications. For instance, although microcontrollers in electronic products work at much lower levels, power electronics in electric vehicles need to be able to handle high voltages. Electric car adoption is increasing in the automotive sector. Power electronics play a significant role in EVs' motor control, battery management, and charging. The effective operation of these systems depends on semiconductors with high-voltage management capabilities.
Semiconductor wafers are able to control varying currents and voltages are required to create smart grids and energy storage technologies. These elements are essential for preserving grid stability and maximizing energy storage technologies. Electronic equipment is becoming smaller and more energy efficient as technology develops. Smaller-sized semiconductors with greater current handling capacity are required as a result, while the element acts as a driver for the market.
Restraint:
Limitations with frequency range
High-frequency applications frequently need precise and reliable manufacturing procedures. In high-frequency devices, even small changes in parameters such as doping concentration, oxide thickness, or etching depth can significantly impact the overall performance. The main issue with high-frequency applications is heat dissipation. Effective thermal management is crucial to avoid device degradation or failure when the frequency rises, and power densities likewise climb.
Maintaining a clear signal free of noise and interference is crucial for high-frequency applications. Crosstalk between nearby conductors can pose a serious issue. For high-frequency devices, material selection is critical. Finding materials with appropriate electrical characteristics, minimal losses, and good thermal conductivity for various applications is a common challenge for the semiconductor wafer industry.
Opportunity:
Improving infrastructure for fabrication plants
The growing number of applications in the electronics, automotive, telecommunications or healthcare industries are driving up the need for semiconductor wafers on a global scale. IoT, AI, 5G and electric cars are the driving forces behind this increase in demand. Whereas this demand is observed to highlight the requirement for a potential infrastructure for semiconductor fabrication. However, if done strategically, the benefits might be substantial. Companies can access high-entry-barrier facilities without developing them from the ground up by owning existing fabs or partnering with them. Fabrication facilities for semiconductors are long-term investments with a multi-year lifespan. This may offer security and protection from transient market volatility. Knowledge exchange, collaborative research projects, and access to complementary assets and skills can all result from this. By investing in semiconductor fabrication facilities, businesses can maintain their leadership in technological developments and remain competitive in a constantly changing sector.
Segments Insight:
Wafer Size Insights:
The 12-inch segment is expected to hold a dominating share of the market during the forecast period. Compared to lesser wafer sizes such as 8-inch (200mm) or 6-inch (150mm), the 12-inch wafer enables the production of more chips per wafer. As a result, the cost per die is much cheaper, which benefits manufacturers financially. With more modern process technologies (such as 22nm, 14nm, 7nm, etc.) that offer better performance, reduced power consumption, and better integration, 12-inch wafers are frequently employed. The demand for larger wafer sizes has increased due to these technological developments. As a result, manufacturing expenses are decreased, and production efficiency is raised.
Many semiconductor firms have invested in 12-inch fabrication facilities to enhance production. Reducing material waste has been made possible by the switch to bigger wafer sizes. Due to the circular form of a wafer, the outer section is frequently wasted when producing integrated circuits. Less of the wafer is lost with a broader diameter, increasing material efficiency.
For instance, in August 2023, 12-inch 2D semiconductor wafer mass production has reached a new level in China. Chinese researchers have created a process for batch-producing a wafer-scale material that is only one atom thick, allowing for the manufacturing of wafers as large as 12 inches (300 mm) from those as small as two inches.
The 8-inch segment is the fastest-growing in the semiconductor wafer market. 8-inch wafers are commonly used because they provide a compromise between size and price. Multiple manufacturers choose the production of 8-inch wafer as the machinery and procedures for generating them is well-established. Larger wafer sizes, such as 12 inches (300mm) and 18 inches (450mm), have steadily become more common in the semiconductor industry. However, switching to larger wafer sizes necessitates a considerable financial commitment and presents numerous technical difficulties. As a result, 8-inch wafers continued to be a popular option for many applications.
Technology Insights:
The wafer bumping segment is expected to dominate the semiconductor wafer market during the predicted period. Electronic devices that are highly compact and powerful are constantly in demand as technology develops. Wafer bumping enables the fabrication of small and highly integrated ICs by permitting finer pitch and more densely packed connections. The need for small, power-efficient semiconductor solutions has increased due to the widespread use of wireless communication technologies and the Internet of Things (IoT). For producing RF (Radio Frequency) devices and sensors requiring high-frequency performance and compactness, wafer bumping is essential.
Flip-chip packaging, a commonly utilized technology in high-performance and high-density applications, depends on wafer bumping. The electrical performance, connector lengths, and heat dissipation of flip-chip technology are all improved. To ensure high reliability under varied operating situations, wafer bumping techniques have been improved. For mission-critical, aerospace, and automotive applications, this is essential.
Product Insights:
The memory segment is expected to dominate the semiconductor wafer market during the predicted period. The development of many types of memory, including DRAM (Dynamic Random Access Memory), NAND Flash, NOR Flash, and upcoming technologies such as 3D XPoint and MRAM (Magneto resistive Random Access Memory), has been facilitated by ongoing technological breakthroughs in the memory sector. These innovations offer enhanced functionality, more considerable storage capabilities, and reduced power usage.
The need for data storage has grown exponentially with the spread of digital devices, storage facilities, and cloud computing. The memory market has grown because of this. The memory market is under regulatory examination, especially concerning competition and intellectual property difficulties. This may affect market dynamics and big companies' strategies. The memory market has a reputation for being cyclical. Overcapacity may result from periods of high demand, which will drive down prices. In contrast, producers might scale back their output amid slumps to stabilize costs.
The processor segment is expected to witness the fastest rate of growth in the semiconductor wafer market during the predicted period. The most cutting-edge semiconductor technology is found in processors. Continuous innovation is applied to them, resulting in the creation of quicker, more potent, and energy-efficient chips. Processor demand has increased due to the emergence of new technologies, including artificial intelligence, machine learning, and the Internet of Things (IoT).
These applications demand specialized CPUs to manage complex computations and real-time data processing. The demand for powerful processors has been fueled by the proliferation of data centers and the growing reliance on cloud-based services. To handle the vast amount of data generated and processed daily, data centers need high-performance CPUs.
The demand for high-performance processors has expanded due to the widespread use of consumer devices such as smartphones, tablets, laptops, and smart appliances. These devices' complicated apps and processes greatly rely on their potent CPUs. With the launch of 5G and the rise in demand for high-speed internet, there has been a sharp increase in demand for networking and telecommunications equipment processors that can handle the data flow.
Application Insights:
The consumer electronics segment is expected to be dominant in the semiconductor wafer market during the forecast period. Annual sales of consumer electronics are in the billions, making it a huge market. Semiconductor components, dependent on semiconductor wafers, are necessary for gadgets, including smartphones, tablets, laptops, televisions, and wearables
Manufacturers of semiconductors are required to create specialized chips to comply with new standards like Wi-Fi protocols, HDMI requirements, and mobile network generations. These frequently involve the employment of kinds of semiconductor wafers. The fierce competition in the consumer electronics sector forces manufacturers to lower prices. This is accomplished partly by creating more effective and affordable components using cutting-edge semiconductor techniques and wafers. From smartphones to smart appliances, consumer electronics includes many devices. Each semiconductor needs, from sensors to microcontrollers, call for different wafers.
The automotive segment is expected to be the fastest growing segment of the market. The widespread transition to electric vehicles is a key element for the growth of the segment. Advanced driver assistance systems (ADAS), power management, and control systems primarily rely on semiconductor technology in EVs. Semiconductor components play a significant role in ADAS technology, which includes functions like adaptive cruise control, lane departure warning, and automated emergency braking. The desire for increased safety and the advancement of autonomous driving capabilities drives this trend. Incorporating cutting-edge technologies like entertainment systems, navigation, networking, and different sensors for safety and independent driving features, modern vehicles are becoming increasingly sophisticated. These systems call for a substantial quantity of semiconductors.
A single vehicle now has an increasing number of semiconductors. More sophisticated and intricate electrical systems have been incorporated to address consumer requests for improved in-car experiences and safety requirements. Consumers expect modern communication technologies like Bluetooth, Wi-Fi, and infotainment systems in their cars. These functions heavily rely on semiconductor parts.
Regional Insights:
North America is expected to register a significant growth in the semiconductor wafer market during the forecast period. Several significant semiconductor firms, including Intel, Nvidia, AMD, Qualcomm, and others, are headquartered in North America, primarily the United States. These businesses have been leaders in semiconductor technology for a long time. It has led the way in creating innovative manufacturing techniques.
For instance, one of the biggest semiconductor firms in the world, Intel, has been a pioneer in the creation of cutting-edge fabrication processes. North American semiconductor-associated businesses frequently enter strategic partnerships and acquisitions to increase their capabilities and market reach. They can take advantage of new markets and technology as a result. North American businesses produce various goods, from microprocessors and memory chips to highly specialized chips for applications, including graphics, networking, and mobile devices.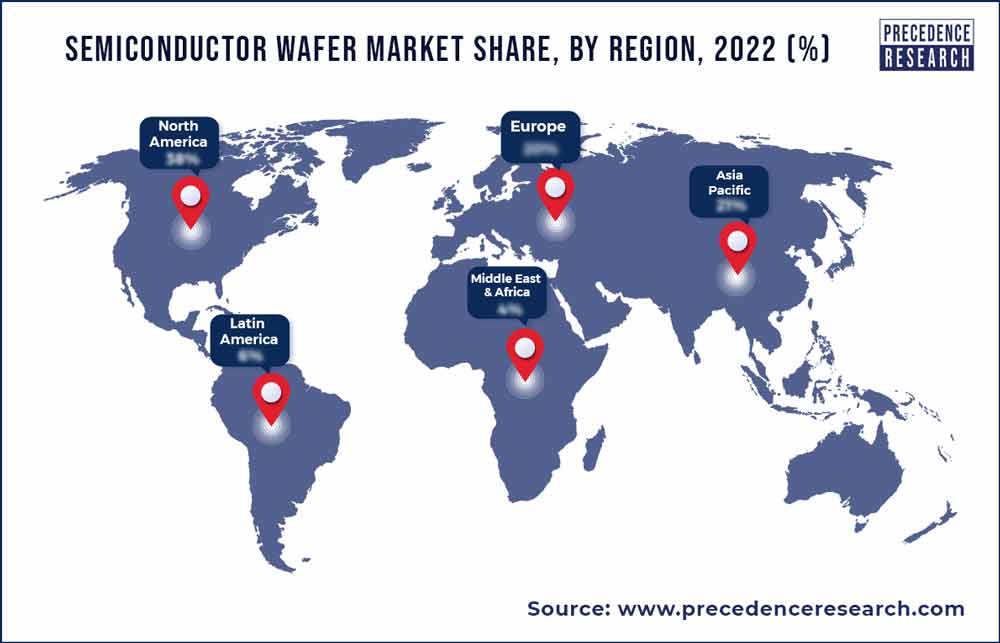 The area is renowned for placing a high priority on semiconductor technology research and development. Top universities and research centers heavily influence advancements in North America's semiconductor materials, designs, and processes. Government policies that affect the semiconductor industry's competitiveness include tax incentives, research grants, and regulations. Governments in North America have historically supported the sector through several initiatives.
Asia Pacific is expected to witness the fastest rate of growth throughout the forecast period. A robust supply chain ecosystem in Asia Pacific supports the production of semiconductors. This comprises raw material and foundry suppliers, equipment producers, and assembly and testing facilities. Due to ongoing innovation, the site has led the way in technological developments for producing semiconductors of more compact, effective semiconductor devices in high demand worldwide. Some of the biggest consumer electronics markets in the world are found in Asia Pacific, including those in China, Japan, South Korea, and India. The semiconductor sector has grown significantly due to the rising demand for smartphones, laptops, IoT devices, and automotive electronics.
Governments and commercial organizations in the area have invested a lot in semiconductor production and research facilities. This includes programs to promote R&D, create semiconductor parks, and provide incentives to draw multinational corporations. The availability of skilled professionals and talent pool are valuable resources for businesses in the semiconductor sector. Some countries in the Asia Pacific area have put laws and rules into place that support the expansion of the semiconductor sector. Processes for obtaining permits can be made simpler, financial incentives can be offered, and research and development can be supported.
Recent Developments:
In June 2023, American wafer fabrication manufacturer Lam Research developed Coronus DX. It can deposit a proprietary protective film coating on both sides of the wafer edge in a single step, preventing damage and defects frequently occurring during advanced semiconductor manufacturing.
Key Market Players:
Alfa Chemistry
Wafer World, Inc.
Shin-Etsu Chemical Co., Ltd.
WaferPro
LONGi Green Energy Technology Co., Ltd.
Fujimi Incorporated
Okmetic
SIEGERT WAFER GmbH
Segments Covered in the Report:
(Note*: We offer reports based on sub-segments as well. Kindly, let us know if you are interested)
By Wafer Size
By Technology
Wafer Bumping
Packaging & Assembly
Testing & Inspection
Others
By Product
Processor
Memory
Analog
Other Products
By Application
Consumer Electronics
Industrial
Telecommunication
Automotive
By Geography
North America
Europe
Asia-Pacific
Latin America
Middle East and Africa